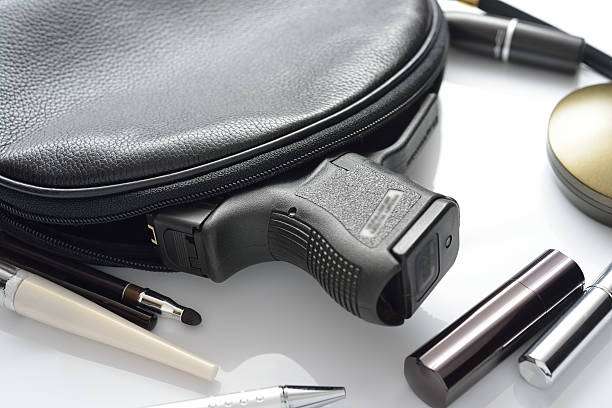 Our Top Picks
Best Overall
Browning Women's Alexandria
Made from premium materials
Check Price
Best Budget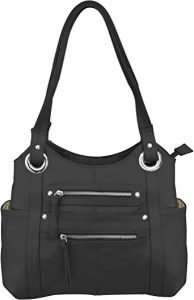 Roma Leathers Leather Locking Concealment Purse
Has multiple compartments and pockets
Check Price
Best for Small Revolvers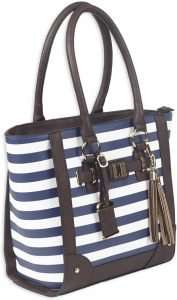 Bulldog Cases Carry Tote Style Purse with Holster
Very stylish and chic
Check Price
Concealing your gun while trying to carry other essential stuff can be tough without a proper holster and limited purse space. So, let's make sure we balance both and find the best concealed carry purse!
Comparison of the Best Concealed Carry Purses
How We Choose + Our Must-Have Features
Material and Durability
A critical factor to consider is a concealed purse's ability to withstand daily use for a long time. It should also be able to handle heavy loads so make sure that it's made from durable material like high-quality leather and nylon. 
Concealment
Aside from durability, high-quality leather is also thick enough to prevent your gun from printing and to survive minor scratches and bumps.
Accessibility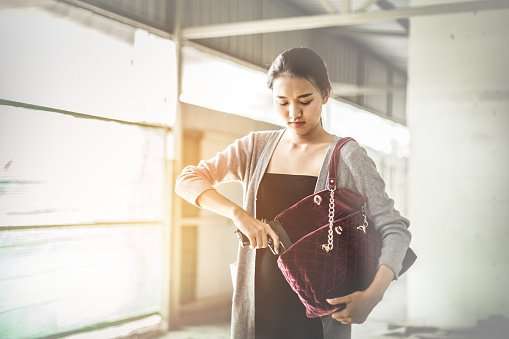 There's nothing more dangerous than not being able to quickly reach and draw your gun when you most need it. So be sure to consider these factors as well:
Zipper Location
The zipper location and position are very important. It should be a single exterior zipper that's accessible and easy to open. It should be opened using one hand and its position shouldn't draw attention, especially from your attacker. Plus, it should be able to accommodate left and right-handed users. 
Dedicated Gun Pocket
Accessing your gun will also be easier if it has its own gun pocket and holster. Make sure that the dedicated pocket fits your gun's frame properly. That avoids retention problems, making sure it won't fall out as you rummage around for other things in the purse.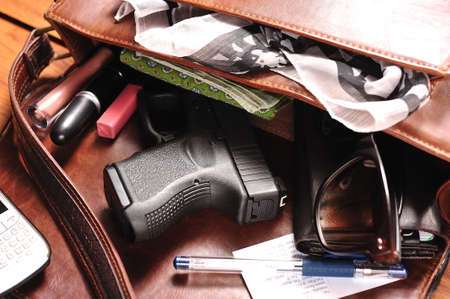 Safety Features
Keeping your gun locked and secured from unwanted access is the last thing to consider. It's nice to have a lock that's easy to open.
5 Best 1911 Red Dot Mounts
Best Overall: Browning Alexandria Concealed Carry Purse
The Browning Alexandria Concealed Carry Purse features a quick access pocket with a locking zippered holster. The holster is adjustable and also has an accessible pocket that can hold your phone, wallet, or keys.
It comes with a hidden key ring where you can store the key to the holster pocket. It's made from high-quality leather that feels smooth and soft.
This purse, however, doesn't allow crossbody carry and its front flap only has a magnet closure instead of a zipper. That makes access more quickly than others, but trades retention of your other things!
Pros
Heavy duty
Comfortable to carry
Lightweight
Cons
No zipper on the main compartment
The outside pocket is a little small
What Customers Say
"I am so glad I got this purse! It is soft and of great quality. It's exactly the size that I needed. I love the concealed pocket on the back. Both zippers have a lock and keys to secure your firearm. The strap is a good length and makes the bag easy to carry. I definitely recommend:)"
"Love this purse. Never been into name-brand high-dollar purses so $50 is about tops for me to spend. It seems to be made very well and not heavy which is what I was looking for. After all, when you add your gun it makes it heavier. I didn't even realize when ordering it had locks on the carry pocket. Very happy with this purchase so far."
Best Budget: Roma Leathers Leather Locking Concealment Purse
This purse from Roma Leathers features a lockable concealment pocket with zippers on both sides to accommodate left-handed or right-handed users. However, these zippers mostly give away that you're carrying a gun. So it's great that it's equipped with leather panels that conceal the vertical zipper, unlike other bags. 
The concealment holster also comes with a big Velcro strip so you can adjust your concealed carry gun to your liking. Its straps are also thick and sturdy so they can handle a heavy load. Plus, it features multiple small pockets to hold your keys or your phone.
Pros
Affordable
Made of thick leather
Plenty of storage space
Cons
The pockets have a very small opening
What Customers Say
"This purse has two jobs and does both equally well. As a purse, it is probably my favorite I have ever owned. It has tons of storage space, easy zippers, and looks great with ANY outfit. As a conceal carry a purse, it is perfect. It is bi-directional, so you can draw from either side. The zipper locks on the conceal compartment are a great way to lock the side you would not draw from, to stop a pick-pocket from slipping your gun out. The velcro holster holds the gun securely, and at the angle that works best for you. I would recommend this purse to any woman, regardless of carrying concealed or not."
"This is a great purse. Well worth the money I spent on it. It has tons of pockets. It is very well-made. The handles are reinforced so they are not likely to break with a weapon being carried in it. It is genuine leather. I love the way they have the conceal in the back of the purse to accommodate whether you remove your firearm with your left or right hand. The holster keeps the gun solidly in place. There are keys that come with this purse so you can safely lock it when small children are around. The 4 keys can be placed in different places so you will always have access to them. This is my first conceal purse and I am impressed. No one can tell you are carrying a firearm. Highly recommend!"
Best for Small Revolvers: Bulldog Cases Carry Tote Style Purse with Holster
Our next pick's gun pocket is very spacious so it's perfect for concealing small guns. It also comes in a very chic design. The bag also features zippers on both ends making it very accessible whether you're right-handed and left-handed.
However, it has no exterior pockets aside from the concealment pocket. It has only one small interior zipper pocket and the concealed pocket doesn't have a lock. But its external zippers on the back of the purse can be locked so you can secure it from there instead.
Pros
Cons
What Customers Say
"I am able to fit everything in here that I'd like, I will either carry my shield or glock 42 & they both fit good, I don't have either falling out of the holster. Their are keys to keep the side zippers locked, the outside material is awesome because if you spill something just take a wet rag & wipe it off."
"I'm in love with this tote!! As far as the locks on the zippers go, I had to turn the key a few times on one to get it to lock, but once I did, it's worked by just turning it once ever since!! The only thing i would suggest is to make the handles a little less stiff because the outer handle always seems to slide off my shoulder unless I'm holding my shoulder really high. I will purchase again once this one eventually wears out which I don't see happening for a while!!"
Montana West Concealed Carry Tote Bag
The Montana West concealed carry tote bag is roomy but not bulky. It's made from superior quality synthetic leather so it's incredibly sturdy. It's also equipped with heavy-duty zippers so you can use it for a long time.
It also comes with two straps. One to carry as a handbag, and another that's longer, detachable, and adjustable to be worn as a shoulder or crossbody strap. It's also very easy to clean, you can just wipe off any dirt or stain with a wet tissue or rag.
One downside, however, is that its concealed compartment can't be locked; which is great for easy access but is a disadvantage security-wise, similar to the Bulldog Cases purse. If you're looking for locks, Browning is a good option.
Pros
Affordable
Roomy
Multiple pockets
Ambidextrous
Cons
The holster is a little small
What Customers Say
"Gorgeous bag with a ton of pockets and space for everything! Soft and stylish exterior that doesn't scream that you're carrying a gun like a lot of concealed carry purses. The included holster fits my Bobcat perfectly."
"This is the perfect carry handbag for me. It's very well made and soft to the touch. The carry compartment is in the middle of the purse instead of on the side which I like. The "holster" is made more for a semi-automatic with a longer barrel than a revolver, but it's easy to adjust within the compartment. I do believe I will buy another one in black!"
Laced Ann Concealed Weapon Satchel by Lady Conceal
This concealed weapon satchel by Lady Conceal features a fully lined interior that comes with a large zippered pocket, a leather strap for your keys, and two open slip pockets. There are also four studs at the bottom of the bag for protection and stability when putting your bag on a table or counter.
Its locking concealed carry pocket also features durable YKK zippers and locks for added security. Plus, it comes with laced sides and a tassel for a stylish look.
Pros
Ambidextrous
Multiple compartments
Cons
What Customers Say
"Wonderful purse! I like a purse that will stand up on its own even with my firearm in it. This purse is perfect! I also like that it doesn't have the inner center pocket that always falls down and gets in the way. When it arrived, I thought it might be a little on the smallish side because I seem to manage to stuff a lot into my purse. This is actually the perfect size. I am able to put my iPad, phone, billfold, checkbook and several other items in at the same time. I am really pleased with this purchase!"
"This is the first concealed carry purse that works for me, even though I have tried others. There is only one inside space for my wallet, keys, water bottle and other things I carry. With other cc purses the fabric is often pushed over the items I am carrying, and I struggle to find them in the purse. I am so pleased with this purchase."
Conclusion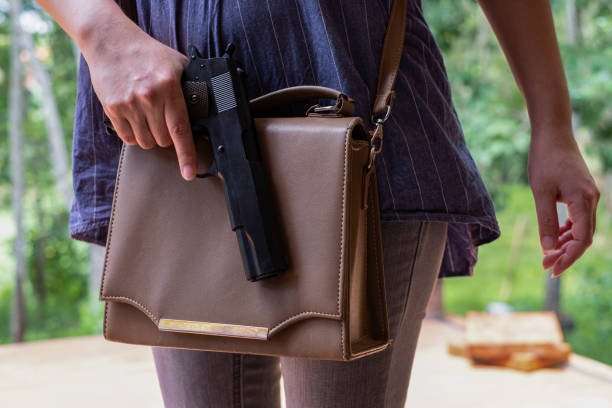 Being well-trained in self-defense techniques and having the best concealed carry purse is useless if you don't know how to draw your gun properly or how to defend yourself. So now that you have an idea of which the best concealed carry purses are, take time to practice proper draw techniques as well.
If you prefer holsters over purses, we have articles discussing types of gun holsters and the proper way of choosing a concealed carry holster.
We also reviewed the best belly band holster, find out which brand wins the best overall spot! They make access to your PDW quick and solve some of the cons of purses like gun security and quick deployment.
Is concealed carry forbidden in your State? The best combat knife is a perfect alternative. Find out why.
Last update on 2023-09-27 / Images from Amazon Product API