Model
BARSKA 3-9x40 Huntmaster Riflescope
BARSKA 3-9x42 Contour Mil-Dot Riflescope
BARSKA Varmint Mil-Dot Riflescope
BARSKA 3-9×32 Plinker-22 Riflescope
BARSKA 3-9x40 Huntmaster Easy Shot Riflescope
Model
BARSKA 3-9x40 Huntmaster Riflescope
Model
BARSKA 3-9x42 Contour Mil-Dot Riflescope
Model
BARSKA Varmint Mil-Dot Riflescope
Model
BARSKA 3-9×32 Plinker-22 Riflescope
Model
BARSKA 3-9x40 Huntmaster Easy Shot Riflescope
Barska is a California-based manufacturer for precision sports optics renowned all over the world.
The brand's vision is producing high-quality optics at affordable prices, but are they meeting their goal?
Find out reading our Barska scope reviews.
If you're interested in other scopes check out our review of the Best Rifle Scopes of all time.
We don't expect you to take our word for granted. If Barska Sniper is not for you, take a look at the rest of our top 5 Barska scope reviews.
Our Reviews Of The Best Barska Rifle Scopes
#1 Barska 3-9×40 Huntmaster Riflescope
To stay true to their standard, Barska uses the latest optical technology to manufacture rifle scopes, binoculars, and other types of tactical and sports optics for those who want to enjoy quality outdoor activities.
Among the many models produced by the company, one that stands out is BARSKA 3-9×40 Huntmaster Riflescope.
This versatile hunting riflescope is designed to excel in a variety of situations.
Users described it as extremely reliable and easy to use.
The 3-9×40 Huntmaster Riflescope is built to withstand shock, water, and fog.
The Huntmaster's optical performance is on-point. Thanks to its fully coated lenses and its 30/30 reticle. The scope is also parallax-free at 100 yards to infinity.
This riflescope boasts a 40mm objective lens and a 9X magnification, features that give the scope sharp, bright images and excellent contrast.
The manufacturer included lens caps and a cleaning cloth in the package, but unfortunately, you will have to purchase the mounting rings separately.
The Huntmaster is an excellent choice if you're looking for a premium quality hunting scope on a budget.
Pros
Cons
Waterproof, fog proof and shockproof
Parallax free at 100 yards
Fully Coated optics
Lightweight
What Customers Say
"Using it for 5 years on my Marlyn 22LR.
Glass is clear, no visible distraction, and what is more important, it held zero through all my hunting trips, all beating in the trunk of my track. Since i sighted it in 5 years ago, it is still make one clover leaf at 50 yard distance."
"Good scope for the money. I put this scope on my 10/22. No problems sighting it in. Went through 40 rounds or so until I had it where I wanted it. Easy to adjust and seems to hold the settings. I would buy it again and I would recommend it to a friend."
#2 BARSKA 3-9×42 Contour Riflescope
Barska's Contour line includes a series of tactical scopes designed to provide advanced optical technology for close to mid-range shooting.
The Barska 3-9×42 Contour features a dual-color Mil-Dot Illuminated Reticle that you can easily switch between green and red. You can also adjust the reticle's brightness to a level you're most comfortable with.
This riflescope also boasts a 42mm objective lens and a magnification between 3 and 9X.
Its optics are also fully coated, providing bright and clear images.
The Contour presents a rugged construction designed for easy use. It's also built to provide waterproof and fog proof performance.
The Contour riflescope also comes with useful accessories such as mounting rings, battery, lens caps, and cleaning cloth.
Pros
Cons
Waterproof, fog proof, and shockproof
BDC Adjustment
Fully Coated optics
Illuminated 4A Mil-plex
What Customers Say
"Very well made. The focus is perfuct. When sighted in, this scope is dead on. Bonus is the fact that it zooms in and out as well as have a red lighted cross hair. When mounted I can still use my iron sights as well. This is a very good scope for the price. I recommend this to all who are looking for a decent scope."
"I love this scope. Better than I thought it would be. Not expensive but it performs like it cost hundreds more than it did. Was easy to mount mount on my new Ruger 10-22 Takedown and sight in. And the rings and covers came with it, what a buy. I just wish the Mil-Plex also came with the red-green gross hair light feature. But it's a great scope just the same. And I will recommend it to my friends. Thanks for a great product at a great price."
#3 BARSKA AC10048 Varmint Mil-Dot Riflescope
Specifically created for hunters, the Varmint Target Riflescope will definitely double your precision.
Aside from being waterproof, fog proof, and shockproof, the Varmint Target Riflescope is constructed to survive the strongest air gun recoils, making it ideal for varmint hunting and long-range tactical shooting.
This scope is equipped with a target dot crosshair reticle for quick target acquisition. Its optics are also fully multi-coated.
This instrument also comes with a 50mm parallax adjustable objective lens and it has a wide magnification range of 6.5x to 20x.
The Varmint riflescope also comes with a lens cleaning cloth as well as lens caps.
The mounting rings are not included but you will be able to find many compatible accessories on the market.
The Varmint Mil-Dot Riflescope is an excellent choice if you're looking for a premium quality hunting scope on a budget.
Pros
Cons
Target Dot Reticle
Parallax Adjustable Objective Lens
Waterproof, fog proof, and shockproof
Multi-coated optics
Adjustment knob is a little fragile
What Customers Say
"This is a good scope for the money. It is a varmint scope…ok, this means it is meant to be used with smaller calibers, like the .22 family, .17, maybe a .22-250. Don't put this on a .308, it won't hold a zero, or will crack the glass. It's not meant for the bigger calibers!!! It can be a bit blurry at times just mess around with the Adjustable Objective, if you are shooting on 24x make sure your parallax adjust is spot on or it will be blurry. Other than the parallax adjust being a bit finicky. Make sure you buy higher scope rings so that 50mm objective can have clearance between itself and the barrel. I had it zeroed in 2 rounds and held a nice zero. "
"This is an excellent scope for a very modest price. I would highly recommend this scope to any casual bench shooter or hunter. It will deliver good results and strike whatever target you center the reticle upon."
#4 BARSKA 3-9×32 Plinker-22 Riflescope
With a myriad of top Barska scope reviews from many users, the Plinker-22 model cannot be ignored.
This rifle scope is built for versatility and it is compatible with a wide range of firearms.
Plinker-22 provides the sharp optical clarity specific to all Barska instruments.
This precision optical instrument comes with a 32mm objective lens that provides a wide eye relief.
The maximum magnification power is 9X and the instrument is parallax-free adjusted at 50 yards.
Any hunter or shooter knows that the optical instrument should provide an easy adjustment and Plinker-22 doesn't disappoint.
This scope offers 0.25-inch click adjustment and it comes with a 30/30 reticle.
This scope is manufactured specifically for .22 rifles and rimfires but thanks to the versatile design it can suit other firearms as well.
This instrument comes with .38 dovetail rings for easy mounting, lens caps, and a cleaning cloth.
Pros
Cons
Parallax Free
Windage & Elevation Turrets
Fully Coated Optics
Housing gets scratched easily
Magnification above 7x is a little blurry
What Customers Say
"The Barska Plinker is an excellent quality scope package for the Marlin 60 rimfire rifle!!! I had zero mounting problems with the supplied scope rings and adjusting it was a piece of cake. The crystal clear optics transformed my Marlin from just being accurate with open sights to a real tackdriver! Buy it without hesitation–you won't be disappointed."
"I was looking for a very cheap scope for my .22. It was a mossberg 702 plinkster that was some odd edition that didn't come with sights. The gun itself was only 99 bucks so I just wanted cheap way to shoot it. This one had rings and everything. All the other ones in this low of a price point are either 20mm or fixed 2x. I just tried it for the first time today so I can't speak for longevity but it was fairly easy to sight in and works like every other scope ice ever used. Does it compare to even a nikon or crossfie in the $150 dollar range? No. But it doors everything I wanted a cheap scope to do for a cheap gun. I almost deducted a star because the sights were a little crooked in the rings, but again was under 30 bucks."
#5 BARSKA 3-9×40 Huntmaster Easy Shot Riflescope
The Barska Huntmaster Easy Shot Riflescope guarantees in-field reliability and unparalleled firing precision. It provides the most essential scope features at a price that won't hurt your wallet.
This tactical scope is equipped with an Easy Shot Reticle for quick target acquisition, and fully-coated optics, for incredible image clarity.
The 3X magnification will allow you to use the instrument with your iron sights; and for distance targeting, you can increase the magnification power up to 9X.
The 40mm wide objective lens also provides a very generous 3.3 inches of eye relief.
The design is compact and lightweight, making it ideal for general-purpose hunting and plinking. The scope's construction is also shockproof, waterproof, and fog proof.
The scope comes with a lens cloth and scope caps. The manufacturer also provides a limited lifetime warranty for this model.
Pros
Cons
Easy Shot Quick Targeting Reticle
Waterproof, Fogproof and Shockproof
Fully Coated Optics
Generous Eye Relief
What Customers Say
"I mounted this on my old bolt action .22 Montgomery Ward rifle. I do like the reticle with the circle around the X in the center. then you have the duplex posts too for ajusting for longer range. I did use these marks for shooting 150 yard target after sighting zero at 50 yards. I would say that the optics are clear enough but there is some parralax and you cannot always quickly pull up and find the target. I am ok with this scope. The adjustments are easy to do. It has reasonably clear optics."
"I use this on my hunting rifle and have had no problems with it and it retains its setting from year to year."
#6 Barska 3-12×50 Blackhawk Rifle Scope
Our last Barska scope review is dedicated to the 3-12×50 IR Blackhawk, a riflescope designed to deliver rugged durability and dead-on accuracy.
The Blackhawk takes pride in its 50mm objective lens and incredible magnification capacity that varies between 3 and 12X.
In addition to its precision optics, the Blackhawk is equipped with an illuminated red/green Mil-Dot reticle with 5 levels of brightness. This allows the user to adjust the brightness level most appropriate for his current environment.
What're more impressive is its Sniper Edge Sunshade, which means less glare, more crystal clear images!
With outstanding eye relief and an adjustable objective for parallax correction, this riflescope is ideal for long-range precision shooting.
Using this scope is a real pleasure thanks to its 1/4 MOA Solid Windage and Elevation Adjustment with Turret Caps.
The design is slim, the instrument featuring a 1" tube construction that is fog proof, waterproof, and shockproof.
This scope also comes with Barska's limited lifetime warranty.
Pros
Cons
Red/Green Illuminated Mil-Dot Reticle
Fully Multi-Coated Lenses
Second Focal Plane
Doesn't work well in low light
Highest illumination level is too bright
What Customers Say
"Looks and holds a tight pattern great scope l have it mounted an my AR15 Colt and has 3-4 inch eye re leaf and it crisp and clear I shot over 100 rounds so far and still holding a tight pattern of around a dime. I laser bore sighted it first and made it easy to fine tune it. Great scope."
"Mounted on a 17HMR with xHigh Leupold rings. Windage and Elevation adjustments are under the caps, have a positive click, and are about right where I want the tension. In all, for the money this is a really good buy. Possibly somewhat on the ironic side, Barska's efforts to make things better (wide settings in parallax that does little, too bright of illumination setting, heavy rings with sticky stuff) cost them a star in my book."
Conclusion
We hope this review helped you find the Barska riflescope that best suits you. If you want to explore other scope brands, we've reviewed the best ones in this article.
You Might Also Like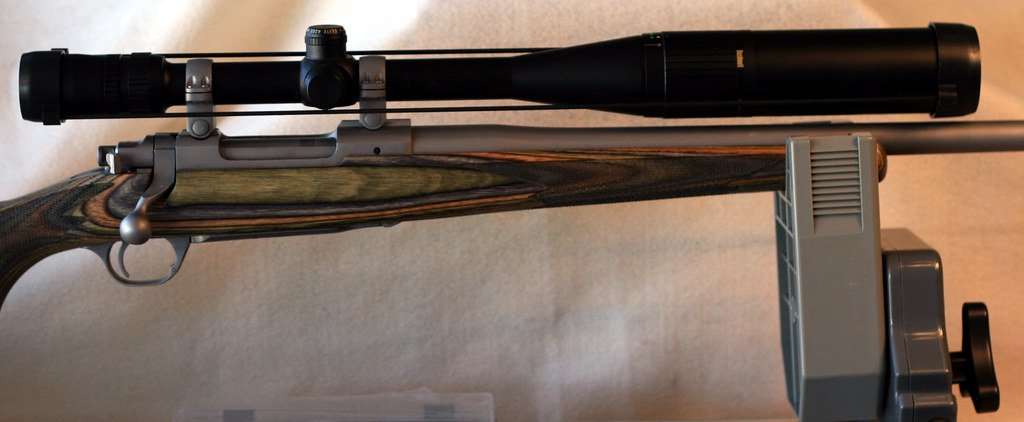 Last update on 2023-12-01 / Images from Amazon Product API