Model
BARSKA 3-9×40 Huntmaster Riflescope
BARSKA 3-9×42 Contour Mil-Dot Riflescope
BARSKA Varmint Mil-Dot Riflescope
BARSKA 3-9×32 Plinker-22 Riflescope
BARSKA 3-9×40 Huntmaster Easy Shot Riflescope
Model
BARSKA 3-9×40 Huntmaster Riflescope
Model
BARSKA 3-9×42 Contour Mil-Dot Riflescope
Model
BARSKA Varmint Mil-Dot Riflescope
Model
BARSKA 3-9×32 Plinker-22 Riflescope
Model
BARSKA 3-9×40 Huntmaster Easy Shot Riflescope
Last update on 2021-12-04 / Images from Amazon Product Advertising API
Barska is a California-based manufacturer for precision sports optics renowned all over the world. 
The brand's vision is producing high-quality optics at affordable prices, but are they meeting their goal? 
Find out reading our Barska scope reviews.
If you're interested in other scopes check out our review of the Best Rifle Scopes of all time.
We don't expect you to take our word for granted. If Barska Sniper is not for you, take a look at the rest of our top 5 Barska scope reviews.

Our Reviews Of The Best Barska Rifle Scopes
#1 Barska 3-9×40 Huntmaster Riflescope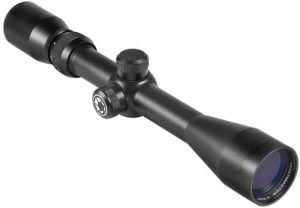 To stay true to their standard, Barska uses the latest optical technology to manufacture rifle scopes, binoculars, and other types of tactical and sports optics for those who want to enjoy quality outdoor activities.
Among the many models produced by the company, one that stands out is BARSKA 3-9×40 Huntmaster Riflescope.
This versatile hunting riflescope is designed to excel in a variety of situations.
Users described it as extremely reliable and easy to use.
The 3-9×40 Huntmaster Riflescope is built to withstand shock, water, and fog. 
The Huntmaster's optical performance is on-point. Thanks to its fully coated lenses and its 30/30 reticle. The scope is also parallax-free at 100 yards to infinity. 
This riflescope boasts a 40mm objective lens and a 9X magnification, features that give the scope sharp, bright images and excellent contrast. 
The manufacturer included lens caps and a cleaning cloth in the package, but unfortunately, you will have to purchase the mounting rings separately.
The Huntmaster is an excellent choice if you're looking for a premium quality hunting scope on a budget. 
#2 BARSKA 3-9×42 Contour Riflescope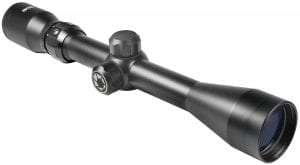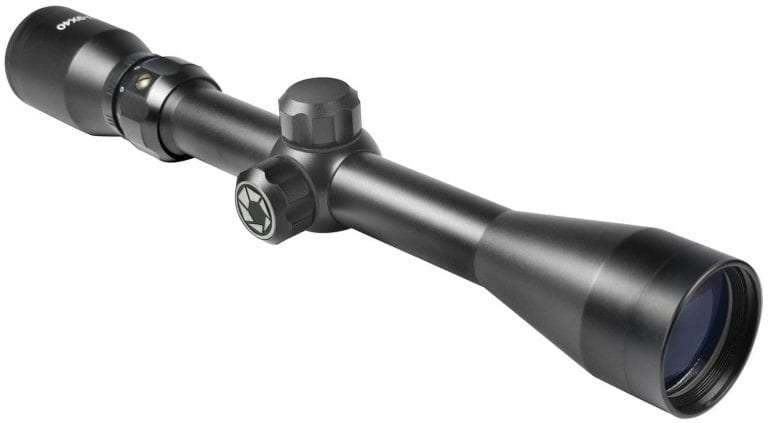 Barska's Contour line includes a series of tactical scopes designed to provide advanced optical technology for close to mid-range shooting. 
The Barska 3-9×42 Contour features a dual-color Mil-Dot Illuminated Reticle that you can easily switch between green and red. You can also adjust the reticle's brightness to a level you're most comfortable with. 
This riflescope also boasts a 42mm objective lens and a magnification between 3 and 9X. 
Its optics are also fully coated, providing bright and clear images.
The Contour presents a rugged construction designed for easy use. It's also built to provide waterproof and fog proof performance.
The Contour riflescope also comes with useful accessories such as mounting rings, battery, lens caps, and cleaning cloth. 
#3 BARSKA AC10048 Varmint Mil-Dot Riflescope
Specifically created for hunters, the Varmint Target Riflescope will definitely double your precision.
Aside from being waterproof, fog proof, and shockproof, the Varmint Target Riflescope is constructed to survive the strongest air gun recoils, making it ideal for varmint hunting and long-range tactical shooting.
This scope is equipped with a target dot crosshair reticle for quick target acquisition. Its optics are also fully multi-coated.
This instrument also comes with a 50mm parallax adjustable objective lens and it has a wide magnification range of 6.5x to 20x.
The Varmint riflescope also comes with a lens cleaning cloth as well as lens caps. 
The mounting rings are not included but you will be able to find many compatible accessories on the market.
The Varmint Mil-Dot Riflescope is an excellent choice if you're looking for a premium quality hunting scope on a budget. 
#4 BARSKA 3-9×32 Plinker-22 Riflescope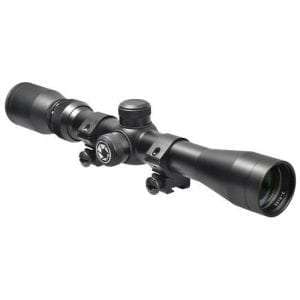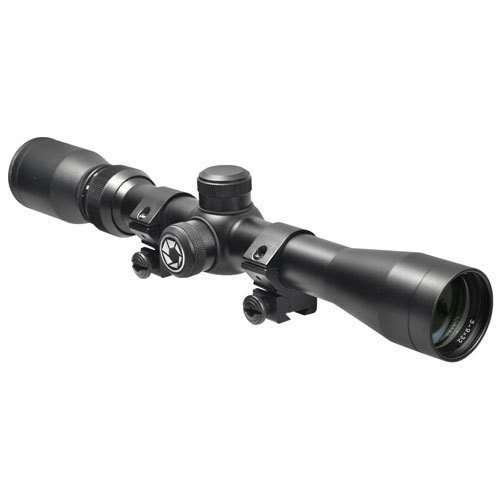 With a myriad of top Barska scope reviews from many users, the Plinker-22 model cannot be ignored. 
This rifle scope is built for versatility and it is compatible with a wide range of firearms.
Plinker-22 provides the sharp optical clarity specific to all Barska instruments. 
This precision optical instrument comes with a 32mm objective lens that provides a wide eye relief. 
The maximum magnification power is 9X and the instrument is parallax-free adjusted at 50 yards.
Any hunter or shooter knows that the optical instrument should provide an easy adjustment and Plinker-22 doesn't disappoint. 
This scope offers 0.25-inch click adjustment and it comes with a 30/30 reticle. 
This scope is manufactured specifically for .22 rifles and rimfires but thanks to the versatile design it can suit other firearms as well.
This instrument comes with .38 dovetail rings for easy mounting, lens caps, and a cleaning cloth.
#5
BARSKA 3-9×40 Huntmaster Easy Shot Riflescope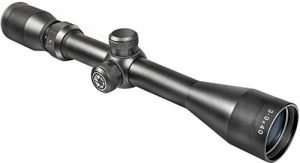 The Barska Huntmaster Easy Shot Riflescope guarantees in-field reliability and unparalleled firing precision. It provides the most essential scope features at a price that won't hurt your wallet.
This tactical scope is equipped with an Easy Shot Reticle for quick target acquisition, and fully-coated optics, for incredible image clarity. 
The 3X magnification will allow you to use the instrument with your iron sights; and for distance targeting, you can increase the magnification power up to 9X. 
The 40mm wide objective lens also provides a very generous 3.3 inches of eye relief.
The design is compact and lightweight, making it ideal for general-purpose hunting and plinking. The scope's construction is also shockproof, waterproof, and fog proof.
The scope comes with a lens cloth and scope caps. The manufacturer also provides a limited lifetime warranty for this model.
#6
Barska 3-12×50 Blackhawk Rifle Scope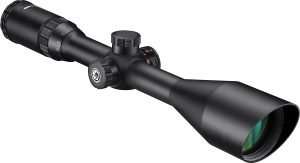 Our last Barska scope review is dedicated to the 3-12×50 IR Blackhawk, a riflescope designed to deliver rugged durability and dead-on accuracy. 
The Blackhawk takes pride in its 50mm objective lens and incredible magnification capacity that varies between 3 and 12X. 
In addition to its precision optics, the Blackhawk is equipped with an illuminated red/green Mil-Dot reticle with 5 levels of brightness. This allows the user to adjust the brightness level most appropriate for his current environment.
What're more impressive is its Sniper Edge Sunshade, which means less glare, more crystal clear images!
With outstanding eye relief and an adjustable objective for parallax correction, this riflescope is ideal for long-range precision shooting.
Using this scope is a real pleasure thanks to its 1/4 MOA Solid Windage and Elevation Adjustment with Turret Caps.
The design is slim, the instrument featuring a 1" tube construction that is fog proof, waterproof, and shockproof.
This scope also comes with Barska's limited lifetime warranty.
We hope this review helped you find the Barska riflescope that best suits you. If you want to explore other scope brands, we've reviewed the best ones in this article.