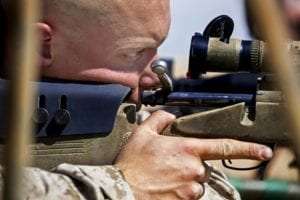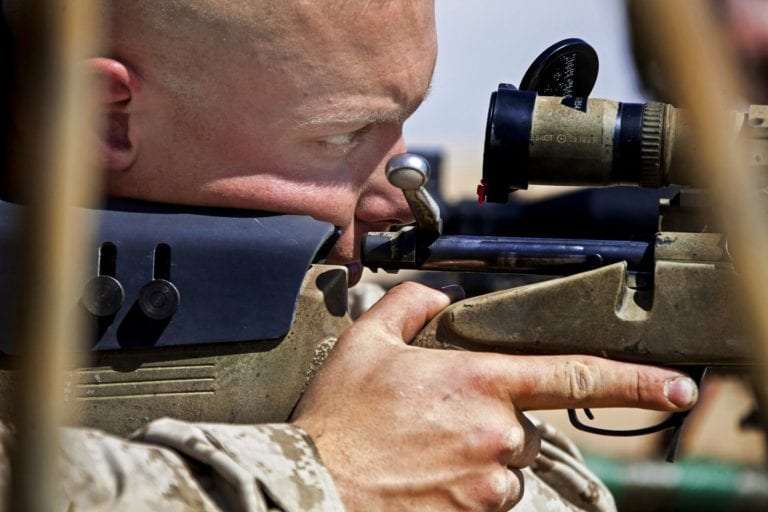 Rifle scopes are optical instruments used to identify and aim at a target from a distance.
They are essential for a wide range of outdoor activities including hunting, target shooting, or airsoft.
But how to choose the best one?
Take a look at our rifle scope reviews and read our buyer's guide to find out which are the best rifle scopes on the market.
Top 5 Rifle Scopes
| | Leupold 113769 VX-R | Carl Zeiss Optical Conquest | Bushnell Elite Tactical G2 | Nikon P-223 3-9x40 | Vortex Optics 4.5-27x56 Razor HD |
| --- | --- | --- | --- | --- | --- |
| Max Zoom | 4x | 25x | 24x | 9x | 27x |
| EyeRelief | 4.10 in | 3.54 in | 4 in | 3.6 in | 3.7 in |
| Weight | 11.50 oz | 26.60 oz | 27 oz | 17.10 oz | 48.50 oz |
| Reticle | FireDot Special Purpose | New Rapid-Z 1000 | First Focal Plane (FFP) | BDC 600 | EBR-2C |
| Warranty | Full Lifetime | Limited Lifetime | Limited Lifetime | Lifetime | Unlimited Lifetime |
| Price | $$ | $$$$ | $$$ | $ | $$$$$ |
| Buy on Amazon | | | | | |
---
1. Leupold 113769 VX-R Patrol FireDot Illuminated Rifle Scope
Combining state-of-the-art illumination with an exclusive reticle called FireDot, the Leupold 113769 is a versatile and dependable scope designed to deliver absolute user satisfaction. The scope is manufactured by a family-owned company and their optics stand among the best in fields such as shooting sports, law enforcement, and wildlife observation.
» Check our complete review of the best Leupold Tactical Scopes.
Lens & Magnification
The VX-R Patrol FireDot boasts high-quality diamond coated lenses designed to provide superior precision and accuracy. The coating is responsible for an excellent light transmission and also protects the lenses from abrasion. The magnification is typical for a tactical short-range instrument, the adjustable magnification power ranging between 1,25 and 4X.
Reticle
The reticle is without a doubt the most attractive element of this scope. The reticle itself is simple but it boasts unique features such as increased precision at longer ranges and illuminated FireDot Special Purpose aid even in the daylight to enable an easier target acquisition. Apart from this, the reticle is a classic crosshair BDC reticle designed for tactical activity.
Features
The VX-R is specifically built for AR-15 rifles but it can easily be installed on other variants of rifles as well. Apart from that, the instrument is ideal for short-range aiming and shooting, responding to the demands of those working in the military and law enforcement field, but also the demands of the passionate of target shooting. The scope is waterproof, fog-proof and scratchproof.
Customizable
Lightweight
Useful magnification range
Long eye relief
Easily adjustable elevation and windage
Thick crosshair markings
Poor customer service
Check Price on Amazon 70+ Customer Reviews
---
2. Carl Zeiss Optical Conquest Rapid-Z 1000 Ballistic Reticle Rifle Scope
If you are looking for an optical instrument built for long-range shooting and possibly suitable for hunting, the Optical Conquest Rapid-Z100 by Carl Zeiss might be the scope you need. Featuring the iconic Zeiss lenses and an impressive magnification power, this scope will become your trustworthy companion.
Lens & Magnification
Carl Zeiss lenses don't require special introductions, they are famous all over the world for the visual accuracy and unmatched precision. Optical Conquest's lens system impresses with its fabulous magnification power that ranges between 5 and 25X. Furthermore, the optical system features HD lenses that are T coated for an enhanced image.
Reticle
Optical Conquest is equipped with a Rapid-Z 100 ballistic reticle with numbered holdover lines adjusted for a shooting range of 1000 yards. Thanks to this feature, aiming and shooting distant targets is a breeze, while the instrument has all the characteristics of a professional tactical reticle.
Features
Optimized for .308 caliber rifles, Optical Conquest features a wide eye relief thanks to the 50mm objective lens. Nevertheless, the design of the instrument is compact, sleek and lightweight. Apart from this, the instrument comes with a 5-year no-fault policy and limited lifetime warranty.
Easy to adjust parallax
Crystal clear visual
Lightweight
Sleek design
Lifetime warranty
Limited use, as it is specifically built for .308 caliber
The lenses are manufactured in Japan
Check Price on Amazon 15+ Customer Reviews
---
3. Bushnell Elite Tactical G2 FFP Reticle ERS Rifle Scope
Another tactical rifle scope with excellent characteristic but that is slightly cheaper compared to the Carl Zeiss is the Elite Tactical by Bushnell. This scope is characterized by a 50mm objective lens and a 30mm tube that is compatible with a wide variety of rifles.
Lens & Magnification
Designed for long-range shooting, the Elite Tactical boasts an adjustable magnification power between 6 and 24x. Apart from this, the wide objective lens delivers an exceptional brightness. For an optimal light transmission, the scope's lens if fully multicoated with an Ultra Wide Band coating, the images delivered being extremely clear.
Reticle
Elite Tactical is, as the name suggests, a tactical scope. To ensure a reliable use on the field, the manufacturer equipped the instrument with a G2 DMR reticle with mil-harsh marked FFP (first focal plane). You will be able to correct windage and ranging in a breeze, while targeting is extremely accurate.
Features
Besides all the features already mentioned, this optical instrument is waterproof, fog-proof and scratchproof. The scope also features a lateral focus parallax adjustment that allows users to adjust the long-range accuracy.
G2 DMR tactical reticle
Easy to use
Magnification range
Lifetime warranty
Wide sunshade
The reticle is not illuminated
Some users might find this scope expensive
Check Price on Amazon 50+ Customer Reviews
---
4. Nikon P-223 3-9×40 Mate BDC 600
If you are looking for a reliable yet affordable scope, an excellent optical instrument with a more than decent price is the P-223 model by Nikon. Produced by a manufacturer famous for its precision optics, this scope certainly impresses with its characteristics.
Lens & Magnification
With a 40mm objective lens and a magnification power between 3 and 9x, the P-223 is an excellent short-range instrument developed specifically for tactical purposes. This scope can be an excellent choice for those who need a tactical optical instrument for leisure activities, such as airsoft or target shooting.
Reticle
As expected from such an instrument, the P-223 comes with a reticle adjusted between 100 and 600 yards. The reticle was developed specifically for .223 Rem rifles and 5.56 NATO firearms, featuring a unique open-circle aiming points. The reticle type is BDC.
Features
This high performing instrument is waterproof and fog-proof. Boasting extreme precision, the  scope is characterized by a ¼ MOA hand-turn and zero-reset turrets with click reticle adjustment. The parallax is inexistent at 100 yards and it can be easily adjusted thanks to the easy to use reticle.
Range Ready Kit purchase option
Rugged construction ideal for heavy use
Lifetime warranty
Helpful customer support
Perfectly adjusted for the AR15 rifle
The designed is not cured in the minimal details
It is not stated if the lenses are coated
Check Price on Amazon 870+ Customer Reviews
---
5. Vortex Optics 4.5-27×56 Razor HD Gen II Riflescope
We reserved our last rifle scope review for a scope that can easily be defined as the high-end of the high-ends. Razor HD by Vortex Optics is one of the ultimate tactical instruments available on the market, an optics able to deliver superior image clarity, multiple target adjustments, and many other features.
Lens & Magnification
Razor HD impresses with an HD lens system and a fully multicoated coating designed to deliver the highest level of light transmission. The apochromatic lenses use an index-matched feature to correct the color across the visual spectrum. The magnification varies between 4,5 and 27x.
Reticle
Razor HD boasts a reticle with an intricate design protected by two layers of glass. The reticle is illuminated and it boasts an FFP scale with hash marked ranging. The type of the reticle is EBR-2C MRAD, a tactical design suitable for a wide range of activities.
Features
This optical instrument is made of aircraft grade aluminum and it is coated with ArmorTek, a ultra-resistant anti-scratch layer that protects the exterior of the lenses. Furthermore, the instrument is waterproof and fog-proof.
Reticle illumination lock at the desired intensity
Optimal image focusing and parallax removal
Multiple reticle options
MOA adjustments
Patent-pending L-Tec turrets
There were some complaints regarding the water resistance
Check Price on Amazon 50+ Customer Reviews
---
Rifle Scopes Buyer's Guide
Rifle scopes are certainly ancient inventions. The first attested optical instrument used mounted on a weapon dates back to the 1500s and even if the actual scope was extremely different from what we expect from a scope today, its use was basically the same, help to target and magnification of the field of view.
This type of scope consisted of a simple, flat convex lens with a diameter of about 1,2 inches that was fixed in a calcium stem and attached to the rifle.
With time, the various companies worked on improving all the aspects of the tactical optical instruments, beginning with the magnification power, construction of the tubes and accuracy. As a result, most of the instruments available on the market today provide exceptionally clear images, they are parallax free, resistant and weatherproof.
Nevertheless, the main question that arises especially among amateurs, is what to look for in the best rifle scopes? Let's understand how the rifle scopes work, what types of rifle scopes there are and what to expect under different price ranges, among many other useful things.
How Do Rifle Scopes Work?
Riflescopes are designed to meet two specific needs, zoom a target and help the eye of the shooter focus both on the target and on the shooting point at the same time. The human eye cannot focus on two points at the same time, therefore trying to see a target and aim without using a scope is impossible without blurring one of the points.
Targeting and aiming with accuracy is essential in many fields, such as hunting or professional tactical activity, and to help the human eye achieve this, the scopes are made of three optical elements: an objective lens, an ocular lens and an optical system positioned between the two lenses and responsible for the enlargement of the image.
The objective lens captures the light emitted by the target and converges it in a First Focal Plane. After the light passes through the first focal plane, the lens system diverges the image, turning it upside down. To turn it back in the original position again, the scope uses a Second Focal Plane point that delivers the real image to the eye.
Between the two focal points, there is another set of lenses, typically two, that magnify the image. Usually, the distance between these two lenses can be adjusted from a turret, the scope having, in this case, an adjustable magnification power that varies widely between the various types of the scopes.
The whole lens system is enclosed in a rigid tube, usually made of metal, and various turrets and adjustment rings allow the user to make different adjustments to the focal plane, magnification, and ocular lens, correcting in this way the parallax or other temporary variations such as the twilight myopia.
Between the ocular lens and the magnification lens system, there is positioned the most important tactical element of the scope, the reticle. The reticle is a non-magnifying lens with markings that help the eye target and aim at the same time, helping the eye stay focused on two points contemporarily by aligning them.
The simplest model of the reticle is the crosshair but the most advanced scopes have superior reticles with different patterns that help to estimate the distance, correct parallax and focus on the target, some of them allowing the adjustments both vertically and horizontally.
Optical Features
All manufacturers use a succession of numbers when referring to the power of the scope, for instance, 4×30 or 4-20×30. The newbies often wonder what they mean and what is their importance.
The first number or numbers designate the magnification power that can be either fixed or adjustable. For example, 4x means a fixed power that will magnify the target four times. 4-20x means that the magnification power is adjustable and you will be able to magnify the target between 4 and 20 times.
The last number, 30 in our example, refers to the width of the objective lens expressed in millimeters. The wider the lens the more light is absorbed into the scope, delivering clearer images and better performance in low light conditions.
Eye Relief
Another characteristic of the tactical scopes that confuses the users is the eye relief. To understand it, think how you would normally use a magnifying instrument such a microscope or telescope. In both cases, you would look through the system with your eyebrow almost attached to the ocular lens.
This is not possible in the case of the rifle scopes because the recoil of the shot would stick the scope in the user's eye, hurting him.
For this reason, the image must be focused from a safe distance that should be at least 75 millimeters from the eye. For rifles with strong recoils, it is advisable to search for scopes with wide eye reliefs.
Parallax
Many have heard of parallax but few know what it means. We talk about parallax when the axes of two optical systems meet at a given angle. The point where these two axes meet is parallax free, therefore an object will be seen identically by both optical systems.
When using a tactical scope, the two optical systems involved are the lens system of the instrument and our own eye. To eliminate parallax and see an object with accuracy, the eye must be focused exactly on the center of the lens system.
When the eye is perfectly focused on the center of the lens, the target acquisition and aiming are extremely accurate, regardless of the distance. For the various types of scopes, there are various types of reticles that can be easily adjusted to eliminate parallax and that are designed to meet various tactical needs. Read our Rifle Scope Reticles Explained article for a comprehensive insight.
Types of Scopes
Tactical Scopes – designed specifically for professional tactical activity, this type of scopes is the one preferred by the law enforcement and military forces all over the world. Tactical scopes are characterized by adjustable turrets that allow a fast and precise target acquisition and aiming, and they are usually built with fixed magnification that allows a quicker reaction in combat.
Target Shooting Scopes – as the name suggests, this type of scopes is designed specifically for target shooters, although they can also be used with success for varmint hunting. The scopes in this category boast excellent magnification and fine adjustments to allow an accurate aiming and shooting at small targets positioned at various distances, they have a wide eye relief and usually crosshair or BDC reticles.
Hunting Scopes – the choice of most hunters, the scopes in this category usually have standard magnification powers between 3 and 9x, decent eye relief and large fields of view. The wide field of view is an essential characteristic of a hunting scope as it will allow you to secure targets with ease. The reticle of choice, in this case, is the Duplex reticle. Read our review of The Best Hunting Scopes on the market.
Night Vision Scopes – used for tactical and leisure purposes, the night vision scopes are designed to allow shooting in the dark. The scopes are usually equipped with infrared sensors that provide simple images of the field of view and illuminated reticles that allow a simple target acquisition in the dark.
How to Choose a Rifle Scope?
Choosing a rifle scope is far from being simple. Apart from deciding what type of scope you need, there are also other things to consider. As a general rule, a quality scope should have excellent lens quality, a resistant structure and it should be at least waterproof and fog proof. One of these brands is Armasight scopes.
In addition to these considerations, here is what you should check:
Magnification
Depending on the purpose, you should choose a model with fixed magnification or one with adjustable magnification. Based on the characteristics of each model, the scopes can be divided into:
Short-range: with fixed or variable magnification of up to 6x, these scopes are ideal for activities such as airsoft, short-range target shooting or professional law enforcement and military activity.
Mid-range: the magnification of these scopes usually vary between 3 and 9x. Most of the scopes in this category are ideal for hunting.
Long-range: with magnification powers up to 25x or more, these scopes are probably the most versatile when it comes to target shooting, varmint hunting and other types of activities that require long-range targeting.
MOA or MRAD
All scopes must be adjusted before use and the various manufacturers equip their instruments with two adjustment systems, MOA and MRAD.
MOA is probably the simplest to use. 1 MOA corresponds to an inch when targeting at 100 yards. The adjustments are simple to make thanks to a click system and all MOA scopes have adjustments smaller than one to allow a precise zeroing.
MRAD is more complicated to adjust as 1 MRAD corresponds to roughly 3,6 inches at 100 yards. However, this system provides a more accurate adjustment for long-range scopes although they are more expensive and heavier.
Tube Material
A scope will certainly add some weight to your rifle, therefore choosing a lightweight instrument is a must. Tubes made of alloy or aluminum are lighter than the steel ones and are really durable.
What to Expect Under Different Price Ranges?
$0 - $200
The most inexpensive but also the simplest models of scopes, ideal for the amateur hunters or for those enjoying target shooting every now and then. The scopes in this range provide basic magnification powers and adjustments but they are usually equipped with lower quality lenses and they are rarely weatherproof.
$200 - $500
The scopes in this price range are very similar to the ones described above but they come with coated lenses, weatherproof features and they are more durable. The scopes in this price range are perfect for frequent use.
$500 - $1000
In this price range the enthusiast hunters and shooter, as well as the law enforcement professionals, will be able to find exceptional instruments designed for easy targeting in all light and weather conditions. These scopes are usually customizable and the reticles are usually illuminated.
$1500+
The high end of the tactical scopes includes the finest optical instruments designed with impressive adjustments and the highest quality of the lenses. These scopes are built for precision, are versatile, accurate and extremely durable.
Top Rifle Scope Brands
Vortex Optics
Vortex gained a reputation for manufacturing some of the best scopes for the shooting and hunting industries. The brand is committed to offering exceptional outdoor optical instruments, its standards were some of the highest on the market.
Leupold
Leupold is synonymous with innovation in the field of the rifle scopes, its first tactical optical instrument being the first fog proof instrument built in America. Leupold's scopes can be fully customized, they come with a wide range of reticles and unmatched specifications.
Barska
A brand committed to delivering the highest quality at affordable prices, Barska is a popular manufacturer of precision optical instruments among other unrelated products. Barska manufactures scopes for a wide range of outdoor activities, including hunting and target shooting.
Swarovski Optik
The clarity specific to Swarovski crystals combined with precision engineering of finest optical instruments creates some of the best scopes on the market. Swarovski's range of rifle scopes is dedicated to hunters, but the quality of these instruments come at salty prices. Check out Top Swarovski Rifle Scopes.
Click for More Rifle Scope Options on Amazon
Other Rifle Scope Articles
---