Best Overall
Aimpoint PRO Red Dot Reflex Sight
This reflex sight will take your shooting experience to the next level.
Value: 9/10
Performance: 9.5/10
Cost: 8.5/10
Check Price
Best Optic for Co-Witnessing
Trijicon RMR Type 2 Red Dot
This red dot sight will help you shoot like a pro.
Value: 8.5/10
Performance: 9/10
Cost: 8/10
Check Price
Best LPVO for AK-47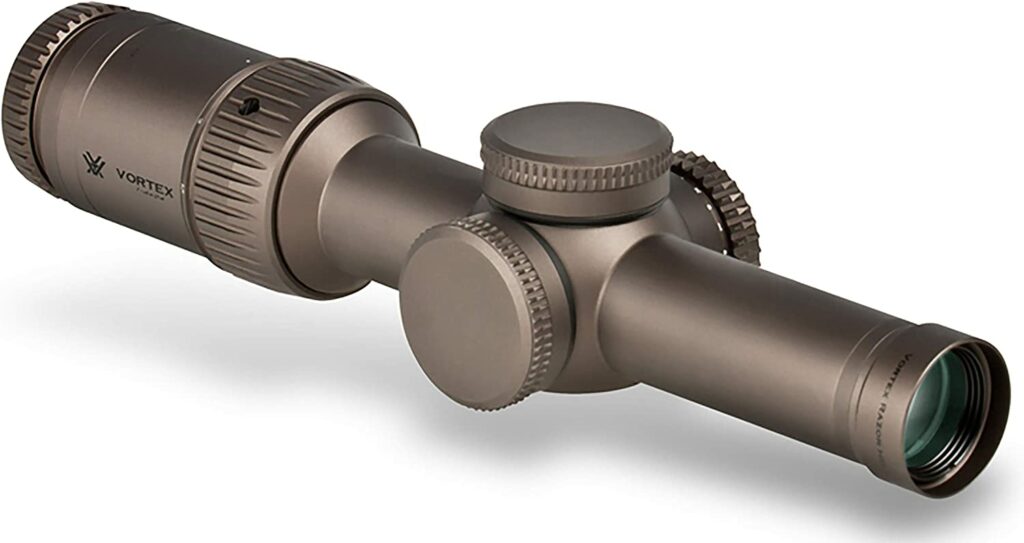 Vortex Razor HD Gen II 1-6×24
The last LPVO you will ever need!
Value: 9/10
Performance: 8/10
Cost: 9/10
Check Price
Still looking for an optic that's as reliable as the AK-47 under adverse conditions? We've picked an extensive of the best optics for AK-47!
Features to Consider + How We Choose
Shooting Application: Long Range or Short Range?
If you want to use your AK-47 for long-range shooting, 7.62 is a capable cartridge but the build of the rifle may be the limiting factor. The max effective firing range is only up to 380 yards. Still, that's more than enough distance to really require a good optic.
Magnification and Glass Quality
Having an optic with variable magnification is perfect for making quick adjustments if you'll be engaging targets at varying distances. But if you'll most likely be shooting at close range, a red dot's 1x magnification should do the trick.
If you're buying a low-priced riflescope, be sure not to trade off its glass quality. You don't want to compromise here. 
Material Construction and Durability
Rain, sand, wind, snow – the AK-47 can withstand all these, so your optic should too! Get an optic that's been impact-tested so it's sure to survive daily use and abuse for a long time. 
Be sure to review any ingress protection (IP) ratings too. At least an IP-67 rating will make sure your optic is protected against dust ingress and submersion in water up to 3 feet. 
A reliable optic holds zero even after a thousand rounds. Make sure it's constructed from durable aluminum but, at the same time, weighs just right (not too light and not too heavy). You'll want an optic that can handle the 7.62×39mm's recoil (is built well) but won't slow you down.
Also, your optic's windage and elevation knobs should have crisp clicks for easier calibration.
Price
Price plays an important role for any of us. Like what we always tell our readers, if you've got money set aside for your shooting gear, splurging on premium brands is best since you'll likely keep and use it for a lifetime. But if your budget is limited, there are also a lot of affordable but reliable optics to choose from – from riflescopes to red dot sights.
5 Best Optics for AK-47
Best Overall: Aimpoint PRO Red Dot Reflex Sight
The Aimpoint Patrol Rifle Optic (PRO) comes with an efficient circuit that lets you leave the power on for as long as three years.
Its premium housing also provides increased protection against impact damage and scratches to the lenses. Its optical system also features reflex collimator technology with a LED dot for easier target acquisition and aiming.
The Aimpoint PRO comes in a compact design, making it compatible with a wide range of rifles and other types of firearms. Plus, it's equipped with a transparent rear lens cover that protects the lens from scratches during heavy use.
Pros
Iron sight co-witnessing compatible
Long battery life
Reasonable price
Night vision compatible
Cons
The adjustment knob is a bit huge
Poor customer service
What Customers Say
One of the best red dots on the market for this price. The mount is high quality and was able to co-witness on my Vltor CASV handguard (the one that dog legs onto the upper receiver), by removing the spacer. The lowest settings can really be fine-tuned for use with NV, and the 4 upper settings should get you through most lighting situations. It's an awesome value.

Chad J. Sullivan
Performed extremely well and was able to get it on bulls-eye in no time with a laser bore sight. Very good clarity on the glass with a slight blue tint. Very precise shooter with the dot tuned down to very visible.

Angry Old Man
Best Optic for Co-Witnessing: Trijicon RMR Type 2
Trijicon produces solid optics, and one of their best red dots is the RM07 RMR Type 2 Adjustable LED Sight.
Our hands-on shooting with this one has been really positive. 
The RMR Type 2's housing is designed to absorb impact to prevent the lens from getting damaged. This beauty can also be mounted on most fixed or variable magnification optics from Trijicon.
This LED sight also features easy-to-access and easy-to-adjust illumination controls at the side. These buttons can also be locked to avoid accidental adjustments. Finally, the Trijicon RM07 RMR Type 2 Adjustable LED Sight comes with a battery-saving feature that adjusts the aiming dot to ambient lighting conditions after 16.5 hours. 
One downside is that changing the battery requires dismounting the optic.
Pros
Lightweight
Night vision compatible
Comes with a warranty
Cons
No mount included
It costs a bit more than average brands
What Customers Say
It was very easy to zero and is built like a tank! The adjustments are tight enough where they don't need locking screws and I have used this on my CCW for a few months and have not had issues with the zero staying where it should be. Also, this model fixed the flickering issues (as I would expect for the price of this RMR). Don't waste your time with something cheap that doesn't function at last as this will!

Cody C.
It is unbelievable how crisp it looks and the frame will actually fade out of view when focused on your intended target. I absolutely love this thing!! I have it on the automatic brightness adjustment setting which I also was worried about. Not being sure if it would actually work as it was supposed to, but it's almost as if it senses the light/darkness that it's about to enter and adjusts it as fast as your pupils do when you transition from more or less light.

Jason
Best LPVO for AK-47: Vortex Razor HD Gen II 1-6×24
The Razor HD Gen II-E is one of the best LPVOs out there because of its improved optical performance and eye box compared to other 1-6x rifle scopes.
The clarity and field of view are really excellent in person. Be sure to find one you can look through in person if this is in your price range. 
The Razor is lightweight for easier transitions between multiple targets and less arm fatigue when spending long hours on the range. Plus it sports an apochromatic optical system that features premium index-matched lenses for unparalleled image quality. This scope is also impact-tested, so it can withstand heavy recoil.
Pros
Capped turrets
Lightweight
Wide field of view
Forgiving eye box
What Customers Say
The Vortex Optics Razor HD Gen II-E is a really good and forgiving optic for your rifle. Between the eye-searingly bright red dot, the wide FOV, crystal clear glass, and overall design, you are getting a lot of good features for your money. This is an easy recommend but make sure you are getting the reticle type you want before pulling the trigger.

Tipsy McStagger
Excellent Scope. Not cheap, but the clarity of the glass, the ability for fine adjustment, and zero-set is pure perfection. If you're looking for a scope to double as a red-dot and a 500+ yard precision instrument then this is it.

Art
Best on a Budget: Bushnell Trophy TRS-25
The Bushnell Trophy TRS-25 red dot offers excellent light transmission and glare reduction. Its adjustment knobs come with thick and durable water gaskets. These knobs are tight enough and hold well even after doing a lot of heavy shooting.
Its 3 MOA red dot reticle features 10 adjustable brightness settings that let you acquire targets quickly and save your battery by setting the illumination to low.
The TRS-25 is also ready-to-mount on most Picatinny rails and it comes in a precision-engineered housing that can survive daily abuse and harsh environments.
Pros
Lightweight
Affordable
Waterproof, fog proof, shockproof
Cons
Short battery life
No auto-off feature
What Customers Say
They keep zero, hold up well to the recoil of even 30 cal rifles, aren't affected by rain, and stay solid on the gun. I like the variable red dot brightness and ease of adjustments. This is like a poor man's Aimpoint. I'd go so far as to say that if you're on a budget, I'd even be willing to put it on a combat or duty rifle. Mine have held up through thousands of rounds, several rifle courses, and many competitions. Well worth the money and weight.

John Scout
This red dot seems to be very well made, and it was super easy to install. I went to the range this past weekend, and it was super easy to get zeroed in, and it stayed accurate after shooting a box of 20 rounds. I do wish it had an auto-off feature though. Just make sure you turn it off after use, do not allow the battery to drain. I also recommend getting a riser mount for your sight. It raises the sight enough to make it comfortable to see through. It was hard to use without this riser.

BuggedOut
Aimpoint Micro T-2 Red Dot
The Micro T2 red dot comes with 12 brightness settings one of which is extra bright for when the sun is at its brightest. The flip-up covers for the front and rear lenses and the reinforced windage and elevation turrets are also well-built and looked like they could withstand heavy use and extreme weather.
Finally, Aimpoint developed an advanced lens system for this red dot, allowing improved light transmission and superior optical clarity.
Pros
50,000 battery life
Huge brightness knob
Can handle recoil really well
What Customers Say
Mounted on my Rifle Dynamics AK and it is such a great addition for shooting. I shot so much more accurate than my buddies at the range with their ARs after they all thought AKs were simply not accurate. Price is what you pay, value is what you get!

Burnt Toast
Excellent reticle and sight, I would recommend it to anyone who is looking to use this on a pistol or an AR with standard iron sights.

IATFalcon
Conclusion
The AK-47 isn't quite as easy to mount an optic on it as the AR-15. Still there are ways you can mount an optic on it – on a side rail or on a quality handguard mount. 
And if you get it done, it will be a game changer for accuracy and target acquisition.
Last update on 2023-09-08 / Images from Amazon Product API