Best Overall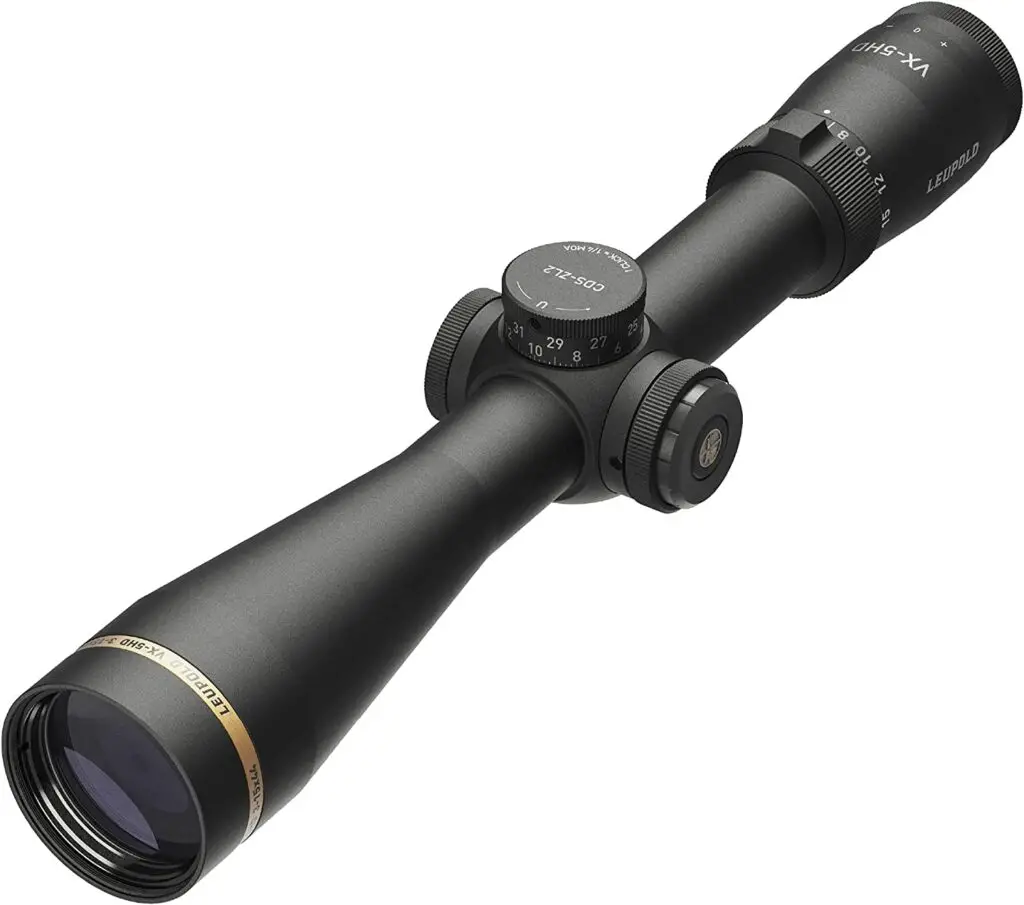 Leupold VX-5HD 3-15x44mm Riflescope
Offers an impressive feature set.
Reticle: 9/10
Battery Life: 9/10
Cost: 8.5/10
Check Price
Best Value

Vortex Optics Crossfire II 6-18×44 SFP Riflescope
Comes with excellent value.
Reticle: 8/10
Battery Life: 8/10
Cost: 9/10
Check Price
Best for Precision Shooting
EOTECH Vudu 5-25x50mm Precision Rifle Scope
Go-to scope for precision shooting.
Reticle: 9/10
Battery Life: 9/10
Cost: 7/10
Check Price
When it comes to long-range shooting, having the right scope makes all the difference. The 6.5 Creedmoor cartridge has gained immense popularity among hunters and precision shooters for its exceptional accuracy and ballistic performance. To maximize the potential of this versatile round, it's crucial to pair it with a high-quality scope, and to really reach out quickly a ballistic drop compensating (BDC) reticle can be great for shooting at a variety of ranges too. In this article, we will explore the key features to consider when choosing a 6.5 Creedmoor BDC scope and highlight five top options available in the market.
Features to Consider When Choosing a 6.5 Creedmoor BDC Scope
Magnification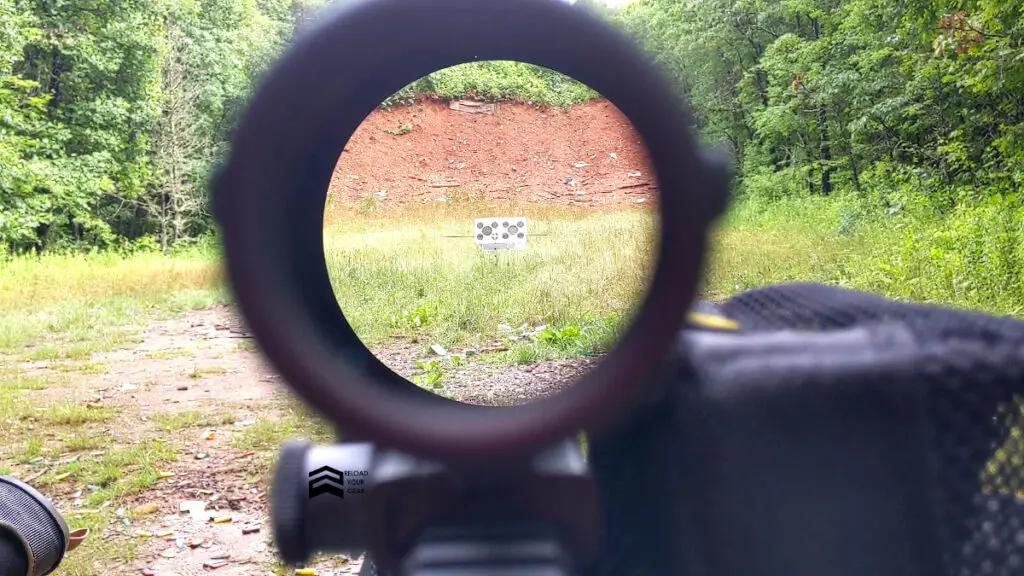 The magnification range of a rifle scope determines how effectively you can engage targets at various distances. A good 6.5 Creedmoor scope should offer a wide magnification range, allowing you to zoom in for precision shots and zoom out for quick target acquisition.
Reticle
The reticle is another vital aspect to consider. BDC reticles are specifically designed to compensate for bullet drop at different ranges. Look for a reticle that offers clear and precise holdover points for accurate shot placement. Additionally, illuminated reticles can greatly enhance visibility in low-light conditions.
Quality and Construction
Durability is paramount when it comes to scopes. Look for scopes constructed from high-quality materials that can withstand harsh environments and recoil. Waterproof and fog-proof properties are also crucial to ensure reliable performance in any weather conditions.
Price
Budget is a factor that cannot be ignored. Determine your price range and choose a scope that offers the best balance between features, quality, and affordability. Remember, buying a reliable 6.5 Creedmoor BDC scope is a long-term investment for increasing your shooting accuracy.
5 Best 6.5 Creedmoor BDC Scopes
Best Overall: Leupold VX-5HD 3-15x44mm Riflescope
The Leupold VX-5HD offers a versatile magnification range, a highly functional BDC reticle, exceptional glass clarity, and rugged construction. Its Twilight Max HD Light Management System ensures optimal light transmission, providing clear and bright images even in low-light conditions. With its impressive feature set, the Leupold VX-5HD is a top choice for a wide range of shooting applications.
Pros
Free CDS Elevation Dial
Waterproof, shockproof, and fog proof
Side focus parallax adjustment
Comes with a lifetime warranty
Cons
Mushy windage adjustment turret
Expensive
What Customers Say
The quality of the Leupold VX-5HD 3-15x44mm riflescope is simply bar none the best scope of this caliber for the price! Lifetime Warranty!! Placed it on my Browning X-Bolt 300WSM. Performance at the range was the best I have ever experienced.

300WSM Guy
This scope was used on a Browning X-bolt, which requires an extra long scope. The scope was easy to zero in, and the clarity was wonderful. I can't say enough good things about this scope.

Earl and Sandy Page
Best for Precision Shooting: EOTECH Vudu 5-25x50mm Precision Rifle Scope
The EOTECH Vudu is a premium option for precision shooters. With its impressive magnification range and first focal plane reticle, it provides precise holdover points at any magnification setting. The high-quality glass delivers exceptional clarity, while the sturdy construction ensures reliable performance in demanding shooting scenarios. The EOTECH Vudu is the go-to scope for long-range precision shooting enthusiasts.
Pros
Solid construction
Wide magnification range
Compact
Capped windage turret
Crisp adjustment turrets
What Customers Say
Excellent optic for my 300 WM.

Aaron B. Renz
The Vudu 5-25X50 is absolutely amazing! Glass clarity, adjustments and build quality are top notch. The illumination on the TR3 reticle is quite nice.

Jon D.
Best Value: Vortex Optics Crossfire II 6-18×44 SFP Riflescope
The Vortex Optics Crossfire II offers a great combination of affordability and performance. With its Dead-Hold BDC reticle, clear optics, and rugged construction, it provides excellent value for the price. The adjustable objective allows for parallax removal, enhancing accuracy at longer distances. The Crossfire II is a reliable option that won't break the bank.
Pros
Affordable
Comes with Vortex Warranty
Resettable MOA turrets
Long eye relief
Multi-coated lenses
Waterproof and fog proof
What Customers Say
This scope was mounted on a Remington 308, sighted in easily and very bright optics. Will use it this year during deer season in Louisiana.

Dennis joiner
I mounted this product on my 50 caliber muzzleloader. Holds zero perfectly, easy to adjust focus rings, great value for the money.

David Hegi Sr.
Vortex Optics Viper HS LR First Focal Plane Riflescope
The Vortex Viper HSLR Riflescope is engineered for long-range hunting and shooting. It uses the first focal plane so you can extend your shooting range without worrying about wind drift and bullet drop adjustments on your reticle.
This scope makes long-range shooting a breeze, thanks to its 4x zoom range. It's also constructed from hard-anodized aluminum and its lenses are covered with Armor Tek coatings for guaranteed durability.
It comes with capped windage turrets for protection from accidents, but they won't bother you even without the cover. The elevation turrets are exposed for easier adjustments.
The best thing about the Viper HSLR is that it's as reliable as other brands but costs less with a "no questions asked" warranty!
Pros
Affordable
Waterproof, shockproof, fog proof
Wind drift and bullet drop compensation
Fiber optic turret rotation indicator
Cons
Power ring is a little stiff
What Customers Say
No complaints on this optic. Not as good as others in the $1,500 range, but it's also almost half the price. I put it on a .223 for 500 yard shot, works great.

DB
No complaints on this optic. Not as good as others in the $1,500 range, but it's also almost half the price. I Scope has perfect clarity all the way up to the 24x. Comes with Sun shade as a bonus.

Cameron R.
Best Entry Level: Burris Fullfield E1 Hunting Scope
The Burris Fullfield E1 Hunting Scope is designed specifically for hunters. It features a simple and intuitive Ballistic Plex E1 reticle that offers precise aiming points out to extended ranges. The scope is ruggedly built, shockproof, and offers excellent clarity. With its affordability and reliable performance, the Burris Fullfield E1 is an excellent choice for hunters pursuing games with their 6.5 Creedmoor rifles.
Pros
Ballistic Plex E1 Reticle
Easy-to-reach parallax adjustment
Lightweight
Affordable
Comes with Burris Forever Warranty
Cons
Reticle may be too thin for some
Average glass clarity
What Customers Say
Very nice scope, my 22LR is now very accurate.

Ronald Schmucker
Love this scope. Very clear picture. Terrific in low light and it mounted and adjusted easily.

Kevin Clarke
Our Key Takeaways
When choosing a 6.5 Creedmoor BDC scope, prioritize features like magnification range, reticle functionality, quality construction, and price. Evaluate your shooting needs, budget, and preferences to find the perfect 6.5 Creedmoor BDC scope that will help you maximize your shooting potential and enjoy accurate and satisfying shots every time.
Last update on 2023-09-28 / Images from Amazon Product API