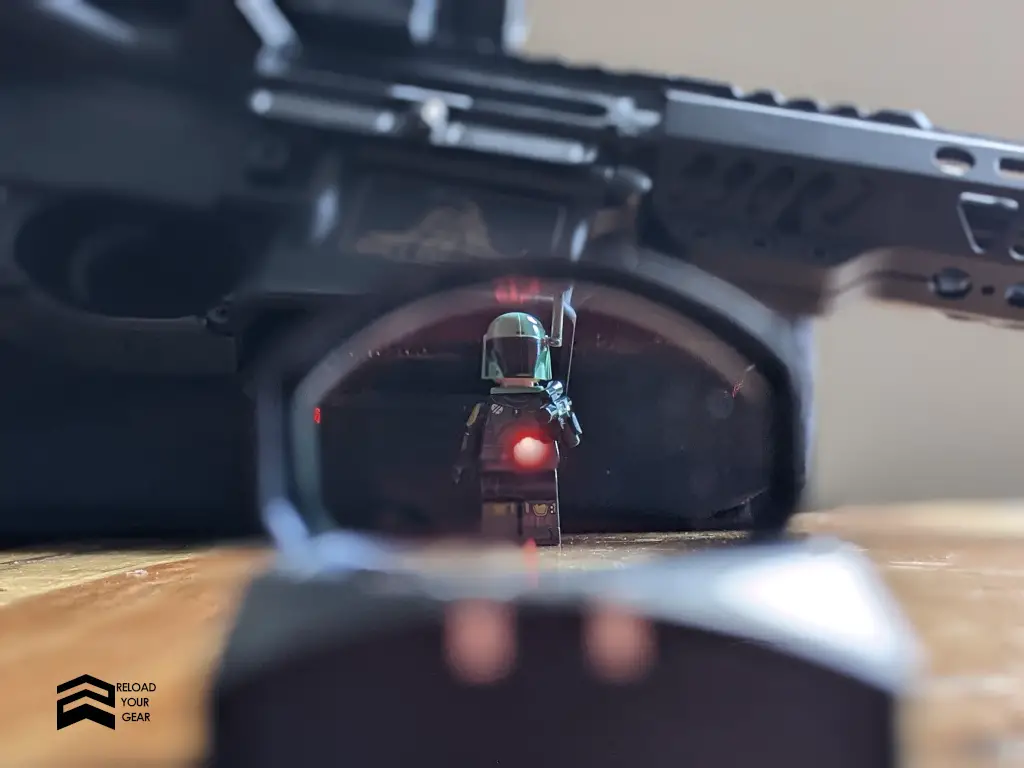 Vortex Optics Viper Red Dot Sight - 6 MOA Dot
The Viper Red Dot Sight has a super low-profile making it perfect for handguns with cut-out slides.
The Viper's low height allows it to co-witness with iron sights and the 6 MOA dot is easy to pick up and get you on target fast. Power and illumination controls are easy for shooters to access and...
The fully multi-coated, ultra-clear lens offers a wide, unobstructed field of view while Armortek coatings protect your lens from oil, dirt, and scratches.
The mini optics' popularity increased recently, so there are tons of options on the market.
But which one should you choose?
We have the solution for you!
Being a leader in optics, Vortex consistently makes high quality, durable, and affordable scopes.
Maybe you've considered buying the Vortex mini red dot (and you should!), but you are still unsure about your purchase.
If that's you, we hope this Vortex scope review helps narrow down your options.
Whether you own a pistol, a small carbine, or you just need a backup scope, don't worry because the Vortex Venom caters to all these! It is easy to use and offers a clear sight picture.
You can buy it in a 3 MOA or 6 MOA reticle, whichever is best suited for you.
Build And Design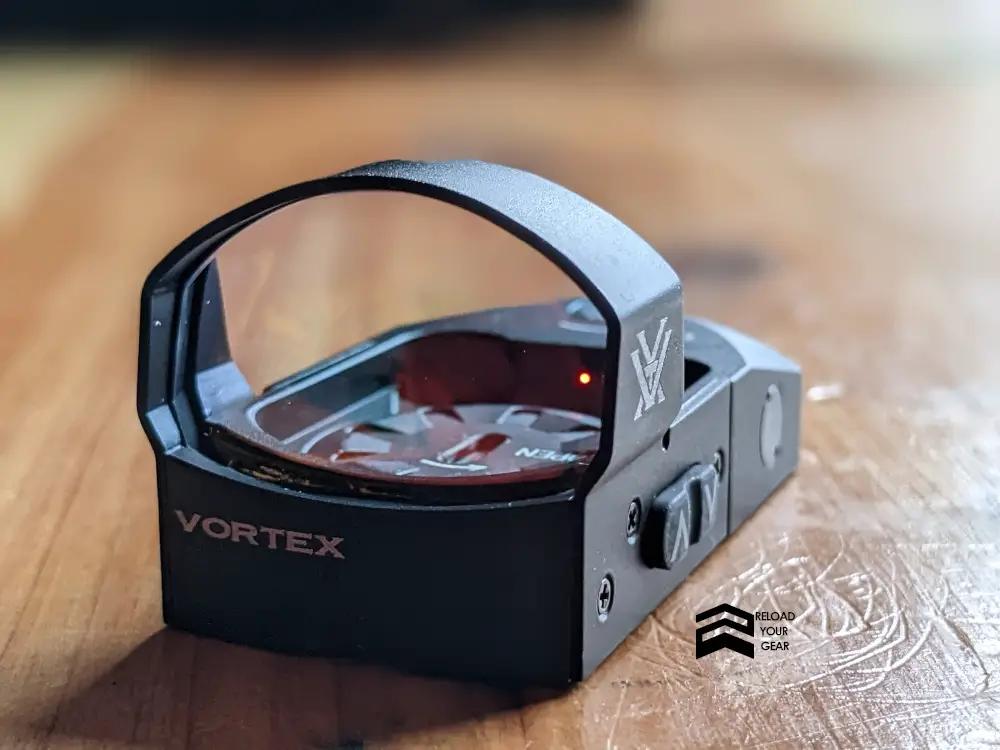 The Vortex Venom Red Dot has a shockproof exterior and can withstand heavy recoil, even from a shotgun.
The single-piece chassis is lightweight and features an O-ring seal. The seal prevents dust, debris, and moisture from entering the device.
Another useful feature is that the battery compartment can be found on top of the sight. So, there's no need to remove the optic to replace the CR 1632 battery.
This eliminates re-zeroing of the optic, saving you ammo and time on the range to focus on the practice you really need instead of adjusting your sight. Opening the compartment is also safe with the case rim slot.
One more helpful function is the auto-brightness adjustment. In general, we're not that fond of this feature, because using it has two downsides.
First is when you aim from a dark place into a well-lit area. The second is when you use it in total darkness as a weapon light.
In both cases, the dot could wash out as the light sensor sees a low level of light and adjust the brightness down.  It is a good idea, but getting it perfect in all situations is tough. Another nice feature is the device shuts off after fourteen hours when in auto mode.
Alternatively, you can set the brightness manually. One thing to note is that the Vortex Red Dot Sight is "parallax-free."
However, no optic is entirely parallax-free.
With the unit sitting motionless on a counter, you can move your head around, and the dot doesn't transfer significantly out to 50 yards until you get near the edges of the lenses.
While with the reticle at the side of the glass, you get a different reading down-range, and the dot shifts up to 12-inches.
Vortex Venom Specifications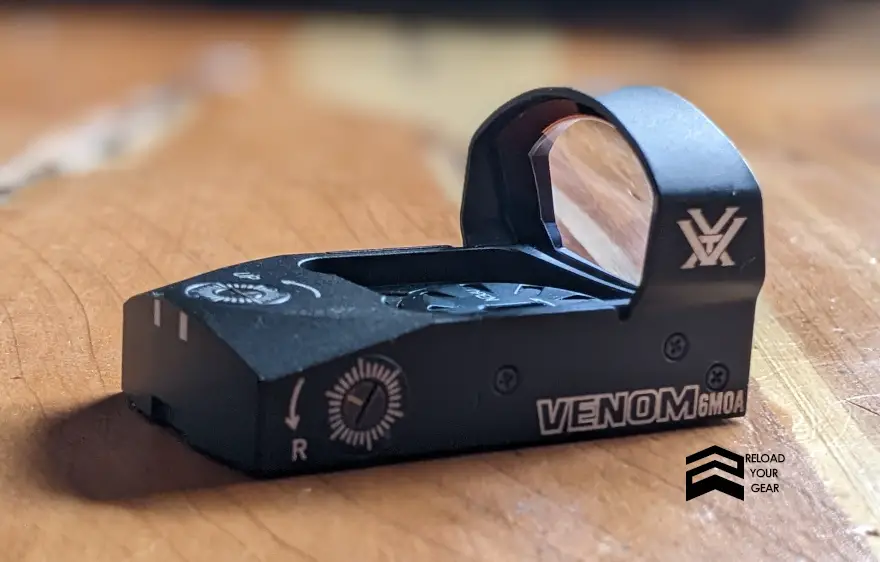 If you're comparing this sight to the Vortex Viper, be sure to see our comparison of the Vortex Venom vs. the Vortex Viper.
What makes the Venom Red Dot superior are the following:
Both the 3 MOA and 6 MOA offer 1X magnification.

The reticle will have a 3 or 6 MOA dot size, depending on the model.

The adjustment graduation is 1 MOA on both models.

The max elevation adjustment is 130 MOA, and the max windage adjustment is 100 MOA.

Both Vortex Optics Venom Red Dot Sights have a Parallax-Free setting.

The product measures 1.9 inches and weighs 1.1 ounces.

You get unlimited eye relief.
Like most products, the Venom Red Dot also has its downsides. Below are its Pros and Cons.
Pros
The Venom is small and lightweight.

The hassle of having to re-zero the sights is avoided because of its top-load battery compartment.

The multi-coated lens makes it easier to see the dot and observe images more clearly.

It has durable construction suitable for tough environments.

It can be mounted on any firearm and provides unlimited eye relief.
Cons
You can bump it in a holster or sling because of the side-mounted controls.

You won't get accurate windage and elevation adjustment as the 1 MOA changes.
Why Should You Pick The Vortex Venom Red Dot?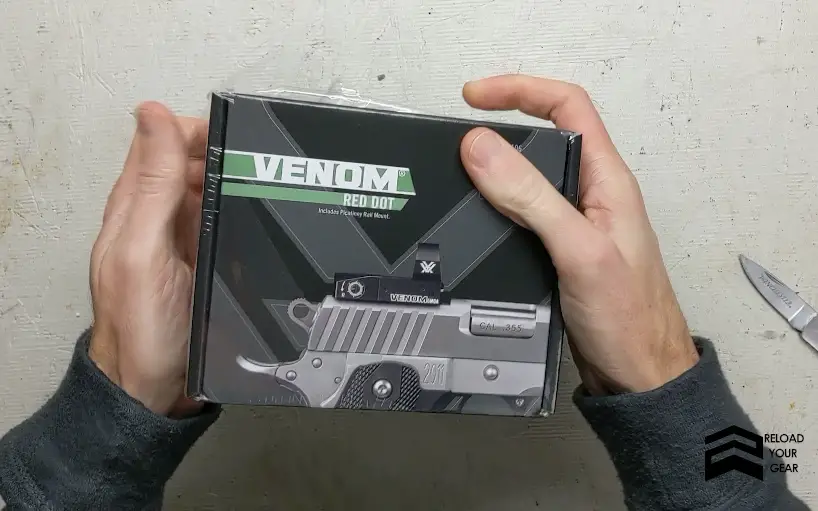 The daylight-bright Red Dot is precise, no matter what type of firearm you own.
It may be small, but it provides rapid target acquisition. The lens is also scratch-free!
How is this possible?
Vortex uses an anti-reflective coating known as ArmorTek to ensure that the MOA delivers high-quality images.
It also offers a wider field of view. That's why it's preferred by most gun owners.
The exterior is aluminum and durable. The power controls are easy to use.
With this scope, you can aim as far as 300 feet and hit the target without missing (depending on how well you shoot).
You can also use it on different firearms because it is compact.
Check Price
If you want to compare two of Vortex's best red dots, our Vortex Venom vs Viper article should help!
Vortex Venom Red Dot Sight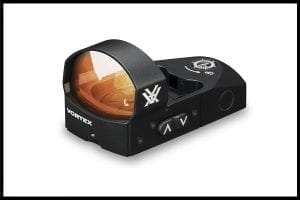 Looking for a high quality, fast optic? Our Vortex Venom Red Dot Sight review breaks down things we love and things we'd change...
Product Brand: Vortex Optics
Product In-Stock: InStock
Last update on 2023-09-24 / Images from Amazon Product API