Best Overall
Last update on 2019-11-18 / Images from Amazon Product Advertising API
We think we can all agree that in the right circumstances, a reliable gas mask can make the difference between life and death.
Gas masks aren't worn only in case of nuclear fallout – they have lots of other uses, but many people think they're expensive accessories they don't actually need.
As it turns out, the best gas mask out there isn't anywhere near as expensive as one might think. And moreover, there are plenty of gas masks to choose from in order to pick a budget-friendly product.
If you don't know how to do research in this respect, don't worry, we've got you covered: in this guide, we'll answer all the questions you might have in regards to gas masks, as well as provide a few actual products you can take a look at and see if they'd be good for you.
If you are in a hurry, below we have selected our TOP 3 choices for you to quickly view on Amazon.
If you want a more in-depth review of these gas masks, just scroll down below and view our recommendations and full reviews.
Our Reviews Of The Best Survival Gas Masks
If you're angling for a gas mask that is multipurpose but remains wildly cost-effective, this Avon model is definitely the way to go. This offers threefold protection: nuclear fallout and chemical and biological warfare.
Without a doubt, the best thing about this is that it's a full-face gas mask. It should go without saying that such a mask offers protection to a much higher degree than one fixed over your nose and mouth.
The Avon offers an unprecedented field of view (1800 angle, to be more precise) which is a more-than-welcome feature.
The vast majority of gas masks don't offer a very good peripheral vision. In this sense, the Avon is reassuring, to say the least.
The size is universal – this makes it suitable for both adults and kids older than 12.
This is what they call a CBRN-protection mask; CBRN stands for Chemical, Biological, Radiological and Nuclear protection. Considering that it sells for just a little over $250, the Elite is right at the crossroads between being expensive and a steal.
Yes, it's paradoxical. The features, however, justify the price. A common issue with gas masks is that it can be next to impossible to speak while wearing them.
Avon addressed this problem by endowing this model with a diaphragm that makes one's voice more audible. The mask is made of high-grade rubber and plastic (the screen). The rubber is virtually indestructible, having been treated against aging.
This is, by excellence, a military-grade gas mask that doesn't blow a gigantic hole in a buyer's budget. The Avon is hands-down the best NBC gas mask you're bound to find at this point in time.
In case you're wondering, NBC stands for "Nuclear, Biological, and Chemical" protection. Sure, this works for radiological fallout, but to a lesser extent than it does for the other types of hazards.
#2 DISKIN Israeli Gas Mask
This is the best Israeli gas mask you can find these days. This, too, like the previous mask, is a CRBN-type mask, which means that it offers protection against the entire spectrum of hazards.
What you should know right off the bat is that this mask actually complies with the rigorous criteria of the NATO military.
Another aspect that should give you a hint of how incredibly tough and reliable this mask is – this model is made by the primary manufacturer that caters to the IDF (Israel Defense Forces).
Whereas the common gas mask has only one filter port, this one has 3. The field of view that this model provides is quite generous, although a little smaller in comparison with that of the Drager.
The face shield is extremely tough and resistant to shocks and chemicals. It is made of butyl rubber.
Also, if you've had problems with fastening a mask to your head and it didn't feel very comfortable, you'll be happy to know that this has 6 adjustable straps that allow you to tighten or loosen the mask as you please.
Moreover, this mask can be used with a drinking tube (but you have to purchase that separately) and it requires 40mm cartridges. Another implementation that potential buyers will definitely find amazing is the carbon dioxide dispersion.
When you breathe, the air is, believe it or not, passed through the visor and the mouthpiece. This won't only disperse the dangerous carbon dioxide that can reach a high concentration within the mask but also reduces the risk of condensation.
Consequently, the face shield won't get misty. All things considered, the DISKIN Israeli Gas Mask is a must-have for all preppers. It is not any more expensive than gas masks that have half of its features.
#3 Holulo Respirator Mask
This Holulo features a double filter and a relatively large face screen. As mentioned in the name, this mask is meant to offer protection against organic chemicals. These include, among others, acetone, carbon dioxide, chlorine, chloroform, and anilines.
This can be used at home, too, when you paint or spray pesticides, for example. The cartridges of this Holulo work with activated-charcoal, which traps the compounds of the aforementioned organic vapors and gases.
You'll definitely see that many people prefer to stay away from this model solely because it was manufactured in China and Chinese products are known for being of low-quality.
Fortunately, that doesn't apply to this mask.
It is surprisingly well-made, except for the attachments, which are made of cheap plastic and are highly underwhelming.
Moving on, the field of view is actually really deep, so you won't have to take the mask off in order to be able to look left and right.
The manufacturer made it clear that the life of the filters depends on the concentration of chemicals in the air. The more contaminated the air is, the less will the filters last. It's a bit weird, but there are no specifications concerning how much they last in lines with certain concentrations.
The mask feels comfortable thanks to the silicone linings. Most masks are very rigid and have no "cushioning", so to speak, therefore wearing them is awful.
So, the silicone linings are a nice addition to an overall good product that more people should give a chance to.
One crucial aspect:
If you decide to buy this, make sure you stock up on cartridges. If you don't, this is basically a disposable mask. Many customers had issues with getting replacement filters from the manufacturer (considering that the site is in Chinese).
Make the right call and ask how you can have it sent to you with plenty of filters.
This is made by OEM and looks like it was straight up taken from the Fallout video game. What's sure to make your jaw drop down to the floor is the price this unit sells for approximately $25.
In spite of the disturbingly low price, this is a military-grade mask that provides steadfast protection against both biological and chemical attacks, as it can remove aerosols and gas vapors.
One minor downside of the Czech M10 is that it's an old model that hasn't really been updated in years. This doesn't mean that it doesn't do its job, however. It's still as great as it was the first time it hit the market.
If you're more into modern gas masks, though, you'll probably blow past this. If you do so, you might actually do yourself a disservice, given that this is a military-grade gas mask that sells so cheaply.
The many reviews left behind by those who own this mask serve as proof that people still buy this in spite of its age. And good for them – old doesn't necessarily mean "bad".
The mask comes with a bag, filters and some spare goggles.
We ought to mention that some people refer to this as a collectible item more than as a practical one. There's some truth in that, but this is, by no means, a toy. It does what it was built for and is a military grade mask. The emphasis was warranted.
The thing is if you feel like this mask won't serve you very well in case of a disaster, you can go with any of the gas masks we've reviewed above since pretty much all of them offer protection against biological and/or chemical attacks.
#5 Outgeek M50 Airsoft Mask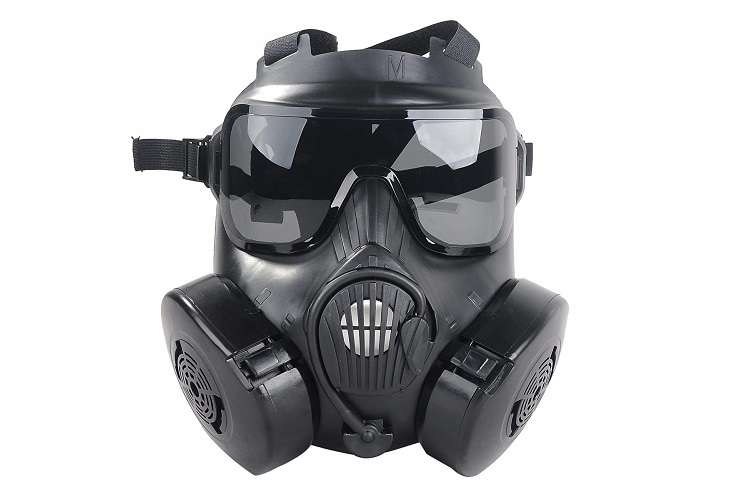 Drager has been in the mask-manufacturing business for a while now and they provide German-quality products that return some insane protection for the price. Their Elite model is a fully NBC mask with a huge face screen that doesn't distort the image.
The body of the mask is made of thick EPDM rubber. The front screen is Plexiglas. If you know your way around materials at all, you know that Plexiglas is extremely tough, and it requires a blow that no human is capable of delivering in order to crack.
Surely, having such a resistant screen is reassuring.
You should also know that the mask is approved by NIOSH – this stands for The National Institute of Occupational Safety and Health. If you do some research on the Internet, you'll discover that only an infinitesimal number of gas masks are actually NIOSH-approved.
Those who are not approved have a lower quality. Therefore, they will provide a faulty protection to the wearers. This model (like the first Drager mask in our guide) also features rubber that's been treated against aging.
In terms of comfort, the Drager Elite is king – at times, you won't even feel it on your head, it's that cozy. The size is yet another pro, as it is universal so that the gas mask can be worn properly by children and adults alike.
In case you're hunting for a gas mask that offers an unprecedented peripheral vision (most gas masks nowadays don't have it in the least bit), look no further.
Thanks to the large, tough screen, you'll be able to see what's left and right of you without turning your head. It might sound cliché, but Germany doesn't kid around with the quality of the products manufactured in its facilities.
The Drager Elite is sure to protect you from any disaster that might befall humanity and does so for a really good price (somewhere around $165).
How Long Is A Gas Mask Filter Good For?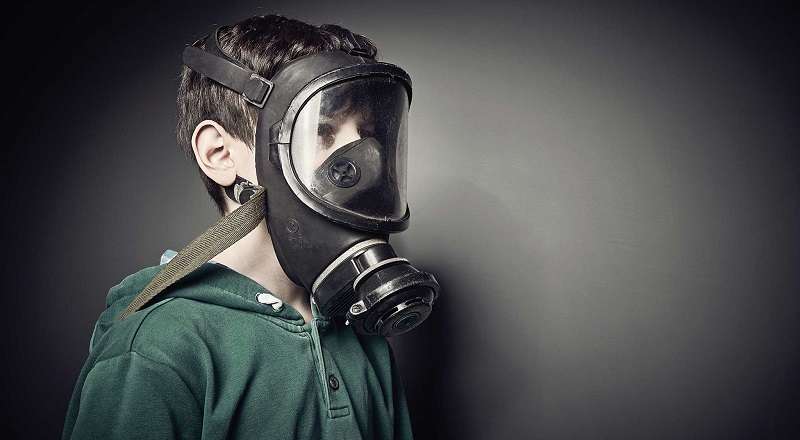 It depends, the filter of a nuclear gas mask, for instance, is built in such a fashion that it can last up to 24 hours. This doesn't make it less prone to clogging, however.
The average filter (the one found on commercial gas masks) can last about 3 or 4 hours and then it will have to be replaced.
The vast majority of gas masks that are sold on the market have "shelf-life" filters – they offer only a couple of hours of protection and then they are rendered unusable. Keep in mind that there are 10 types of filters.
Each of these protects the wearer against a particular toxic compound.
To give you an example:
A gas mask that has a B-class filter will protect against inorganic gases like chlorine and hydrogen cyanide and sulfate.
A gas mask with an Hg-class filter will filter out mercury and one with a K-class filter will protect against amines and ammonia.
It is absolutely crucial to know what you need protection against so that you don't end up buying a gas mask that doesn't have the proper filter.
Here's the complete list of filters:
Reactor: protection against radioactive compounds/materials
A: for organic compounds that start to boil at over 650.
AX: for organic compounds that start to boil at temperatures under 650.
P: protection against particles
E: protection against gases that contain acids (volcanic sulfur dioxide, for instance).
CO: protection against carbon monoxide
ABEK–Class: ABEK-Class filters are multipurpose, as they feature a combination of multiple filters, thus ensuring protection against a larger and more different array of compounds and gases.
B: used for protection against certain types of inorganic gases.
Hg: useful against mercury.
K: protecting the user against amines and ammonia.
Another aspect you should not overlook is that a filter, no matter how efficient it is, won't protect your entire body. This is pretty obvious. In certain cases, you'll need a hazmat suit.
How Do Gas Mask Filters Work?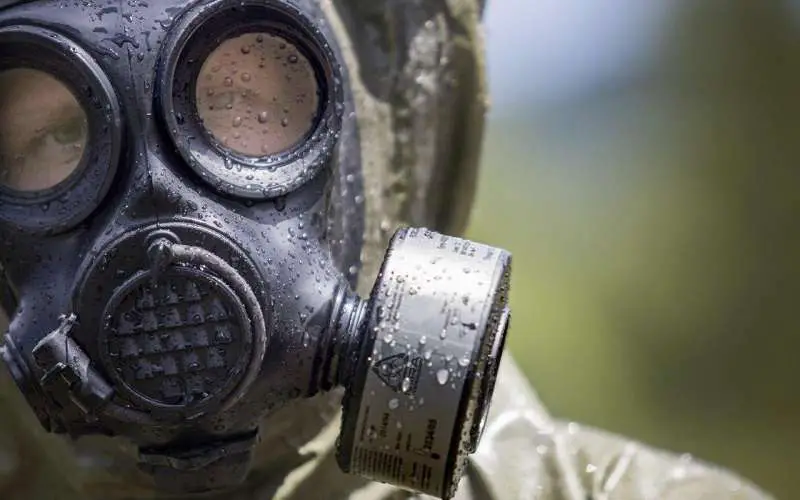 Talking about this will let you know why exactly one has to change filters so often. A filter customarily has 3 components: an aerosol filter, an ASZ charcoal filter, and a charcoal dust filter.
When you inhale, the air is passed through these 3 mini-filters and is therefore purified. The aerosol filter is used to remove the dangerous particles in the air. If you've ever used bug spray, you've probably covered your mouth with an old t-shirt or a cloth.
That's the most common form of aerosol filter. As you might expect, the aerosol filter of a gas mask is extremely "delicate", for lack of a better word, as it can filter out particles that are less than 1 micron in size (and 1 micron is really small).
Particle filtration is effective, sure, but it falls short of providing protection against chemicals. When chemicals are involved, the gas mask should have an activated charcoal filter. This is basically oxygen-treated carbon. Such a filter works on the adsorption principle.
Adsorption is fundamentally a chemical attachment. Let's assume that you're in the situation in which you need protection against chemicals (vaporous or liquid): when those hit the mask, their compounds get stuck in the charcoal.
The oxygen in that charcoal creates "pores" in it and that's where the compounds in the chemicals are trapped.
Filters can also work on the chemical neutralization principle. This is neither hard to explain nor to understand:
Let's assume that you're subjected to a chlorine attack.
The aforementioned filter is treated with a particular chemical that counteracts with the chlorine and eventually neutralizes it.
The filters with activated charcoal are very effective but they need frequent replacement since the pores get clogged fairly quickly.
You're the only one in the position of answering this question because it's all about your personal needs. If possible (and needed), try to get all sorts of filters, just to make sure you're all stocked up.
Can A Respirator Be Used As A Gas Mask?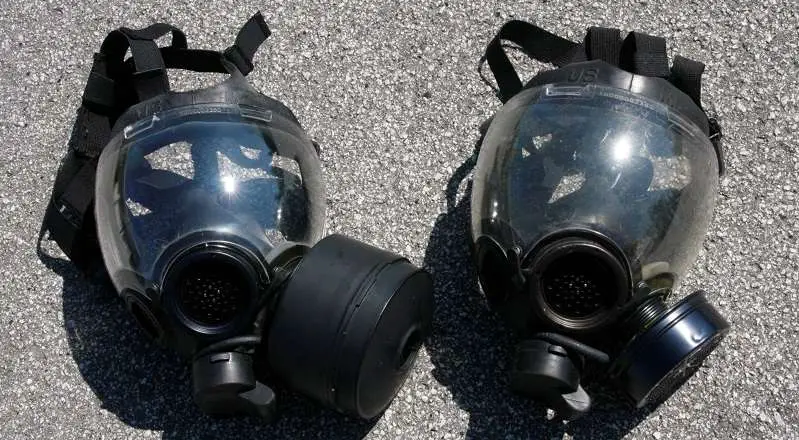 A gas mask can protect against airborne viruses (in case of biological warfare) but it has to be coupled with a few different things, like a hazmat suit.
Virus masks differ from the common ones in terms of size – they usually offer full-coverage, in the sense that they protect one's face completely.
Viruses are tricky bastards that can get in one's body in plenty of ways, thus full-body protection is warranted. Virus gas masks are among the most expensive ones. It kind of makes sense.
One of the worst things about virus gas masks and hazmat suits is that you can still get infected upon the removal of those pieces of protection by getting the viruses and bacteria from their surface.
This is why people go through a neutralizing shower with their hazmat suits on in hundreds of movies.
If you're ever in a situation that warrants protection against viruses – god forbid – do not remove the gas mask and the hazmat suit unless they've been cleaned up with a solution that has been shown to neutralize all bacteria and viruses that might pose a threat to your health.
How Long Do 3M Filters Last?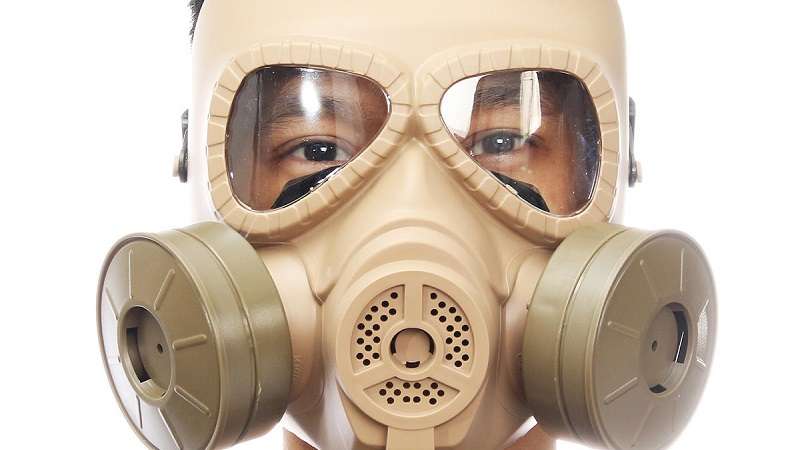 There are 3 types of 3M filters: combination, gas & vapor and particulate. The combination-type filters protect against vapors and particulates. The other 2 are quite self-explanatory.
3m filters are known for having a longer life than the average filters. They are more commonly used on respirators instead of gas masks. 3m filters can last up to 6 months from the date they've been unpackaged.
Most people agree that you should replace your 3M filter when breathing becomes difficult. This happens when the activated charcoal pores become clogged or the sorbent material is fully soaked with gas and vapor compounds.
Specialists recommend the replacement of a 3M filter within 6 months even if you didn't use it at all (a.k.a. when you tore up the package).
How Long Can You Wear a Disposable Mask For?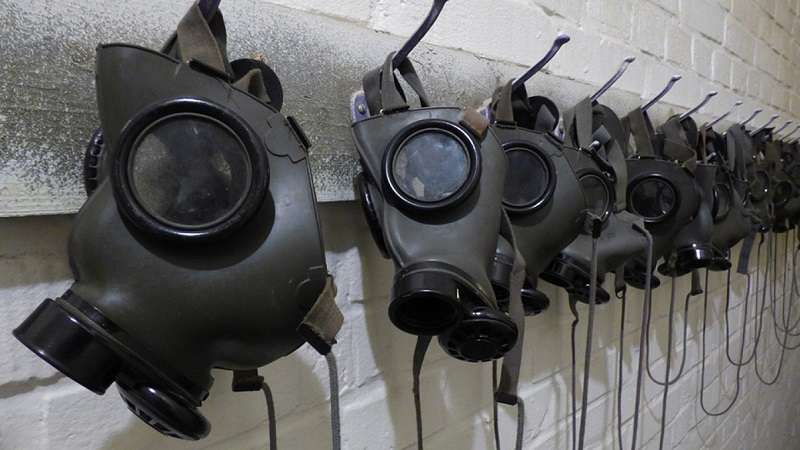 Difficult question to provide an answer to:
There are a couple of manufacturers that don't even specify how long their disposable masks last for. The longevity of a disposable mask depends on a lot of factors: type, the environment it's used in and filtering technology, among others.
If we're talking about a disposable mask meant for protection against viruses (for workers in a TB hospital, for example), it should be worn for approximately 3 days and then it has to be replaced.
It all boils down to how contaminated the air actually is. In a TB hospital, doctors can replace their masks even thrice a day. The very fact that a particular mask is "disposable" is conversant of its longevity.
If there's no information concerning how often you should replace it, wear it until it's difficult to breathe and throw it out. The thing is that disposable masks aren't supposed to last for a long time, so don't expect huge longevity from them.
Also, if you've purchased relatively cheap masks, they might actually get soiled after a while. That's a clear sign that you should replace the mask you're using.