If you recently bought a 17 HMR rifle, you know that you need a precision optic to get your rimfire's optimal performance. Look no further, because we made a list to help you find the best 17 HMR scope!
A Quick Glance: Top 5 17 HMR Scopes
Model
Bushnell Banner Dusk & Dawn Multi-X BDC Reticle Adjustable Objective .17 HMR and .22 Riflescope
Vortex Optics Crossfire II 2-7x32 Rimfire Riflescope
BSA 3-12X40 Sweet 17 Rifle Scope
Leupold VX-Freedom Riflescope
Hawke Vantage IR 4-12x40 AO IR Riflescope
Dimensions
16.25 x 3.25 x 2.5 inches
Optics
Dusk & Dawn Brightness Coatings
Leupold Twilight Light Management system lens
Sport Type
Hunting, Tactical Shooting
Model
Bushnell Banner Dusk & Dawn Multi-X BDC Reticle Adjustable Objective .17 HMR and .22 Riflescope
Dimensions
16.25 x 3.25 x 2.5 inches
Optics
Dusk & Dawn Brightness Coatings
Model
Vortex Optics Crossfire II 2-7x32 Rimfire Riflescope
Sport Type
Hunting, Tactical Shooting
Model
BSA 3-12X40 Sweet 17 Rifle Scope
Model
Leupold VX-Freedom Riflescope
Optics
Leupold Twilight Light Management system lens
Model
Hawke Vantage IR 4-12x40 AO IR Riflescope
Last update on 2023-02-25 / Images from Amazon Product Advertising API
How powerful is the 17 HMR?
The .17 Hornady Magnum Rimfire is a smoking fast bullet for a rimfire, with a load of muzzle energy. This 17-grain, .17 caliber HMR bullet has a velocity of 2,650 feet per second. It has a flat trajectory up to 100 yards. And it can deliver a destructive shot on small game up to 200 yards. So if you plan on hunting varmints, this powerful round can give you a clean kill. 
Can you kill a deer with a 17 HMR?
The short answer is, probably not immediately. At close range and with a well-placed shot, you could certainly kill a deer with a 17 HMR. But, the downrange ballistics of centerfire cartridges are much better and reliably making a quick and humane kill is unlikely at distance. Because of that, using rimfire rifles to hunt large game is illegal. So, stick to what the weapon is designed for! 
Why the 17 HMR needs a scope?
The rimfire is extremely powerful. But if you want to target a small target zone past 150 yards, you need to pair it with an equally excellent optic. Once you find the best scope for your 17 HMR, you can cover twice that distance in the right conditions.
Features to Consider 
To find the best optic for your 17 HMR, here are features that you need to consider.
Magnification
Magnification is the most important feat that you need to look into. Find a scope with at least 4x to 16x magnification to get your rimfire's optimal performance. This way your range won't be limited to 200 yards and you'll surely pierce even the tiniest vital area on your game.
Optical Clarity
Optical clarity and powerful magnification always come hand-in-hand on quality scopes. So look for an optic with an objective lens of at least 40 mm and has a fully multi-coated lens made from high-density glass.
How far can a 17 HMR shoot accurately?
As mentioned above, the 17 HMR can pierce through varmints from up to 200 yards.
Reticle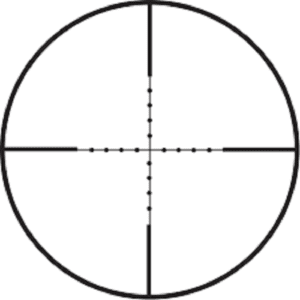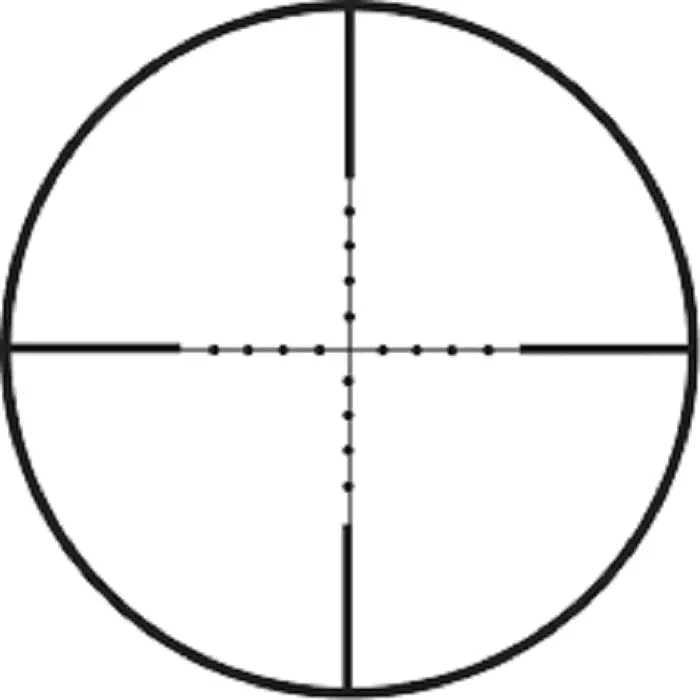 Despite having great muzzle energy, the rimfire is relatively small, making it susceptible to wind. So it would be advantageous if your scope has Mil-Dot or HMR-specific windage markings.
Parallax Adjustments
If you're shooting long-range, having an HMR scope with parallax adjustment features is of great help. 
Durability 
Temperature fluctuations or wet weather may cause internal fogging and mildew formation in your optic. So it is advisable to have a scope that is nitrogen-purged and O-ring sealed. This also allows your equipment to have thermal shock resistance.
5 Best Scopes for the 17 HMR on the Market 
Now that you know what to look for, let us show you our favorite 17 HMR scopes. 
Bushnell Banner Dusk & Dawn 3-9×40 Riflescope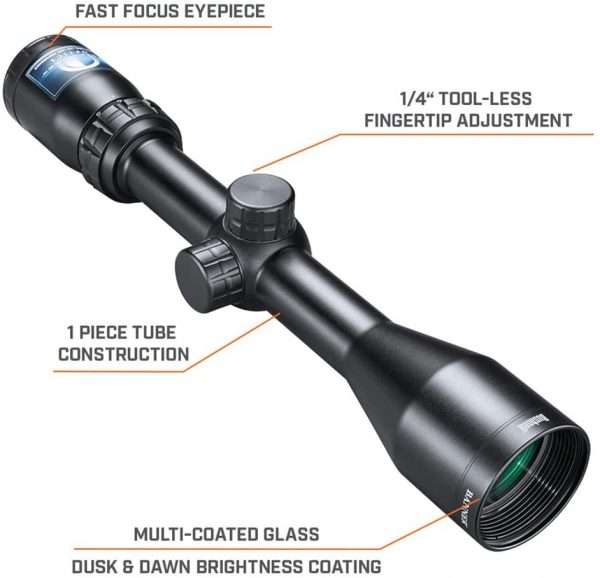 Aside from 3 to 9x magnification, Bushnell Banner takes pride in its Dusk & Dawn Brightness (DDB) multi-coated lenses. These coatings make it easier for you to see during dawn and late evening, which are the best times to hunt. 
It has a 3.3-inch eye relief to give you room for .17 HMR recoils and a powerful 40-mm objective lens. 
Sighting in is not an issue with the Bushnell Banner's 1/4 M.O.A. fingertip windage and elevation adjustment. Its Multi-X reticle also allows you to aim more accurately. 
That's not all, this scope is also waterproof, shockproof, and fog proof, as it is filled with dry nitrogen. 
However, the Bushnell doesn't have a parallax adjustment. If you ask us, this is a small compromise for its affordable price and its astounding features. 
If you plan on pulling an all-nighter, this scope is what you need.
VortexCrossfire II 2-7×32 Riflescope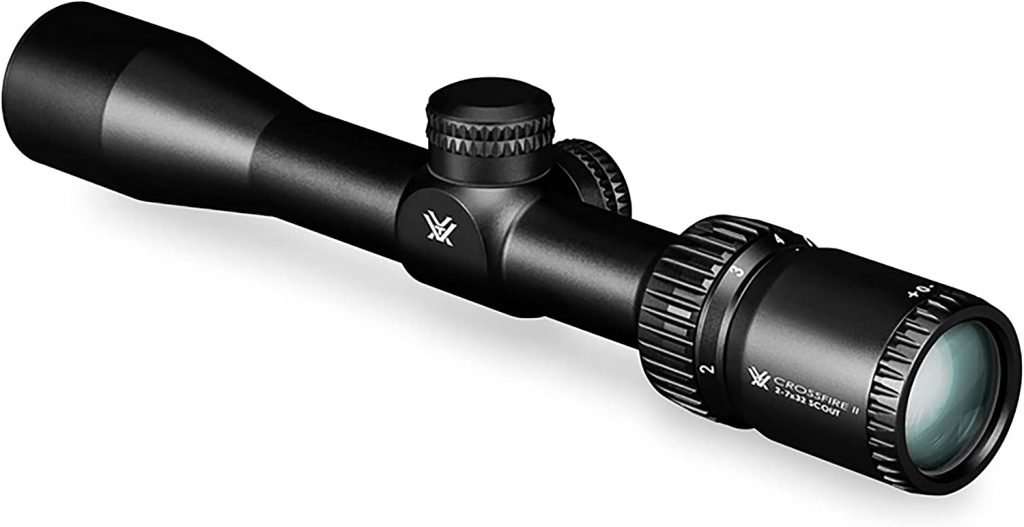 The Crossfire II is a favorite among hunters as it can be used on different hunting applications.
Vortex uses aircraft-grade aluminum, producing some of the most durable optics on the market. So you can rest assured that your scope is shockproof. To add to its durability, the Crossfire II has an O-ring seal and is purged with nitrogen, so you don't have to worry about wet weather or hunting on croplands.
Getting a clear view of your target is also a breeze with the Vortex Crossfire's anti-reflective, fully multi-coated lenses.
What's best about the Crossfire II is that it has a Second Focal Plane. So you can zoom all you want and your reticle's size will still be the same.
But wait, there's more!
Remember when we said this scope can be used on a wide range of hunting applications?
That's because it can cater to three types of reticles. So you can use it whatever your shooting style is. 
You can use the Dead-Hold BDC (Bullet Drop Compensation) reticle which provides reference marks to compensate for bullet drift, especially at long ranges.
You can also use the more traditional V-Plex reticle for short-range day hunting. Or you can use the V-Brite reticle which allows you to adjust illumination depending on the weather or environment.
Its only downside is that the Crossfire II is a little heavier than most scopes, making it difficult to mount. Other than this tiny setback, we couldn't ask for more from this versatile optic.
BSA 3-12×40 Sweet 17 Riflescope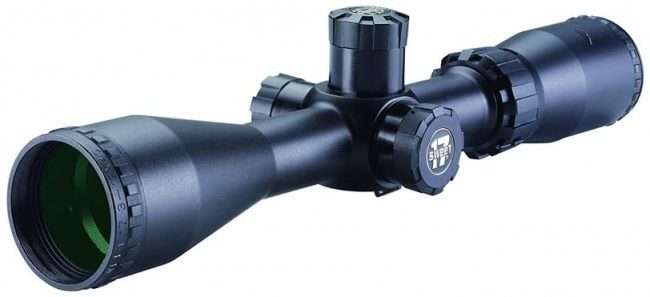 What's sweeter than a scope calibrated specifically for your .17 HMR rifle?
If you plan on using your rimfire long-range, you'll love the side parallax knobs that come with this sweet scope. These knobs allow you to adjust from 10 yards to infinity.
The BSA Sweet 17 Scope also features a fully multi-coated 40mm objective lens and fast focus, allowing you to capture crisp images of your target.
You won't also have to worry about the blazing sun because it has a 3" sunshade. 
Since this scope is custom-made for your rimfire, its elevation multi-grain turret is also ballistically calibrated for 17-grain and 20-grain cartridges.
You can also rely on Sweet 17's durable housing, as it is made from an aluminum alloy. It's also O-ring sealed and nitrogen-purged, making it waterproof and fog-proof.
Leupold VX-Freedom 4-12×40 Riflescope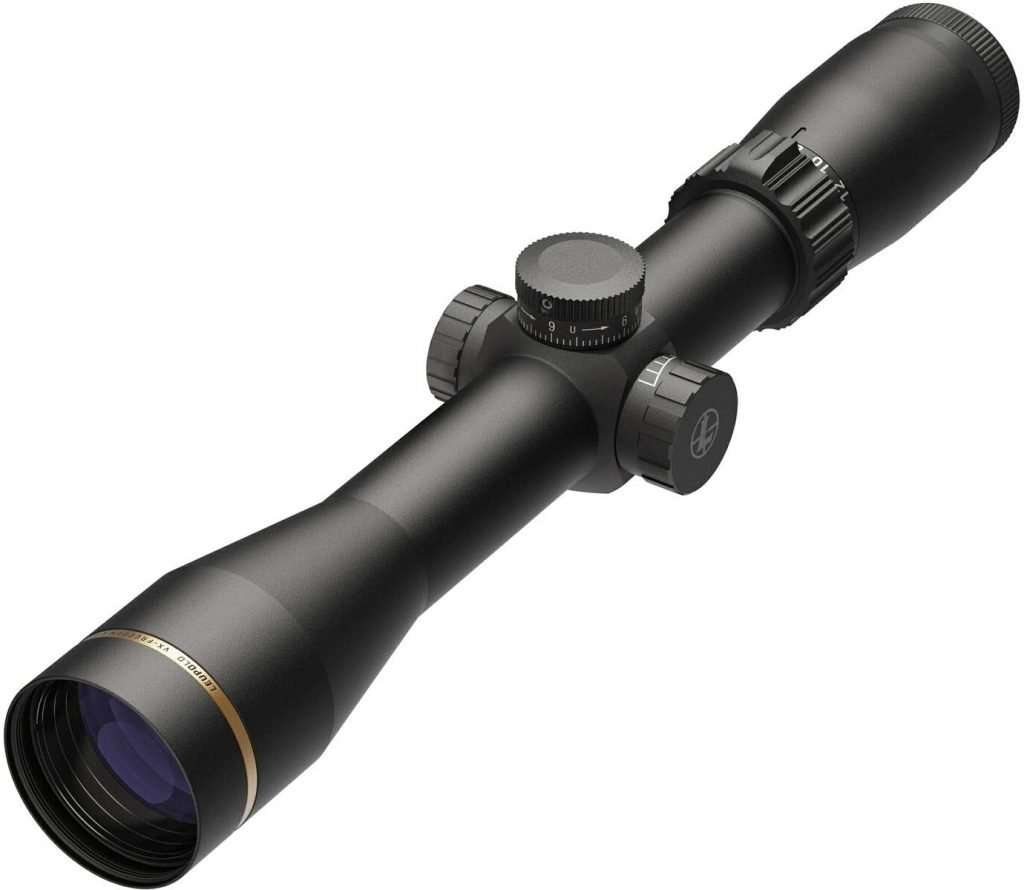 Being produced by one of the leading optics manufacturers in the US, the Leupold VX-Freedom ensures high-quality images.
This scope uses Leupold & Steven's Twilight Light Management System. This system allows optimum light transmission and reduced glare. Thanks to several layers of proprietary lens coatings. So you can hunt in the evening and still get razor-sharp images.
Not only is the VX-Freedom made from 6061-T6 aircraft quality aluminum. All Leupold rifle scopes are also impact tested using their recoil simulation machine. So rest assured that this remarkable scope can survive the strongest recoils.
What's more impressive is that this scope is also tested to perform in the most extreme climate and pressure changes.
The Leupold VX-Freedom guarantees a lifetime of excellent performance.
Hawke Vantage IR 4-12×40 Riflescope

Hawke is a British optics manufacturer that guarantees innovative and durable products, so you can't go wrong with its Vantage Riflescope
You can hunt any time of the day (or night) without worrying about lighting. Thanks to its glass-etched reticle that comes with red and green illumination.
Its optical system is fully covered with 11 layers of special coating for ultra-clear images. Its fast-focus, adjustable objective also allows parallax correction from 10 yards to infinity. 
The Vantage Riflescope also features the rimfire .17 HMR reticle. This Hawke exclusive reticle's aim points are pre-calculated, particularly for the .17 HMR caliber. 
Aside from being 100% fog proof, shockproof, and waterproof, this scope also comes with a worldwide lifetime warranty.
Conclusion 
Found your ideal scope yet? We listed only the best 17 HMR scopes for you so click that Buy Now button and start enhancing your hunting skills.
Since you're into best 17 HMR scope, you may also enjoy our article on choosing a scope. Check it out if you have a minute!