Model
CakCity Men's Military Watch
Wenger Swiss Military Field Watch
Marathon Field Watch WW194009
Victorinox Swiss Army Men's Maverick Watch
Victorinox Fieldforce Sport Chrono Watch
Case
Hypoallergenic Stainless Steel
Model
CakCity Men's Military Watch
Model
Wenger Swiss Military Field Watch
Model
Marathon Field Watch WW194009
Model
Victorinox Swiss Army Men's Maverick Watch
Case
Hypoallergenic Stainless Steel
Model
Victorinox Fieldforce Sport Chrono Watch
Last update on 2021-10-17 / Images from Amazon Product Advertising API
Are you looking for an impressive shock-resistant watch to match your outdoor lifestyle and your casual or business look?
A Swiss military watch is a great choice.
These watches are not only extremely reliable and durable, but they're also elegant and perfect to use as a touch of style in any circumstances.
There are dozens of models to choose from.
There are many brands that sell "Swiss"  watches and the different models have different features and characteristics, so deciding which timepiece to buy might be confusing.
To choose the best Swiss military watch you should consider its versatility.
Based on your favorite activities choose a watch that is shock and water resistant and maybe that has additional functions such as a light, chronometer or tachymeter.
To help you decide, we tested the most popular models on the market and put up this list of Swiss military watches reviews.
Our Reviews Of The Best Swiss Military Watches
#1 CakCity Apache Men's Military Watch
CakCity combined comfort and toughness into this Apache Swiss Military Watch. 
This reliable watch is equipped with a barometer to measure air pressure, an altimeter to track vertical movement, and a compass to help you navigate. These and more useful features to assist you in the wild. 
The Apache is made from stainless steel and tempered glass to ensure durability for a long period of time. Its battery can also last up to 18 months.
The CakCity Apache watch is ideal for water activities as it's water-resistant up to 50 meters. 
#2
Wenger Swiss Military Watch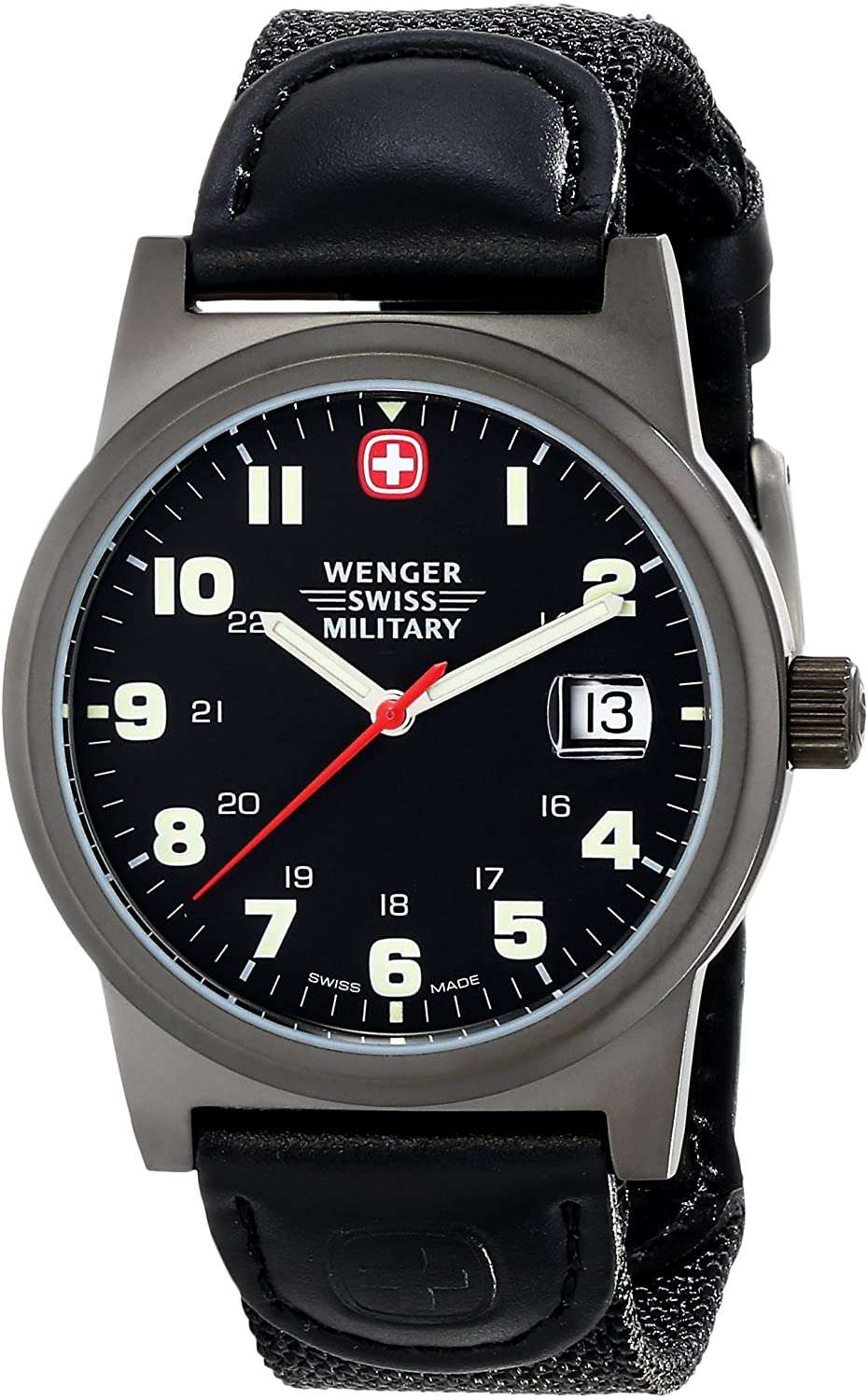 The Wenger Swiss Military chronograph watch is a stylish but extremely functional timepiece.
It has a smart croc-look dark brown leather band and a window made of scratch-resistant synthetic sapphire. 
It also has 12-Hour Chrono function Sub Dials and has luminous hands and dots.
Wenger guarantees the quality of its products as all of its watches are assembled in Switzerland and continue to comply with the Swiss standards.
If you want value for your money accompanied with Swiss precision and durability, the Wenger Swiss Military Watch is for you.
#3
Marathon Field Watch WW194009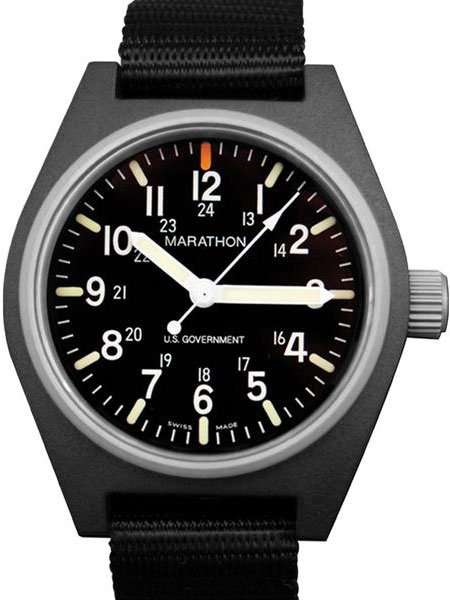 Marathon is one of our favorite Swiss Military Watch brands as they are built based on government specifications for the use of the US military.
The WW194009's hands and markers are coated with photoluminescent Marago paint. So they glow in the dark once charged.
This Field Watch comes with guaranteed durability because of its sapphire crystal window and lightweight high impact fiber shell case.
Take timekeeping to the next level with Marathon's End-of-Life Indicator.
This impressive timepiece is also water-resistant up to 30 meters underwater. 
#4
Victorinox Swiss Army Men's Maverick Watch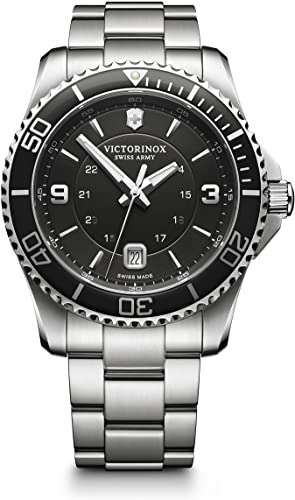 Another name on top of the competition is the Victorinox Swiss Army Men's Maverick Watch.
Made from high-grade hypoallergenic stainless steel, this sophisticated timepiece matches both casual and formal attire. That's practicality and elegance combined into one!
This luxurious watch has a count-up scale and a unidirectional rotating bezel. It's also water-resistant up to 100 meters.
The Maverick also features a triple-coated anti-reflective sapphire crystal window that's guaranteed to resist any type of scratch. It's also equipped with an end-of-life indicator for superior timekeeping.
The 3-year warranty provided by Marathon is also a great bonus for its customers.
#5
Victorinox Swiss Army Fieldforce Sport Chrono Watch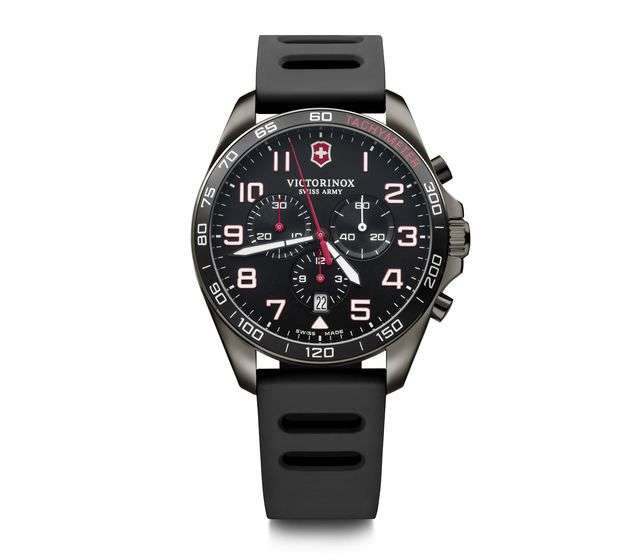 Like the Maverick, the FieldForce Sport Chrono is an iconic Marathon watch for all seasons.
This masterpiece not only works as stylish arm candy but also guarantees mechanical excellence and unparalleled durability. It also adheres to the highest standards of the Swiss watch industry. 
The FieldForce also features a window made of scratch-resistant sapphire crystal that is triple-coated with an anti-reflective covering. It's also water-resistant up to 100 meters deep.
What we love most about this piece is that it comes with a lifetime money-back guarantee, so you can rest assured about its high quality and exquisite workmanship.
Final Thoughts
There are many Swiss military watches for sale, but the best models are the classic ones. 
In fact, there is no need to buy a sophisticated watch with countless functions, sometimes a basic model is more reliable in terms of accuracy.
By far, our favorite timepiece in this category is the Victorinox FieldForce Sport Chrono. 
This watch has an attractive, contemporary design while it maintains its classic charm. It also has exceptional features and on-point aesthetics. 
And even if this watch might be considered expensive, its durability and reliability will certainly pay off in the long run.