Best Overall
Case
Stainless Steel With Gunmetal Coating
Last update on 2021-01-18 / Images from Amazon Product Advertising API
Are you looking for an impressive shock-resistant watch to match your outdoor lifestyle and your casual or business look?
A Swiss military watch is a great choice.
These watches are not only extremely reliable and durable, but they're also elegant and perfect to use as a touch of style in any circumstances.
There are dozens of models to choose from.
There are many brands that sell "Swiss"  watches and the different models have different features and characteristics, so deciding which timepiece to buy might be confusing.
To choose the best Swiss military watch you should consider its versatility.
Based on your favorite activities choose a watch that is shock and water resistant and maybe that has additional functions such as a light, chronometer or tachymeter.
To help you decide, we tested the most popular models on the market and put up this list of Swiss military watches reviews.
Our Reviews Of The Best Swiss Military Watches
#1 Victorinox AirBoss 241507 Automatic Watch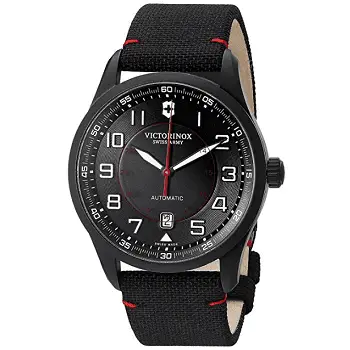 Victorinox is famous all over the world for its military accessories that are guaranteed for life, and the brand's watches don't disappoint. 
One of the most popular Swiss military watches for men from Victorinox is, without a doubt, the AirBoss 241507.
This model features an elegant analog black dial with numeral 24-hours markings as well as minute markers on the outer rim. 
The dial window is made of scratch resistant sapphire crystal and the final touch is given by the stylish wristband.
To match the watch with your personality, Victorinox proposes three different dial types and three different band styles. 
As such, you can choose between the model with the simple analogic dial, with chronograph or with Mach 9 chronograph. 
The various wristbands are made of brown leather, black nylon or stainless steel.
Regarding the technical specifications, this watch is water resistant to 330 feet, however, it does not feature other military functions.
#2 Luminox 3051 EVO Navy SEAL Colormark Watch
The Swiss brand Luminox probably designed it's 3051 EVO Navy SEAL Colormark Watch as an answer to the military demand for the analogic watches. 
This certainly is a watch that stands out thanks to its impressive characteristics and attractive design.
The EVO Navy SEAL features a scratch resistant mineral crystal dial window. 
Built for professional marine activity, this Swiss Army watch is water resistant at 660 feet and it is also equipped with a unidirectional diving bezel.
Luminox EVO Navy SEAL also impresses with its incredible glowing capacity in low-light or no-light conditions. 
This watch is much brighter than many other timepieces because of the unique light technology that provides constant glow for up to 25 years.
The motion of the device is ensured by a quartz mechanism that requires the use of one non-standard battery.
#3 MARATHON WW194006 GSAR​
Purpose built for the search and rescue divers, Marathon WW194006 GSAR is a Swiss military watch designed to withstand the test of time. 
The manufacturer conceived this watch specifically for military use but with regard to style as well. The result is a beautiful model that can successfully match any outfit and occasion.
The GSAR is water resistant at 300 feet as well as it is shock resistant and its dial is fitted with anti-reflective sapphire crystal. 
Thought for heavy outdoor activity, GSAR features a self-illuminating characteristic as well, the tritium gas tubes glowing regardless the conditions as they don't need an external light source to charge.
The Swiss precision is obvious when it comes to this watch, the automatic, self-winding mechanical movement being extremely accurate.
In addition to all these great features, the Marathon WW194006 GSAR is delicate enough to be considered a unisex watch. 
But even if it can be worn by or given to both men and women, the precision and features of this watch come at an extravagant price.
#4 Traser Swiss Type 3 Tactical Watch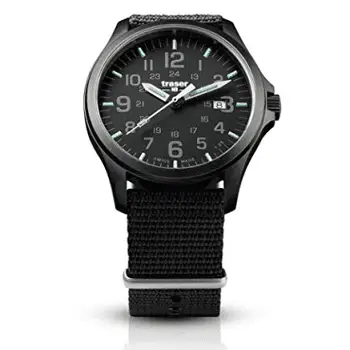 A Swiss military timepiece that can easily compete with the most famous brands is the almost unknown Traser watch manufactured by MB-Microtec company.
MB-Microtec is not an established watches manufacturer but the company is closely related to the watches industry, being one of the few suppliers of H3 tritium gas used in the manufacturing of the self-illuminating watches. 
And as one could expect, the Traser Type 3 tactical watch impresses with its outstanding luminosity.
But luminosity is not the only feature that impressed the consumers. 
In fact, the reviews speak for themselves, many customers appreciating the sophisticated design and the exceptional functionality of this modern yet elegant Swiss watch.
Although of high quality, some consumers also highlighted a few drawbacks, such as the rather low quality of the wristband and the lack of luminosity for the second hand, that makes it difficult to keep track of the seconds in low-light or no-light conditions.
#5 Victorinox 241493 "Chrono Classic" Watch
Another top Swiss military watch to consider is the "Chrono Classic" model from Victorinox, a timepiece that stands out thanks to its incredible accuracy and classic look. 
This watch has a simple and functional dial with Arabic numbers for hours, tachymeter, and chronograph. A window for the date is positioned at six o'clock.
Water resistant at 330 feet, this watch is designed for intensive outdoor use. 
For this purpose, the manufacturer fitted it with an anti-reflective sapphire window for the dial that is scratch resistant and allows an easy reading of the time both under direct sunlight and underwater.
The movement is ensured by a quartz mechanism that requires the use of a battery.
Final Thoughts
There are many Swiss military watches for sale, but the best models are the classic ones. 
In fact, there is no need to buy a sophisticated watch with countless functions, sometimes a basic model is more reliable in terms of accuracy.
By far, our favorite timepiece in this category is the Marathon WW194006 GSAR. 
This watch has an attractive, contemporary design while it maintains its classic charm. It also has exceptional features and awesome technical specifications. 
And even if this watch might be considered expensive, its durability and reliability will certainly pay off in the long run.