Military watches are famous for their reliability, versatility, and durability. That's why they've become an essential part of most people's EDC. But with so many military watch brands available, how can you choose the best one?
You're in the right place! Because we won't only review the best military watches in this article, but we'll also help you determine which model is right for you.
Best Overall
Model
Bulova Precisionist Chronograph
Suunto Core All Black Military
Luminox 3051 EVO Navy SEAL Colormark
Casio Master of G GW-9400-1CR
Best Overall
Model
Bulova Precisionist Chronograph
Model
Suunto Core All Black Military
Model
Luminox 3051 EVO Navy SEAL Colormark
Model
Casio Master of G GW-9400-1CR
Last update on 2021-12-24 / Images from Amazon Product Advertising API
Accuracy is one of the most important features of a tactical watch. It should remain accurate even in challenging environments and situations.
Quartz and digital watches are more accurate than self-winding ones. Still, many people continue to invest in mechanical watches because of their craftsmanship. 
The Official Swiss Chronometer Testing Institute, the body responsible for certifying the precision and accuracy of the Swiss watches, consider mechanical watches precise when they don't drift by more than 6 seconds per day, while the quartz timepieces are considered precise when they don't drift more than 0.07 seconds per day.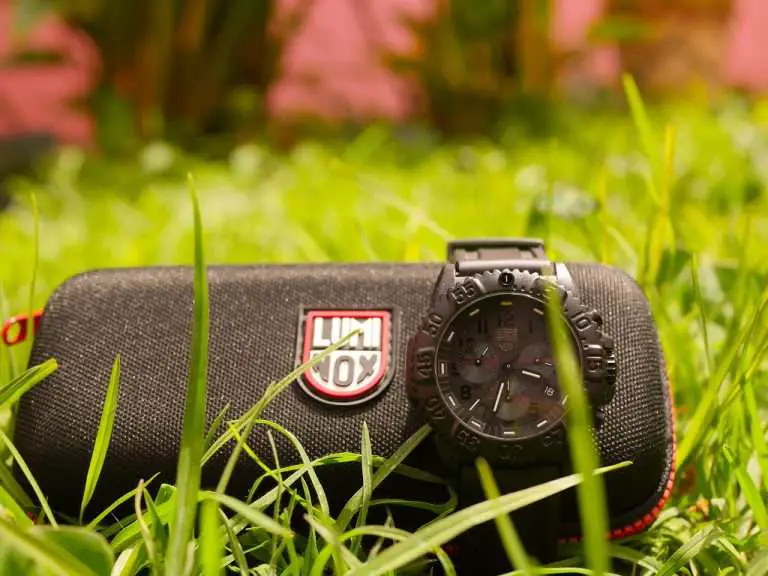 Aside from maintaining accuracy in tough environments, a high-quality military watch's build and construction are also important. It should be shock-resistant, scratch-resistant, and can handle the most adverse conditions. 
Heavy-duty military timepieces have wristbands made of stainless steel, other solid metals, or resin. Some manufacturers equip their watches with canvas or leather wristbands that are comfortable to wear but less resistant to heavy use and adverse environmental conditions. 
The most durable dial windows are made of sapphire, but if you want a more budget-friendly option that's almost as sturdy, a mineral crystal dial window is the way to go.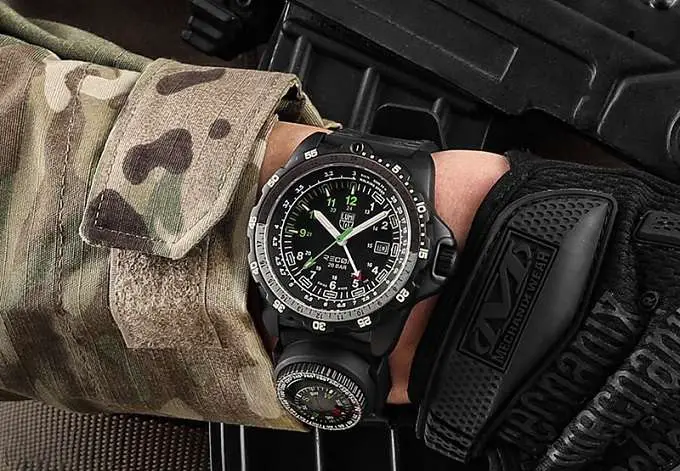 You'll most likely be using your military watch for hiking, mountain climbing, or whatever extreme sports you're into. It will be an essential gear in unfamiliar territory, so make sure it has a reliable GPS and compass.
An altimeter and a barometer are also great features if you'll be up in high and rough terrains. More advanced models allow the user to keep track of their steps and save them for next time.
Water and Pressure Resistance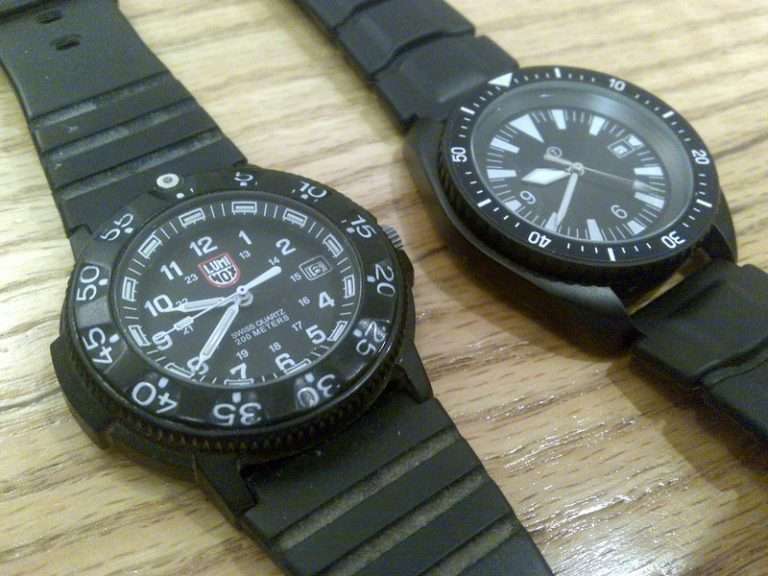 The next feature to look into is water and pressure resistance, most especially if you're into recreational water sports like scuba diving. A military watch should continue to function properly even under high amounts of pressure and at high altitudes.
If you plan to wear your watch while swimming, snorkeling in shallow water, or sailing, it should be water-resistant up to at least 100 meters. But if you'll be doing cliff diving, scuba diving, or other extreme water sports, your watch should be water-resistant up to 200 meters.
This is more of a personal preference, so it's totally up to you. Analog watches last longer, while military digital watches provide more functionality and are more user-friendly. We reviewed both analog and digital options below so take a look.
Types of Military Watches
There are lots of types of military watches, and we listed them below to give you an idea so you can choose better.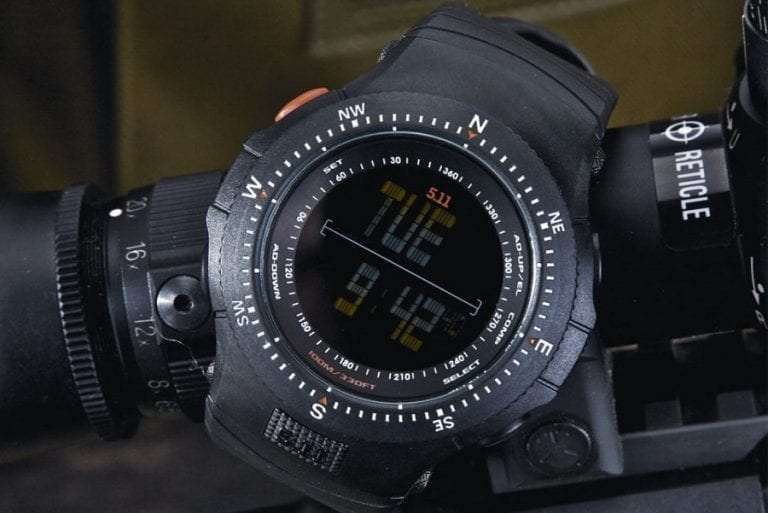 Digital military watches may not be as durable as analog ones, but they're more functional and trendier. All digital military watches are constructed to withstand all sorts of tactical activity. They serve as portable multi-purpose tools. Check out our complete article here.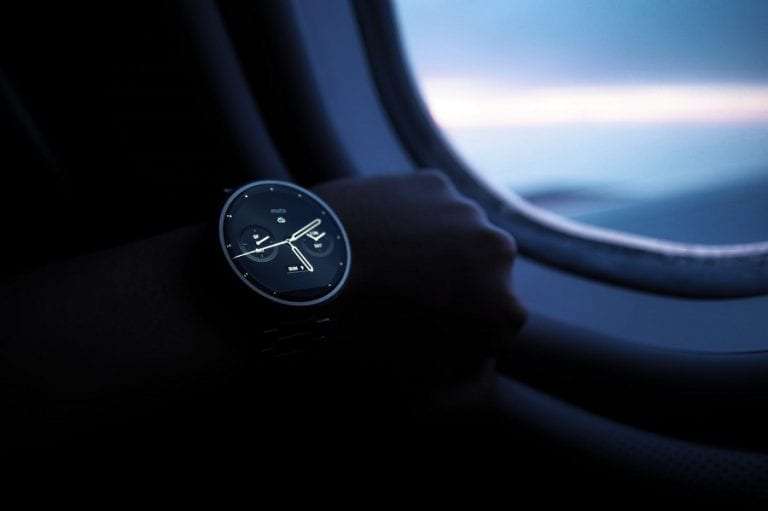 Tritium watches are rugged watches powered with tritium gas tubes or inlays that illuminate the watch for as long as 25 years. Tritium watches also give a more steady and consistent glow than battery or solar-powered watches. Plus, you don't need to worry about replacing batteries every now and then.
A tactical GPS watch is considered essential especially if you'll be doing a lot of hiking, mountain climbing, or camping. These watches are great tracking tools in the wild. More advanced watches let you save your steps so you can retrace them. They also measure the environment so you can get ready for any possible weather or environmental changes.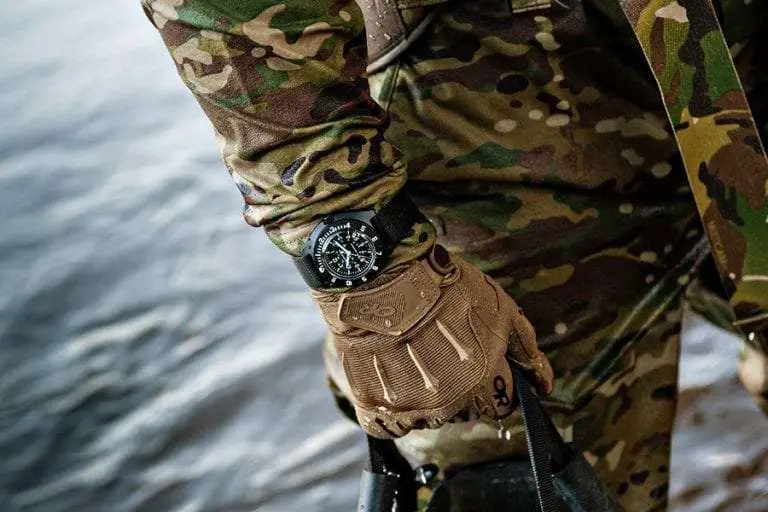 Special forces units are known to have the most stringent selection criteria and harshest operating conditions. Because of that, special forces watches aren't just unique because of their multi-functionality and accuracy. The Special Forces work under the harshest conditions so their watches are known to be extremely durable.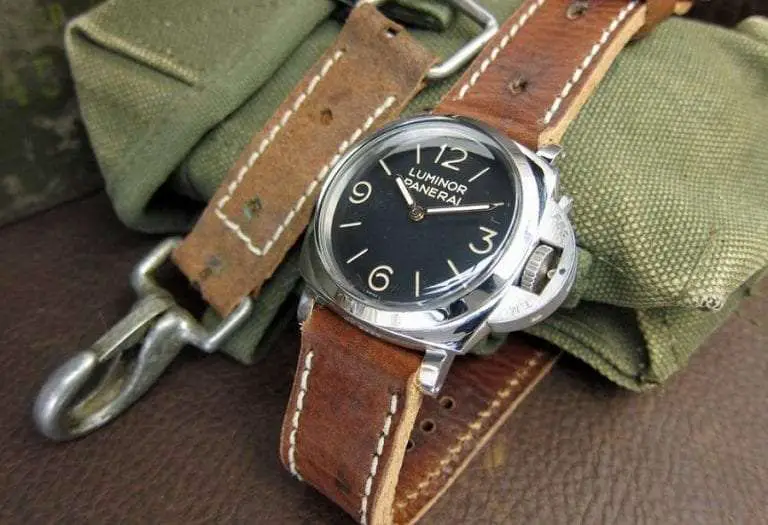 The only difference between a modern military watch and a vintage military watch is the design. Vintage military watches give a more classic look. Despite looking traditional, these watches are known for their dependability in the field.
If you're into old school fashion, we've done a deep dive to find the best vintage military watches just for you.
Most military watches on the market have rugged designs and are bulky, so they're a bit big and heavy for women. They're not actually hard to find as a lot of manufacturers these days have their line of women's watches. But to save you time, we listed the best women's military watches in this article, so check them out.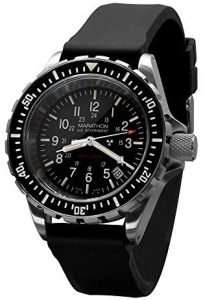 Swiss military watches are some of the most expensive watches on the market. The best swiss military watch is made with precision and care and using high-quality materials as well. That's why they're known for being the most accurate watches in the world, tactical or not.
Our Review Of The Best Military Watches
Best Overall: Casio Watch GA100-1A1 Watch
Last update on 2021-12-24 / Images from Amazon Product Advertising API
Our best overall pick costs less than a hundred bucks and will impress you with its functionality and quality. It's also one of the most popular tactical watches available on the market. 
This G-Shock is designed to handle any type of outdoor activity and it impresses with its rugged yet elegant lines. If you want more options, check out our review of the best G-Shock military watches and our Casio G7900 review.
GA 100's case is made of black resin and it measures 51 mm in diameter and 17 mm in thickness. Many may consider these measures bulky, but the truth is that GA 100's lines are sleeker compared with other G-Shock watches while the timepiece is still extremely robust and resistant to shock.
Its wristband is also made of black resin and it has a width of about 16 mm. For the closure, Casio equipped this watch with a resistant and easy-to-use buckle. GA 100 has a black dial that has a combination of analog and digital elements, each of them used for different features. The current time is indicated by analog hands, while a digital display shows the current date and day of the week. The dial is protected by a mineral crystal window.
The watch boasts an anti-magnetic structure and an auto-illumination feature with afterglow. 
Activating the illumination is easy with a simple twist of the arm. 
Apart from this, the GA 100 has a full pre-programmed calendar, world time with 29 time zones and 48 cities, an easy home city/world time swapping option, and more.
Best in Precision: Bulova Precisionist Chronograph Watch
Last update on 2021-12-24 / Images from Amazon Product Advertising API
Bulova is famous for its unmatched watches with extremely precise quartz mechanisms that allow the timepiece to avoid drifting. What makes Bulova Precisionist line watches special is the unique mechanism able to oscillate eight times more than a normal system.
Bulova Precisionist Chronograph is a unique watch with a splendid design that pairs perfectly with casual and business outfits, while the outstanding features come in handy in the most unexpected situations. 
The case is made of stainless steel and it has a diameter of 46.5 mm, while the thickness of the watch is 17.89 mm. The wristband of the Precisionist Chronograph matches perfectly with the case, presenting itself as a stainless steel bracelet that inspires masculinity and virility. The wristband is 24 mm wide. Bulova Precisionist features a round dial protected by a curved sapphire crystal window. 
The analog display matches perfectly with the design of the watch and it is divided into various dials dedicated to the various functions. The hour and minute hands are self-illuminated while the black background highlights the white and yellow markings and hands. As the name suggests, the Precisionist is equipped with a chronograph but is equipped with other tactical features. 
The watch features a tachymeter, the model being a reliable aviator watch. In addition to this, the watch is water-resistant to 990 feet, being suitable for professional marine activity. 
Best Value: Luminox Men's 3051 EVO Navy SEAL Colormark Watch
Last update on 2021-12-24 / Images from Amazon Product Advertising API
The Luminox 3051 EVO Navy Seal watch is great for water sports except for scuba diving. It's also the perfect timepiece to use during low-light situations as it's one of the brightest watches out there, and it also works great during the day. This watch automatically lights up in the dark, so you don't need to press any button to check the time.
The Luminox 3051 EVO Navy Seal watch also works as a dependable countdown tool because its rotating bezel remains securely in place. Its battery lasts for 2 years and is easily replaceable.
For its affordability and accuracy, you'll never find a better bang for your buck.
Most Functional: SUUNTO Core, Outdoor Sports Watch
Aside from a Storm Alarm, an Altimeter, a Barometer, and a compass, this Suunto Core watch also comes with a sunrise and sunset prediction. This feature helps you maximize your activities during the day.
Unlike most outdoor watches, it can handle daily use and abuse and can last up to 6 years. Plus its battery can last 1 to 2 years if you turn off unnecessary features when not in use.
However, it's only water-resistant up to 30 meters so it can only handle minor water splashes and can't really be submerged in water that's 30-meters deep.
Get more in-depth details about this baby in our SUUNTO Core All Black review.
Casio Master of G GW-9400-1CR
Last update on 2021-12-24 / Images from Amazon Product Advertising API
Our last pick features atomic timekeeping and impact-resistant cylindrical buttons. Like its case, these buttons are also mud-resistant, so it's perfect for outdoor use. 
The GW-9400-1CR features a sturdy, heavy-duty case made of resin and that is built to withstand the test of any tactical activity. This timepiece is designed to survive any environmental conditions.
What's great about the Rangeman GW-9400 is that it's solar-powered. So you can just place it by the window to keep it charged – how economical is that! Plus, you no longer have to worry about changing batteries in the field. 
The Rangeman's backlight lights up the display evenly and you can choose to set it for 1.5 sec, 3 seconds, or in auto mode. It can also last up to 5 years of regular use. Finally, it's equipped with a solar rechargeable battery with a lifespan of about 7 months without further exposure to light.
What is the best military watch to buy?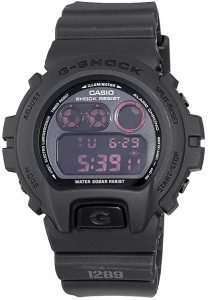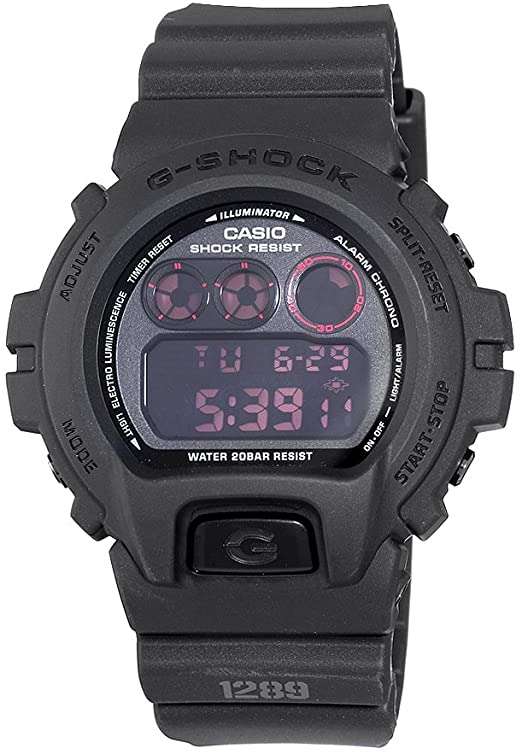 We recommend the Casio G-Shock The 6900 Military as the best military watch as it portrays quality and value for money. If it doesn't suit your taste, we have other options above that are as reliable.
What watch do the Navy SEALs use?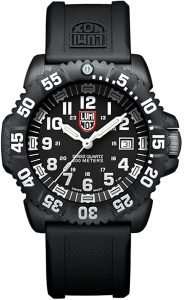 The Navy SEALS use various military watch brands, and one of them is the Luminox Men's 3051 EVO Navy SEAL Colormark Watch. This watch is perfect for night missions because of its self-illumination feature. 
What watches does the US military use?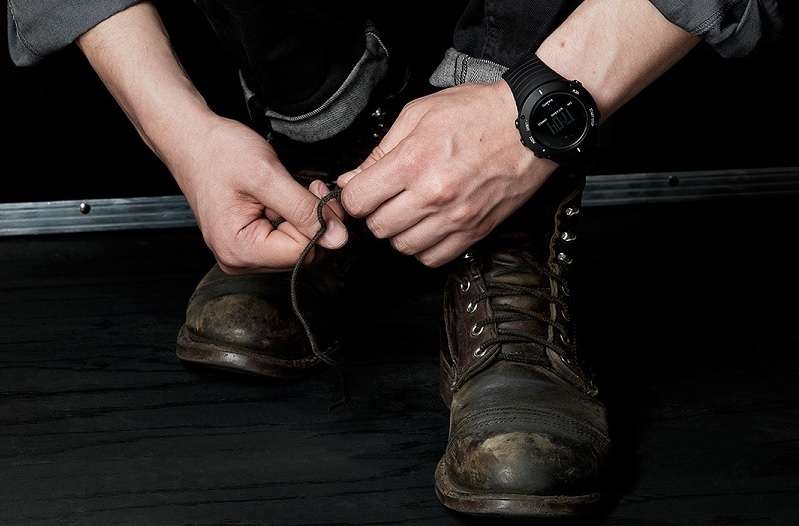 Like the Navy SEALs, the US military uses various watch brands. We reviewed some of the best ones above for your reference. We have a more detailed article about the US military watch standard issue this year, so check it out.
What makes a good military watch?
A good military watch never fails, like our picks above. It should work accurately all the time as it may be your only lifeline in unpleasant situations. We listed the features of the best military watch above for you.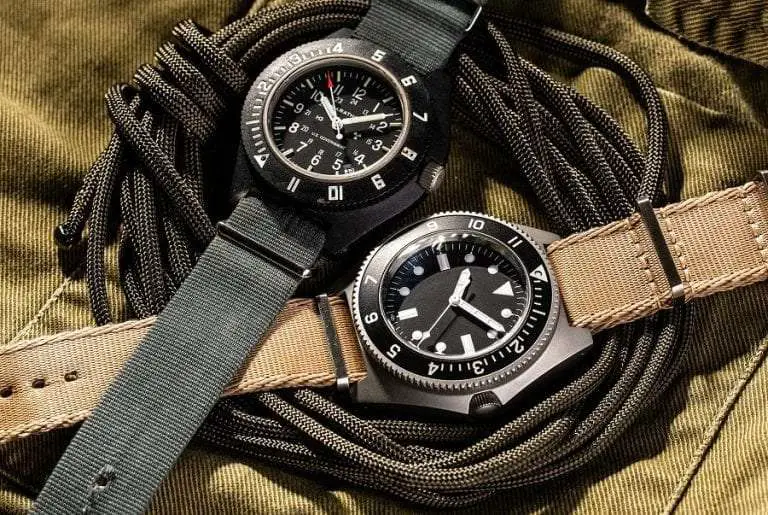 Whether it's for your EDC or for your extreme sports hobby, buying a military watch will be the wisest decision you have ever made. That's because they're the most versatile watches on the market. Investing in one means investing in a superior quality timepiece designed for a wide range of activities. 
Military watches come in different styles and designs – vintage, rugged, swiss military, and more. They're all reliable and made of superior quality materials so you just have to decide which brand suits your needs best.