Best Overall
Last update on 2021-01-15 / Images from Amazon Product Advertising API
Military watches originally date back to the late 19th century. 
Since military operations are heavily dependent on timing and coordination, military watches were created out of pure necessity.
We'll rewind history a bit to give you an idea about the status and development of watches during the war.
Militants in the First World War didn't have the luxury of wrist watches, instead, they relied on pocket watches for timekeeping. 
They thought about making it more convenient by strapping the pocket watches around their wrist to reduce the time taken to look at the watch.
Around the end of the First World War, developments in watches over the world led to the creation of watches that can withstand the brutal trenches.
First military watches were resistant to water and dust, as water and dust were the nemeses of traditional pocket watches. 
The Second World War broke out, governments officially issued military watches with specific standards like accurate jewel movements and luminous dials.
The U.S Air Force had specific standards called A-11 to produce certain watches which aided in the navigation during the Second World War. 
This has pushed the development of military watches for endurance and accuracy all over the world.
Military watches aren't exclusively for armies, a lot of people exposed to harsh environmental conditions like police officers, hikers, and athletes opt to wear them. 
We'll be reviewing watches that the U.S military is using in 2019.
Our Reviews Of The Best US Military Watches
5.11 Tactical held no punches back when it came to making this watch. 
Famous for a feature called SureShot Ballistic Calculator, which is a trajectory calculation software made possible thanks to 5.11 Tactical's partnership with Horus Vision.
This watch is popular among many fields like snipers, professional hunters, and those who use long range rifles in general. 
It can help you calculate the bullet's point of impact by feeding the software the variables of the surrounding environment. 
It has dual time zone settings, timer, digital chronograph, and an alarm.
This watch can handle a lot of pressure thanks to its light but strong frame, in addition to its mineral crystal face.
If this watch is known for anything, it's precision. 
The barometer, altimeter, and compass are extremely accurate. The casing is made out of aluminum and it has a crystal mineral glass face.
The design meets Suunto's standards of minimalism and authenticity, which adds to its reliability. 
Replaceable battery, weather prediction, and altitude log are features that make the Suunto X-Lander a formidable option for many Air Force pilots.
We also suggest checking out our Suunto Core All Black Military watch review, as this watch is a very close relative to X-Lander.
This watch is equipped with a very advanced GPS system, which makes it a perfect fit for many tacticians and enthusiasts. 
It's very durable thank to the stainless-steel bezel and sapphire glass. It gives you two choices to suit your preferences, nylon strap or silicon strap.
The tactical value of this military watch is one of its best qualities; it displays coordinates and can help you navigate to specific waypoints. 
It's not exclusive to tacticians, it might come handy if you're an adrenaline junkie.
Jumpmaster mode allows you to navigate through landing zones even if you're already on air. It can be a smartwatch if you connect it through Bluetooth.
Casio is known for their durable products, so when they make a military watch you can expect that watch to be very tough.
Rangeman GW9400 is famous among outdoorsmen who are in a rough environment. It is completely waterproof with great abrasion and dust resistance. 
The buttons make it very easy to press even if you have gloves or have numb fingers, they are designed to be shock-resistant and easily pressed.
The watch has 3 sensors which are, barometer, compass, and thermometer. These features can easily be used in navigation.
The battery on this watch is a beast. It is a solar rechargeable battery that can last for 8 months at least, the thermometer can measure air or water temperatures. 
The price tag on this accurate watch is tempting.
This watch was designed to battle many elements; it can work in air, water, and on land. The matte black color gives it a feeling of elegance.
All the buttons are gold-plated to add to the elegant theme. The water resistance can reach depths up to 200m in addition to mud, vibration, low temperature and shock resistance.
This watch is a remake of an older model, but G-Shock took extra steps to ensure that it has its old predecessor's durability and reliability.
#6 Leupold 113769 VX-R Patrol Rifle Scope
Casio outdid themselves with this watch!
Pro Trek is made for a survivalist environment, and it sure has enough features to make it one of the best survivalist military watches.
Like any Casio military watch, it's durable, water and dust resistant, incessant alarms. It's completely solar-powered, the battery can last for more than 23 months.
It can even hold the solar charge so it could use it once it's needed, a graph which represents the tide and the moon so plans are clearer.
It is considered one of the best in international timekeeping thanks to its multi-band atomic settings.
How To Choose A Military Watch?
While there are plenty of quality military watches out there, like some of the ones mentioned above, you'll also come across some who are less than good.
There are some features in a military grade watch that you need to look out for because they do make a difference between a good military watch and a poor one.
How Tough Is It?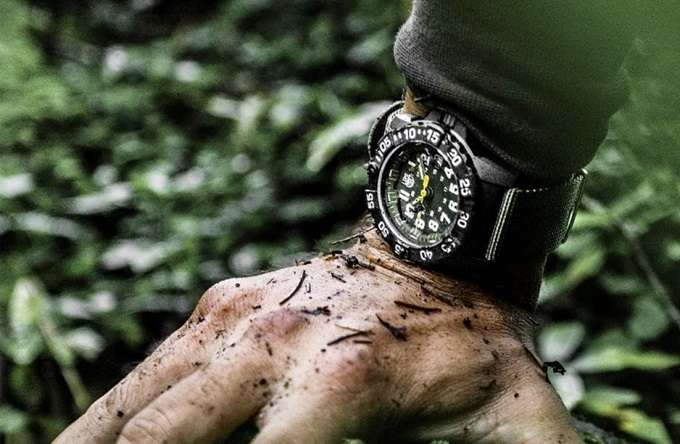 One of the signs of a good military watch is how long did it stand the test of time?
A good tactical watch would survive for years on, enduring the hits, bumps, scratches, and shocks associated with outdoor activity – whether it's for military personnel or extreme athletes.
The crystal needs to remain scratch and bruise-free so you could easily read the time, not just for the aesthetics of it, and this is the first feature you need to focus on before buying a military watch. 
The material, the watch is made of, makes all the difference, and how reliable the brand behind the watch is – so you could take their word for it when they say that quality material is used in the watch.
For that material, always look for sapphire, which is the hardest and most scratch resistant material on earth, after diamonds. 
The cool thing about sapphire is the fact that it is not expensive –– some Citizen watches that have it go for under $300. 
The case should be made out of high-grade stainless steel or polymer-plastic.
How Accurate Is It?
While the material is quite important, what good is a military watch that does not tell time accurately?
It's why you got it in the first place. 
This is why you should not go for mechanical watches, as much aesthetically pleasing as they look. They are simply not as accurate as digital and quartz watches.
Mechanical watches are also much more prone to losing accuracy as an effect of heat and shock, which is not the case with digital and quartz watches. 
The latter two have a much smaller margin of error when it comes to drift, in comparison with mechanical watches.
Water And Pressure Resistance
You want this watch to endure whatever harsh conditions you're going to be putting it in. 
So, it goes without saying that the atmospheric pressure resistance needs to be high, at least 10 ATM so that it could withstand pressure under water if you go swimming.
This resistance also means your watch will not shatter into pieces if you accidentally stepped on it, because it's designed to withstand high pressures.
Other Things To Consider
You need to make sure your military watch has as many features and options as possible. Those include, but are not limited to, having luminescent hands or digits for a digital watch.
If you need a military watch, chances are you're going to be using it at night, and that means you need to see what time is it without having to press a button with your other hand all the time.
Whether you're skiing or holding a gun, you need to be able to read the time easily, and that means having luminescent dials or digits.
Final Thoughts
As we mentioned earlier, military watches can be bought by anyone. 
They all share a few traits which like durability and resistance, but that isn't all that defines a military watch.
The number of tactical features has become incredibly huge, it is normal to be overwhelmed at first and not know which kind of watch that you need. 
You need to decide why exactly you need the watch.
Are you a survivalist? 
They could be your last defense line before getting out of the wilderness in one piece – thanks to the pathfinding options on many watches that have maps integrated inside.
Do you need it while flying? 
For a watch to withstand these altitudes, it has to be specifically prepared to take a beating from the pressure coming from these high altitudes.
A good military watch can save your life someday.
We have a The Complete Guide of All Outdoors Watches if you want to dive into other options for different activities. Also, there is a guide on Best Military Watches for Women.