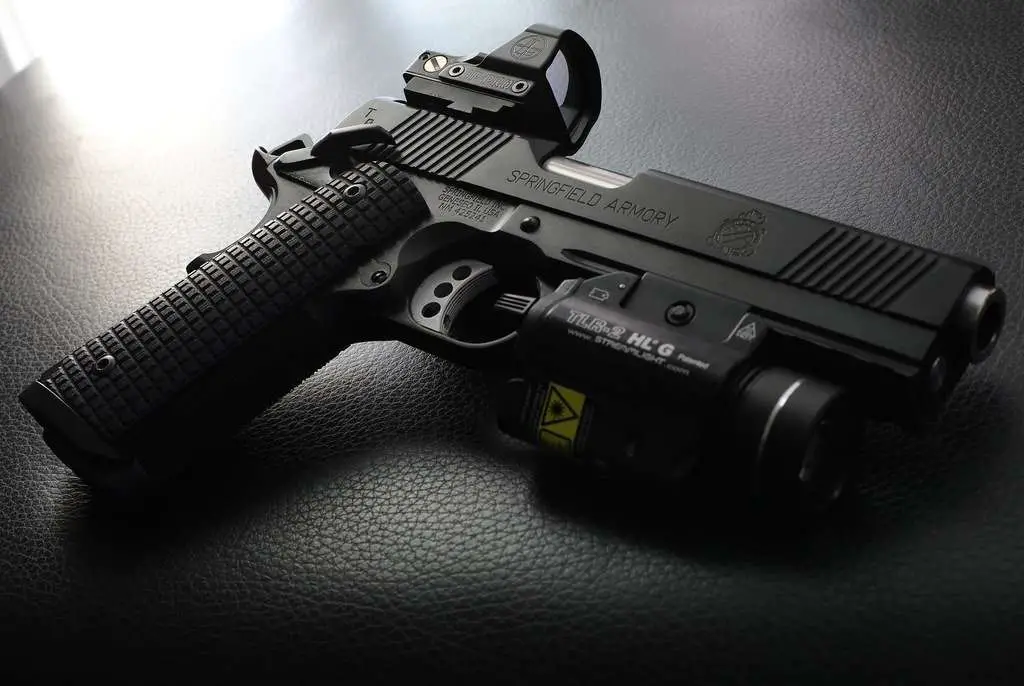 Our Top Picks
Best Overall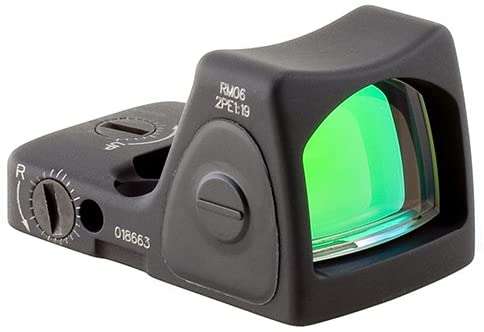 Trijicon RM06-C-700672 RMR Type 2 Adjustable LED Sight
This red dot sight is proven and tested in battle and on the range.
Check Price
Best Value Red Dot Sight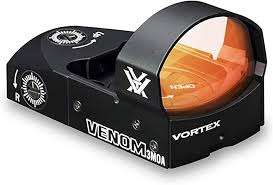 Vortex Optics Venom Red Dot Sight
This red dot sight is efficient and affordable.
Check Price
Best for Everyday Use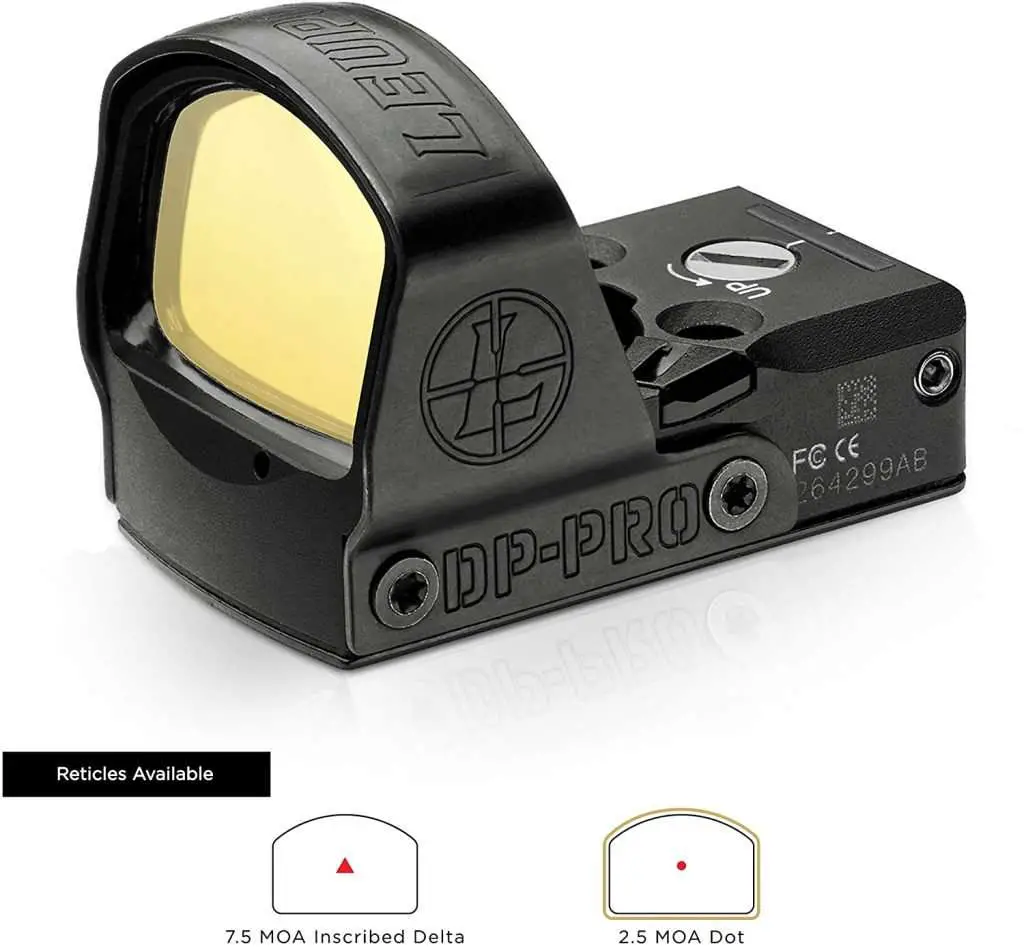 Leupold DeltaPoint Pro Reflex Sight
This red dot sight is perfect for regular shooters.
Check Price
If you're enjoying your 1911's crisp trigger and reliability, wait until you mount a red dot on that beauty. A red dot sight will not only increase your speed and accuracy but will also help you dominate low-light situations. Not sure where to begin? That's alright! Because once you're done reading this article, you'll know which red dot sight suits your 1911 best.
We've also included a list of compatible 1911 red dot mounts, so be sure to check them out!
Comparison Table of the Best 1911 Red Dot Sights
Last update on 2023-02-24 / Images from Amazon Product Advertising API
How We Choose + Our Must-Have Features
Choosing a red dot sight is no easy task. If it's your first time buying one, here's a list of features that will help narrow down your options.
Reticle Size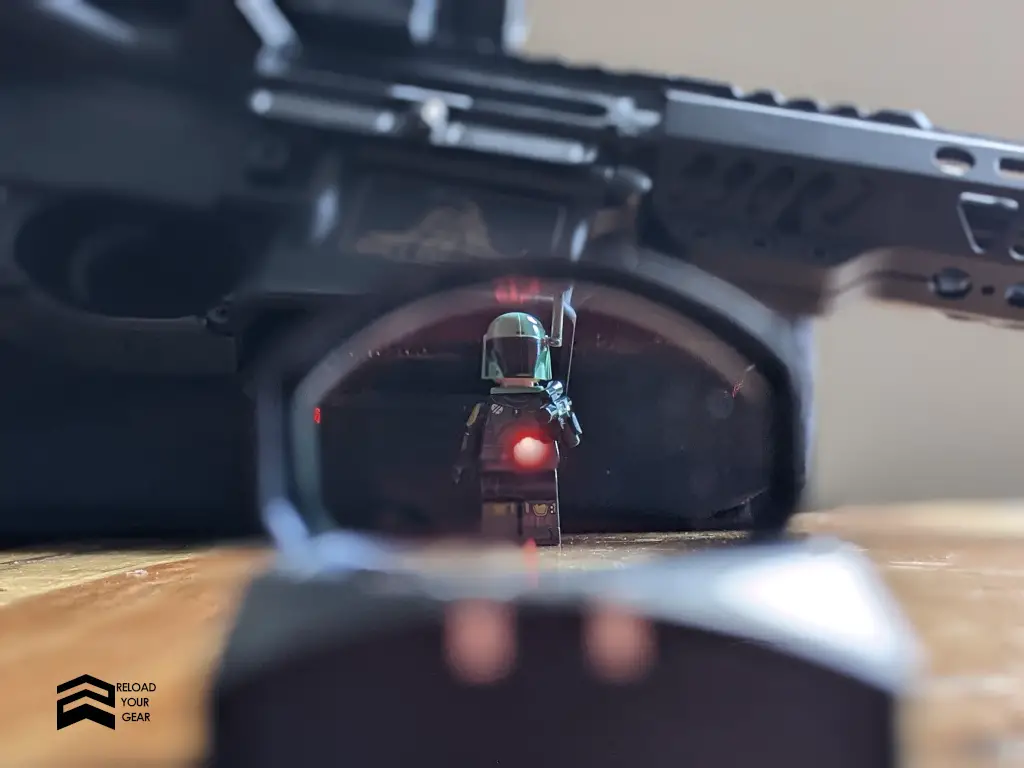 When choosing a red dot sight, decide how you'll be using it and what you'll use it for. If you want fast target acquisition, you'd need a large dot size, but if you'll use it for precision shooting, then you'll want a smaller dot size.
A red dot is measured using Minute of Angle (MOA). It simply indicates the size of the dot and how much area it covers relative to distance. The smallest dot size is 1 MOA, which can cover 1 inch at 100 yards. The most common red dot size for pistols is 4 MOA which is perfect for close engagements.
Open or Closed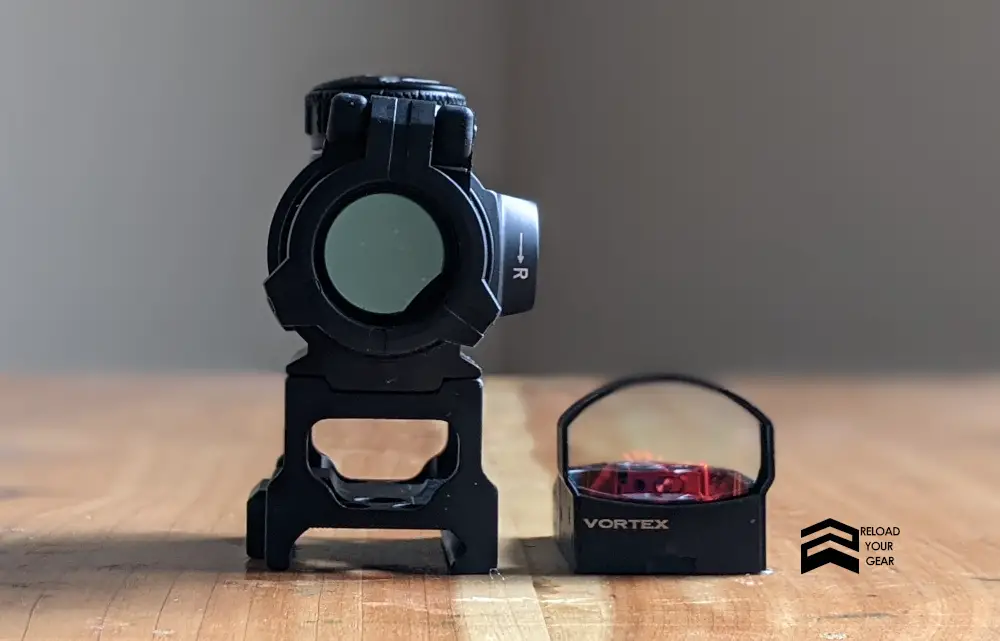 Red dot sights can be closed or open. With closed sights, an additional lens at the front of a tube protects the light source from dirt, dust, and fog. With an open reflex sight, those parts are largely open, cutting down on bulk in your sight picture but exposing it to the elements. 
An open red dot sight will work better on your 1911 or on any pistol because it's lighter and smaller. 
Power Source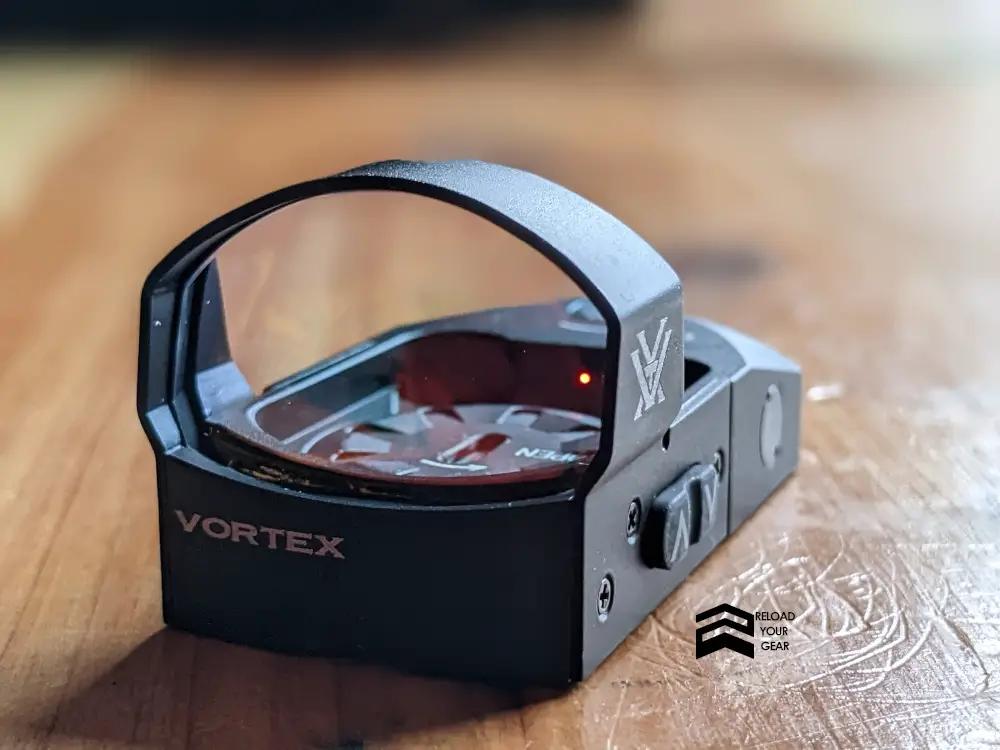 Since red dot sights are battery-powered, be sure to buy one that has a battery life of at least 10,000 hours. This will hold battery changes until after a year or two. It's better if you can get a red dot sight with 50,000 hours of battery life, but you'd need to spend a bit more for that.
Material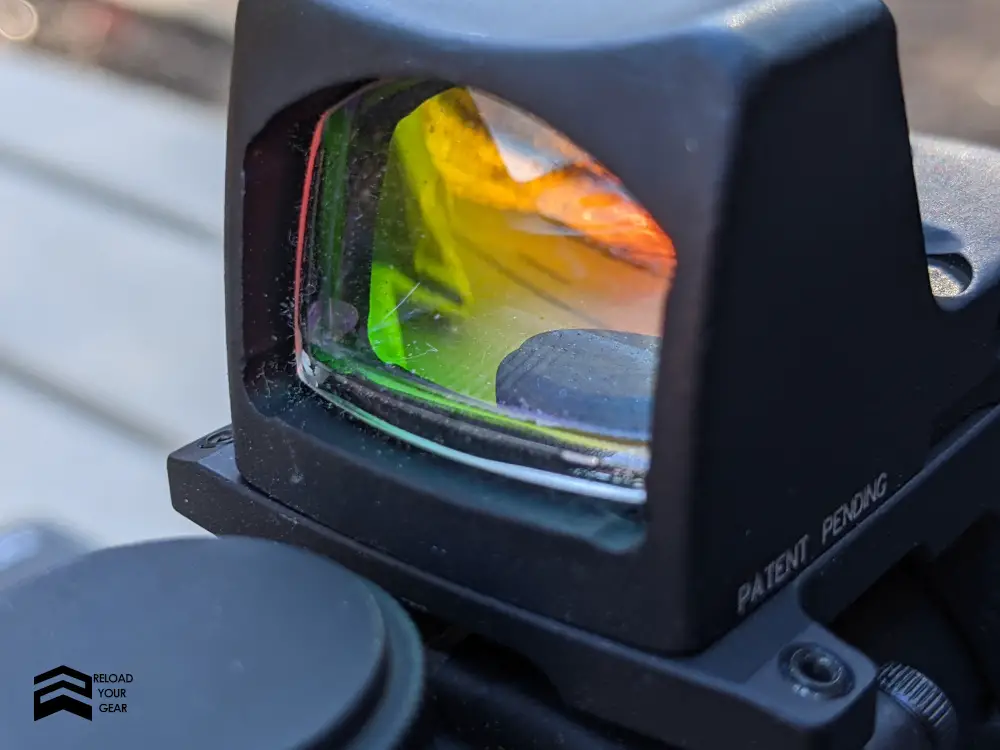 Along with the reliability of the electronics, the durability of the sight is critical. And that depends on its construction and the material used. Most of the best sights are made from aluminum, so they're light and strong!
5 Best 1911 Red Dot Sights
Best Overall: Trijicon RM06-C-700672 RMR Type 2 Adjustable LED Sight
Last update on 2023-02-24 / Images from Amazon Product Advertising API
Our top pick features a 3.25 MOA red dot size.
The Trijicon Rugged Miniature Reflex LED Sight is engineered in a unique housing so any kind of impact is diverted away from the lens.
This reflex sight is compatible with handguns and rifles. It's also proven to survive accidental drops and take an impact from a doorway or whatever else you may hit it on.
It's also equipped with automatic brightness adjustment or you can choose to adjust it manually. Plus, the Trijicon RMR has a battery-saving feature and a button lock-out mode, making it perfect for concealed carry.
However, it would have been better if the sight didn't have to be dismounted when changing the battery.
Pros
Audible windage/elevation adjustment clicks
Comes with warranty
Easy to install
Waterproof and shockproof
Cons
Expensive
Requires dismounting when changing batteries
What Customers Say
"It's a great optic. Sits so low I didn't even have to upgrade to suppressor sights. My dot is a tad blurry but I have astigmatism so it's very common to see a sharp dot as blurry."
"This easily mounted on my M&P C.O.R.E. 9mm, and co-witnesses with the iron sights. It was almost on target right out of the box, requiring only a minor adjustment. I use it mostly for steel-plate and bowling-pin competition shooting, and I can get on-target very quickly."
Recommended Trijicon Red Dot Mount
The Trijicon AC32058 RMR Pistol Mount is best paired with the Trijicon RMR Reflex Sight. They're a match made in heaven when mounted on a 1911 pistol. This mount is made from rugged aluminum and comes with a sealing plate, optic mounting screws, an Allen wrench, and socket screws.
Best Value: Vortex Optics Venom Red Dot Sight
Last update on 2023-02-23 / Images from Amazon Product Advertising API
The Vortex Venom offers a generous field of view. That's why gun owners love it so much. Vortex also uses ArmorTek anti-reflective coatings on its lenses so high-quality images are guaranteed. 
This red dot sight's power controls are also easy to use. You can aim as far as 300 feet and hit the target without missing (depending on how well you shoot).
The Vortex Venom Red Dot also has a shockproof exterior and can withstand heavy recoil. This single-piece chassis is lightweight and features an O-ring seal which prevents debris and moisture from entering.
Its battery compartment is also located on top of the sight so there's no need to dismount when changing batteries.
Pros
Parallax-free
Lightweight
Top-load battery access
Unlimited eye relief
Cons
Side-mounted controls get bumped easily
Low-quality battery cover
What Customers Say
"I mounted the "Vortex" on a Canik TP9 SFX 9mm. The installation was straightforward and very simple. The boresight process was very simple and it holds boresight perfectly. I taught myself Handgun operation using iron sights shipped with the Pistol.. Out of the box sights usually, do not include a night capability. I have invested hundreds in aftermarket sights and finally bought a P229RX equipped with a red dot sight. At 60 years old, I find target acquisition to be faster with both eyes open viewing the target and placing the dot on the target. Gone are the days of squinting to obtain the perfect focus on your iron sight while the target becomes blurry. I now own four handguns with RMR's and I judge the Vortex Venom to be the greatest value for the dollar."
"Great little red dot. Purchased for Carry Optics in USPSA and mounted to a G17. Frustrating part was the mounting process. The G17 MOS version comes with mounting plates, but the screws don't fit the Vortex, and the screws provided with the Vortex are too long for the factory Glock mounting plates. So…you have to find mounting screws from a third party. Battle Werx is where I found the right mounting screws. Once mounted, I had issues with a flickering dot, but that was fixed by removing the battery and reinstalling it. Since then, I've put just under 1k rounds through it, and no issues so far. The view screen is wider than a Burris Fastfire, but it's still small and takes a lot of dry fire to be able to see the dot without looking for it."
Recommended Vortex Venom Red Dot Mount
The EGW Glock Sight Mount is very compatible with the Vortex Venom Red Dot Sight. It's also very easy to install.
Best for Everyday Use: Leupold DeltaPoint Pro Reflex Sight
Last update on 2023-02-24 / Images from Amazon Product Advertising API
Do you love shooting regularly but hate replacing your batteries often? The Leupold DeltaPoint Pro is the solution to your dilemma!
This reliable optic is equipped with a Motion Sensor Technology that turns off the sight when inactivity is detected, helping save your power source. It also turns the sight back on when motion is detected. Pretty sweet, right?
The Leupold DeltaPoint Pro also features DiamondCoat Aspheric lenses that provide up to 56% usable field of view. And like any Leupold optic, this reflex sight was impact-tested for durability, so its quality is guaranteed.
Pros
Top-load battery compartment
Waterproof and Fog proof
Lightweight
Increased field of view
Cons
Brightness control is in front of the sight, so the dot is not visible while adjusting the brightness level
What Customers Say
"I purchased this Leupold Delta Point Pro to install on a Glock 17 MOS. I could not be happier with the performance of this RDS. I waited for a couple of months to write this review until I have approximately 600 rounds through the gun with the red dot installed. The Delta Point is very rugged as I have dropped it on several occasions and it has not lost its zero. I paired the RDS with Leupold's rear iron sight and have been satisfied with that as well. After 600 rounds it has a few nicks and scratches from brass and general abuse and it has simply held up beautifully. I could not be more pleased with the Delta Point Pro for this application. Highly recommend."
"Easy to install and set up. Would like to see an even smaller MOA dot. My only real complaint is that in order to change the brightness of the dot you have to put your finger right in front of the sight. In other words, you can't see the dot as you are changing the brightness. The button for changing brightness should be on the side and out of the way."
Recommended Leupold DeltaPoint Pro Red Dot Mount
The Leupold DeltaPoint Pro Dovetail One-Piece Riflescope Mount is specially designed for the Leupold DeltaPoint Pro Red Dot Mount. This mount is made from durable machined steel and can withstand heavy recoils.
Sig Sauer SOR11000 Romeo1 Reflex Sight
Last update on 2023-02-24 / Images from Amazon Product Advertising API
The Romeo1's huge field of view is what makes it perfect for the 1911 pistol. Its windage and elevation knobs are also easily adjustable as well.
The Sig Sauer Romeo 1 is proven and tested to hold its zero even after 10,000 rounds of 230 grain, .45 ACP. How reliable is that?!
It's also equipped with Motion Activated Illumination that helps in extending your scope's battery life. This red dot also features multiple intensity settings for optimum performance in all lighting conditions.
If you're looking for a high-quality red dot sight for less than $300, the Sig Sauer Romeo 1 is for you!
Pros
Waterproof, fog proof, and shockproof
Lifetime warranty
Unlimited eye relief
Motion Activated Illumination
Cons
Finish gets scraped off easily
What Customers Say
"I've tried a number of red dot sights for both rifle and pistol and this sight is by far the best I've found for pistol. First unit being used on a Sig P320 X5 and it has transformed the gun as a shooting system – friends tried it and said "this gun shoots itself" it was so accurate. I like the clarity of the large window and the lack of distortion which was always a source of issue with the RMR. It has a built in co-witness rear sight to work with the existing front sight which is a bonus with the night sights. Dot sharpness is top of the range and brightness is adjustable for all lighting conditions. I will be buying more. This sight was easy to zero and has kept its zero. Don't hesitate – buy it."
"It's a very high quality dot sight. Great brightness, Large field of view , easy controls and dialing it in was a breeze. I wish they made a larger fit tho. 7 min would be better."
Recommended Sig Sauer Romeo1 Red Dot Mount
The Leupold DeltaPoint Pro Riflescope Mount is made from durable machined steel and can withstand heavy recoils.
Burris FastFire Reflex Red Dot Sight
Last update on 2023-02-24 / Images from Amazon Product Advertising API
Our last pick is from one of the leading optics manufacturers – the Burris FastFire III. It delivers images as bright, crisp, and clear as other brands for half the price!
It's parallax-free and its reticle makes target acquisition a breeze. Sighting in is also extremely easy because of its automatic brightness sensor that adjusts depending on the environmental condition you're in. 
The scope is also made from an aluminum chassis that is lightweight yet durable enough for day-to-day use. 
However, the battery cover needs improvement, and mounting the sight's a bit difficult. 
Pros
Parallax-free
Affordable
Waterproof, fog proof, and shockproof
Cons
No protective cover
Difficult to mount
What Customers Say
"I feel that this is an exceptionally good reflex sight. It distinguishes itself by its very small, lightweight design, which is both clean & compact. It appears to be made of high-quality materials & has very positive, 'click stop' elevation & windage adjustment screws. The red dot has 4 different intensity level settings, which allows for maximum visibility of the dot in varied lighting conditions. The 4 intensity settings are selected by repeatedly pressing its single, side-mounted, rubber covered, push-button switch. "
"Great quality little sight and is the cheapest you can buy in this class. Meaning, there are the assorted Chinese-made sights that are all under $80 and a bit larger that functions OK but are of dubious quality. This was going to be used on a carry pistol and I didn't want to gamble on a $50 sight. I chose the Burris Fastfire III because it does have auto-brightness, 8hr auto shutoff, and fits my G19 slide perfectly."
Recommended Burris Fastfire III Red Dot Mount
The EGW Glock Sight Mount is very compatible with the Burris Fastfire III Red Dot Sight. It's also very easy to install.
If you don't have a lot of experience in mounting red dot sights, we suggest that you seek help from a professional for installation. For more details about the best 1911 red dot mounts, this article will help you out.
Frequently Asked Questions
Can you put a red dot on a 1911?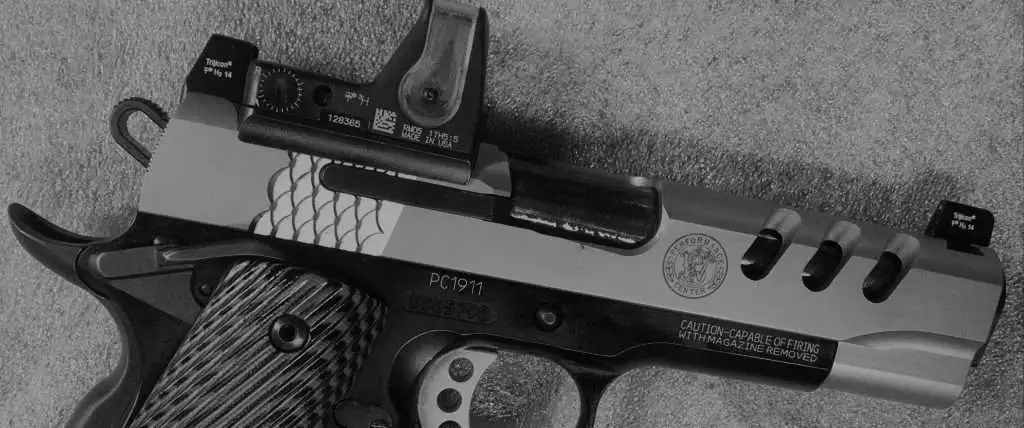 Definitely. Mounting a red dot sight on your 1911 pistol will improve your shooting. If you want to mount it on your concealed carry, that works too! Some of the optics we reviewed above are ideal for concealed carry, so check them out.
Are red dots good on pistols?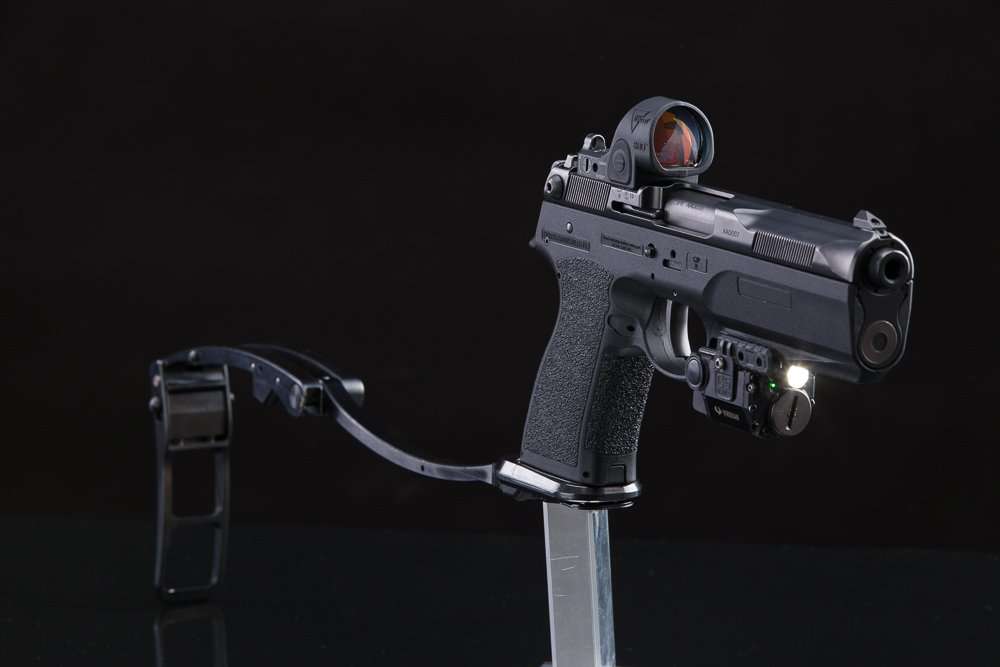 Yes, red dots are good on pistols, especially for serious shooters or those in the military or law enforcement. That's because red dots help them acquire their targets faster.
What distance is a red dot sight good for?
Red dot sights are most effective within 100 yards because they have no magnification. Check out this article if you want to learn more about how red dot sights work.
Conclusion
Red dot sights have no magnification, so they're less ideal for long-range shooting. But when it comes to close to moderate distances, red dot sights are king! So once you've chosen from our list of top-quality red dots, learn how to sight them through this comprehensive guide.