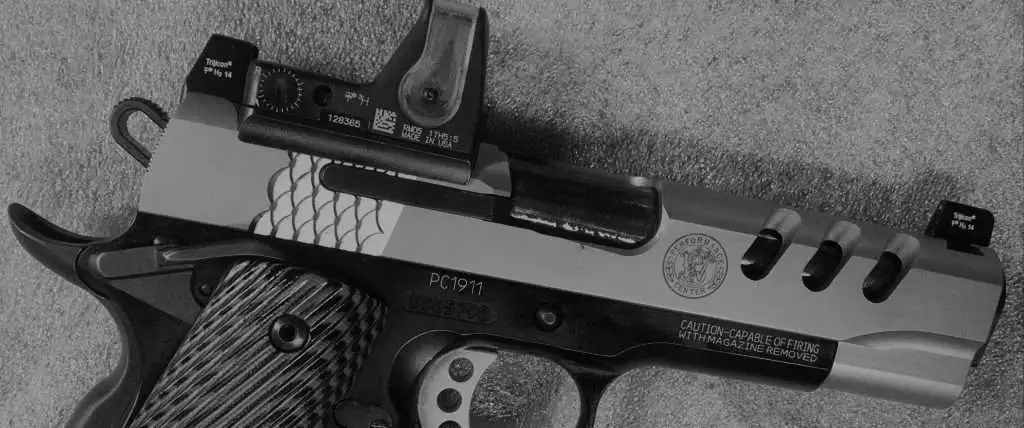 Our Top Picks
Best Overall 1911 Mount
Trijicon AC32058 RMR Pistol Mount
This red dot mount is sturdy and reliable.
Check Price
Best 1911 Mount on a Budget
Burris Mount for FastFire Reflex Red Dot Sight
This red dot mount gets the job done without breaking the bank.
Check Price
Best 1911 Red Dot Slide Mount
Evolution Gun Works Sight Mount
This red dot mount is a top choice for serious shooters.
Check Price
The Colt 1911 (or any of the number of other brands making them now) is a great starter pistol. It's also a reliable self-defense weapon. If you want to experience more joy shooting with the 1911's crisp trigger and have quicker target acquisition, then you need to mount a red dot sight on it. We've saved the reviews about the best 1911 red dot sights for another article. In this guide, we'll focus solely on the best red dot mounts that will complete your 1911 pistol's set-up.
Comparison of the Best 1911 Red Dot Mounts
How We Choose + Our Must-Have Features
Mount Style
You can install a red dot by mounting it on the rear sight dovetail of your pistol or on a Picatinny rail if you have one. You also have the option to attach it to your pistol's slide through a factory plate or via machining, but this will limit your options. If you'd ask us, mounting your red dot on the rear sight dovetail has the easiest installation process and it gives you more flexibility.
Still need to find the best red dot sight?  We've done the research for you already.
Some red dot mounts are constructed with a flat base while some are elevated. Choosing the mount style is critical because it will greatly affect your shooting. But no matter the mount style, what matters most is that the red dot and the mount are screwed tightly to your pistol.
Material and Finish
If you want durability, we suggest you get red dot mounts that are made from steel or aluminum. It would also be a great plus if you could score a mount with a hard coat anodized finish for added durability.
5 Best 1911 Red Dot Mounts
Best Overall: Trijicon AC32058 RMR Pistol Mount
Our first pick allows you to smoothly mount any Trijicon RMR reflex sight on your 1911.
Like any Trijicon product, this pistol mount is designed for superior durability and reliability. This RMR pistol mount is very easy to install so it's a great choice for beginners.
This mount comes with a sealing plate, optic mounting screws, socket screws, and an Allen wrench.
Pros
Good finish
Holds firmly
Robust construction
Cons
What Customers Say
"The mount fits the 1911 Novak Low Mount Dovetail Cut of my .45 1911 Les Baer almost perfectly. Three screws are provided to secure the mount: two inside the dovetail, and one in the back."
"Perfect fit for my SA RO champion. super fast shipping. I will buy another one for my Ruger SR 1911."
Best on a Budget: Burris Mount for FastFire Reflex Red Dot Sight
The Burris Mount Reflex Red Dot Sight may cost less than other brands, but it's not any less in performance.
The Burris Mount is compatible with any Burris Fastfire Red Dot Sight, but it also works perfectly with the Vortex Venom Red Dot.
If you prefer an elevated mount, then you'd want to go with this one from Burris. It's also proven to hold firmly so you can shoot for a long period of time while maintaining your accuracy.
Pros
Easy to mount
Quick adjustments
Affordable
Cons
Prone to accidental adjustments
What Customers Say
"It was a quick and easy installation that didn't require any additional parts. Install took about 15 minutes and it looks 1000x better than the factory Ruger rail that came with the gun."
"It was easy to install and holds the optic firmly. I used Blue Loctite (reversible) when installing to keep the screws in place. I would buy this again if needed. No sight pusher or force is needed. It just slips in and the screws on the optic cinch everything up centered and tight. It does fit into the dovetail left behind after removing the original factory sight. The factory sight, therefore, is not still installed on the pistol after the optic is installed."
Best 1911 Red Dot Slide Mount: Evolution Gun Works Sight Mount for 1911 Fixed Sights
The Evolution Gun Works Glock Sight Mount is compatible with the Docter, Burris Fastfire, or the Vortex Venom/Viper red dot sights.
This mount's dovetail has a progressive taper for quick and easy installation. You don't have to modify anything, just remove your rear sight and replace it with the mount. How easy is that?!
The necessary hardware for mounting is also included and it comes with a limited warranty.
However, take note that its mounting screws require a 5/64″ wrench and you'd need a 1/16″ wrench if  you'll be using the set screws.
Pros
Holds firmly
Solid construction
Comes with a limited warranty
Cons
It's a little expensive
Needs a sight pusher for installation
What Customers Say
"I wanted to mount a vortex venom on my 1911. I will eventually get the slide milled to except the red dot, but with all the craziness in the world right now, the lead time to get it done is too long. This was a cheap alternative to get the red dot mounted in the mean time."
"Fits the kimber custom ll 1911 nice and tight but some budget reflex sights will be tricky to fit snug not a problem with the base though."
Best 1911 Red Dot Mount No Drilling: The Shooters Box Optic/Red Dot Mount for 1911
Our next pick mounts low so it's perfect if you don't want your red dot elevated. The Shooters Box Optic is designed specifically for GI or military cut 1911 pistols.
This mount is also coated in Mil-Spec Hard Coat Anodized black finish for superior durability.
The Shooters Box Red Dot Mount also comes with two Allen screws for a reinforced hold. It's suitable for open red dot sights such as the Ultradot LT and the Ultradot Pan-A-V, to name a few.
Pros
Holds firmly
Easy to install
Cons
Not compatible with other 1911 cuts
What Customers Say
"Aluminum construction, and it does sit just behind the breach when mounted."
Sightmark Mini Shot Mount
If you got a mini shot for your 1911 pistol, then the Sightmark Mini Shot Mount will do the job.
It comes with a mounting base and dovetail for increased stability, allowing you to take more accurate shots in the harshest weather. It's also very easy to install, and it's proven to hold your optic firmly even after long hours at the range.
The Sightmark Mini Shot Mount is constructed from lightweight but highly durable aluminum.
Pros
Lightweight
Easy to install
Shockproof and weather-proof
Cons
It's a bit expensive
Short screws
What Customers Say
"Very happy with this mini red dot optic. I was able to get it zeroed and it stays zeroed. Awesome!!!!!"
"No problem at all. worked great and was so easy to install. I ordered a Sightmark mini red dot and it looks great. The size is perfect and I couldn't be happier."
Haven't picked out a 1911 yet?
Just in case you haven't settled on a gun yet, we have tons of 1911 style gun reviews. We'll save you the ammo, rental costs, and range time with detailed reviews and roundups.
FAQs
Can you mount a red dot on a 1911?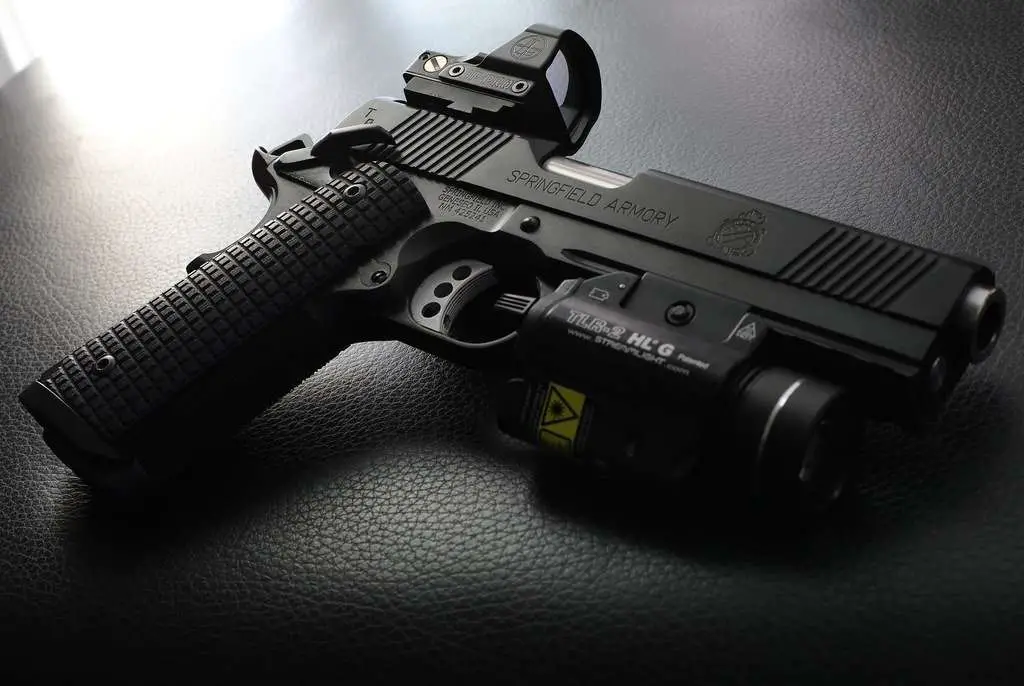 Absolutely. Mounting a red dot sight on your Colt 1911 pistol will improve your shooting, with proper practice of course.
If you want to mount a red dot on your concealed carry, that works too! Here's an article where we reviewed red dot optics that are ideal for concealed carry. If you don't have a lot of experience in mounting red dot sights, we suggest that you seek help from a professional for installation.
Why put a red dot on a pistol?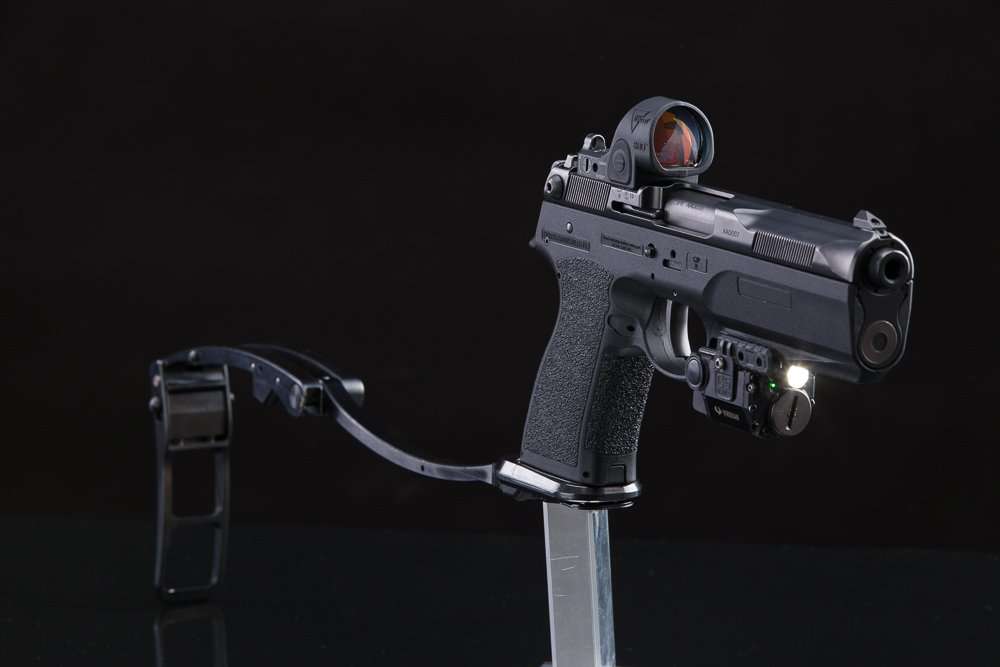 Most serious shooters or those in the military or law enforcement mount red dot sights on their pistols because red dots improve their accuracy and help them acquire their targets faster.
Conclusion
Choosing a mount is as critical as choosing a red dot sight, as this pair is key to achieving accuracy and consistency when shooting at close to medium distances using your 1911. If you haven't chosen a red dot sight yet, here's an article where you can find the best ones.
Last update on 2023-09-23 / Images from Amazon Product API