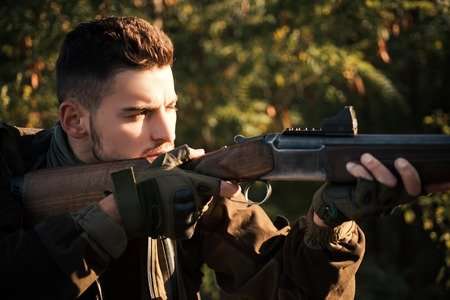 If you're shopping for the best red dot for a shotgun, you've found the right place. Let's get right into it!
Our Top Picks: Best Red Dots for Shotguns
Best Overall
Trijicon RM07-C-700679 RMR Type 2 Adjustable LED Sight
---
Sturdy and reliable.
Best Value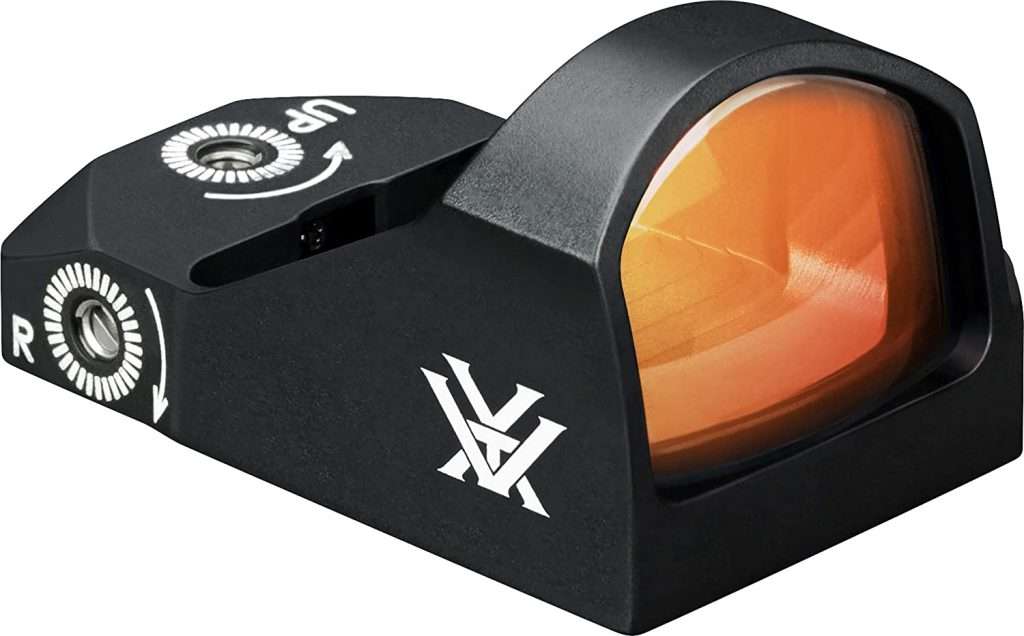 Vortex Optics Viper Red Dot Sight
---
Gets the job done without breaking the bank.
Best on a Budget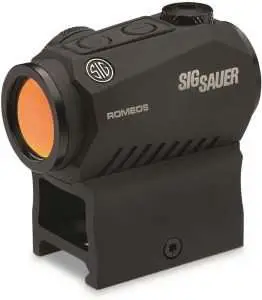 Sig Sauer SOR52001 Romeo5 Red Dot Sight
---
Top choice for shooters on a limited budget.
Best Reflex Sight
Aimpoint PRO Red Dot Reflex Sight
---
Guarantees premium performance even in harsh weather conditions.
Shotguns are a great choice for home defense and bird hunting. Did you know most people shoot more accurately with a red dot on them? Yep, you read that right! They'll get you on target quicker with less fuss about a consistent shoulder mount and cheek weld.
Already convinced that you need one?
Read on to see if you can go with a budget option since you're not shooting far anyway. We'll talk about shotgun red dot applications and pick the overall best red dot for a shotgun!
Comparison of the Best Red Dots for Shotguns
Model
Trijicon RM07-C-700679 RMR Type 2 Adjustable LED Sight, 6.5 MOA Red...
Vortex Optics Viper Red Dot Sight - 6 MOA Dot
Sig Sauer Romeo5 1X20mm Tactical Hunting Shooting Durable Waterproof...
Aimpoint PRO Red Dot Reflex Sight with QRP2 Mount and Spacer - 2 MOA -...
Bushnell Trophy TRS-25 Red Dot Sight Riflescope, 1x20mm, Black
Size
4.72 x 3.03 x 0.76 inches
6.75 x 4.63 x 3.38 inches
Model
Trijicon RM07-C-700679 RMR Type 2 Adjustable LED Sight, 6.5 MOA Red...
Model
Vortex Optics Viper Red Dot Sight - 6 MOA Dot
Model
Sig Sauer Romeo5 1X20mm Tactical Hunting Shooting Durable Waterproof...
Size
4.72 x 3.03 x 0.76 inches
Model
Aimpoint PRO Red Dot Reflex Sight with QRP2 Mount and Spacer - 2 MOA -...
Size
6.75 x 4.63 x 3.38 inches
Model
Bushnell Trophy TRS-25 Red Dot Sight Riflescope, 1x20mm, Black
How We Choose + Our Must-Have Features
Dot Size
Choosing the dot size is critical as your accuracy and speed will depend on it. The best size for red dots on shotguns is 3 to 6 MOA. For medium-range shooting like sporting clays, we recommend a 2 MOA dot, and for competition shooting and home defense at shorter ranges, a 3 to 8 MOA dot size will give you the advantage of speed.
Material and Finish
If you want durability, we suggest you get red dot mounts that are made from steel or aluminum. It would also be a great plus if you could score a mount with a hard coat anodized finish for added durability.
Lens and Optical Quality
A great lens is fog proof and can withstand daily wear and tear. It should also be protected with scratch-resistant coatings. It's also important to check if it allows maximum light transmission. The more natural the sight picture, the easier it'll be to focus on the target when aiming.
Battery Life
Another feature to consider is the battery. Get a red dot that has a long battery life so it can last a long time even when leaving it on all the time. A red dot sight that turns on when the gun is picked up is ideal for home defense use, so you're always ready for unexpected surprises.
Size, Weight, and Construction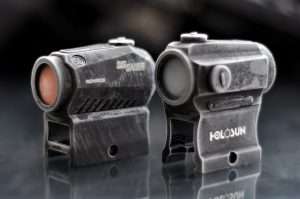 Getting a small red dot sight is also recommended since it's more suited for a shotgun than big red dot sights, leaving your field of view as clear as possible. A light and well-made unit will handle recoil and stay zeroed easily, staying tightly mounted on your gun even after a thousand rounds.
Mount
Last but not least, you've got to look for a mount that's compatible with your shotgun. Also, decide if you'd want your optic to sit low or high, then choose a red dot sight from there.
6 Best Red Dots for Shotgun
Best Overall: Trijicon RM07-C-700679 RMR Type 2 Adjustable LED Sight
What's in the box
Trijicon RM07-C Sight
Battery
Trijicon produces solid optics, and one of their best red dots is the RM07 RMR Type 2 Adjustable LED Sight.
The RMR Type 2's housing is designed to absorb impact to prevent the lens from getting damaged. This beauty can also be mounted on most fixed or variable magnification optics from Trijicon.
This LED sight also features easy-to-access and easy-to-adjust illumination controls at the side. These buttons can also be locked to avoid accidental adjustments. Finally, the Trijicon RM07 RMR Type 2 Adjustable LED Sight comes with a battery-saving feature that adjusts the aiming dot to ambient lighting conditions after 16.5 hours. 
One downside is that changing the battery requires dismounting the optic.
Pros
Lightweight
Night vision compatible
Comes with a warranty
Cons
No mount included
It costs more than most brands
What Customers Say
"It was very easy to zero and is built like a tank! I suggest downloading an RMR zero target and using it, as it really saves you a lot of time and ammo. The adjustments are tight enough where they don't need locking screws and I have used this on my CCW for a few months and have not had issues with the zero staying where it should be. Also, this model fixed the flickering issues (as I would expect for the price of this RMR). Don't waste your time with something cheap that doesn't function at last as this will! Even if it does cost as much as the Glock you put it on!!!"
"I was initially worried the size of the glass and shape of the frame would impact my field of view on the optic once it was on the slide, but after some practice and training it is unbelievable how crisp it looks and the frame will actually fade out of view when focused on your intended target. I absolutely love this thing!! I have it on the automatic brightness adjustment setting which I also was worried about. Not being sure if it would actually work as it was supposed to, but it's almost as if it senses the light/darkness that it's about to enter and adjusts it as fast as your pupils do when you transition from more or less light. I will admit it made me a little sick to my stomach paying the price I did at first but seeing what you actually get out of this micro little pitbull I would absolutely do it again, this thing is amazing!"
Best Value: Vortex Viper Red Dot Sight
What's in the box
Vortex Viper Red Dot Sight
Weaver/Picatinny Mount
T-10 Torx Wrench
CR 2032 Battery
No brand defines value and performance better than Vortex. So for our best value red dot for shotgun, we picked the Viper Red Dot Sight. 
This low-profile red dot is great for co-witnessing with iron sights. It's designed without any unnecessary hood that can distract you while shooting. It also features Vortex's reliable anti-reflective coatings on all of its air-to-glass surfaces. Plus, it's parallax-free and offers unlimited eye relief.
The Viper red dot sight can definitely withstand your shotgun's heavy recoil because of its shockproof construction.
One minor downside, however, is that you need to remove the optic or the rear sight when adjusting its windage and elevation knobs. It would've been better if it was located at the top or on the side.
Pros
Comes with a lifetime warranty
Comes with a Weaver/Picatinny mount
Easy to install
Long battery life
Cons
Bottom-loaded battery compartment
What Customers Say
"Mounted on a G-19 Gen 4 MOS. Perfect co-witness with a Suppressor height Truglo Tritium Pro MOS iron sights. The red dot is crisp and (the) lens is very clear. I am very considerate and I did not want to call Vortex and cry like a little girl for the correct mounting screw because it is not their fault (They did not make this red dot exclusively for the Glock MOS). I was too excited to mount it so I improvised like a real man should and used the screw for the MOS cover plate, and because it is too long, I mounted the red dot on the # 1 MOS Plate first so I can see how much is sticking out. I dremeled the screw flushed on the bottom of the plate. Once everything is flush, I Loctite the plate to the slide and the red dot to the plate. It is very secured."
"So I'm about 1200 rounds into this on a Glock 17 (weekly range trips) and have been pretty happy. There has been no loss of 0 at all and no issues with the lens or flickering. I should state that this is a range gun only — so I turn it on when I start and turn it off when I am done. I am mainly shooting 6-inch steel plates at 50 feet. YYMV if you carry this, as some folks have reported unexpected battery life issues. You may also want auto-brightness if you are carrying, which the viper does not support. I will say if I had it to do over, I would have gotten the Venom at 3 MOA, just to get something for longer distance work, but for what I am doing currently, this is fine."
Best on a Budget: Sig Sauer SOR52001 Romeo5 Red Dot Sight
Who said you can't find a decent and reliable red dot for a hundred-ish bucks? Well, the Sig Sauer SOR52001 Romeo 5 proves them wrong.
This compact red dot sight features a 2-MOA reticle with 10 illumination settings, giving you flexibility while shooting in any lighting condition. It's also equipped with a Motion Activated Illumination that shuts down when the sight is not in use. This extends your optic's battery life up to 40,000 hours!
Be sure to check out our hands-on Sig Romeo5 review for more details if you're interested. 
Not only is the Romeo 5 great for shotguns, but it's also reliable on MSR rifles and full-sized handguns.
Pros
Quick battery replacement
Affordable
Comes with an M1913 Picatinny low mount riser
Motion-activated, great for home defense
Cons
It has a slight parallax
The outer lens is reflective when viewed from a certain angle
What Customers Say
"Absolutely love this thing! Mounted on my Marlin 1895gs chambered in 45-70 govt with an American Defense T1 quick-release mount. Holds up to the recoil and honestly, I couldn't have picked a better optic and mount. The setup was zeroed in 4 rounds and after that, I felt like I couldn't miss! I keyholed rounds between 50 and 100 yards all day. This sight didn't miss a beat and I will be buying more. I love Sig optics and they have yet to let me down and this one is worth every penny!!!"

Ryan
"Being right-handed with a dominant left eye, it is now possible to shoot with both eyes open and no problems as far as sighting or shooting! This is the best thing for me personally that I've come across."

61 Blacklowrider
Best Red Dot Sight for Tactical Shotgun: Vortex Venom Red Dot
What's in the box
Vortex Venom Red Dot Sight
Picatinny Mount
T-15 Torx Wrench
CR 1632 Battery
If you're into tactical shooting, our next pick is a perfect choice. The Venom has a better and clearer edge-to-edge resolution than the Viper. For more details on the difference between the Venom and the Viper, check out this article. 
The Venom red dot comes in various designs, giving you plenty of options. It's suitable for long guns in extreme weather conditions, perfect for "rainy days," or climates where it may be exposed to fair amounts of shock. 
You can easily improve your precision shooting with the Venom because you can choose from more than one reticle. And unlike the Viper, adjusting the windage and elevation knobs are more convenient with the Venom.
Pros
Comes with a lifetime warranty
Comes with a Picatinny mount
Lightweight and compact
Cons
Low-quality battery cover
What Customers Say
"Mounted the red dot to my Mark IV. It was really easy to zero. I put probably 400 rounds through the gun on the first day using it. I'm really happy I went with the smaller dot. I'll definitely be picking up more vortex optics in the future."

A. Skreen
"Almost perfect. The GOOD: This is the best combination between price and accuracy. An all-around great red dot. I mounted it on my Glock 40 GEN4 MOS and it's sublime! The BAD: I just don't understand why Vortex would put such an inferior battery cover on this sight? It is hard to open and harder to close when the battery is in. You really can't close it without scratching the cover since the slot where to put the screwdriver in is super shallow. Really Vortex?? I ordered a replacement as soon as I got the battery in because the cover will not last another battery exchange. IN SUMMARY: Would I buy this sight again? You bet! Any day!!! It is fantastic and much better than their Viper sight too."

Farm Force
Best Reflex Sight: Aimpoint PRO Red Dot Reflex Sight
What's in the box
Aimpoint Patrol Rifle Optic
1/3N Battery
The Aimpoint Patrol Rifle Optic (PRO) comes with an efficient circuit that lets you leave the power on for as long as three years.
Its premium housing also provides increased protection against impact damage and scratches to the lenses. Its optical system also features reflex collimator technology with a LED dot for easier target acquisition and aiming.
The Aimpoint PRO comes in a compact design, making it compatible with a wide range of rifles and other types of firearms. Plus, it's equipped with a transparent rear lens cover that protects the lens from scratches during heavy use.
Pros
Iron sight co-witnessing compatible
Long battery life
Night vision compatible
Cons
Lack of a brightness adjustment feature
What Customers Say
"One of the best red dots on the market for this price. The mount is high quality and was able to co-witness on my Vltor CASV handguard (the one that dog legs onto the upper receiver), by removing the spacer. The lowest settings can really be fine-tuned for use with NV, and the 4 upper settings should get you through most lighting situations. It's an awesome value."

Chad J. Sullivan
"Great red dot optic. Took it to the range last weekend and got it sighted in. Performed extremely well and was able to get it on bulls-eye in no time with a laser bore sight. Very good clarity on the glass with a slight blue tint. Very precise shooter with the dot tuned down to very visible. But the test of time is the only true test on these optics. We'll see how well it holds up over the course of a year and a thousand rounds or so."

Angry Old Man
Bushnell Trophy TRS-25 Red Dot Sight Riflescope
What's in the box
Bushnell Trophy TRS-25 Red Dot Sight
CR2032 Battery
The Bushnell Trophy TRS-25 red dot takes pride in its excellent light transmission and glare reduction properties. Its adjustment knobs also come with thick and durable water gaskets. These knobs are also tight enough and hold well even after doing a lot of heavy shooting.
Its 3 MOA red dot reticle features 10 adjustable brightness settings that let you acquire targets quickly and save your battery by setting the illumination to low.
The TRS-25 is also ready-to-mount on most Picatinny rails and it comes in a precision-engineered housing that can survive daily abuse and harsh environments.
Pros
Lightweight
Affordable
Waterproof, fog proof, shockproof
Cons
What Customers Say
"I've run these on several different rifles. Never had a single issue with one. They keep zero, hold up well to the recoil of even 30 cal rifles, aren't affected by rain, and stay solid on the gun. I like the variable red dot brightness and ease of adjustments. This is like a poor man's Aimpoint. I'd go so far as to say that if you're on a budget, I'd even be willing to put it on a combat or duty rifle. Mine have held up through thousands of rounds, several rifle courses, and many competitions. Well worth the money and weight. Highly recommended. I am comfortable staking my life on this product."

John Scout
"This red dot seems to be very well made, and it was super easy to install. I went to the range this past weekend, and it was super easy to get zeroed in, and it stayed accurate after shooting a box of 20 rounds. I used a boresighter as well, so I did not put any more money downrange than I needed to. I used about 5 rounds after using the boresighter to get it zeroed, and the rest was just for fun. I do wish it had an auto-off feature though. Just make sure you turn it off after use, do not allow the battery to drain. I also recommend getting a riser mount for your sight. It raises the sight enough to make it comfortable to see through. It was hard to use without this riser. You can see the riser in the picture. Have a great day!"

BuggedOut
Red Dot Applications on Shotguns
Home Defense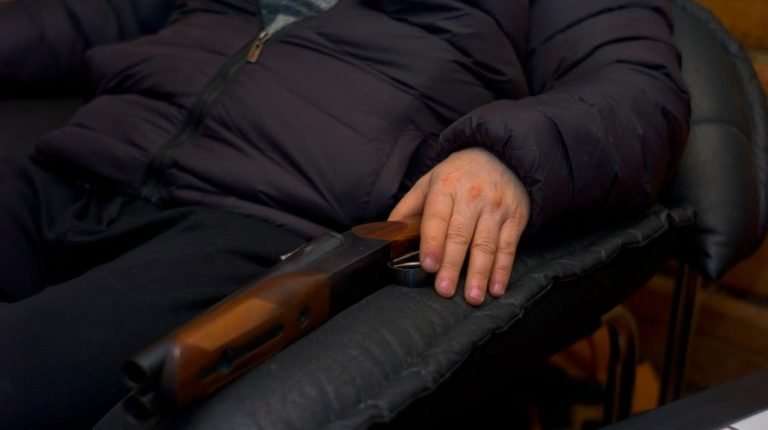 Shotguns alone are great home defense weapons. And red dots make them more deadly and damaging on targets at close ranges, increasing your success rate against armed intruders.
Hunting
Aside from being an efficient home defense weapon, shotguns are also great for hunting birds. It gives you more flexibility in shooting positions and it lets you shoot more accurately than bead sights up to 60 yards.
Open Division Match
An Open Division is the only competition shooting contest that allows red dots on shotguns. Red dot-mounted shotguns give competitive shooters the ability to align their sight easily and focus on their targets while shooting.
FAQs
Are red dots good for shotguns?
Yes, red dots help you aim and engage targets quickly and with precision.
Is a reflex sight good for a shotgun?
Yes, a reflex sight lets you acquire targets quickly and lets you shoot with both eyes open, improving both your speed and accuracy.
What MOA dot is best for a shotgun?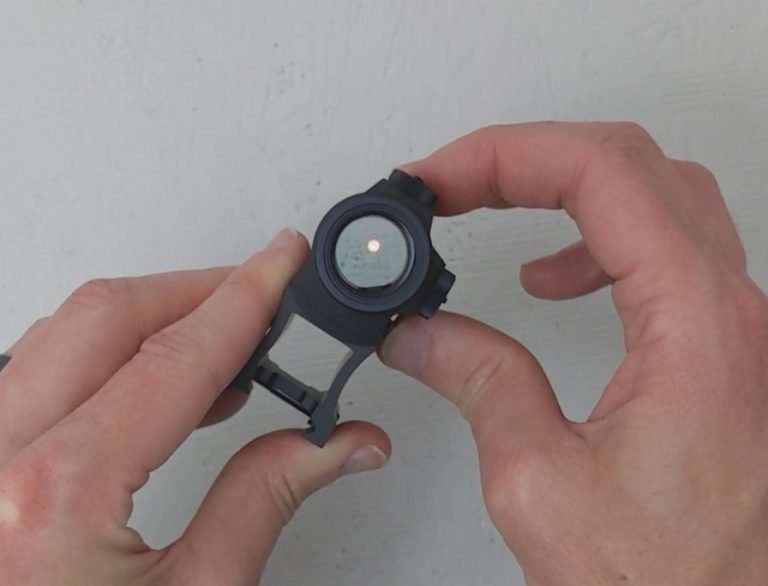 The best MOA dot size for a shotgun ranges from 3 to 6 MOA. These dot sizes balance precision and target acquisition speed. Read our tips above on which is best for home defense, turkey hunting, and skeet shooting.
What is a good optic for a tactical shotgun?
For a tactical shotgun, we recommend the Vortex Venom Red Dot. It's a combination of value and precision. Plus, it's made from aircraft-grade aluminum and comes with a lifetime warranty. We reviewed this reliable optic in detail above so check it out.
Should I put a red dot on my turkey gun?
Yes, mounting a red dot on your turkey gun allows you to quickly find a gobbler even after changing your position or point of aim. See our favorite picks above. 
What is the best MOA for turkey hunting?
A 3 to 4 MOA dot is great for turkey hunting. It covers just enough area to give you precision and is still easy to see in all conditions.
Conclusion
Red dot sights are perfect on shotguns. Aside from helping you acquire targets quickly and get a clean kill, you won't have to worry about losing your red dot anywhere from thick forests or bright fields. 
If you're looking for a cleaning kit for your shotgun, this article should help.
Last update on 2023-09-23 / Images from Amazon Product API