The Sig Sauer Romeo5 is a solid entry-level red dot sight that comes at a very affordable price. It pairs the Sig name with unexpected value. Our Sig Sauer Romeo5 review covers every detail and gives our take on this budget level optic!
Bottom Line
The Sig Romeo5 is excellent for your home defense rifle or for recreational shooting. However, for this price point, don't expect a perfect product and get ready to compromise on certain features.
Pros
Night-vision compatible illumination settings
Affordable!
Long battery life (40,000+ hours)
Comes with motion-activated illumination
Comes with a transferable, lifetime warranty
Cons
There's a bit of distortion at the edge of the optic
Finish gets scraped off easily
Comes with a bulky mount
What Customers Say
"Absolutely love this thing! Mounted on my Marlin 1895gs chambered in 45-70 govt with an American Defense T1 quick-release mount. Holds up to the recoil and honestly, I couldn't have picked a better optic and mount. The setup was zeroed in 4 rounds and after that, I felt like I couldn't miss! I keyholed rounds between 50 and 100 yards all day. This sight didn't miss a beat and I will be buying more. I love Sig optics and they have yet to let me down and this one is worth every penny!!!"

Ryan
"Love this! I have an EOTech which I love and I have to say this has the quality of EOTech! I put it on my KSG 12 and it holds zero with no problems!"

Payne Hardwood

Premium Alternative: Trijicon ACOG
Looking for something a little different?
The Trijicon Advanced Combat Optical Gunsight Scope comes with a fiber optic dual-illuminated reticle. This feature allows you to aim and shoot with both eyes open, making it perfect for long-range shooting. It also provides extraordinary clarity on all brightness levels.
The best thing about its illuminated reticle is that it gets power from tritium and fiber optics, so no battery is needed. The downside is that in very low light, the tritium half life will substantially decrease the illumination in 5-10 years, requiring servicing to restore to its Day 1 level.
Pros
Aircraft-grade housing
Waterproof and fog proof
Battery-free dual-illuminated reticle
Excellent field of view
Cons
It's expensive!
Short eye relief (this is a magnified optic)
What Customers Say
"This ACOG is a tac driver with enough practice you can literally put rounds through the same hole. Not to mention that it's built like a tank. You know the old saying buy once cry once, well I bought and I'm not crying it's worth every penny. Don't settle for cheap scopes, by the time you run through enough cheap ones, you probably spent enough to of bought an ACOG. I can't say enough about this AGOG other than just do it you won't regret it."

Jason W.
"Authentic product received. Incredible clarity. Eye relief is awful but if you shoot the way you are supposed to with the nose to the charging handle it'll be perfect. It is wonderful. Crisp reticle. Tritium is bright. I bought the green horseshoe model. The holdovers are spot on and the durability is just amazing. Worth $1100? I know it seems crazy but I'd say it really is."

Curtis W.
Better for Fast Target Acquisition: Vortex Optics Venom Red Dot Sight
If you're willing to spend a little bit more in exchange for a lifetime of durability, then we recommend the Vortex Venom. 
The Vortex Venom is an open red dot sight and therefore has a huge field of view. The housing itself practically disappears, leaving just the red dot in your field of view.
This red dot sight's power controls are also easy to use. You can aim as far as 300 feet and hit the target without missing (depending on how well you shoot).
As an open red dot or reflex sight, it's a little easier to look through for target acquisition. The down side is that in rain, snow, and mud showers if you get crud on the laser, you won't be able to see your red dot anymore! A closed sight protects against that.
The Vortex Venom Red Dot also has a shockproof exterior and can withstand heavy recoil. This single-piece chassis is lightweight and features an O-ring seal which prevents debris and moisture from entering. Its battery compartment is also located on top of the sight so there's no need to dismount when changing batteries.
Pros
Parallax-free
Comes with anti-reflective coatings
Unlimited eye relief
Cons
Side-mounted controls get bumped easily
Low-quality battery cover
What Customers Say
"I mounted the "Vortex" on a Canik TP9 SFX 9mm. The installation was straightforward and very simple. The boresight process was very simple and it holds boresight perfectly. I taught myself Handgun operation using iron sights shipped with the Pistol. Out of the box sights usually, do not include a night capability. I have invested hundreds in aftermarket sights and finally bought a P229RX equipped with a red dot sight. At 60 years old, I find target acquisition to be faster with both eyes open viewing the target and placing the dot on the target. Gone are the days of squinting to obtain the perfect focus on your iron sight while the target becomes blurry. I now own four handguns with RMR's and I judge the Vortex Venom to be the greatest value for the dollar."

Victor Barac
"Great little red dot. Purchased for Carry Optics in USPSA and mounted to a G17. Frustrating part was the mounting process. The G17 MOS version comes with mounting plates, but the screws don't fit the Vortex, and the screws provided with the Vortex are too long for the factory Glock mounting plates. So…you have to find mounting screws from a third party. Battle Werx is where I found the right mounting screws. Once mounted, I had issues with a flickering dot, but that was fixed by removing the battery and reinstalling it. Since then, I've put just under 1k rounds through it, and no issues so far. The view screen is wider than a Burris Fastfire, but it's still small and takes a lot of dry fire to be able to see the dot without looking for it."

Lodge2
If none of those work for you, here are some other best sellers.
Sig Sauer Romeo5 Specifications
Magnification: 1x
Reticle: 2 MOA Red Dot
Objective Clear Aperture: 20 mm
Eye Relief: Unlimited
Illumination Settings: 8 Daytime / 2 NV
Battery: (1) CR2032, side-loading, motion-activated power up
Battery life: 40,000 hours
Item Dimensions: 4.72 x 3.03 x 0.76 inches
Weight: 5.1 oz.
Waterproofing: IPX-7 immersion up to 10 meters
Elevation Adjustment Range: +/- 40 MOA
Windage Adjustment Range: +/- 40 MOA
Adjustment increments: 0.5 MOA
In the box: Low profile and 1.4" Riser Mounts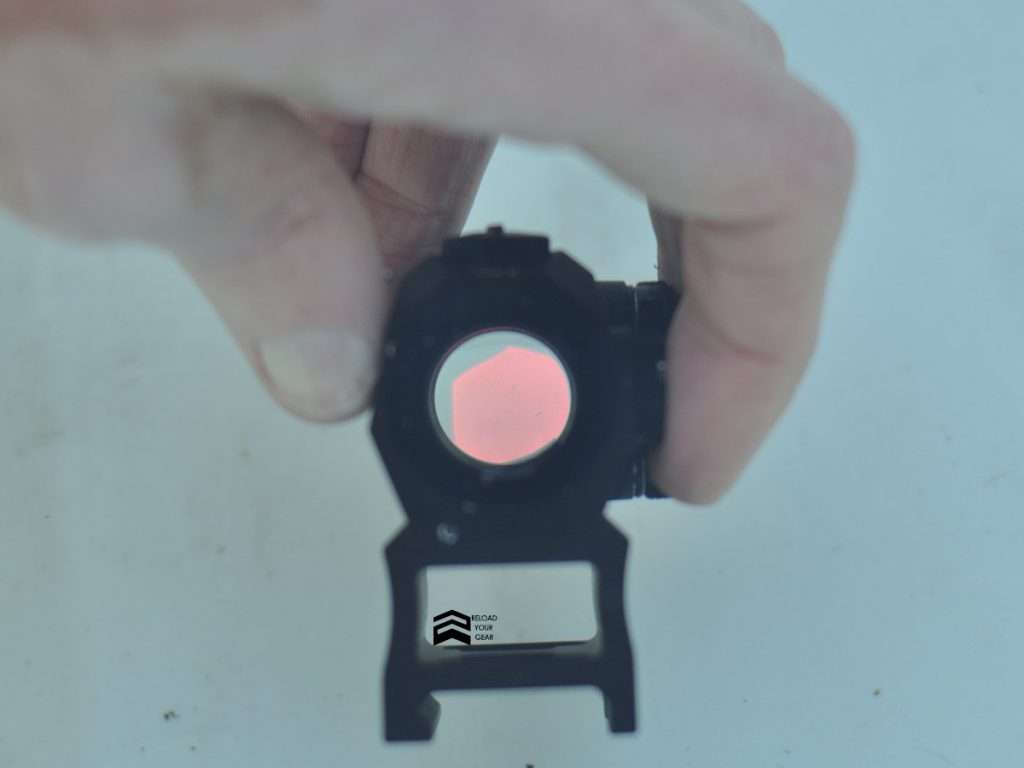 First Impressions
The Sig Sauer Romeo5 is aesthetically pleasing right out of the box. The housing is very similar to offerings from Holosun. Its weight is just right for regular use and its overall look and feel is pretty good given its price. Windage and elevation changes are also very easy to make using its adjustment caps with crisp adjustments for easy returns to zero (even if you won't use that very often once it's set up).
Despite being one of the most affordable red dot sights, it lived up to its temperature and waterproof ratings and keeps running like a champ.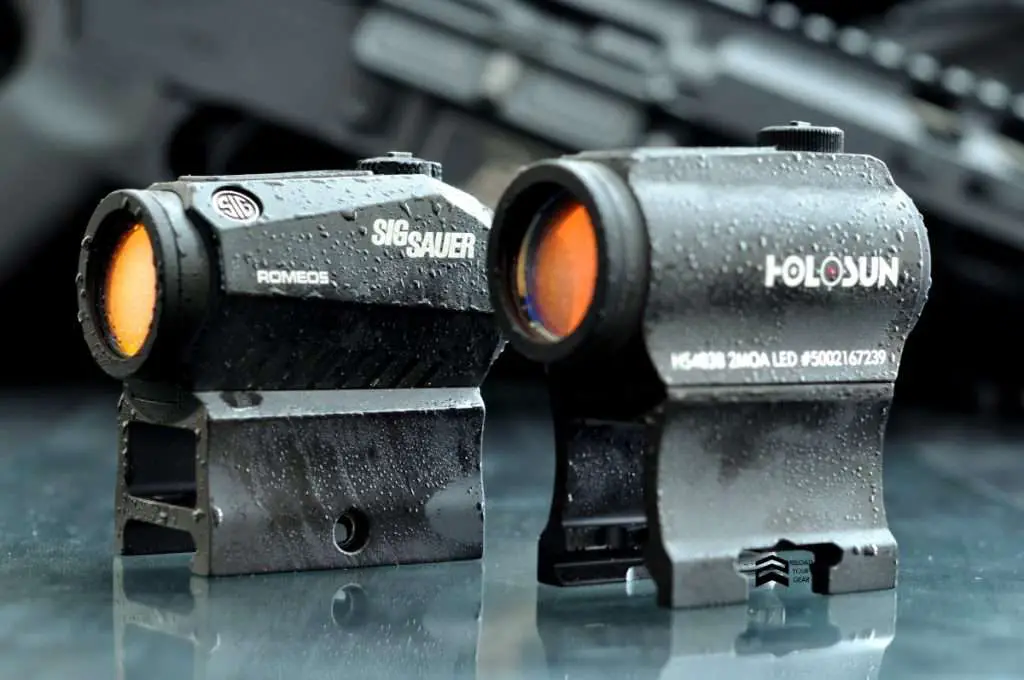 Here's a video of our range time with the Romeo5.
Sig Romeo5 Features
Parallax
Sig Sauer guarantees a negligible amount of parallax by 25 yards, keeping the red dot aligned with your target even when you move your head around.
Illumination
The Romeo5 features 10 illumination settings (8 daytime, 2 NV) that help with faster target acquisition. It gets plenty bright on the highest settings and in bright sun, yet still lasts forever on a battery. Plus, the two night vision settings are nice if you plan on doing varmint or hog hunting with it.
Optics
The Romeo5 provides an incredible sight picture given its price point. That said, it is not an ACOG. But, it's still good. Its lenses are covered in anti-reflection coatings that help decrease surface reflections, allowing optimum light transmission, crispness, and clarity.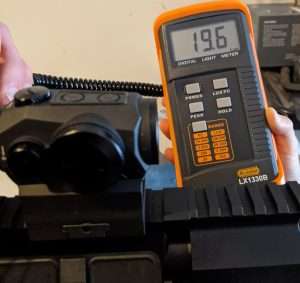 We conduct controlled light transmission testing on all of the optics we get our hands on, and the Sig Romeo5's light transmission was 31% using a calibrated meter. Believe it or not, that's actually 1.7% below the Holosun 403B.
Battery Access and Lifetime Warranty
Romeo5's 40,000 hours battery life and lifetime warranty are some of the reasons why it's a sought-after optic. Its battery is loaded at the side which is convenient since you don't need to dismount the red dot when changing batteries.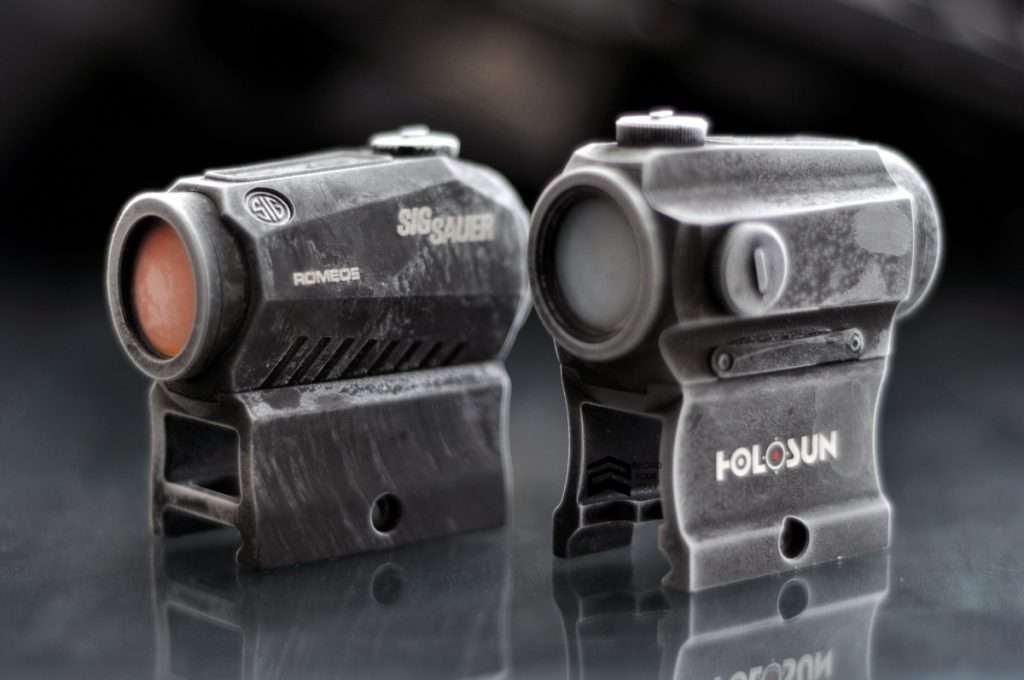 Motion-Activated Illumination (MOTAC)
Its MOTAC feature plays a big role in power saving as it automatically turns off the red dot when it's not in use and automatically turns on once you pick up your gun. That makes the Romeo5 a reliable home defense weapon since it saves battery life and it's always ready for action when you leave it on.
Mounts
It comes with the absolute co-witness mount and a low mount, both of which make the Romeo5 easy to mount, unlike some other value options that only offer a single option.
Frequently Asked Questions
What is SIG ROMEO5?
The Romeo5 is part of Sig Sauer's Romeo series that aims to provide cost-efficient optical solutions to entry-level shooters.
Are SIG red dots any good?
Yes, red dots produced by Sig Sauer have excellent glass quality. Take note, however, that you may experience some distortions at the edges. Overall, you get what you pay for with Sig red dots.
Who makes the ROMEO5 red dot?
The Romeo5 red dot is made by famous firearms and optics manufacturer Sig Sauer.
How far can you shoot with a sig Romeo 5?
Based on our range time, the Sig Romeo5 is reliable up to 100 yards and can be stretched a little farter if you have good eyes.
Conclusion
Overall Score: 4
Overall, the Romeo5 is a pretty good entry-level optic for less than $200.
Reliability and Durability: 4
The Romeo5 is built from aircraft-grade aluminum so it can survive regular range use. Even its turret caps are made from what appears to be durable metal. It also comes with lens caps, so the lens remains protected when not in use. Based on torture tests with people shooting, freezing, and submerging them, most use from everyday people will be no sweat.
Optical Quality: 4
Aside from its anti-reflective coatings and crisp reticle, we're also impressed with the Sig's light transmission which we confirmed with our lux transmission test. 
Affordability: 5
Its great value is one of the strongest points the Romeo5 can offer. If it's your first time buying a red dot sight, you can't go wrong with this reliable optic.
Last update on 2023-11-28 / Images from Amazon Product API