Best Overall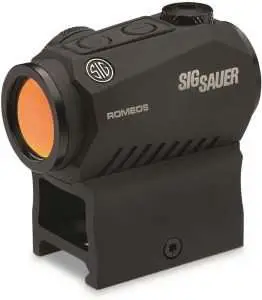 Sig Sauer Romeo5
Perfect for your home defense rifle or for recreational shooting.
Reticle: 9/10
Battery Life: 8/10
Cost: 9/10
Check Price
Best Battery Life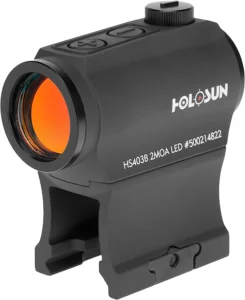 Holosun 403B
Has a battery life that'd make the Energizer Bunny jealous.
Reticle: 8/10
Battery Life: 10/10
Cost: 9/10
Check Price
Quickest Target Acquisition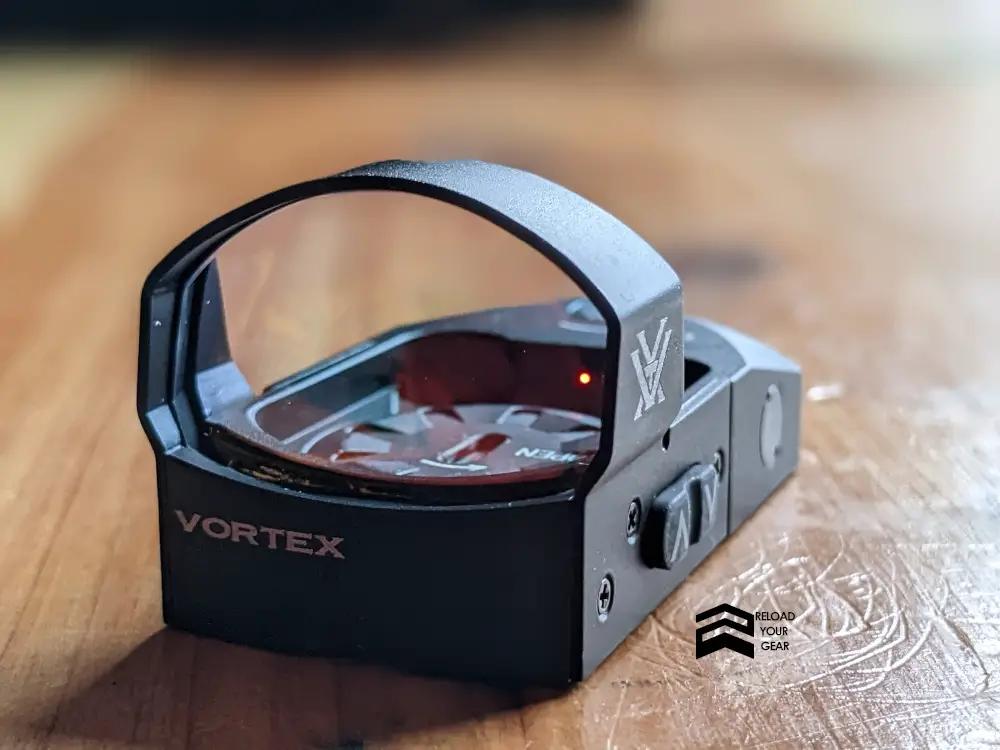 Vortex Venom
With the Venom, acquiring targets is quicker than a hiccup.
Reticle: 10/10
Battery Life: 8/10
Cost: 8/10
Check Price
Choosing a red dot sight, especially when you're on a budget, can feel a bit like navigating through a swamp filled with alligators. There's a lot of danger (in this case, wasting your hard-earned cash) lurking beneath the surface. That's where we come in, with our list of the most affordable red dot sights. Plus we'll let you in on our foolproof system for picking out the best budget-friendly options.
How We Choose the Most Affordable Red Dot Sights
Now, before we dive headfirst into the goodies, let's talk about how we chose these red dot sights. We didn't just pull names out of a hat, no sir! We put each sight through its paces, evaluating them based on:
Reliability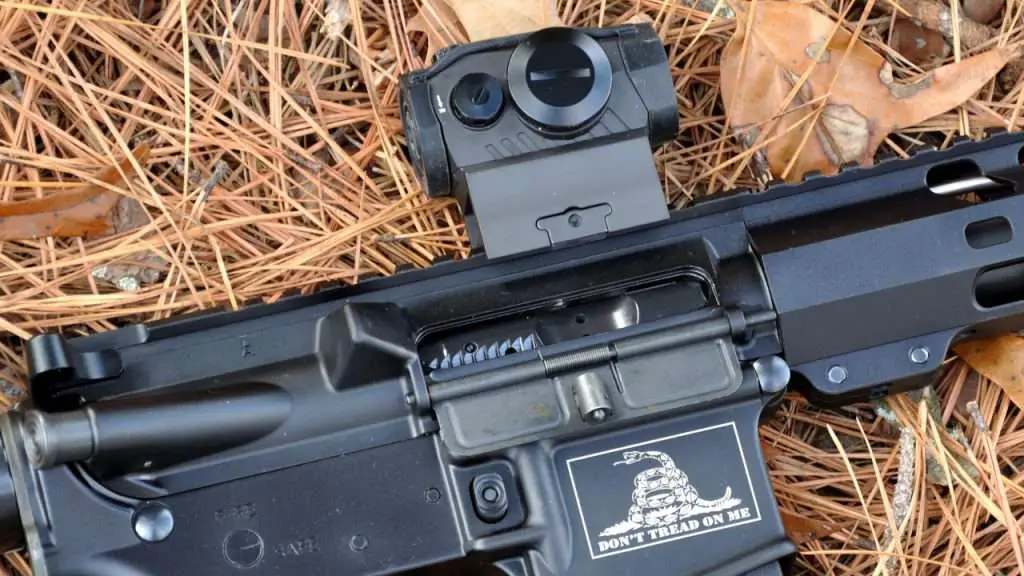 When the pressure is on, you need a red dot sight that's as reliable as your best shooting buddy. It should hold zero impeccably, staying consistent regardless of recoil, bumps, or even drops. We tested each sight extensively, ensuring they deliver dependable performance under a range of conditions.
Accuracy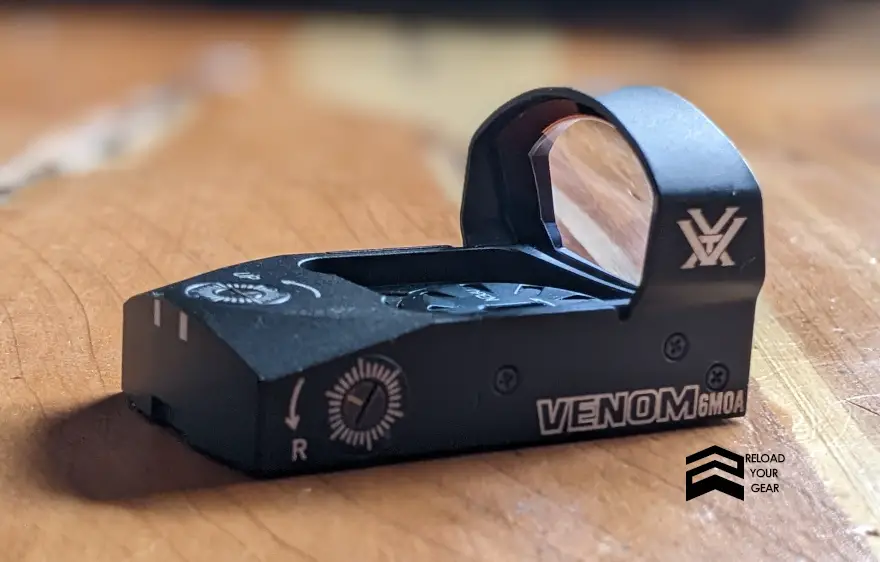 This one is a no-brainer. Because hitting the bull's eye is kinda the whole point, right? We don't just want sights that help you hit the target; we're after sights that can help you kiss the bullseye every single time. We judge accuracy based on how easy it is to sight in, how well the sight holds zero, and whether it enhances your natural shooting ability.
Field of View
We don't like surprises. A wide field of view keeps things in perspective. The wider the field of view, the more you can see, and in turn, react to. A good sight should provide a broad, clear view, enabling you to spot and track targets with ease. We take each sight out in the field (pun intended) to see how it performs in real-world scenarios.
Durability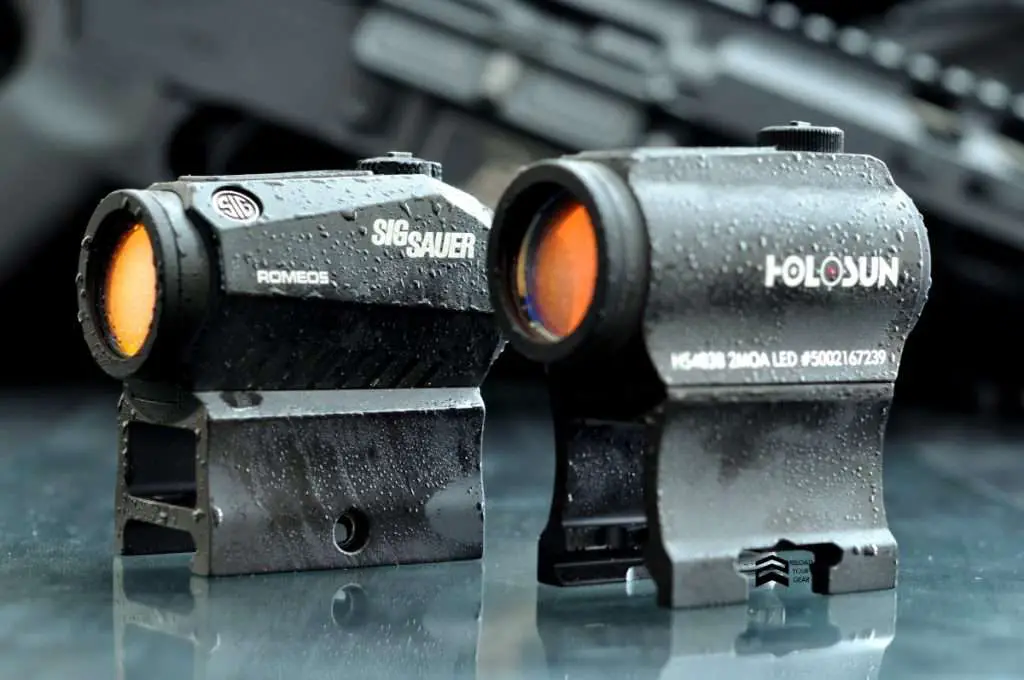 A great sight has got to weather the storm, both literally and figuratively, and come out unscathed. We're talking about sights that can take a few knocks, withstand different weather conditions, and still perform at their peak. 
Battery Life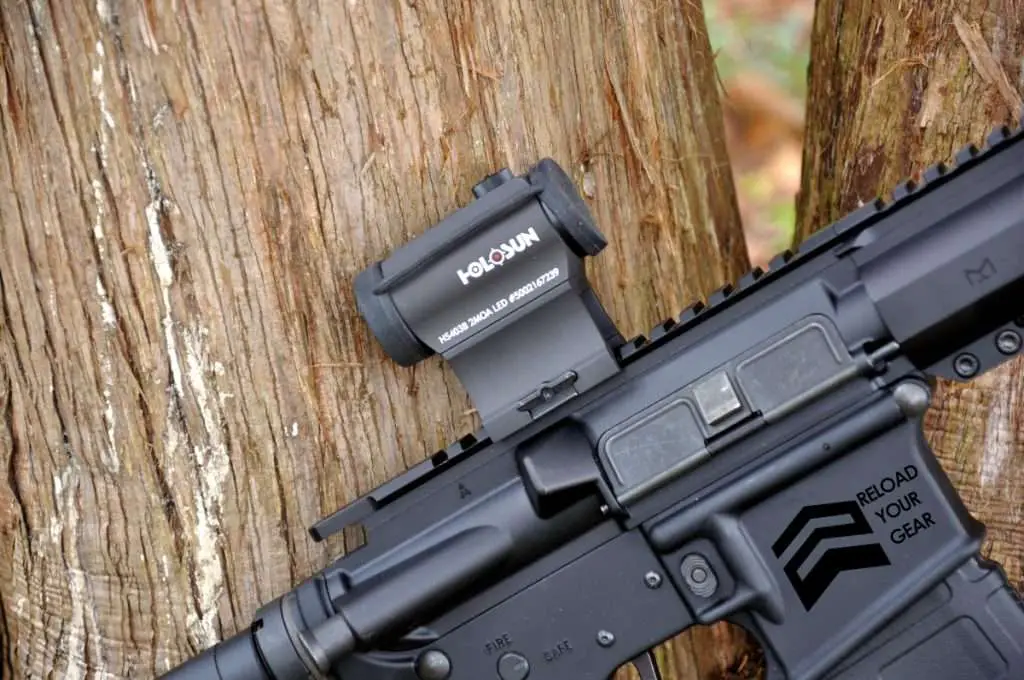 Because the only thing worse than a dead sight is a dead coffee machine. Think about it: What use is a sight that dies on you in the middle of a hunt or a target practice? A sight with excellent battery life can save you a lot of headache (and missed shots). A sight's battery life should last under different usage scenarios and can keep up with your shooting needs.
5 Most Affordable Red Dot Sights
Best Overall: Sig Sauer Romeo5
The Sig Sauer Romeo5 is a solid entry-level red dot sight that comes at a very affordable price. It's perfect for your home defense rifle or for recreational shooting. Romeo5's 40,000 hours battery life and lifetime warranty are some of the reasons why it's a sought-after optic. Its battery is loaded at the side which is convenient since you don't need to dismount the red dot when changing batteries. Our favorite feature, the MOTAC (Motion Activated Illumination) system, is also a game-changer. It turns on when it senses motion, conserving battery when you're not using it.
We've experienced some distortion at the sight's edges, but it's tolerable. Besides, you can rarely get an optic with all these features for a price less than $200.
Pros
Night-vision compatible
Affordable
Long battery life (40,000 hours)
Comes with a motion-activated illumination
Comes with a transferable, lifetime warranty
Cons
There's a bit of distortion at the edge of the optic
Finish gets scraped off easily
Comes with a bulky mount
What Customers Say
Holds up to the recoil and honestly, I couldn't have picked a better optic and mount. The setup was zeroed in 4 rounds and after that, I felt like I couldn't miss! I keyholed rounds between 50 and 100 yards all day. This sight didn't miss a beat and I will be buying more. I love Sig optics and they have yet to let me down and this one is worth every penny!

Ryan
Love this! I have an EOTech which I love and I have to say this has the quality of EOTech! I put it on my KSG 12 and it holds zero with no problems!

Payne Hardwood
Best Battery Life: Holosun 403B
The Holosun 403B has a battery life that'd make the Energizer Bunny jealous. It's also sturdy as a brick house. It's solar-powered. Yep, you heard that right. This sight can run on good old sunshine! It comes in an all-metal construction and can accommodate several mounting options. It's made from 6061 T6 Aluminum and comes with a protective rubber cover included in the box.
The fit and finish are comparable with other quality optics of this type. The sight is pretty compact and the glass clarity is good for the price. We find the adjustment buttons a bit small, but that's a small price to pay for its overall performance.
Pros
Comes with a Shake Awake feature
Comes with a limited lifetime warranty
Night-vision compatible
Long battery life (50,000 hours)
Lightweight
Affordable
Cons
Low-quality battery tray
Red reflection visible in some lighting conditions
What Customers Say
Finally got to put in some range time and I am impressed with the Holosun 403B. The height is perfect for my cheek and for the 1/3rd co-witness. For the price, you can't beat it…it functions well and looks good doing it.

Caleb Rowe
A quality, tube-type red dot, with shake awake functionality, at a very affordable price. The small, 2 MOA dot doesn't completely cover the target at carbine distances and doesn't completely blow out with my astigmatism. Good range of illumination levels. The sight does not have to be removed from the weapon for battery changes, although there is a small tray that will require a screwdriver. This is not a heavy-duty, combat unit. But, so far, for my purposes, it's just right.

Sidecar1115
Best Target Acquisition Speed: Vortex Optics Venom
With the Venom, acquiring targets is quicker than a hiccup. It's also super reliable. It also comes with an auto-brightness mode. In changing light conditions, it's a godsend. The Vortex Venom also has a shockproof exterior and can withstand heavy recoil.
As an open red dot or reflex sight, it's a little easier to look through for target acquisition. The downside is that if you throw it in the mud, there's a chance that the laser will be blocked since the sight's open.
Also, its battery compartment is located under the sight, which means you need to unmount it to change batteries. A little annoying, but not a deal-breaker.
Catch our full hands-on review below:
Pros
Fast target acquisition
Lightweight
Comes with auto-brightness
Comes with Vortex VIP Warranty
Cons
Changing batteries is a bit troublesome
The priciest among our picks
What Customers Say
At 60 years old, I find target acquisition to be faster with both eyes open viewing the target and placing the dot on the target. Gone are the days of squinting to obtain the perfect focus on your iron sight while the target becomes blurry. I now own four handguns with RMR's and I judge the Vortex Venom to be the greatest value for the dollar.

Victor Barac
Great little red dot. Once mounted, I had issues with a ɓbuuu uuuuɓɓh dot, but that was fixed by removing the battery and reinstalling it. Since then, I've put just under 1k rounds through it, and no issues so far.

Lodge2
Lowest Price: Bushnell TRS-25
The Bushnell Trophy TRS-25 red dot takes pride in its excellent light transmission and glare reduction properties. Its adjustment knobs also come with thick and durable water gaskets. These knobs are also tight enough and hold well even after doing a lot of heavy shooting. Its 3 MOA red dot reticle features 10 adjustable brightness settings that let you acquire targets quickly and save your battery by setting the illumination to low.
We love how the TRS-25 is ready-to-mount on most Picatinny rails and comes in a precision-engineered housing that can survive daily abuse and harsh environments. It's not as feature-packed as others, but for its price, we can't really complain.
Pros
Lightweight
Affordable
Waterproof, fog proof, shockproof
Cons
Short battery life
Limited features
What Customers Say
I've run these on several different rifles. Never had a single issue with one. They keep zero, hold up well to the recoil of even 30 cal rifles, aren't affected by rain, and stay solid on the gun. I like the variable red dot brightness and ease of adjustments. Mine have held up through thousands of rounds, several rifle courses, and many competitions. Well worth the money and weight.

John Scout
This red dot seems to be very well made, and it was super easy to install. I went to the range this past weekend, and it was super easy to get zeroed in, and it stayed accurate after shooting a box of 20 rounds. I used a boresighter as well, so I did not put any more money downrange than I needed to. I used about 5 rounds after using the boresighter to get it zeroed, and the rest was just for fun. I do wish it had an auto-off feature though. Just make sure you turn it off after use, do not allow the battery to drain.

BuggedOut
TRUGLO 30mm Dual-Color Dot Sight
Simple, yet effective. This sight offers a clean and crisp red dot reticle, making target acquisition a breeze. It's a no-nonsense option for shooters who prefer simplicity without sacrificing performance. It can efficiently handle recoil from small caliber guns. Its power and brightness dials also click into positions distinctly and consistently.
However, we've experienced a bit of glare and distortion at higher settings. It's not the best for longer range shooting. But for close to mid-range? It's peachy.
Pros
Comes with a dual color option
Comes with 30mm lens
Easy to install
Solid construction
Positive turret clicks
Cons
Bulky
Glare and distortion at higher settings
Not parallax free
What Customers Say
Got it early in shipping very well packaged the colors are nice it does need tweaking. You definitely want to measure your gun to the measurements on the product overall tho a good purchase for the money.

Ashley
Okay unit but caps flip up way too easy. Just look at it cross-eyed and up they go. Other than that, good sight for the money and appears very sturdy other than the flip up caps.

Michigan Buyer
Our Key Takeaways
And there you have it, folks! When it comes to getting the most bang for your buck, these red dot sights are tough to beat. Remember, a good sight doesn't always mean an empty wallet. With a bit of research and perhaps some sage advice from yours truly, you can land yourself a killer sight without leaving your bank account injured.
Until next time, stay sharp and shoot straight!
Last update on 2023-09-29 / Images from Amazon Product API