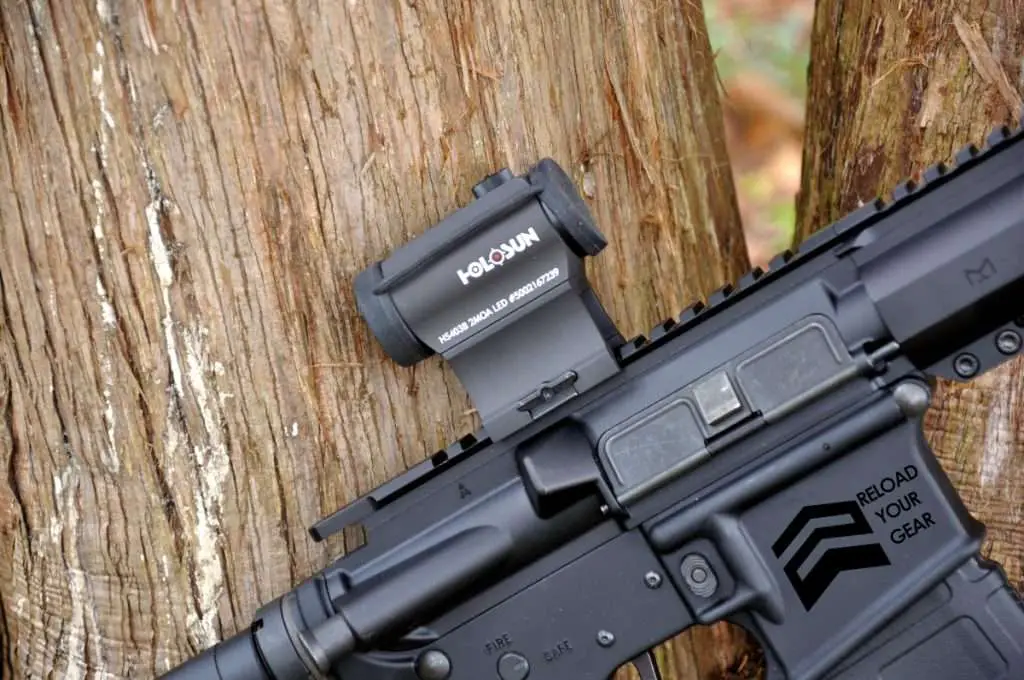 The Holosun 403B is a highly recommended red dot by new and experienced shooters alike. In our Holosun 403B review, we'll take it for a spin and determine if the good reputation is legit or not.
Bottom Line: Holosun 403B Review
The Holosun 403B is a cost-efficient red dot that's reliable and holds zero well. I froze it, submerged it, and put it through the paces at the range with no problems whatsoever.
Pros​
Comes with a Shake Awake feature
Comes with a limited lifetime warranty
Night-vision compatible
Long battery life (50,000 hours)
Lightweight
Affordable
Cons
Red reflection visible in some lighting conditions
Careful of gasket around battery tray when changing
What Customers Say​
"Finally got to put in some range time and I am impressed with the Holosun 403B. The height is perfect for my cheek and for the 1/3rd co-witness. For the price, you can't beat it…it functions well and looks good doing it."

Caleb Rowe
"A quality, tube-type red dot, with shake awake functionality, at a very affordable price. The small, 2 MOA dot doesn't completely cover the target at carbine distances and doesn't completely blow out with my astigmatism. Good range of illumination levels. The sight does not have to be removed from the weapon for battery changes, although there is a small tray that will require a screwdriver. This is not a heavy-duty, combat unit. But, so far, for my purposes, it's just right. I'll buy more of these."

Sidecar1115
Alternatives
Better Value: Sig Sauer Romeo5 Red Dot Sight
Sale
Sig Sauer Romeo5 1X20mm Tactical Hunting Shooting Durable Waterproof...
ROMEO5 GUN SIGHT - The ROMEO5 1X20mm Red Dot Sight mounts on any platform, and even though it's small, it's tough; The solid, lightweight aluminum design gives peak performance & years of service, so...
2 MOA RED-DOT - For those avid shooters who admire classic red dot reticles on their gun sights, the Romeo5 has 2-MOA Red-Dot, which is also adjustable; It provides 10 illumination settings (8...
MOTAC TECH - The versatile ROMEO5 red dot sight features our Motion Activated Illumination technology; It is developed to increase battery life by shutting down the system when not in use and...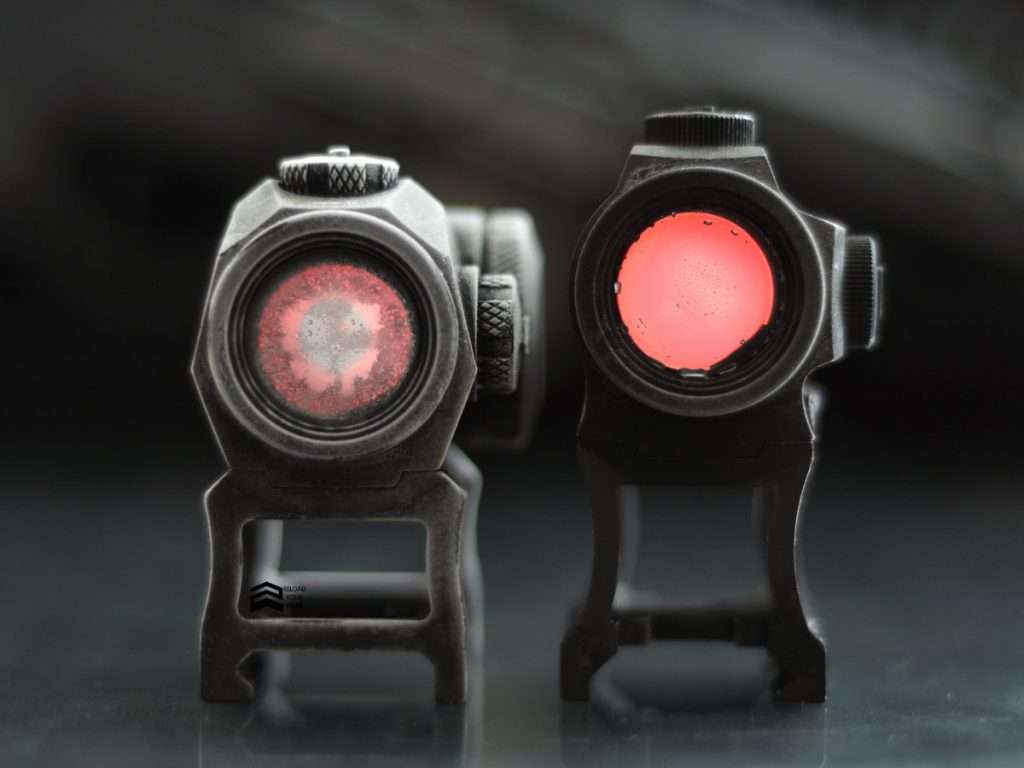 What we love most about the Sig Sauer Romeo5 is that it comes with a Motion-Activated illumination. This feature automatically turns off the red dot when no motion is detected, and automatically powers on at the slightest movement. 
That way, it's always ready to go when you need it.
The Romeo5 also offers great value for its price. It's night-vision compatible and has 40,000 hours of battery life. You can rarely get a deal like that for a price less than $150 and a name like Sig. Is it better than the Holosun? It's very close honestly.
If you want more details, check out our hands-on Sig Romeo5 review.
Pros
Affordable
Long battery life (40,000 hrs)
Comes with a motion-activated illumination
Comes with a transferable, lifetime warranty
Cons
There's a bit of distortion at the edge of the optic
Finish gets scraped off easily
Comes with a bulky mount
What Customers Say
"Absolutely love this thing! Mounted on my Marlin 1895gs chambered in 45-70 govt with an American Defense T1 quick-release mount. Holds up to the recoil and honestly, I couldn't have picked a better optic and mount. The setup was zeroed in 4 rounds and after that, I felt like I couldn't miss! I keyholed rounds between 50 and 100 yards all day. This sight didn't miss a beat and I will be buying more. I love Sig optics and they have yet to let me down and this one is worth every penny!!!"

Ryan
"Love this! I have an EOTech which I love and I have to say this has the quality of EOTech! I put it on my KSG 12 and it holds zero with no problems!"

Payne Hardwood
Better for Quick Target Acquisition: Vortex Viper Red Dot Sight
Sale
Vortex Optics Viper Red Dot Sight - 6 MOA Dot
The Viper Red Dot Sight has a super low-profile making it perfect for handguns with cut-out slides.
The Viper's low height allows it to co-witness with iron sights and the 6 MOA dot is easy to pick up and get you on target fast. Power and illumination controls are easy for shooters to access and...
The fully multi-coated, ultra-clear lens offers a wide, unobstructed field of view while Armortek coatings protect your lens from oil, dirt, and scratches.
If you're willing to spend a little more in exchange for better durability and a better warranty, the Vortex Viper red dot is a perfect choice. This is an open sight, so it's a little of apples and oranges. But, at the expense of possible dust and grime on your laser and possibly worse poor-weather performance, the Viper offers very low profile, open field of view shooting at a great value.
The Vortex Optics Viper red dot sight is engineered for hunting and quicker target acquisition. Like every Vortex optic, it's constructed from hard-anodized aluminum and its lenses are covered with Armortek coatings for guaranteed durability.
Pros
Lifetime warranty
Easy to install
Affordable
Cons
Inaudible clicks when adjusting zero
What Customers Say
"I bought the Vortex Optics Viper Red Dot Sight – 6 MOA Dot to install on my XDM OSP but the Screws were too long. Called Vortex about the issue and was told that they were not in the screw business. They suggested I buy shorter screws or shave the screws that come with the Viper Down. Tried the hardware stores but no luck. Bought Gunsmith Torx Screw set on the internet. Hopefully I will get the Viper installed on my handgun… I still like the Vortex Optics, good Value…"

Amazon Customer
"Took the optic to the range and zeroed it. After a couple of minutes I was on target at 10 yards and never had to touch it again. Locked down the set screws and put 200 rounds through it. It never moved. I was unsure about this optic because so many have bad mouthed it over the years but so far so good. I'll do an update after 1000 rounds and again after 2000 rounds. The picture is my target the day I zeroed. Accurate with no adjustment out to 20 yards as you can see."

USMC 8152
Holosun 403B Specifications​
Finish: Micro Arc
Fabric/Material: CNC Aluminum
Magnification: 1 x
Objective Clear Aperture: 20mm
Reticle: 2 MOA Dot (Available in green and red dots)
Illumination Type: LED
Illumination Settings: 10 Daytime / 2 NV
Eye Relief: Unlimited
Parallax Free: Yes
Adjustment Click Value: 0.5 in at 100 yds
Lens Material: Glass
Optical Coating: Multi-Layer Reflecting
Attachment/Mount Type: Low Profile, 1/3 Co-Witness Mount, Quick Release
Battery Type: CR2032
Battery Life: Up to 50,000 hours
Operating Temperature: 22 – 140 Fahrenheit
Water Resistance Level: Waterproof
Water Resistant Mark: 1 m
Length: 63 mm
Width:30 mm
Height: 58 mm
Weight: 124 g
Package Type: Box
Magnification Type: Fixed
Tube Diameter: 22 mm
W/E Travel at 100 Yds: 50 MOA
First Impressions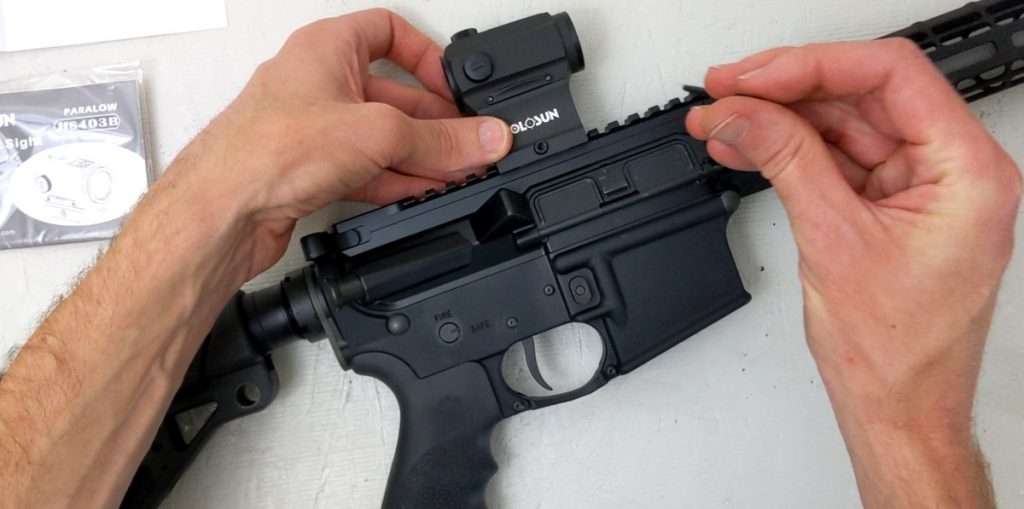 The Holosun 403b comes in an all-metal construction and can accommodate several mounting options. It's made from 6061 T6 Aluminum and comes with a protective rubber cover included in the box.
The fit and finish are comparable with other quality optics of this type. The sight is pretty compact and the glass clarity is good for the price. At first glance, it seems like a great value.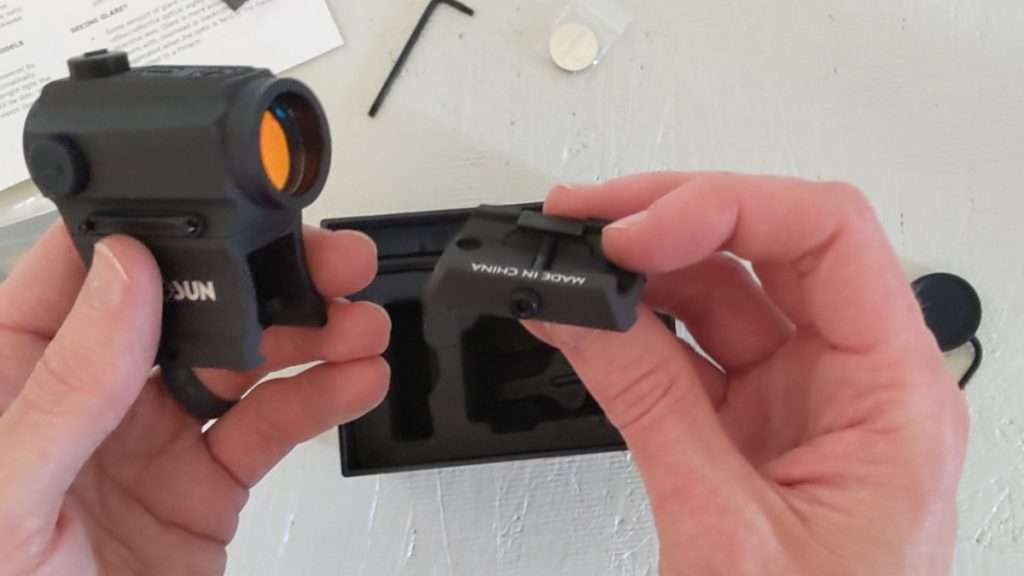 In the box, you'll get a flush mount and raise mounts depending if you want absolute or lower 1/3 witness on standard height sights, which is a nice touch to provide the option right out of the box.
Holosun 403b Features
Shake Awake
Holosun 403b's Shake Awake technology is great for extending battery life. This feature automatically powers down the red dot when it detects inactivity. The user can also set how much time it would take for the LED function to power down.
In practice, I really liked this feature, and it just worked without any hiccups. When I knew it would be in storage, I'd go ahead and power the optic off, but in reality, even that wasn't necessary with this feature.
Reticle and Optics
The Holosun 403b features a 2 MOA dot. Its red dot is crisp and provides a good sight picture as well. It comes with unlimited eye relief and is parallax-free. The reticle is also available in both red and green dots.
The glass is clear, with not a lot of distortion around the edges. The only problem that I noticed that in some lighting conditions with a lot of bright light behind me, I saw a red glare when looking through the optic. From what I've read that isn't completely unheard of with shorter housings on red dots like this one. It doesn't really affect the usability of the red dot, but, it is definitely something I'd prefer not to see.
I personally like the 2 MOA on a rifle since you can keep it turned down for precision shooting or really crank up the brightness to get the effect of a larger, easier to see dot when you need to shoot quickly close in.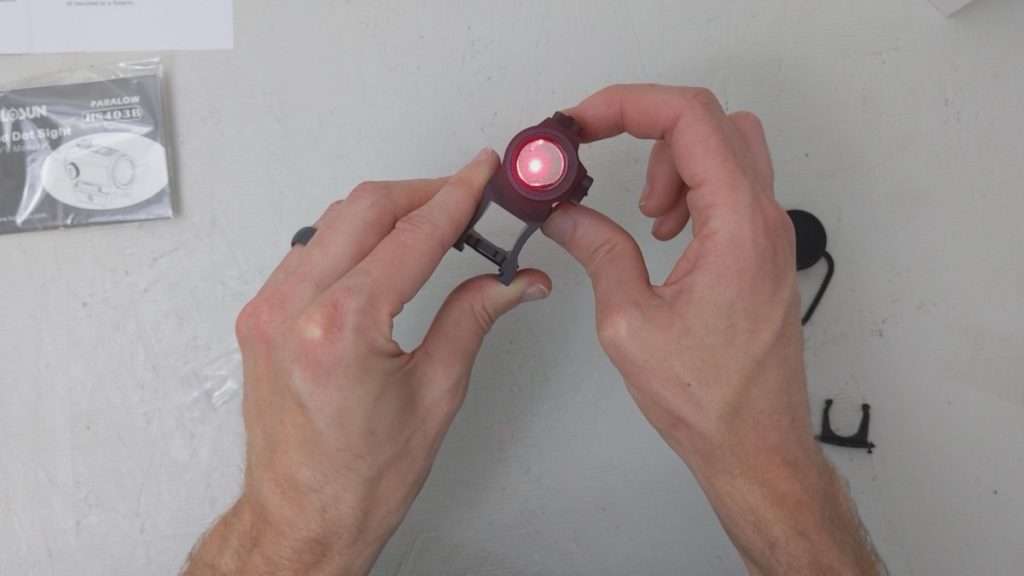 I really like the low profile of this guy, making it easy to have really good situational awareness even with your gun up and lined up on a target.
When testing the light transmission of the optic, the measurement was 32.7% transmission. That's actually slightly higher than the 31% I measured on the Sig Romeo5.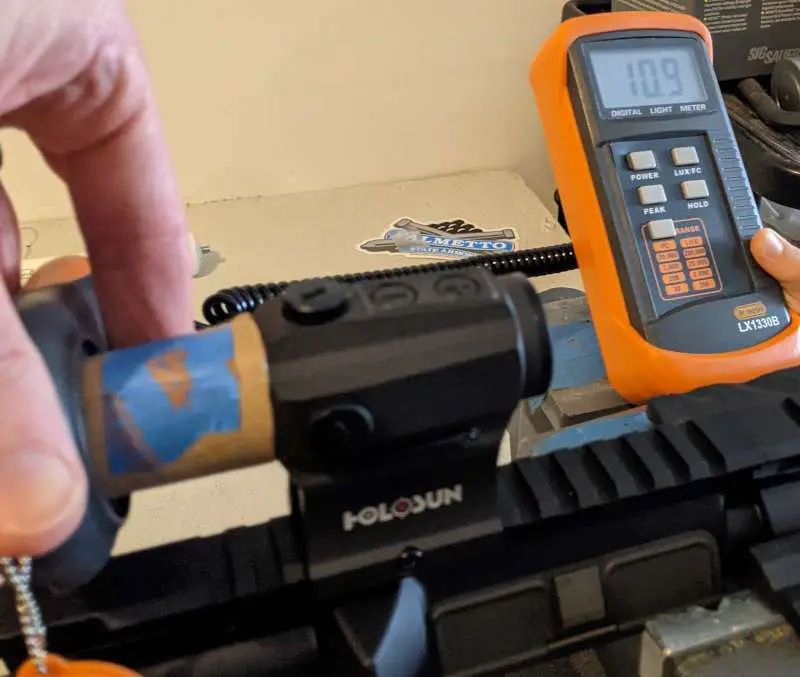 Battery Life
The Holosun 403b has an incredibly long battery life. The battery is accessed from the side without having to remove the sight. There is a rubber seal around the edge to keep water out, so be sure not to pinch it and damage the rubber when reinstalling it.n. The battery tray is equipped with an O-ring that protects the entire optic from water or dirt when sealed properly. 
Operation
Adjustments are easy, but you'll have to look under the protective cap to do changes since there aren't markings on the dial itself. There are distinct, audible clicks when making adjustments, and we didn't notice any issues with tracking or holding zero.
Low Profile
Although it's durable, the housing and electronics don't stick out very far at all, so your sight picture is still very open with this sight. That's a significant advantage in close quarters compared to bulkier red dot sights.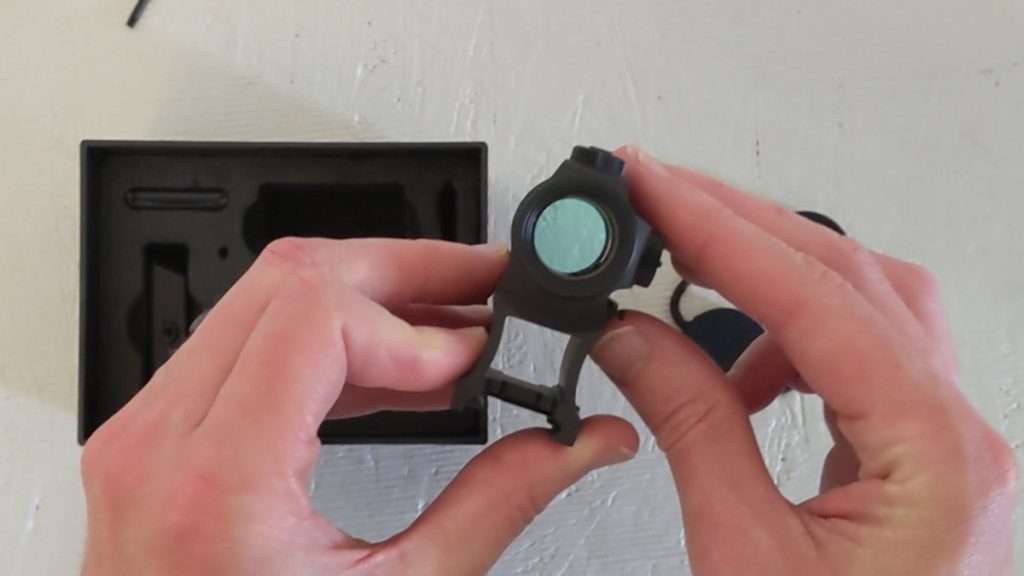 Two Mounts in the Box
The mounts that come with the 403b are a lower 1/3 Co-witness mount and a low-profile mount. A lower 1/3 co-witness offers a less cluttered sight picture for the dot and is perfect for AR-1 rifles. While a low-profile mount is more suitable for pistol caliber carbines or alternative stock options.
Holosun 403b vs 403c
The main difference between the 403b and the 403c is the price. The 403c is a little more expensive, but it compensates with the Solar Failsafe which continues to power the red dot sight even after the battery runs out. 
Holosun 403c Review
The Holosun 403c red dot's most distinctive feature is the Solar Failsafe technology. This feature serves as a backup power source once the battery runs out. It has a solar collector that gathers solar energy. It also has a sensor that helps detect the sun, as this feature automatically increases the reticle brightness when outdoors, and dims it down when indoors.
It's really durable; rated for submersion up to 1 m (which we verified) and against dust and dirt intrusion. The only problems that I've read are when the O-ring that's sealing the battery compartment is pinched when being closed or otherwise fails. I think as long as you're careful when doing changes, you should be good.
Holosun 403 vs 503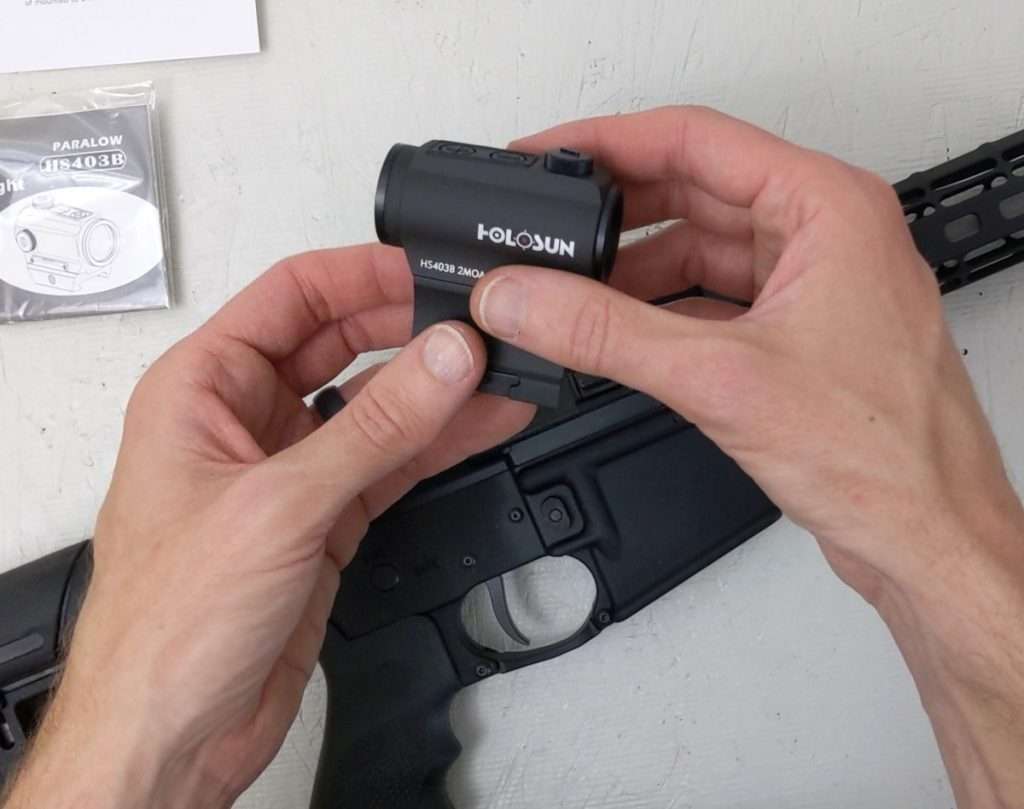 Both the Holosun 403 and 503 are tough sights., as they're both coated in anodized finish and built from durable 6061-T6 aluminum. They're also both fog proof and waterproof up to 1 meter. Both sights are also shockproof and can handle the recoil from high-powered calibers.
One notable difference between them is the reticle. The Holosun 403C features a 2 MOA reticle while the Holosun 503C comes with a multi-reticle system. This reticle system offers more versatility as it allows the user to switch between the standard dot and the circle dot.
Want one?
Overall, the Holosun 403b is a durable red dot that's an excellent value, especially with its battery-saving Shake Awake feature. It performs well and is a great option for those who don't want to splurge or are on a budget.
Last update on 2023-11-08 / Images from Amazon Product API