Our Top Picks
Best Overall M1A Scope Mount
Springfield MA4GENAM M1A 1-Pc Scope Mount
Specially engineered for the M1A.
Check Price
Best M1A Scope Mount on a Budget
UTG New Gen 4-Point Locking Deluxe M14/M1A Scope Mount
Affordable but reliable.
Check Price
Best Premium M1A Scope Mount
Sadlak Industries M14/M1A Lightweight Airborne Model Steel Scope Mount
Very popular among M1A owners.
Check Price
Best for Small Scopes
Sadlak Scope Mount, Steel (140011)
Compact and easy to install.
Check Price
Mounting a dependable scope on the M1A will increase your range and accuracy. And choosing a mount is as critical as choosing a scope because maintaining zero depends on its durability and reliability. Don't go anywhere else because we've got what you need. Read on for our review of the best M1A scope mounts this year!
Comparison of the Best M1A Scope Mounts
Last update on 2023-02-28 / Images from Amazon Product Advertising API
How We Choose + Our Must-Have Features
Material Quality and Weight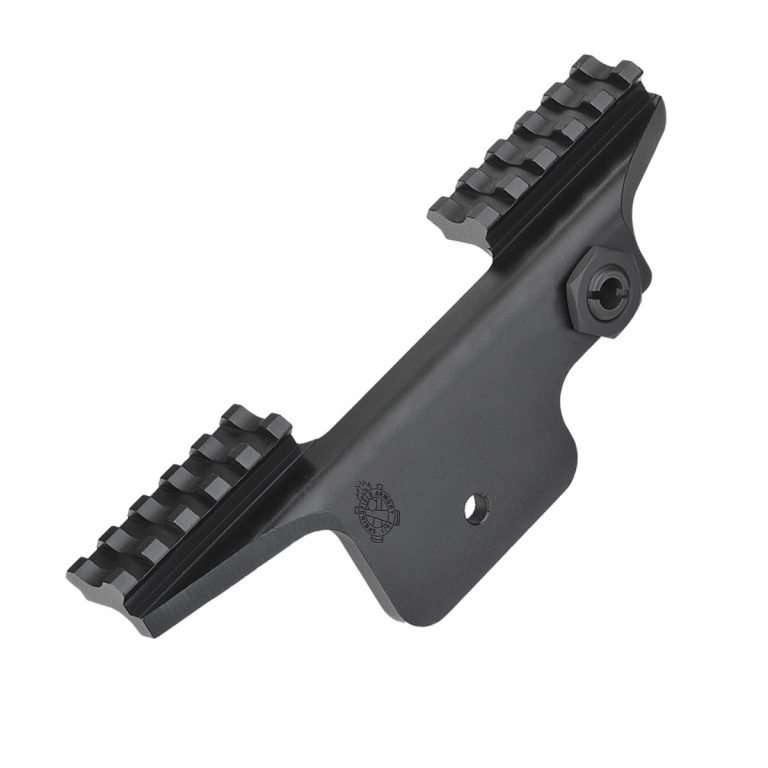 A scope mount shouldn't weigh that much especially if your scope is already heavy. But getting a scope mount that's lightweight doesn't mean it has to be fragile. Thankfully, most mount manufacturers these days make light and durable mounts.
Recoil Resistance
The M1A kicks heavily so maintaining zero can become a problem with an odd mounting scheme. This is a deal-breaker.
Rail System
Getting a rail system that can accommodate both Picatinny and Weaver accessories will help you save more than buying separate mounts. If you want to co-witness, we've got the perfect mount below – the M1SURPLUS Scope Mount Rail. So be sure to check it out.
Price
Price is always a factor. After all, if you have the choice, you'd rather drop an extra C-note on your scope than a mount.
So, if you have a budget, then stick to it. We've got a budget-friendly option below that's nearly as good as the more expensive ones. If you have money to spend and you want to invest in a premium scope mount, the Sadlak Industries M14/M1A Scope Mount is a perfect choice.
5 Best M1A Scope Mounts
Best Overall: Springfield MA4GENAM M1A 1-Pc Scope Mount
Last update on 2023-02-28 / Images from Amazon Product Advertising API
Our best overall pick is a 4th generation scope mount that's been developed and improved over the years. It's one of the most durable and sturdyM1A mounts ever manufactured by a reliable outfit.
It comes in a solid one-piece aluminum structure that's designed to withstand the M1A's recoil. The MA4GENAM can also accommodate both compact and large-sized optics. It's also very easy to install and comes with a user-friendly instruction manual.
The MA4GENAM scope mount is finished in black and is perfectly machined, with no visible milling marks or burs, unlike most brands.
Pros
Lightweight
Easy to install
Allows iron sight co-witnessing
Cons
It's a little expensive
Bolts come loose easily without Loctite
What Customers Say
It's essentially an OEM piece so why wouldn't it fit perfectly? Installation is fairly straightforward. You'll need a small punch (I recommend a Stanley punch set you can get here on Amazon or at your local hardware store) to punch out a roll pin on the shell ejector deflector to install the new out that also allows the mounting of this rail. Don't forget to follow the instructions and set your mount with a rubber mallet/hammer to make sure your sight rail is essentially bedded."
Best Premium: Sadlak Industries M14/M1A Lightweight Airborne Model Steel Scope Mount
Last update on 2023-02-28 / Images from Amazon Product Advertising API
Our next pick is pricey for a reason – because this Sadlak Industries scope mount supports the M1A's accuracy like no other. You can fire a thousand rounds with your scope mounted on this beast, and it won't budge even a tiny bit.
The Sadlak M1A scope mount is also very easy to install, and if it's your first time, the included instructions are very detailed and helpful. It also comes with a one-time use Loctite for additional reinforcements on the bolts and screws.
If you observe closely, you'll also notice that the machining on this mount is nearly perfect and the manufacturer paid close attention to details. Plus, it's made from durable aluminum. If you've got extra cash to spend, this lightweight scope mount is worth investing in.
Pros
Easy to install
Lightweight
Cons
What Customers Say
"Highly recommend this over any other type. A little more expensive, but works as advertised. Did not have to have a gunsmith or beat into alignment like some of the others. Less chance of stripping the screws out and this mounts much better. Good instructions."
"The Sadlak Airborne M1A scope mount is superior to the aluminum product. Plus, it's about half the cost of their titanium scope mount. It might weigh a couple of oz's more, but the structural integrity is worth it. If you don't want to spend $450 or so on the titanium one. Then, this is the one to get."
Best on a Budget: UTG New Gen 4-Point Locking Deluxe M14/M1A Scope Mount
Last update on 2023-02-28 / Images from Amazon Product Advertising API
The UTG New Gen M14/M1A Scope Mount mounts solid and has a great finish without breaking the bank.
The instruction manual that comes with the mount was a little difficult to understand. So you might need help if it's your first time doing this. But once it's torqued and installed properly, it firmly holds zero even after a few hundred rounds. It's also designed so that the spent casings eject properly, so you won't have to worry about brass impact marks on your scope or on your mount.
However, if you're going on a once-in-a-lifetime trophy hunt, you'll want a more durable mount like the one manufactured by Springfield or Sadlak Industries.
Pros
Very affordable
Maintains zero well
Lightweight
Cons
Less durable than steel-made mounts
What Customers Say
"The mount was easy to install. Getting the pinout on the rifle was another story. I've installed Springfield mounts and this is similar. It does have a set screw on the front to hold elevation or provide a more rigid fit. I put a thin piece of plastic there to prevent finish damage. Has worked well. The mount has held zero very well. No issues. I would buy it again for the value"
"Surprising how well built this mount is given the low price. It is aluminum, so you MUST peen it to the receiver in order to properly mount it. That means screwing the side screw in tight, hitting the side of the mount with a padded hammer, screwing the side in a bit more, hit, screw, and repeat until you can't tighten the side anymore. If you don't do this, it will eventually break loose and wobble."
Best for Small Scopes: Sadlak Scope Mount, Steel (140011)
Last update on 2023-02-28 / Images from Amazon Product Advertising API
Our next pick may be small but its solid design and heavy-duty construction get the job done. It's constructed from stress-relieved 4142 bar stock and is coated with a manganese phosphate finish for added durability.
This Sadlak scope mount comes with mounting hardware, fasteners, hex wrenches, and Locktite needed for the installation, and the instructions are also well-illustrated and very easy to understand.
However, it's important to note that this mount sits a little higher than just getting mounted on the frame, so we suggest getting low-profile mounting rings.
Pros
Solid construction
Easy to install
Holds zero well
Cons
What Customers Say
"It's a great mount. It fit perfectly. I had no issues figuring out how to complete the install and the directions were well written. I am not sure what others are complaining about, maybe I just got lucky or something. It is expensive as heck but shooting is an expensive hobby. But it is made in America. Great job."
"Mounted on an M1A loaded. Everything was a precise fit and easy to install. Just follow the provided instructions. Used sandbags to put iron sites on target then moved the scope to the same spot. Took a few more clicks to zero and am getting 0.75"-1.0" groups at 100 yds. with 5x scope. Impressed!"
Best Rail Scope Mount: M1SURPLUS Scope Mount Rail
Last update on 2023-02-28 / Images from Amazon Product Advertising API
Our last pick is great for iron sight co-witnessing. You can still see and shoot with your iron sights with this mount on. But only if it's set from 100 to 400 yards elevation, anywhere higher than that and the mount gets in the iron sight's way.
It's also constructed from durable steel and maintains zero well. It also features a heavy-duty top rail that acts as a deflector for ejected brass shells.
Also, you may want a gunsmith to install the M1Surplus scope mount rail because the included installation instructions are pretty involved. It's compatible with most Weaver/Picatinny scope ring mounts.
Pros
Holds zero well
Great for iron sight co-witnessing
Lightweight
Cons
Needs gunsmith installation
What Customers Say
"About 400 rounds through weapon after mounting this, and it's holding tight. Giving me about 2-inch groups at 100 yards with the scope set at 5 power. So it works!!!."
"The mount is sturdy. It took me about 30 minutes to install at a slow pace. Do not rush it. Use blue locktite on all screws. Dry fit the mount first. Center the rear screw first, tighten that. Then hand tighten the big forward left screw. Finally adjust the front allen screws. Do it in that order, this way your mount will be centered. The hardware quality seems good. Yes I recommend it."
FAQs
Can a scope be mounted on an M1A?

Yes, you can mount a scope on an M1A, and it should easily increase your accuracy. The M1A's build and construction favor iron sights but we made sure to list the most effective and easy-to-install mounts above.
How accurate is the M1A loaded?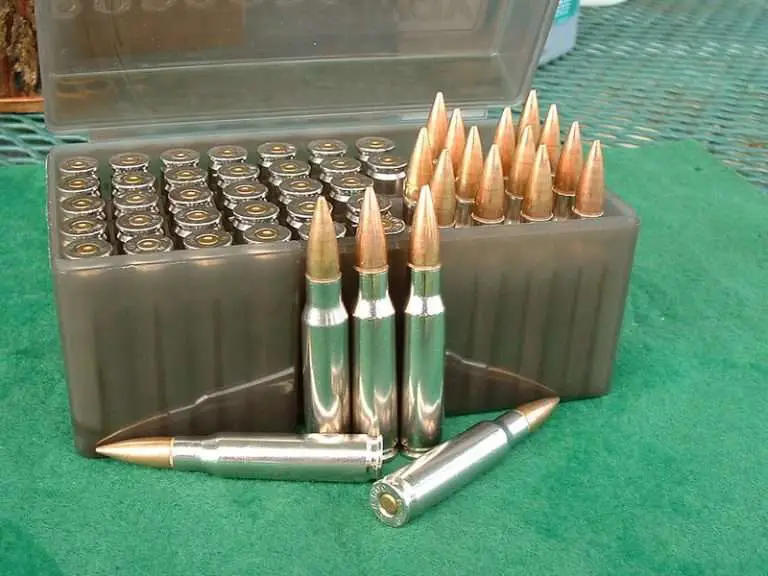 The M1A was and is incredibly accurate. It constantly clocks in 1.25 MOA groups at 100 yards when using 152-gr Dual Performance Black Hills ammo. It generates tight 1.75 MOA groups with 175-gr bullets.
What is the effective range of an M1A?
The M1A is effective out to 300 yards, but when paired with the right scope (and mount), that can increase past 600 yards.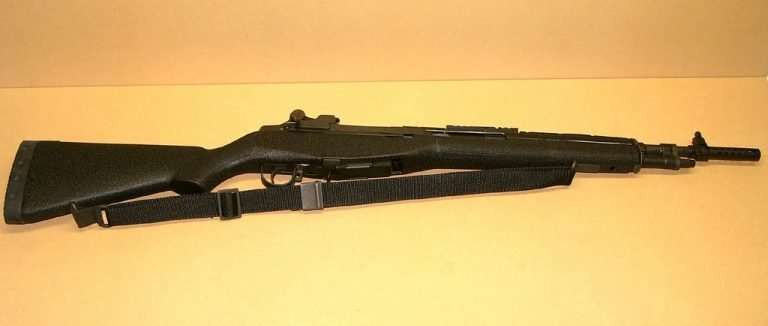 Is the M1A a good hunting rifle?
The M1A has some hunting applications but is not usually used as a hunting rifle. It's used more for shooting competitions or as a collection piece.