Best Overall

Gamo Raptor Whisper Air Rifle
Shockproof and great for ambidextrous shooters.
Check Price
Best for Small Game

Benjamin Marauder Wood Stock Air Rifle
Premium air rifle perfect for target shooting.
Check Price
Best for the Money

Gamo Whisper Fusion Mach 1
Equipped with the best noise reduction technology.
Check Price
Most Accurate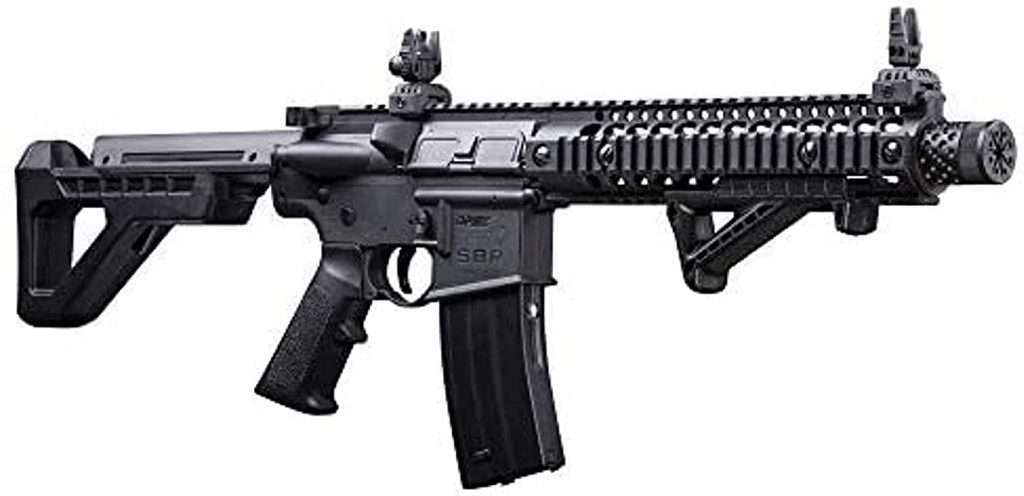 Crosman DPMS Full Auto SBR CO2-Powered BB Air Gun
Fun to shoot and guarantees value for your money.
Check Price
Solving rodent problems in the middle of the night can cause disturbance around your neighborhood, so getting the quietest air rifle is the way to go. A lot of manufacturers these days claim to produce the quietest air guns, but be careful about false marketing and don't believe everything you read. We made sure to review only the best ones in this article, so trust only our picks below.
A Quick Glance on our Top Picks
Model
Gamo 6110067954 Raptor Whisper Air Rifle .177 Cal
Benjamin Marauder Wood Stock Air Rifle
GAMO Whisper Fusion Mach 1 Air Gun With Combo Packs Of Pellets
DPMS Full Auto SBR CO2-Powered BB Air Rifle DSBR
Beeman Quiet Tek, 177/22 Caliber, Break Barrel, Black Synthetic Stock...
Model
Gamo 6110067954 Raptor Whisper Air Rifle .177 Cal
Model
Benjamin Marauder Wood Stock Air Rifle
Model
GAMO Whisper Fusion Mach 1 Air Gun With Combo Packs Of Pellets
Model
DPMS Full Auto SBR CO2-Powered BB Air Rifle DSBR
Model
Beeman Quiet Tek, 177/22 Caliber, Break Barrel, Black Synthetic Stock...
Features to Consider
Noise Level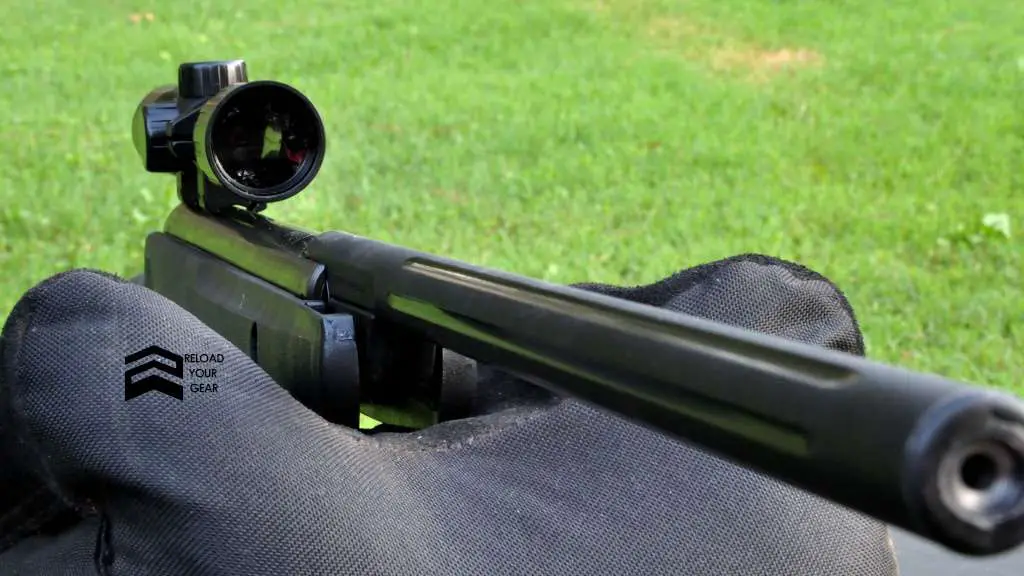 Dealing with backyard rodents without disturbing your neighbors can be a challenge, so a quiet air gun is essential. A quiet air rifle is also an advantage when stalking game in the woods. Comparing noise levels in dBa is the best way to compare apples to apples.
Trigger and Safety
Two-stage adjustable triggers are safer to use especially for beginners, as it allows you to get the trigger ready and make necessary adjustments prior to shooting. Most of our picks below have adjustable triggers for your convenience.
Now the type of trigger safety depends on your preference. But we have options with manual trigger safety like the Benjamin Marauder air rifle, automatic safety like the Beeman Quiet Tek, and air guns with both like the Gamo Whisper Fusion Mach 1.
Caliber Options and Intended Use
Your choice of caliber depends on where you'll be using your rifle. .22 cal is the perfect option if you prefer hunting small game because of its power. 
If you'll be using your rifle to wipe out pests from your backyard but also want to use it for recreational shooting, a .20 caliber rifle is best.
But if speed is your priority, a .177 caliber will get the job done, especially if you're into competitive target shooting. Load it in the best long range rifle for best results.
Power Source
You can choose from three types of power sources – pre-charged pneumatic (PCP), gas piston, and spring piston.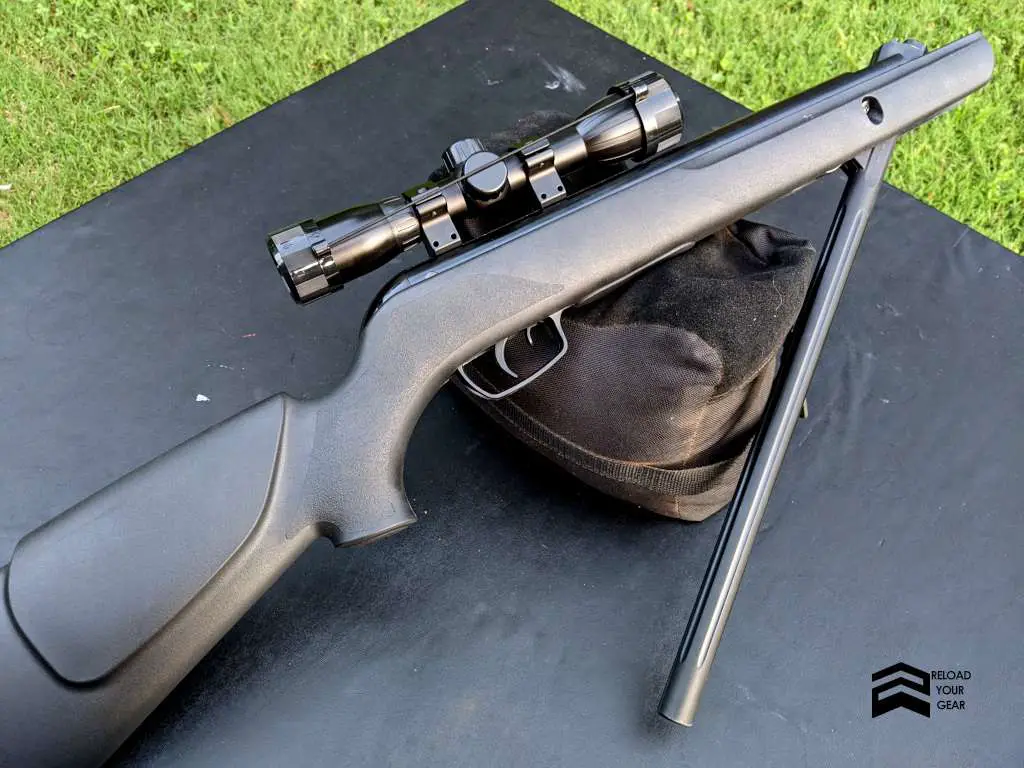 Pre-charged pneumatic air rifles use compressed air as their power source. Gas pistons have tubes sealed with air while spring pistons get new air with every cock. But both of them need to be cocked before firing. 
5 Quietest Air Rifles
Best Overall: Gamo Raptor Whisper Air Rifle
Gamo takes pride in this Raptor Whisper air rifle that's equipped with the innovative Inert Gas Technology piston. This feature promotes less vibration, increased velocity, and long-lasting reliability compared with spring-powered airguns.
The Gamo Raptor Whisper also allows you to control your shots effortlessly and focus on your accuracy because of its smooth trigger. 
One of Whisper's best features is its noise-suppressing ability, making it an incredibly quiet air rifle. Its shockwave-absorbing recoil pad is another notable feature, as it offers more recoil absorption power than most standard pads.
Pros
Very powerful
Comes with a one-year warranty
Lightweight
Affordable
Cons
The safety feature is not that intuitive
What Customers Say
"Awesome rifle, I bought the .22 version to eliminate bullet "crack" in the city. I upgraded my scope and it only took a few shots to sight it in. It loves the H&N Sport Sniper Magnum pellets. At 25 yards it will stack them into the same hole! Already knocking pest squirrels out of the tops of trees. It's easy to cock, and I'm a small guy."

LoWang
"I purchased this with a different scope after hearing poor reviews of the scope that came with it. I bought a CV life 4-32 and within 15 minutes of having it mounted and zeroed, I had bagged 2 rabbits. There are some things about the rifle that could be a little nicer, but overall it's the best air rifle I've ever shot and can't really be beat for the money I paid. I live in metro Detroit and have a terrible rabbit/squirrel/bird problem where these dirtbags are constantly breaking into my home. I wish I had bought this rifle last year before paying a best control company to come out and do nothing. The rifle is absolutely quiet enough to fire in a residential neighborhood, of course, every precaution must be taken when using a high-powered air rifle to hunt pests in your yard. Just like any gun, you should never point at anything you don't plan to kill and not taking shots that could potentially travel to someone else's property. This gun packs a punch and with proper ammo will take out a rabbit/squirrel/bird with 1 well-placed shot, and while I am not in the habit of hunting for fun, I prefer this to poisoning animals(pest)."

Benji
Best for Small Game: Benjamin Marauder Wood Stock Air Rifle
Not only is the Benjamin Marauder air rifle great for hunting small game, but it's also powerful enough to score big ones. It's also incredibly quiet despite significant takedown power.
The Marauder is commended by customers for being well-built and sturdy, as all its parts are constructed from high-quality materials. We also read nothing but positive reviews regarding how quiet this air rifle is.
So if you're willing to pay extra for a lifetime of pinpoint accuracy, the Benjamin Marauder air rifle won't disappoint.
Pros
Comes with a limited 5-year warranty
Excellent workmanship
Cons
It's expensive
It's the heaviest among our picks
What Customers Say
"Excellent pellet rifle. Great precision. A little heavy for my taste but otherwise a great rifle."

Ricardo
"This is my first Marauder and I am in love. I went with a 22 and it's spot on. The rifle is built solid, with beautiful wood construction. I have been a Gamo user for some time now, and feel like this is an order magnitude better. I am using a Hawke scope and I have groupings of a quarter at 30 yds."

MIT Guy
Best for the Money: Gamo Whisper Fusion Mach 1 Air Rifle
Like our best overall pick, the Fusion Mach 1 is equipped with Inert Gas Technology that ensures minimal vibrations and smoother barrel breaking. That's in addition to its exceptional accuracy up to 50 yards.
This air rifle also features a synthetic and ambidextrous stock that can withstand extreme weather and temperature. It comes with a Custom Action Trigger, a revolutionary air gun innovation that allows you to independently adjust your trigger's first and second stage. 
Finally, the Fusion Mach 1 has a Recoil Reducing Rail, which, as the name implies, absorbs excessive recoil and reduces the stress on your scope.
If you need to watch what you spend, you can count on our picks for the best air rifles under $200.
Pros
Very accurate and powerful
Comes with a 5-year warranty
Affordable
Cons
Cocking takes some effort
What Customers Say
"This is an amazing air rifle. Accurate, with the Gamo red fire pellets- three shots within a dime's width at 25 yards. The pull on the air rifle is pretty hard, won't recommended for the weak. The scope no matter how many times I try to zero it goes back to the original spot where it was, I guess it's broken, scairDPMS ope sucks. Other than that headshot every time. I love this thing-for the price can't beat it. Try different pellets, I started with the diablo heavy accuracy nowhere in sight, but the red fire pellets .22 are perfect for my rifle I don't know about yours but yeah I do recommend."

Moses
"I paid the current price for this Full Auto SBR CO2-Powered BB Air Gungun at the time of purchase. I did not receive anything for this review. I use the Gamo Whisper Fusion Mach 1 airgun to eliminate pests that want to tear up my yard. It shoots accurately with several different brands of pellets. It is also quiet as advertised. The gun makes an audible "thunk" when it is fired but it is not loud. I took out two rabbits at 30-40 feet with it. The second rabbit did not react when the first one was shot. Therefore, I don't believe the second rabbit heard the "thunk" or me reloading the rifle to take the second shot. The gun is well made. It does take some effort to cock the barrel to load it. However, most adults should have no difficulty using it."

EJ75
Most Accurate: Crosman DPMS Full Auto SBR CO2-Powered BB Air Gun
Our next pick features a stock that's fully adjustable in six different positions. This is one of the reasons why the DPMS Full Auto SBR BB air gun is easy to handle and shoulder.
This air rifle comes with a dual-action selector, so you can switch from semi and full-auto. It's also powered with two carbon dioxide cartridges housed in a 25-round mag. Take note, however, that you'd have to purchase the cartridges separately.
This Crosman air rifle is equipped with a 6-point adjustable rear stock and a Quad rail that presents endless mounting possibilities. Its thumb-selector style safety promotes safe handling. 
Pros
Affordable
Very accurate
Long lifespan
Cons
Not that powerful
Frequent reloading jams
What Customers Say
"This thing is a beast. It has a quick and snappy fire rate, and the realism makes this gun all the better. You will find most of the controls in their proper places, all functioning realistically. This gun is also highly versatile. I have fitted it with a plethora of my own attachments to it, which makes it look much more tactical. The only downside is that the primary build material is plastic, but highly durable plastic. I give this behemoth a 9/10."

Wil I.
"The gun was amazing. I took this in my dried-up creek. Feels and looks real is durable. Not only this however but so far it's the only full-auto I have seen the rest are on burst."

Albert W.
Beeman Quiet Tek
Our final pick is equipped with a polymer stock that's designed to survive all types of weather. It also comes with a durable and adjustable trigger system that pulls lightly. 
Another great feature is its interchangeable barrel that allows you to shoot .177 and .22 caliber pellets with the same rifle.
This air gun features quick-change dual barrels and Beeman's reliable sound-suppression system that reduces muzzle blast noise significantly compared with other brands. The Beeman Quiet Tek is also well-built so breaking the barrel and reloading is also fairly easy.
Pros
Dual caliber
Very powerful and accurate
Affordable
Comes with a one-year warranty
Cons
The gun can be a little loud when using heavier pellets
It's a bit heavy
What Customers Say
"I bought this for my dad to shoot pesky chipmunks eating his flowers and digging holes in the rock wall and under the house. Shoots well. I've used it for squirrel hunting and have limited out every time. 1 shot kills as far as 40 yards away. I highly recommend it."

Stan R.
"Very quiet for a 22 ca., accurate and powerful. love it. Great product for the money. "

Reginald Braggs
FAQs
What is the quietest, most accurate air rifle?
All of our five picks above are quiet and accurate. But the best one for us would be the Gamo Whisper Raptor, as it's the combination of quality and value for money.
Are air guns quiet?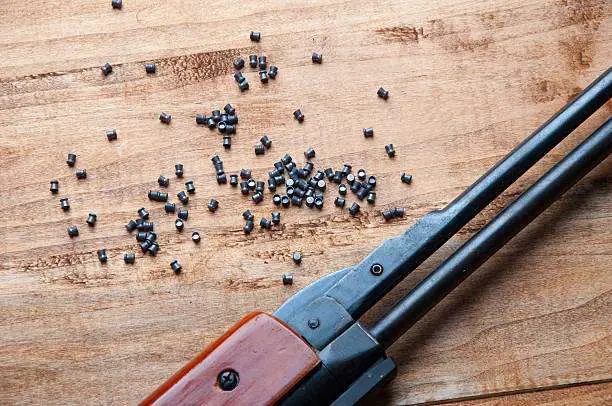 Not all air guns are quiet, but several manufacturers have produced air guns equipped with noise-reducing technology. Our picks above are all that and more, so check them out.
How loud are Gamo air rifles? 
The Gamo air rifles we listed above are some of the quietest produced by the company. They're both equipped with innovative noise reduction technology that's one of the pioneers in the world of air guns.
Is the Gamo Varmint loud?
No, the Gamo Varmint is only as quiet as a BB gun with heavy pellets, that's why many people in the suburbs use it to fix their rodent problems.
Conclusion
Terminating backyard pests without disturbing your neighbors or hunting quietly without alarming your prey can be easily resolved with any of our picks above. Remember, these guns are not toys, so observe safety at all times. Happy shooting!
There's no such thing as owning too many guns, but if you need help organizing them, here's a guide on collecting guns.
Looking for a firearm with top-shelf accuracy but light recoil? Check out the CMMG Banshee 4.6x30mm!
Last update on 2023-09-29 / Images from Amazon Product API