Best Overall Air Rifle Under $200

Hatsan 95 Air Rifle
Reliable for all your air gun shooting needs!
Value: 9/10
Performance: 9.5/10
Cost: 9/10
Check Price
Best Air Rifle Under $100

Barra Airguns Sportsman 900 Air Rifle
The Sportsman 900 may be cheap but it won't let you down.
Value: 9/10
Performance: 8/10
Cost: 9/10
Check Price
Quietest Air Rifle Under $200

Gamo Raptor Whisper Air Rifle
Wipe out backyard rodents efficiently with the Gamo Raptor Whisper.
Value: 8.5/10
Performance: 8/10
Cost: 8/10
Check Price
If you're here because of rodents terrorizing your backyard, those pests' reign of terror in your property is about to end. That or you're just in the market for a low cost air gun. Either way, we put together the best air rifles under $200 so you can annihilate your targets without breaking your bank. 
Features to Consider + How We Choose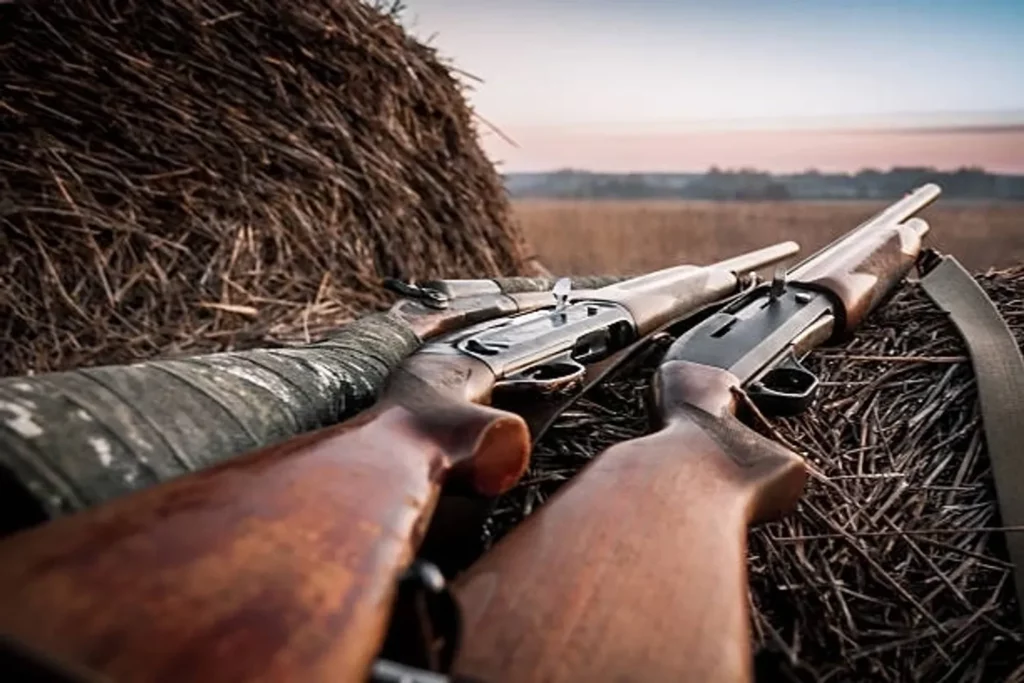 Caliber + Intended Use
Your choice of caliber depends on how you'll be using your gun. .22 cal is the perfect option if you prefer hunting small game because of its power. 
If you'll be using your rifle to wipe out pests from your backyard but also want to use it for recreational shooting, a .20 caliber rifle is a good option.
But if speed or choices for pellets is your priority, a .177 caliber will get the job done, especially if you're into competitive target shooting.
Power Source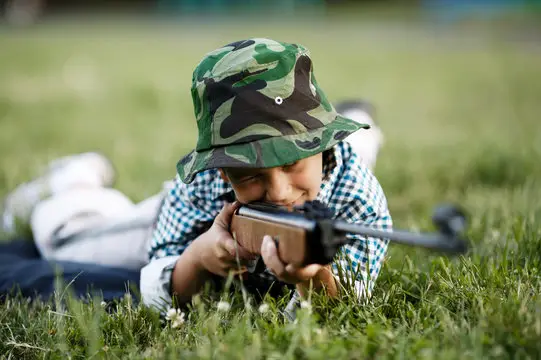 There are three types of power sources in air rifles – pre-charged pneumatic (PCP), gas piston, and spring piston.
Pre-charged pneumatic air rifles use compressed air as their power source. Gas pistons have tubes sealed with air while spring pistons get new air with every cock. Both gas and spring pistons need to be cocked before firing every time.
Trigger + Safety
Two-stage adjustable triggers are safer to use especially for beginners, as it allows you to get the trigger ready and make necessary adjustments prior to shooting. Most of our picks below have adjustable triggers for your convenience.
Now the type of trigger safety depends on your preference. You can choose from a manual trigger safety or one that's automatic.
Noise Level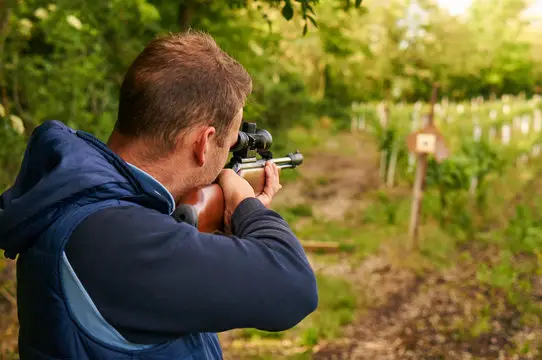 Sometimes you'd have to take out backyard rodents in the middle of the night, and the noise can wake your neighbors up. A quiet air rifle is also an advantage when stalking game in the woods. 
5 Best Air Rifles Under 200
Best Overall Air Rifle Under $200: Hatsan 95 Air Rifle
The Hatsan 95 air rifle will get you through several squirrel seasons without showing signs of slowing down. Its Turkish walnut stock, German steel barrel, and other major parts are solidly built. The attention to detail and quality of this air gun is way beyond its price range. 
The Hatsan 95 is a little heavy but it complements the power this air rifle is capable of. It's available in multiple calibers – .177, .22 , or .25.
Pros
Affordable (MSRP: $159.99)
Max velocity: 1100 fps
Multi-caliber
Automatic and manual safety
Comes with an accurate optic
Large muzzle brake
Cons
It's a bit heavy
It's loud
What Customers Say
The gun is remarkably beautiful and shoots really well.

WBC Coach
This is a very good quality gun. I don't think you'd be sorry if you purchased it.

Buckskin Bill
Best Air Rifle Under $100: Barra Airguns Sportsman 900 Air Rifle
The Barra Sportsman 900 sports a 20″ barrel and adjustable fiber optic sights. This air rifle is very easy to load as it comes with a huge magnetic pin-equipped chamber opening. It also rocks a user-friendly pump arm and a drop stock that's designed for comfort and to offer you a good line of sight when shouldering the rifle.
Pros
Very affordable (MSRP: $69.97)
Max velocity: 800 fps
Lightweight
Comes with fiber optic sights
Easy to load
Cons
Only shoots .177 cal pellets and BB's
Low-quality stock
What Customers Say
It's better than any Daisy 800 or any Crossman I've ever owned. bought it on faith.,love the pistol grip.

Lorin White
Shoots straight and true. Good looking too.

Maria
Quietest Air Rifle Under $200: Gamo Raptor Whisper Air Rifle
Gamo takes pride in this Raptor Whisper air rifle that's equipped with the innovative Inert Gas Technology piston. This feature promotes less vibration, increased velocity, and long-lasting reliability compared with spring-powered airguns.
The Gamo Raptor Whisper also allows you to control your shots effortlessly and focus on your accuracy because of its smooth trigger. 
One of Whisper's best features is its noise-suppressing ability, making it an incredibly quiet air rifle. It has an integrated silencing function for quieter shooting, whether you're shooting in populated areas or just want to avoid scaring away your prey. Its shockwave-absorbing recoil pad is another notable feature, as it offers more recoil absorption power than most standard pads.
Pros
Affordable (MSRP: $118.49) 
Max velocity: 1300 fps in .177 cal
Shoots .177 and .22 cal
Comes with one-year warranty
Lightweight
Cons
The safety is not that intuitive
What Customers Say
Single shot pellet rifle that 'could' easily take out backyard varmints.

Dennis H.
Awesome rifle, I bought the .22 version to eliminate bullet "crack" in the city. I upgraded my scope and it only took a few shots to sight it in. It loves the H&N Sport Sniper Magnum pellets. At 25 yards it will stack them into the same hole! Already knocking pest squirrels out of the tops of trees. It's easy to cock, and I'm a small guy.

LoWang
Crosman DPMS Full Auto SBR CO2-Powered BB Air Gun
The Crosman DPMS SBR offers flexibility with its dual action selector. This feature allows you to choose between a fully automatic or a semi-auto setting. It also features a thumb-selector safety and a Quad rail where you can mount accessories; plus a rear stock and an angled foregrip that are both adjustable. This air rifle may not fire pellets as fast as other brands but it feels solid. The charging handle, in particular, feels and latches like a real one.
Pros
Affordable (MSRP: $142.78)
Adjustable stock
Quiet
Genuine feel
Cons
Max velocity at 430 fps
Heavy trigger pull
Only shoots .177 cal
What Customers Say
Fun little toy to shoot targets. Strong enough to break glass if you are within 10 to 15 yards. Sounds like shooting a real semi-auto with a silencer on it.

Clint
Highly recommend this sweet gun as a trainer, you will have a blast, can even have shooting competition with others. I am considering getting a higher end bipod given that I will probably buy a real AR15 in the near future. Buy this, you won't regret it.

Nelly
Umarex Ruger Targis Hunter Max Pellet Gun Air Rifle
Our next pick features a rubber construction for durability against extreme weather as well as checkered rubber grip inserts for improved grip even in wet conditions. Ruger made sure the Targis Hunter Max's scope rail, the Umarex Nucleus, is unlike no other as it's the only integrated Picatinny rail in the airgun industry. This air rifle is also equipped with a SilencAir non-removable suppressor so you can clear out your yard from pests without worrying about noise complaints.
Pros
Max velocity: 800 fps
Weatherproof stock and body
Comes with a suppressor
Integrated scope rail
Cons
Costs a bit more than other brands
Only shoots .22 cal
What Customers Say
I bought it just for fun and practice. I don't think I will actually hunt with it But from what I seen this pellet rifle can do some damage. My friends are very impressed and advent hunters.

Larry J. Moya
Great for the money. It didn't take long to sight in the iron sights, so far I've shot only crosman domed pellets and it is extremely accurate.

Justin Davis
Premium Pick Above $200: Benjamin Marauder Wood Stock Air Rifle
If you're willing to spend a bit more, the Benjamin Marauder wood stock air rifle is your best option. It's a .177 caliber air rifle that features a well-balanced Turkish walnut stock with an adjustable cheek piece. Its rifled steel barrel offers superior accuracy and sports a built-in sound suppression system.
Pros
Max velocity: 1000 fps
Great aftermarket
Quiet but very accurate
Cons
Expensive
Only shoots .177 cal
What Customers Say
This is a really good gun shoots nice and it's not to picky on pellets but I did find out mine loves the 10.3 grain the best.

S. Jaxet
This gun is so quiet, it's ridiculous. I was shooting at a spray painted wood target about 35 yards away, and the sound of the pellet hitting the target was louder than the gun. After tweaking the scope a bit, I hit a beer bottle cap at 35 yards. I'm very happy with the gun. Just wish it was a little easier to pressurize using the hand pump.

John D. Allen
Our Key Takeaways
Whether it's for bird or small game hunting, or for backyard pest control, you can trust on any of these air rifles. And remember to observe safety precautions just as you would with a real rifle.
Last update on 2023-11-17 / Images from Amazon Product API