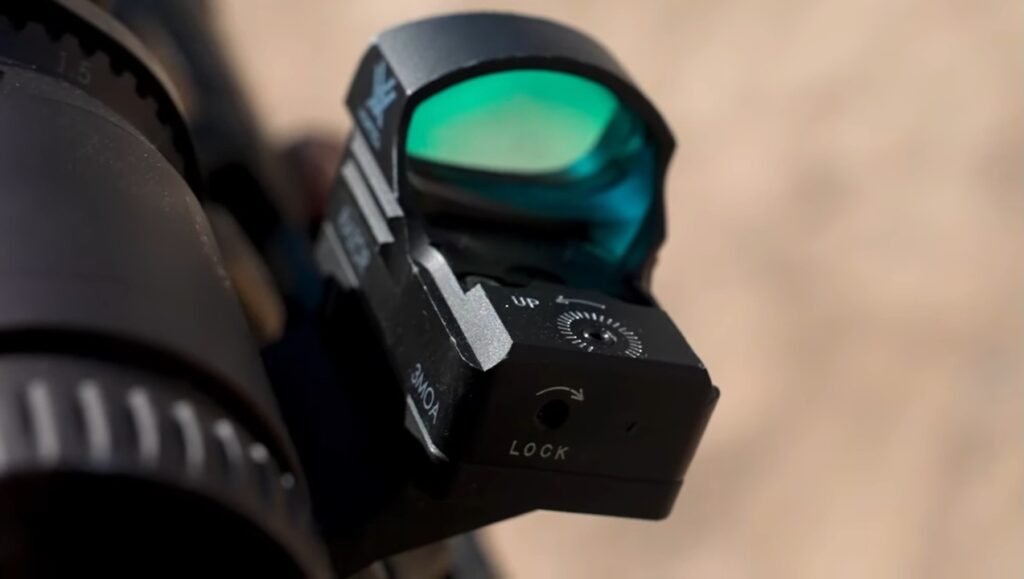 If you've been a rifle owner for a while now, you've likely come across the AR-15 offset red dot concept. A quick browse through firearm forums or a chat at the local shooting range, and you'll find a mixed bag of opinions. Some shooters swear by it, while others think it's a solution looking for a problem. Let's dive in and see if we can get some clarity on the matter.
Table of Contents
What is an AR-15 Offset Red Dot?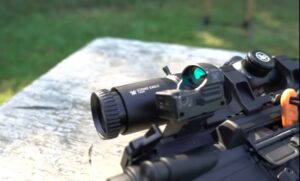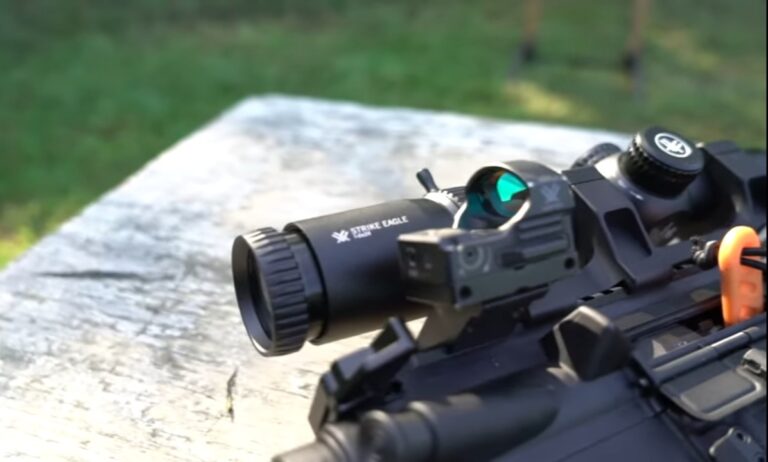 Before we go any further, let's make sure we're all on the same page about what an AR-15 offset red dot is. As the name suggests, it's a red dot sight mounted at a 45-degree angle on your AR-15. Instead of being straight up and down, it's offset – sitting off to the side. Got it? Good!
Why Use an AR-15 Offset Red Dot?
The main advantage of an offset red dot is that it allows for fast transitions between different types of targets at various ranges. By simply canting or tilting your rifle, you can switch from a magnified optic for long-range targets to a red dot sight for close-range engagements. 
5 Best Offset Red Dots for AR-15
Best Overall AR-15 Offset Red Dot: Leupold DeltaPoint Pro Reflex Sight
The DeltaPoint Pro stands out for its overall quality and performance. What impressed us most was the scratch-resistant DiamondCoat Aspheric Lens that offered a wide field of view. You really can't beat the sight picture it provides. The automatic brightness sensor was a great touch, adjusting to changing light conditions like a champ. We also liked the top-loading battery compartment that didn't require tools for battery replacements.
But, like most things in life, our top AR-15 offset red dot pick is not perfect. The battery life is decent but not as long-lasting as some other models. And, it's on the pricier side – a worthy investment if you have the budget.
Pros
Waterproof, fog proof, and shockproof
Comes with automatic brightness sensor
Lightweight
Comes with lifetime warranty
Cons
190 hours battery life (highest setting)
Expensive
What Customers Say
I put it on my target pistol and so far it has lived up to the reputation and the price point. Now I'll have the adapter if I ever mount one on a pic rail too. Definitely a great option if you don't mind spending the money!

Mike
This sight holds zero on my 10mm. It's the only sight I've tried that could handle the recoil.

Robert Keziah
EOTech EXPS2 Holographic Weapon Sight
If you're a fan of holographic sights, the EOTech EXPS2 is a keeper. It's built like a tank, handling every bump and scrape without a hiccup. The reticle is crisp and provides quick target acquisition. 
Many people find them significantly faster than a red dot. For us, it seems pretty comparable, but we also don't do a lot of competitions timing speed.
The EXPS2 Holographic Sight features 20 manually adjustable brightness settings for all types of lighting. It features a quick-detach lever (that we love) which is great for when you want to switch this sight back & forth between rifles. It's also equipped with an auto-shutdown feature that's user-programmable for up to 8 hours. This allows us to save battery for when it's time for action! 
However, its battery life, while respectable, isn't going to win any awards. 
Pros
Comes with a 10-year warranty
Comes with auto-shutdown feature
Unlimited eye relief
Side button operation
Cons
Expensive
1,000 hours battery life (continuous at nominal setting)
What Customers Say
I love this sight! My AR-15 is so fun to shoot with this Eotech. It was easy to sight in and it is really accurate! I love the quick detach mount. you can take it on or off in a second and it won't lose its Zero! It is a lot of money to pay for sight but worth every penny! You want the best you got to dig a little deeper into your pocketbook! I give it a FIVE STAR!

Rick Wear
I am cross-eye-dominant. That means that while my left eye is dominant, I am right-handed. That causes all kinds of aiming problems that I find difficult to overcome (I find it difficult to close my left eye while keeping my right eye fully open). With the EOTech sights, I can keep both eyes open and I have no cross-eye-related sight picture shift.

Michael
Vortex Venom Red Dot Sight
If you're into tactical shooting, our next AR-15 offset red dot pick is a perfect choice. The Venom has a better and clearer edge-to-edge resolution than its brother, the Vortex Viper, but lower battery life. 
The Venom red dot comes in various designs, giving you plenty of options. It's suitable for long guns in extreme weather conditions, perfect for "rainy days," or climates where it may be exposed to fair amounts of shock. You can easily improve your precision shooting with the Venom because you can choose from more than one reticle. Plus, adjusting the windage and elevation knobs is more convenient with this reliable optic.
Pros
Comes with a lifetime warranty
Comes with a Picatinny mount
Lightweight and compact
Cons
Low-quality battery cover
150 hours battery life
What Customers Say
Mounted the red dot to my Mark IV. It was really easy to zero. I put probably 400 rounds through the gun on the first day using it. I'm really happy I went with the smaller dot. I'll definitely be picking up more vortex optics in the future.

A. Skreen
Almost perfect. The GOOD: This is the best combination between price and accuracy. An all-around great red dot. I mounted it on my Glock 40 GEN4 MOS and it's sublime! The BAD: I just don't understand why Vortex would put such an inferior battery cover on this sight? It is hard to open and harder to close when the battery is in. You really can't close it without scratching the cover since the slot where to put the screwdriver in is super shallow.

Farm Force
Trijicon RMR Type 2 Adjustable LED Red Dot Sight
One of the standout features of the RMR Type 2 is its adjustable red dot brightness with plenty of settings. This allows the shooter to customize the reticle intensity based on lighting conditions, ensuring optimal visibility and target acquisition. The sight's compact size and lightweight design make it suitable for a wide range of firearms, without adding excessive bulk or hindering maneuverability.
The RMR Type 2 is renowned for its ruggedness and durability. It is constructed from forged aluminum and boasts a ruggedized design that can withstand recoil, impact, and harsh environments.
Pros
Water-resistant
Rugged construction
Compact and lightweight
Cons
Expensive
4 years battery life (lowest setting)
Needs to dismount when changing batteries
What Customers Say
The RMR is always on, rigid enough to rack your pistol with, has a small profile for CCW, and the smaller MOA is perfect for target practice.

Joshua
Installed on a H&K VP9, absolutely enhanced my performance after zeroing it. Great sight!

Robert Harris
Bushnell Advance Micro Reflex Sight 1×5 MOA Dot
If you want a compact design, the Bushnell Advance Micro checks that box. Despite its size, it provides a clear sight picture, and mounting is a breeze. It's compatible with a wide selection of rifles and semi-auto pistols and comes with a picatinny adapter mount. The Advance Micro Reflex also powers off automatically after 12 hours of inactivity.
This optic's build quality is good for its price, although it doesn't feel as solid as some of the other pricier models. 
Pros
Affordable
50,000 hours battery life
Waterproof, fog proof, and shockproof 
Wide compatibility
Compact and lightweight
Cons
Not as durable as other brands
What Customers Say
Really nice Red Dot. Was really bummed when it wouldn't fit my Berreta APX A1 Carry. Bright in light and dark. Seemed to be well made.

Bert
This is the first experience I have ever had with a red dot sight mounted on a pistol. So far so good. Installation on my Glock 34 MOS was a breeze. Zeroing the sight was a bit more difficult but I attribute that to my inexperience as opposed to the actual product. It has held up and maintained its zero through hundreds of rounds of various grain weights. For an inexpensive sight it performs great.

Amanda
Best Mounts for AR-15 Offset Red Dot
To properly attach your AR-15 offset red dot sight, you'll need a reliable mount. Here are our top picks:
Arisaka Offset Optic Mount
The Arisaka optic mount's solid design provides a secure fit; and the ability to quickly attach and detach our sight is a huge plus. However, the one thing that caught us off guard was its size – it's a bit bulkier than we expected. But if you don't mind a bit of extra bulk for the sake of sturdiness, this mount might be just what you need.
Pros
Easy to install
Lightweight
Solid construction
Affordable
What Customers Say
The Arisaka offset scout mount is a small but effective mounting system for your light. It's expensive but does a great job holding your light tightly against your rail and is much better than a lot of the bulkier pack-in solutions that come with lights.

Josh W.
Really worked well on the Aridus/Zhukov Beretta 1301 handguard. The offset matches the curve of the handguard and there is still room for a QD socket behind the light. A complete win!

Mark Lee
Trijicon AC32066 RMR 45 Degree Rail Offset Adapter
Trijicon's track record for reliability extends to their mount too. This adapter has held up well through many shooting sessions, keeping our optic steady and secure. It's also lightweight, which my arms appreciate after a long day at the range.
However, it's worth noting that it's designed to specifically fit Trijicon's RMR sights. So, if you're using a different model, you'll want to double-check compatibility before purchasing.
Pros
Lightweight and compact
Ambidextrous
Holds well
Cons
Pricey
Limited compatibility
What Customers Say
After trying other offset mounts, I decided to buck up the $$. It's one of the only ones that drops low enough. It puts the red dot much closer to being aligned with the barrel, and low enough to clear the adjustment knobs on my scope on top.

Kegan
Very slick and fairly compact set up that gives the RMR sight option to a scoped pistol.

Amazon Customer
Sig Sauer SOR2M101 Universal Reflex Sight 45-Degree Offset Mount
Sig Sauer's offset mount has a lot going for it. Its compatibility with most reflex sights is a significant advantage, and it's held up admirably through all kinds of weather conditions.
However, one thing we found a tad challenging was the installation process. It took a little bit of elbow grease to get it mounted, so set aside some extra time when you're setting it up.
Pros
Affordable
Solid construction
Multiple mounting positions available
What Customers Say
The optic mounts solidly and the design of the rail interface keeps the whole assembly from interfering with any other optics mounts you'd use in conjunction with it.

Mr. N
Awesome sight mount. Perfect for added optic for backup Romero 1P on my Spear LT. The build quality is excellent and the fit and finish is perfect. I recommend this mount.

Joseph O.
Our Key Takeaways
Whether an AR-15 offset red dot is a yay or nay depends largely on your personal shooting preferences and needs. For us, it's an efficient setup for when you want to swiftly switch to close-range shooting.
Each of the AR-15 offset red dots above has its strengths and weaknesses. Your choice ultimately depends on your budget, usage, and personal preference. But, rest assured, these models are all performers in their own right.
Last update on 2023-09-10 / Images from Amazon Product API