Our Top Picks
Best Overall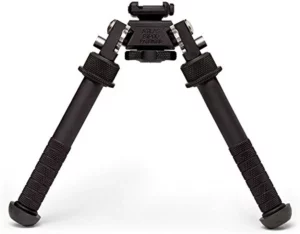 Atlas Bipod V8
Lightweight but impressively durable.
Stability: 9/10
Quality: 10/10
Cost: 8/10
Check Price
Best Heavy Duty
Harris Engineering S-BRM
Reliable no matter the weather.
Stability: 9/10
Quality: 9/10
Cost: 9/10
Check Price
Best AR-10 Bipod on a Budget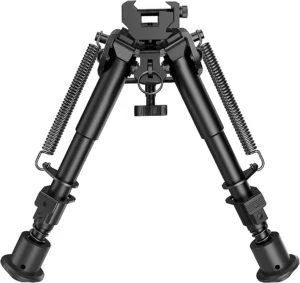 CVLife Bipod
Long-lasting performance, great price.
Stability: 8/10
Quality: 7/10
Cost: 10/10
Check Price
Let's be real for a moment, nothing screams accuracy like a good ol' bipod. We've all been there, balancing our AR-10 on a rock or a rucksack and praying that it doesn't shift mid-shot. Well, that era is history! In this article, we're all about taking that next leap towards precision with a guide to the best AR-10 bipods in the game. So, buckle up and let's get down to the nitty-gritty!
Comparison of the Best AR-10 Bipods
Model
Atlas V8 BT10 Bipod - Standard Two Screw 1913 Rail Clamp, Black
Harris Engineering S-BRM Hinged Base 6 - 9-Inch BiPod,Black
CVLIFE 6-9 Inches Bipod Picatinny Bipod with Adapter
UTG Tactical OP Bipod, Rubber Feet, Center Height 8.3"-12.7", Black
Caldwell XLA Pivot Bipod with Adjustable Notched Legs and Slim Folding...
Model
Atlas V8 BT10 Bipod - Standard Two Screw 1913 Rail Clamp, Black
Model
Harris Engineering S-BRM Hinged Base 6 - 9-Inch BiPod,Black
Model
CVLIFE 6-9 Inches Bipod Picatinny Bipod with Adapter
Model
UTG Tactical OP Bipod, Rubber Feet, Center Height 8.3"-12.7", Black
Model
Caldwell XLA Pivot Bipod with Adjustable Notched Legs and Slim Folding...
Choosing the Best AR-10 Bipods: The Top Dog Criteria
We won't lie, as one of the most essential gun accessories, selecting the best AR-10 bipods isn't as simple as picking the one that matches your gear. There are a few critical things to consider:
Material Quality
You wouldn't wear a flimsy pair of flip-flops on a hiking trip, right? The same logic applies here. You need your bipod to be made of tough stuff that can withstand all your adventurous outings. The best AR-10 bipods are typically made of hardy materials like aircraft-grade aluminum, carbon fiber, or stainless steel. These dudes can take a beating without falling apart.
Stability and Compatibility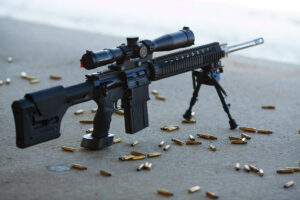 It's like a matchmaking process, really. Your bipod and your AR-10 have to get along. That means making sure your bipod fits your rifle's mounting system and your AR-10 scope and can hold the overall weight. As for stability, check out how well it grips different terrains, if it has a swivel feature for level shooting, and how easy it is to adjust the leg height. All these factors will make a world of difference to your shooting experience.
Weight
This is a tricky one, folks. On one hand, you don't want to feel like you're dragging an anchor around with you when you're moving from spot to spot. On the other hand, a super lightweight bipod might not provide the stability you need. It's all about finding the Goldilocks zone – not too heavy, not too light, just right.
A Closer Look: The 5 Best AR-10 Bipods
Best Overall: Atlas Bipod V8
The Atlas Bipod V8 will literally change your shooting game. We're impressed with how it's as light as a feather despite its durable rubber feet and 6061-T6 aluminum construction. Plus it's adaptable with its non-orientated leg positioning.
With our best overall pick, adjusting on the fly is a breeze. It has a height range of 5 to 9 inches. Plus it features a low-profile two screw clamp assembly that you can mount directly to any 1913-style Picatinny rail.
Pros
Lightweight (approx 11 oz)
Wide compatibility
Solid construction
Easy installation
What Customers Say
It has a steep price, but you get what you pay for. Plays extremely nice with my M91, would recommend and will probably purchase again for another precision platform.

Desmond
Upon deciding to order this bipod and receiving it I am so happy about my decision. You really do get what you pay for here. This thing feels like a tank, and like it will last for many years. Easier to use too.  

Oliver Rickard
Best Heavy Duty: Harris Engineering S-BRM
For all our heavy-duty pals, this one's for you. Harris Engineering is not messing around with this bipod. It's rugged, reliable, and built to last, just like your favorite leather boots. It's constructed from heat-treated steel and alloy with robust rubber leg caps, plus a user-friendly polymer knob.
And did we mention it's as steady as a rock even in rough or uneven surfaces with its instant leveling feat? The S-BRM features a hinged base with tension adjustment and buff springs so you don't experience any tremor or looseness in the crotch area while using it.
Pros
Affordable
Rust-proof
Lightweight
Comes with a lifetime warranty
Comes with a built-in sling swivel stud
Cons
Only compatible with Picatinny rails
The tilt lock knob is difficult to tighten by hand
It's a bit bulky
What Customers Say
This is a sturdy, well made bipod from Harris Engineering. It has worked absolutely perfect for me for the application that I needed it too. Offers great stability on uneven service no matter what position you are in. Highly recommend.

Deltatango0321
Great bipod with an unbeatable pedigree!

Smith A
Best AR-10 Bipod on a Budget: CVLife Bipod
Now here comes the most affordable among our best AR-10 bipods picks.
If you're watching your expenses, the CVLife Bipod is a no-brainer. It's got the stability and durability of higher-end bipods without the price tag to give you a heart attack. It's built from hardened steel and aircraft aluminum alloy 7075, making it heavy-duty and lightweight at the same time. It also comes with a non-rusting black anodized finish.
What made us pick the CVLIFE bipod? It's non other than its highly durable upgraded mount tension screw which has deep enough threads to hold tension. You can easily set the leg to five different lengths with just the touch of a button, so it's very easy to install.
Pros
Very affordable
Lightweight (approx. 10 oz)
Comes with a Picatinny adapter
Easily foldable legs
Cons
Rubber feet are low quality
What Customers Say
I looked at both the positive and negative reviews then compared features and prices. This bipod came out on top! It was easy to mount to my rail, with the included adapter. It seems very stable, so far. For the price, you can't go wrong!

Dwight
This is a great addition to my riffle (AR15). I received it very fast , very easy to put on , very well made…I've put 500 rounds threw my riffle and it held up and did its job. And lets not forget about the price..what more could a gun person want..

Robbie Adams
UTG Tactical OP Bipod
The UTG Tactical OP Bipod may be low-priced, but it definitely isn't low in reliability and stability.
Our favorite thing about this bipod is that it has a maximum expandable height of 13 inches. This makes the UTG bipod perfect for shooting either with a shooting bench or in the prone position.
The UTG Tactical OP bipod's hardened steel and aluminum alloy construction ensures uncompromised durability. You can also easily attach your rifle to your bipod because of its dual-mounting design. Hunting on uneven terrains won't also be a problem as it comes with rubberized footpads.
Pros
Affordable
Quick detach
Solid construction
Comes with rubber footpads
Cons
Comes with low-quality set screws
What Customers Say
I would highly recommend this particular bipod to any and all. Best bang for the your hard earned bucks. Highly recommended, solid engineering design and extremely well built. Do your self a major favor and buy one for yourself and spend those extra savings on that other accessory you've had your eye on!

336ralph
This is a good bipod. It is sturdy and has lasted me a good while. The only issue I have for this is sometimes the swivel nut but gets loose after about 800 rounds so I have to tighten it up or the bipod will have a cant to it. I know I only paid $50 for it but I shouldn't have to pay $100-200 for a bipod that doesn't get loose.

Rob
Caldwell XLA Pivot Bipod
Last but not least, the Caldwell XLA Pivot Bipod.
It's flexible, strong, and we recommend it for tricky terrain.
The Caldwell XLA pivot bipod has the ability to compensate for uneven ground up to 20 degrees. It's also very convenient to use as its spring-loaded legs can be deployed with one push of a button. These legs are also easily foldable for easy transport to the range.
Its pivot feature helps you rotate the gun without completely resetting the stand. It also allows you to quickly level the scope on any kind of surface. Plus it comes with a sling swivel stud so you can attach it to almost any firearm.
Pros
Easy to install
Easily-adjustable legs
Great height range
Cons
It's made from average quality materials
Heavy
What Customers Say
I love this bipod..easy to mount. Good height range. Sturdy. mounted it and put about 50 rounds over the course of three days through the rifle. 250 to 300-yard shots. I could not be happier with this bipod.

William E Lovelace Jr
Can't beat it for the price. I get many half MOA groups using this bipod. I find it is best to use a soft surface in order to be able to allow the feet to grip on order to pre-load it before shooting. The feet will keep slipping on concrete or wood. This works well to keep the gun level, especially when using a scope level. I like the 9-13 vs the 6-9 for shooting prone.

A Customer
Why Use a Bipod for Your AR-10?
Maybe you're wondering, "Why even bother with a bipod?" Well, let me tell ya, a the best AR-10 bipods can up your accuracy, reduce muscle fatigue, and make shooting more enjoyable overall. Plus, there's nothing quite like feeling super professional and stable when you're out on the range or in the great outdoors!
Our Key Takeaways
Remember, investing in a bipod is a long-term decision. So take your time to consider your options, maybe even try out a few, and most importantly, don't be afraid to get picky! After all, your AR-10 deserves the best partner in crime.
Last update on 2023-09-09 / Images from Amazon Product API