Click here to buy Bushnell Trophy TRS-25 today!

Finding a scope that works with a large variety of weapons can be a hard task and can make you pull your hair out.
Not only that it's hard to find one, but when you finally do, it has an atrocious price.
However, between all of those scopes that require you to sell your house to be able to afford them, you can find the Bushnell Trophy-25 Red Dot.
It's a very good one, and it's pretty cheap compared to others.
So, if you are looking for a good scope at a decent price, here's what you need to know before trying the Bushnell Trophy TRS-25 Red Dot for yourself.
Technical Specifications
Finish: Matte
Power / Obj Lens: 1 x 25mm
Field of View (ft@100 yds. / m@100 m): Unlimited
Weight (oz./g): 3.7 / 106
Length (in./mm): 2.4 / 61.8
Eye Relief (in. / mm): Unlimited
Click Value in.@100 yds / mm@100m: .5 / 14
Adj Range in.@100yds / m@100m: 70 / 1.9
Mounting Length (in. / mm): 1.1 / 28
Here is a little Bushnell Trophy TRS-25 review regarding its technical specifications.
The TRS-25 is a pretty small red dot scope. It is under 2.5" and about 3.9 ounces. A LED mounted inside the tube is what causes the red dot. 
Moreover, the dot is 3 MOA and comes with 11 intensity adjustments to fit the light conditions.
It also comes with convenient lens caps, and you can submerge it down to 10 feet as well. 
The glass offers amazing clarity and you have a sharp image, just like you would have with more expensive scopes. 
You will need a screwdriver or coin to turn the elevation and windage adjustments. Additionally, every click on the dials equals 0.5 MOA.
Another great thing about this red dot scope is the fact that it's waterproof. Basically, you can use it in humid conditions as well, and it won't fog up.
Under the knobs, there are gaskets that are very thick and they are fitted tightly. The coating doesn't flake either, meaning that the scope won't rust.
TRS-25 Battery Life
The TRS-25 uses a CR2032 battery that's advertised to last 3,000 hours if you use it on medium settings for average use. 
The battery life can be increased to 6,000 hours, or 250 days by using the brightness controls to set the sight to low intensity settings, which are fine for indoor and low-light use.
A Bushnell TRS-25 battery is not expensive, but it may be hard to find one, so it's better to buy some battery packs right from the beginning.
Bushnell Trophy TRS-25 Red Dot Features
Reticle: 3 MOA Red Dot
Multi-coated optics
Amber-Bright high contrast lens coating
100% waterproof, fogproof, shockproof construction
CR2032 battery
One of the main features of this product is the fact that it offers you fast target acquisition and accuracy even in difficult conditions.
TRS-25 Red Dot comes with Amber-Bright optics, which means that it uses an amber front objective lens that reflects the reticle back to your eyes. 
So, it helps you distinguish between things that have the same color in the environment.
Moreover, it comes with multicoated optics, making it easier for you to see your target when the light is not too good.
The scope is also waterproof, shockproof and fog proof. It includes a CR2032 battery and dry-nitrogen-filled housing as well.
Optical Performance
The lens' finish has amazing clarity and light, and the sun won't affect you that much, as its glare is reduced.
Similar to the Bushnell TRS-25 Hirise, for faster target acquisition, you can use both of your eyes, as it increases your awareness of the environment that surrounds you. 
This gives it an advantage compared to other riflescopes, which require you to squint your eye to be able to view your target. 
Also, what is amazing about it is the fact that it follows your eyes' movement while fixed on the target. Therefore, there's no need for centering.
TRS-25 provides full-size performance and a sight that has a reduced size and doesn't consume a lot of power either.
Additionally, the Trophy TRS-25 has unlimited eye relief. So, you can use one eye on what surrounds you, while using the other to view your target. 
This means that you won't have scope bites or painful black eyes.
Moreover, the glass is very clear and is not much different compared to other scopes that are more expensive.
Design And Construction
Bushnell is headquartered right here in the US (Overland Park, KS).  The white vs. yellow contrast and the matte look of the scope are nice to look at and the design is simple but functional. 
Moreover, the TRS-25 scope had dry nitrogen-filled housing. It is not only durable, but it also has the advantage of being fog proof, shockproof and waterproof.
Basically, you can use it in any weather conditions without worrying. Not to mention that dropping it into the water by mistake is not going to damage it. 
Also, if you accidentally drop it on the ground, it won't be destroyed, so you won't have to replace it.
The scope comes in two colors – Black and Realtree APG Camo. The Realtree APG Camo is great when it comes to hiding from your target. 
If you're in a bush, it's going to be hard to notice. It blends very well with the leaves, shrubs, and trees, so you don't have to worry about being attacked by animals.
Bushnell TRS-25 Mounting Options
When it comes to mounting, you have the advantage that it comes with a Picatinny/Weaver rail system. 
Many of today's weapons come with these systems. So, the scope can be mounted on a large variety of weapons.
Moreover, TRS-25 comes with a cross screw that makes it secure onto the weapon and a system that supports it securely on the weapon.
For a better mount, it can be used with the UTG Med-pro Compact Riser Mount, and the UTG Hi-Profile Compact Riser Mount.
The UTG Med-pro Compact Riser Mount is 0.83'' High and has 3 slots. It helps to reduce fatigue and is useful when you have to shoot from certain angles. 
Basically, you don't have to break your bones for a better shooting stance. This product keeps you safe from that, as it can mount your TRS-25 better.
Sometimes, the scopes are too low or too close for you to be able to be comfortable while viewing the target. The UTG riser lifts the scope, solving your problem.
To make it easier for you to accommodate with the application range, it comes in 3 height profiles: 0.5", 0.83" and 1". 
Additionally, they come with 3 different mounting lengths, with 2 slots, 3 slots, and 13 slots. It also has 2 Picatinny slots on its rail, making it great for your TRS-25 scope.
What's The Best Use Of It?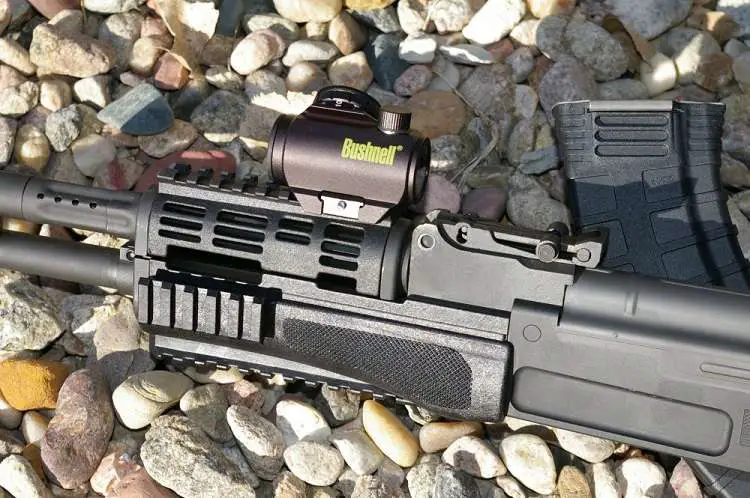 TRS-25 Red Dot is great for viewing your target, especially when hunting. 
The 3 MOA is amazing because it comes with all the different brightness adjustments.
It works great for target shooting and hunting. Its best use is on AR15 rifles, and if you're a beginner shooter, it's a great choice, as it's easy to use as well. 
So, you can easily use it when hunting deer, turkey, etc. What makes it that great for hunting is the fact that it can have camouflage, so you won't be that easy to spot. 
Also, it can shoot up to 100 yards.
Moreover, it's great because of the brightness settings. You never know where hunting brings you, and there is a possibility of low light. 
This scope makes that easier for you, as it can be used in lower light as well.
Who Is This Scope For?
This scope is amazing for regular shooters, and for people who don't have the funds to buy a more expensive one. 
Basically, if you're in need of a scope that provides good quality and won't require selling a kidney, this is a great choice.
It could also be a good choice for anyone looking for a small and lightweight dot, and shooters using an AR or shotgun.
Is It Worth Your Money?
The Bushnell TRS-25 is a great entry-level purchase, since it's much cheaper than other red dot sights. 
And, it also offers quality for its price. 
Its red dot is durable, making it easier for you to view your target for longer periods, and it also comes with great optical performance. 
It offers you eye relief, making it simple for you to use both of your eyes without any fatigue.
One of the only TRS-25 problems is the fact that the dot intensity is pretty limited depending on how high you set it. Still, it's not such a problem if you're a beginner.
Therefore, the product is worth your money, because it brings all these advantages for a small price. It is just as good as a more expensive scope.

click here to buy Bushnell Trophy TRS-25 today!

Bushnell Trophy TRS-25 Red Dot Sight
If you are looking for a good scope at a fair price, the Bushnell Trophy TRS-25 Red Dot could be it. Here's what you need to know before trying for yourself.
Product Brand: Bushnell
Product In-Stock: InStock