Best Overall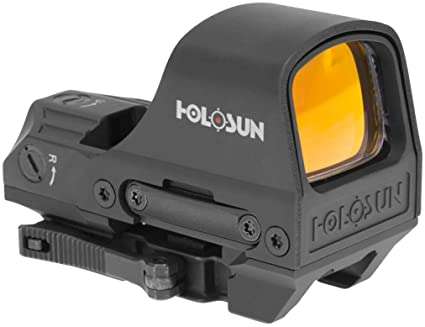 Holosun HS510C
User-friendly red dot with long battery life.
Reticle: 9/10
Battery Life: 9/10
Cost: 9/10
Check Price
Best Value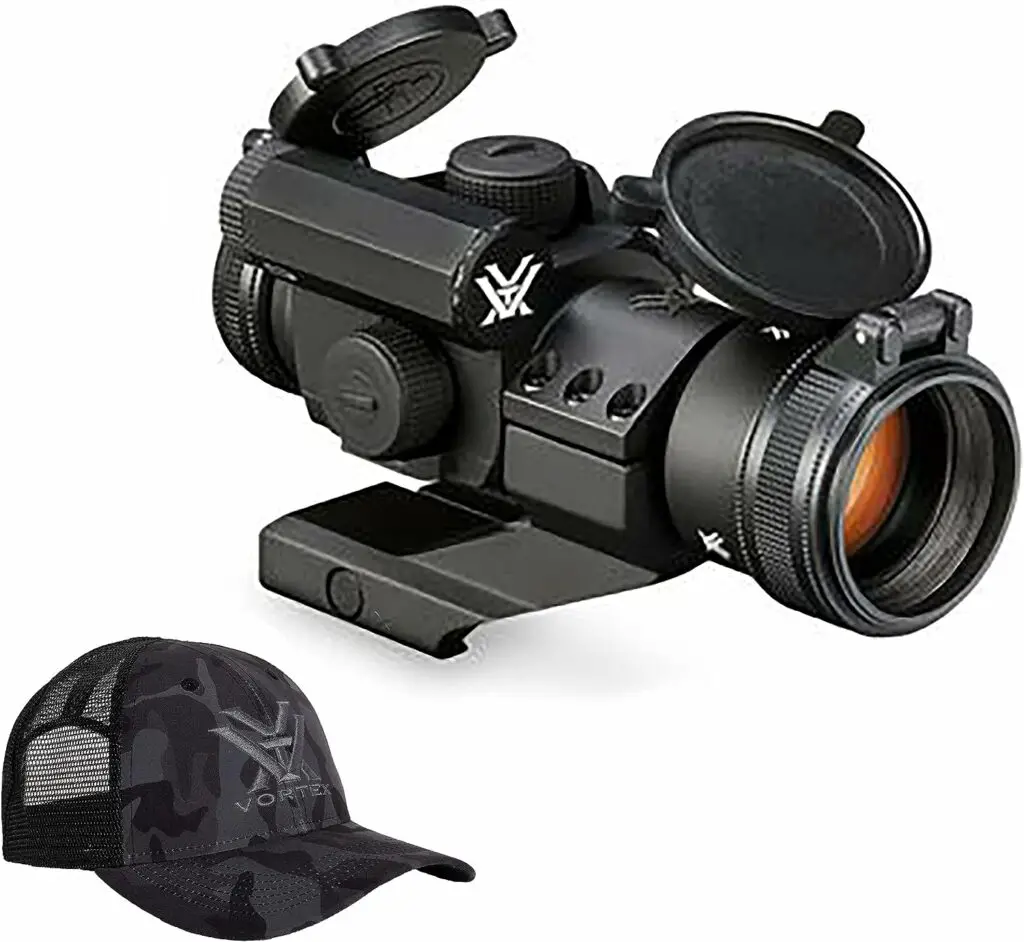 Vortex Optics Strikefire II
Offers a good balance of clarity and reliability.
Reticle: 8/10
Battery Life: 9/10
Cost: 10/10
Check Price
Best Heavy Duty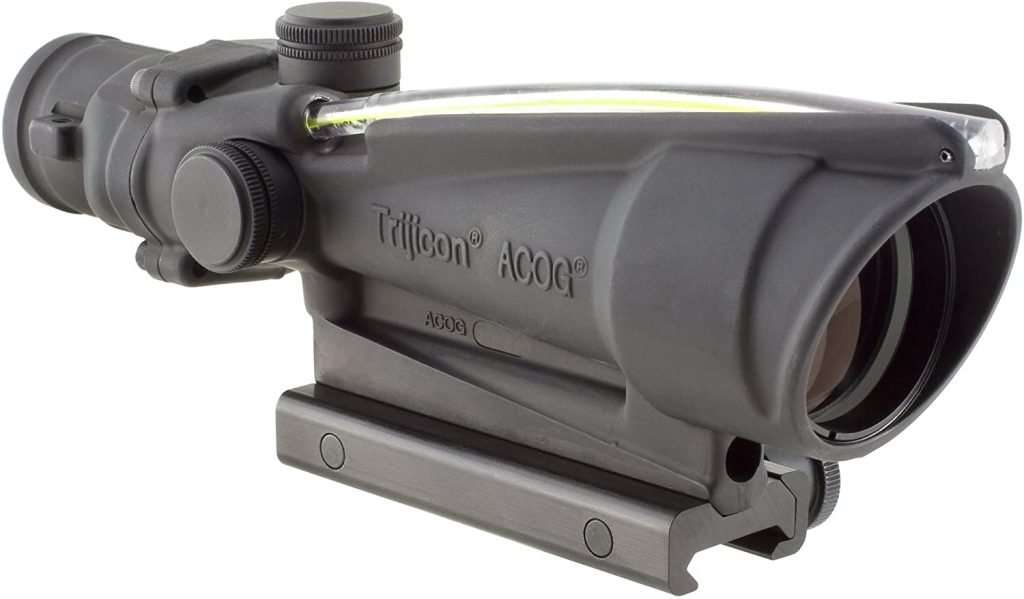 Trijicon ACOG
No-nonsense, robust optic.
Reticle: 9/10
Battery Life: 10/10
Cost: 7/10
Check Price
Today, we've got an exciting agenda lined up, we're on a mission to discover and review the best red dot sights for your trusty 300 Blackout rifle. From the most reliable to the most budget-friendly, we'll cover it all. So, if you're ready to discover our top 300 Blackout red dot pick, let's get started!
300 Blackout Red Dot: What Is It Good For?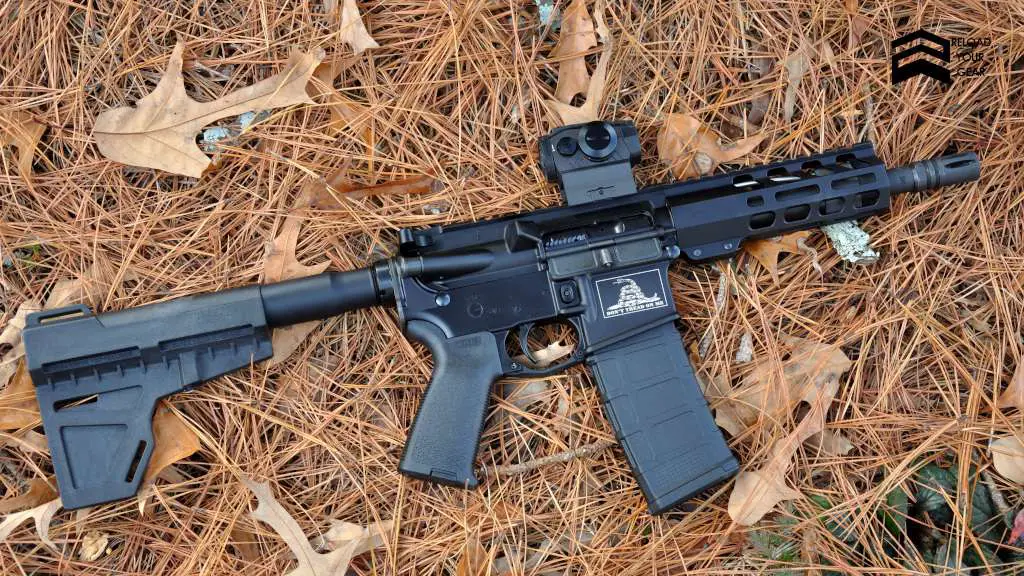 Mounting a red dot sight on a 300 Blackout rifle comes with several significant benefits. For one, it greatly enhances your target acquisition speed, allowing you to spot and aim at your targets faster and more efficiently. The simplicity of a red dot also helps to eliminate the need for aligning front and rear sights, thereby simplifying the shooting process and reducing the chance of errors. Plus, red dot sights are known for their accuracy, ensuring that you can make your shot count even in low-light conditions. Additionally, they're typically more durable and lightweight compared to traditional scopes, making your 300 Blackout rifle easier to handle during extended use.
How to Choose the Best 300 Blackout Red Dot
Picking the right 300 Blackout red dot ain't like choosing between vanilla and chocolate ice cream. Here's what you need to check off your list:
Reliability
First things first, you need a red dot sight that you can trust. You want something that won't bail on you when you need it the most. A red dot that gives up at the first sign of a cloudy day? Uh-uh, no thank you.
You're going to want a sight that performs consistently, regardless of the weather or lighting conditions. This means it should power on when you need it, hold zero despite recoil or bumps, and the illumination shouldn't flicker or fade over time.
Lens Clarity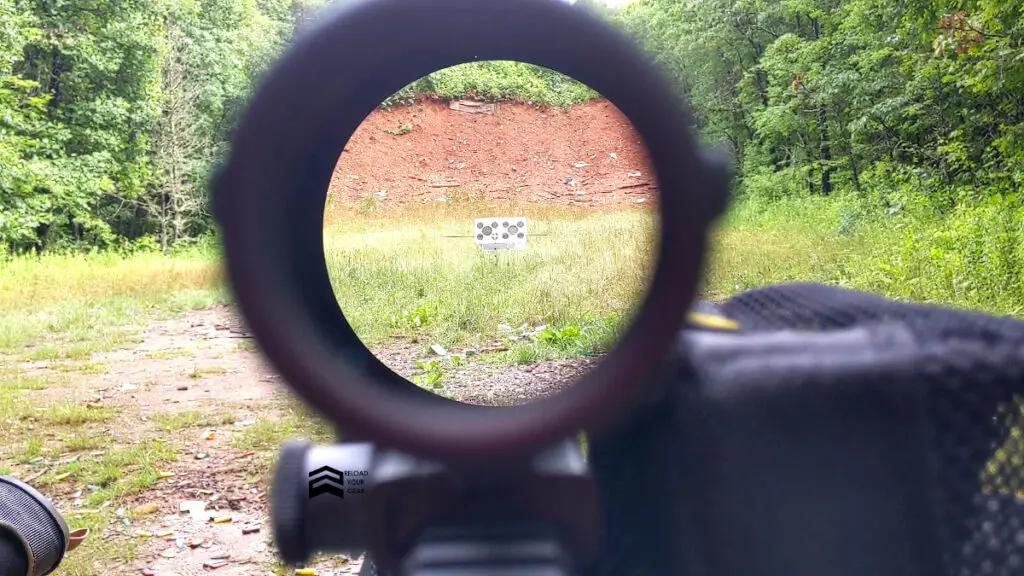 When you're peering through that sight, you want to see your target in high-definition clarity (or at least something close). So, opt for a red dot sight that offers bright, clear, and unobstructed views. Look out for any signs of blurring, distortion, or color aberration in the lens. A good red dot will provide a sharp and clear reticle without any 'starburst' effects, even at maximum brightness settings.
Accuracy
The primary purpose of a red dot sight is to enhance your accuracy, so it needs to be precise. The dot should be crisp and well-defined, not a blurry mess that makes precise aiming a challenge. It's also important that the sight holds zero, meaning that once you've set the alignment of the sight, it should stay there without drifting off.
Durability
The best red dots are the ones that can take a beating and are still raring to go. A red dot sight is an investment, and you want it to last. It should be tough enough to handle rough use and resistant to water, fog, and shock. A good pick would be one made from durable materials like aircraft-grade aluminum.
Battery life
A sight that runs out of juice when you need it most can be a real pain. Check out the expected battery life, and consider sights with an auto-shutoff feature to conserve power when not in use. And remember, having to constantly replace batteries can be an annoying (and costly) hassle. 
300 BLK Compatibility and Mounting Options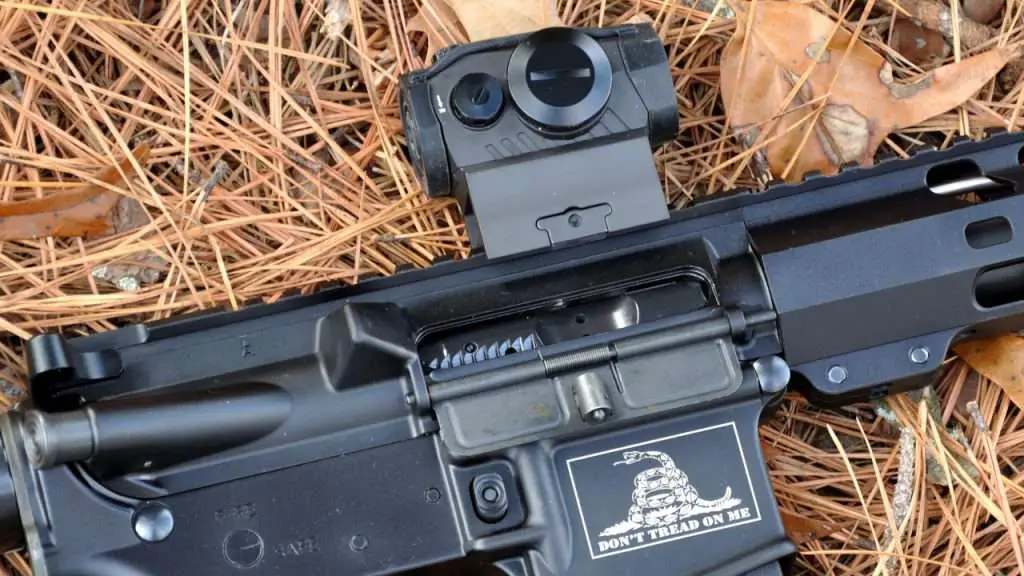 Not every red dot sight plays well with every rifle. Ensure that the sight is compatible with your 300 Blackout rifle and can be mounted without any major hassles. You don't want an arm wrestling match every time you mount or dismount it.
A sight that comes with an adjustable or versatile mount would also be a bonus.
5 Best 300 Blackout Red Dots
Best Overall: Holosun HS510C
The Holosun 510C is a reflex sight with a user-friendly reticle that's common in holographic sights. We love the 510C's Advanced Super Solar Technology. This feature serves as a backup for when its battery runs out of power, not that 50,000 hours of battery life isn't enough, though.
The Holosun 510C allows the user to switch between three reticle patterns with a quick push of a button. You can choose between a 65 MOA circle with 2 MOA dots, a 2 MOA dot, or a 65 MOA ring. It also features multi-coated optics that are specially designed for rifles. It's also equipped with a shock-resistant hood for protection against debris or any external impacts.
Pros
Unlimited field of view
Comes with Shake Awake feature
Reasonable price
50,000 hours battery life
Cons
Mounting lock lever springs are a little flimsy
What Customers Say
Came with an extra battery holder, tools and three batteries. Put it on in two seconds flat. Super simple controls and adjustments. I flipped up my iron sights and with a few clicks with the included tool I set the co-witness reticle to the front site before even going out. Dead on first shot. 800 rounds later and still on target. Very impressed with the shake-awake feature and the auto brightness function. Only downfall with the auto brightness function is if you are in the shade and the target is in bright sun, the recticle dims to where you are. (under a roof at the open range.) Just switch to manual and you will be fine. Overall I give it 9.5 out of 10. I am going to get a HOLOSUN for my 45 pistol next.

Paul H.
Best Value: Vortex Optics Strikefire II
Now, this one's for those who like getting more bang for their buck. The Strikefire II offers a good balance of clarity and reliability, and it's quite easy on the pocket. The feature to note here is its unlimited eye relief, which allows flexible mounting options. It comes with 10 intensity levels that you can easily adjust through its user-friendly knobs. Not to mention our favorite feat, as it automatically returns to the last dot intensity used upon turning it on.
It's a tad on the heavier side though, so if you're all about lightweight optics, this might be a point to ponder on.
Pros
Affordable
Waterproof and fog proof
Comes with Vortex warranty
Audible windage and elevation clicks
80,000 hours battery life (lowest setting)
What Customers Say
This optic installed quickly and easily. It was a breeze to get sighted in and was spot-on for all the 100 meter targets I was engaging. Vortex has a good reputation and it is not unfounded. This is a very good optic for the price.

Phil
Very well built. Accurate for fast, solid C-zone hits out to 100 yds. I compete with this optic regularly, and it absolutely keeps up with the more expensive red dots out there.

Eric D.
Best Heavy Duty: Trijicon ACOG
The Trijicon ACOG is a no-nonsense, robust optic packed with state-of-the-art features like battery-free operation and a dual-illuminated reticle. The field of view seems huge when you look through it, and even though it isn't a true 1x, it's still pretty quick for target acquisition. With the Trijicon ACOG's fixed zoom, there are no adjustment mechanisms to break, and as a result, the ACOG is legendary for its durability. It's built like a tank, so it laughs in the face of rugged use. Although, with that hefty price tag, your wallet might not be laughing.
Pros
Battery-free illumination
Always illuminated reticle
Built like a tank
Lifetime warranty
Cons
Expensive
Not as versatile as some other red dot sights
What Customers Say
Easy to mount. Easy to sight in. Easy to shoot. Tough as nails.

Harry B. Wease
I bought this scope a few years ago. Still mounted to my rifle, the glass is still really clear it holds up really well to the saltwater environment and harsh winter in my home town. Holds zero dropped it a few times oops but never questioned it. Well worth it.

Clinton
Sig Sauer Romeo5
Who said you can't find a decent and reliable red dot for a hundred bucks? Well, the Sig Sauer Romeo5 proves them wrong.
This compact red dot sight features a 2-MOA reticle with 10 illumination settings, giving you flexibility while shooting in any lighting condition. What made us pick the Romeo5 is its Motion Activated Illumination that shuts down when the sight is not in use. This extends your optic's battery life up to 40,000 hours!
Pros
Quick battery replacement
Affordable
Comes with an M1913 Picatinny low mount riser
Motion-activated, great for home defense
40,000 hours battery life
Cons
It has a slight parallax
The outer lens is reflective when viewed from a certain angle
What Customers Say
Absolutely love this thing! Mounted on my Marlin 1895gs chambered in 45-70 govt with an American Defense T1 quick-release mount. Holds up to the recoil and honestly, I couldn't have picked a better optic and mount. The setup was zeroed in 4 rounds and after that, I felt like I couldn't miss! I keyholed rounds between 50 and 100 yards all day. This sight didn't miss a beat and I will be buying more. I love Sig optics and they have yet to let me down and this one is worth every penny!!!

Ryan
Being right-handed with a dominant left eye, it is now possible to shoot with both eyes open and no problems as far as sighting or shooting! This is the best thing for me personally that I've come across.

61 Blacklowrider
EOTECH EXPS2 Holographic Weapon Sight
If close-quarters combat is your game, the EOTECH EXPS2 is your name. With its large viewing window and holographic reticle, target acquisition is faster than ever. This optic is proven to function even after its glass is tainted or covered with mud or snow. The EXPS2 Holographic Sight features 20 manually adjustable brightness settings for all types of lighting. It features a quick-detach lever (that we love) which is great for when you want to switch this sight back & forth between rifles.
It's also equipped with an auto-shutdown feature that's user-programmable for up to 8 hours. This allowed us to save battery for when it's time for action!
Pros
Comes with a 10-year warranty
Comes with auto-shutdown feature
Unlimited eye relief
Side button operation
Cons
Expensive
Only 1,000 hours battery life (continuous at nominal setting)
What Customers Say
I love this sight! My AR-15 is so fun to shoot with this Eotech. It was easy to sight in and it is really accurate! I love the quick detach mount. you can take it on or off in a second and it won't lose its Zero! It is a lot of money to pay for sight but worth every penny! You want the best you got to dig a little deeper into your pocketbook! I give it a FIVE STAR!

Rick Wear
I am cross-eye-dominant. That means that while my left eye is dominant, I am right-handed. That causes all kinds of aiming problems that I find difficult to overcome (I find it difficult to close my left eye while keeping my right eye fully open). With the EOTech sights, I can keep both eyes open and I have no cross-eye-related sight picture shift.

Michael
Bottomline
There you have it, the highlights and the lowlights of our top picks! Remember, every sight has its strengths and weaknesses, but as long as you pay attention to the factors we listed above, you'll have a much better chance of picking a red dot sight for your 300 Blackout that you'll be happy with. So, keep these points in mind and make an informed decision that best suits your needs and preferences.
Last update on 2023-09-02 / Images from Amazon Product API