Our Top Picks
Best Overall 300 Blackout Pistol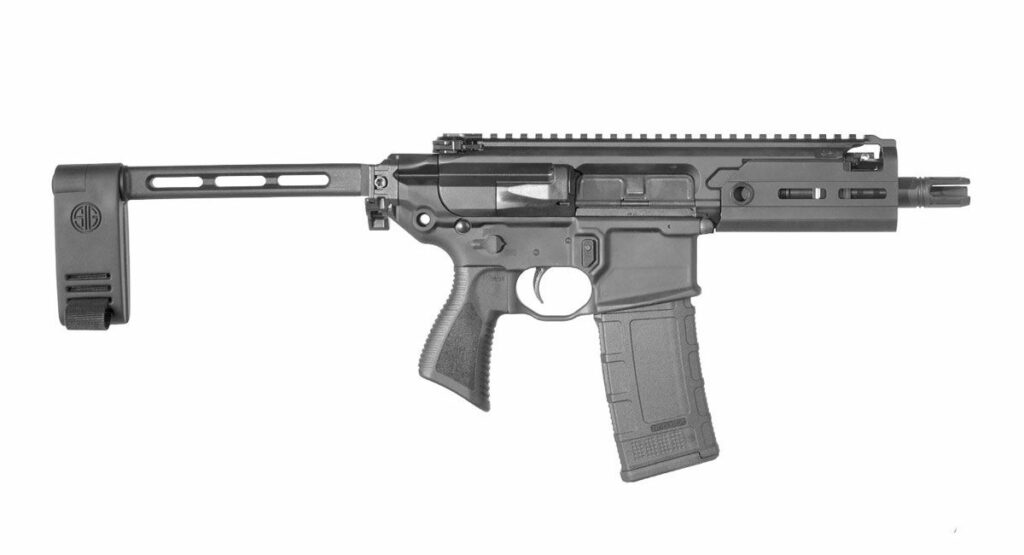 Sig MCX Rattler
Experience the .300 AAC BLK's full potential with this top-notch pistol.
Value: 9/10
Performance: 9.5/10
Cost: 9/10
Best for the Money

Palmetto State Armory 7.5" SBA3
Best value and reliable option.
Value: 9/10
Performance: 8/10
Cost: 9.5/10
Best Performance
Wilson Combat Protector
Delivers superior performance and accuracy.
Value: 8/10
Performance: 9.5/10
Cost: 8/10
The best 300 Blackout pistol offers just the right amount of power, suppressibility, and maneuverability – the perfect combo you need for home defense and recreational shooting. You can put together your own for a more personalized build. But if you prefer one that's been tried and tested, our picks below won't disappoint.
Features to Consider
Barrel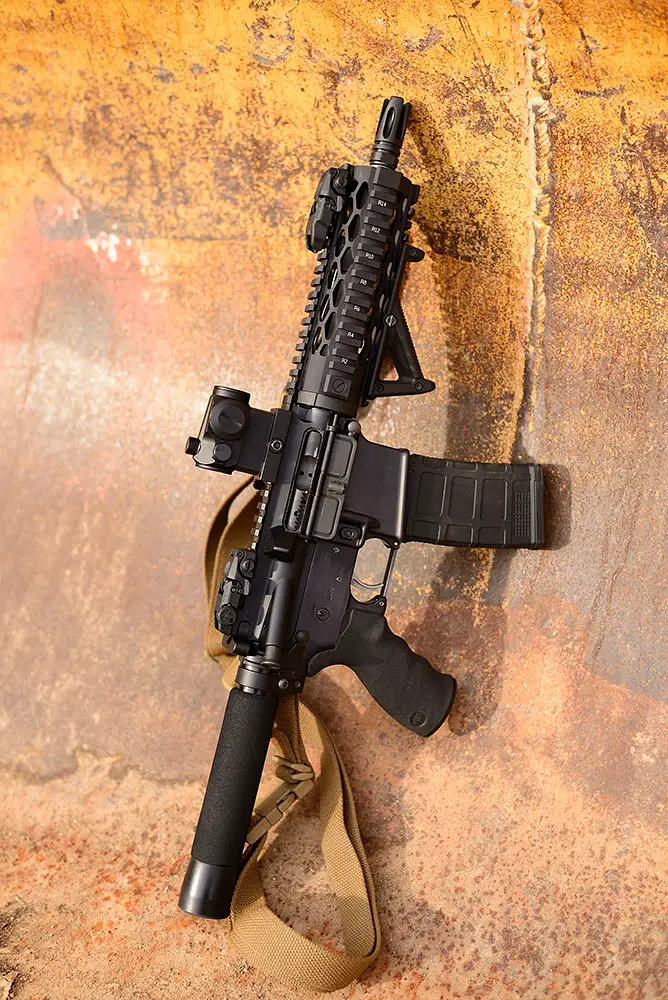 AR pistol barrels are usually 6 to 10.5 inches long. And since the .300 AAC Blackout is tailored specially for short-barrel configurations, most of the factory ammo in this caliber burns powder efficiently within that range. 
But then there's the matter of material construction and twist rate.
Subsonic loads have heavier bullets weighing 225 grains and above so they'll perform better with 1:8 twist rate. Supersonic loads have lighter projectiles (85 to 125 grains) so a 1:7 twist rate will be more advantageous for bullet stability.
As for material construction, a high-quality .300 Blackout barrel is usually made from cold-hammer forged stainless steel that specializes in rust resistance or chromium-molybdenum alloys that are more durable because they're heat-treated.
Trigger
Your trigger plays a big role in getting the most accuracy out of your .300 Blackout pistol. Your trigger should break cleanly and not have any creep before it releases. After the release, your trigger should not have excessive backward movement or "overtravel." Too much overtravel will have a negative effect on follow up shots for automatic actions. Adjustability is also a great pro on a trigger as it allows you to set your preferred pull weight.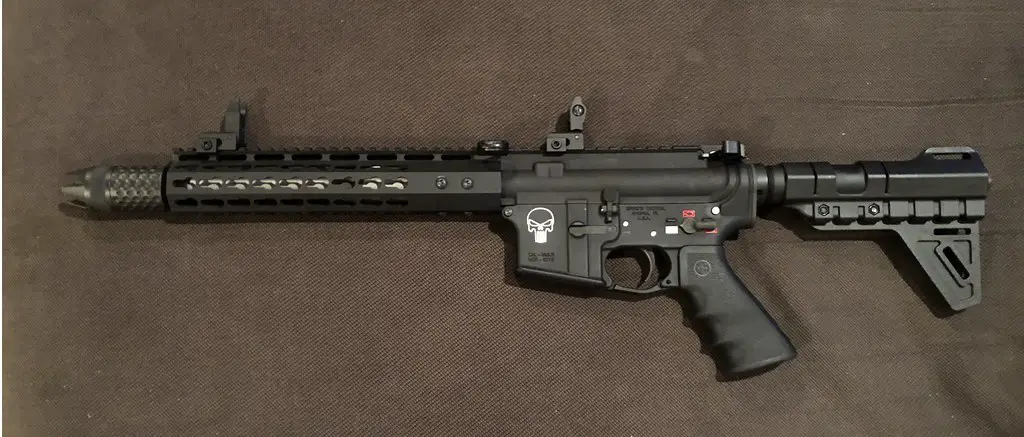 Controls
Along with a clean and crisp trigger, smooth and user-friendly controls greatly contribute to a firearm's reliability. Ambidextrous controls aren't only helpful to lefties but are also useful for one-hand operation. 
Fit and Finish
A reliable pistol comes with a hard-anodized finish that helps prevent corrosion and rust. And, it's well put together, with good matching between upper and lower and a secure mating of the barrel to the upper for the highest accuracy.
If you're putting together an SBR, you'd need the best 300 Blackout SBR upper, too!
Price
Price plays an important role in a consumer's decision-making process. Like what we always tell our readers, if you've got money set aside for your gun or gun accessories, splurging on premium brands is best since you'll likely keep and use them for a lifetime. But if your budget is limited, there are also a lot of budget-friendly but reliable pistols to choose from.
5 Best 300 Blackout Pistols
Best Overall 300 Blackout Pistol: Sig MCX Rattler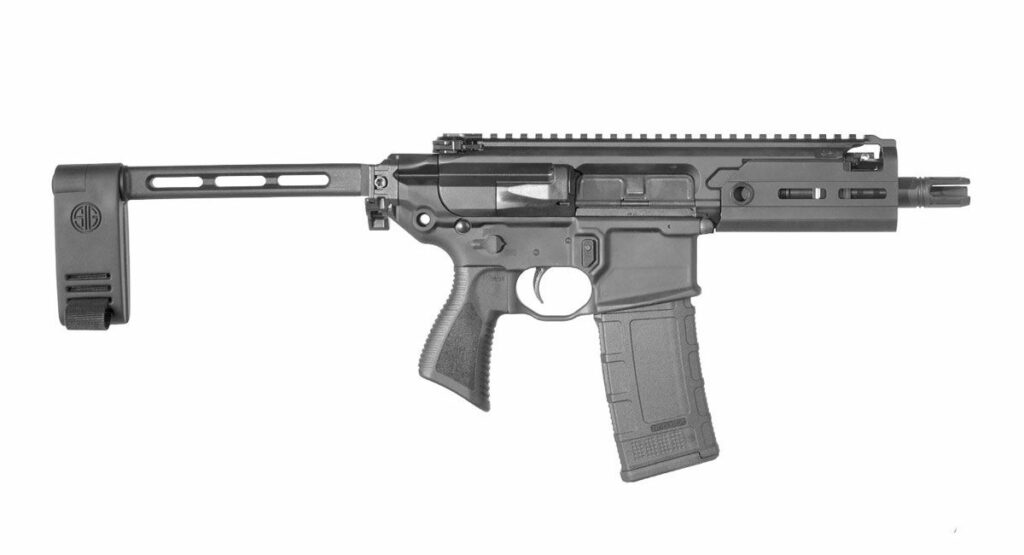 Specs:
Barrel Length: 5.5"
Overall Length: 19.3"
Overall Width: 2.8"
Height: 8.0"
Weight: 5.1 lbs 
Twist Rate: 1:5
Magazine Type: AR15
Brace: 3 Position Telescoping
Action: Semi Auto
Barrel Material: Carbon Steel
Operating System: Gas Piston
Rail: M-LOK
The Sig MCX Rattler takes pride in its 5.5 inch barrel. This Blackout pistol is so compact you can easily conceal it in a backpack! It's lightweight and very easy to maneuver so you can focus quickly on your target. Plus it features a 3-position telescoping pistol brace that offers better adjustable stability.
One thing we didn't like about the MCX Rattler is the heavy trigger pull. Other than that drawback this pistol packs a lot of punches in a small package.
Pros
Adjustable gas piston system
Compact and lightweight
Rapid deployment
Accurate
Cons
Heavy trigger pull
Expensive
What Customers Say
Rattler is hard not to love. Functions flawlessly, compact and incredibly versatile. Benelli m4, Sig p226 and Rattler are my go to kit for a reason.

Karekin C.
Rattler is my favorite firearm in my collection. If you want one and it's available just do like I did and grab it! You ain't regret it.

Ruben F.
Best for the Money: Palmetto State Armory 7.5 SBA3

Specs:
Barrel Length: 7.5"
Gas System: Pistol Length
Barrel Profile: Heavy
Barrel Steel: 4150V Chrome Moly Steel
Barrel Finish: Nitride
Muzzle Thread: 5/8-24
Twist Rate: 1:7
Barrel Extension: M4
Gas Block Type: Low-profile
Muzzle Device: Fluted Flash Can
Receiver Material: Forged 7075 T6 Aluminum
Receiver Type: M4
Handguard Type: PSA 9″ Lightweight M-Lok
Bolt Carrier Group Included: Yes
Bolt Steel: Carpenter 158
Bolt Carrier Profile: Full-auto
Charging Handle Included: Yes
Lower Receiver: Forged 7075 T6 Aluminum
Receiver Finish: Hardcoat Anodized Black
Grip: Magpul MOE Grip, Black
Pistol Brace: SB Tactical SBA3 Adjustable Pistol Brace, Black
Magazine: 30 Round Aluminum
PSA has been offering solid builds at competitive prices for years, and their in-house manufacturing keeps quality high and prices competitive. The PSA 7.5 SBA3 is a budget-friendly pistol that features a forward flash diverter that clears the shooter's line of sight for faster target acquisition and quicker follow-up shots.
It features a hard-anodized upper and lower made from 7075-T6 aluminum. Its accurate 4150V chrome-moly steel barrel is also nitrite treated for durability. 
PSA also produces reliable 300 Blackout uppers for those who prefer a custom build.
Pros
Affordable
Accurate
Lightweight
Cons
Recoil is more noticeable than other brands
What Customers Say
It's a great little shooter, plenty accurate, and a real looker especially a few modifications. No malfunctions so far with a little over 250 rounds through it.

William P.
Beautiful fit and finish. Whole thing's is well balanced and everything functions smoothly.

David R.
Best Performance: Wilson Combat Protector
Specs:
Type: Semi-Automatic
Series/Collection: Protector Series
Caliber/Gauge: 300 AAC Blackout
Capacity: 20
Sight: Optic Ready
Grip Type: Black BCM Starburst Polymer
Frame Finish: Armor-Tuff Black
Barrel Length: 11.3″
Overall Length: 27-1/2″ to 30″
Weight: 5 lb 10 oz
Twist Rate: 1:7″
Gas System Length: Carbine
The Protector features THE Wilson Combat Match-Grade precision button rifled barrel that's widely known for its accuracy. It also comes with a black nitride treated Mil-Spec bolt carrier group that guarantees long-lasting durability. Its free-floating ergonomic M-lok handguard has more than enough rail space for accessories as well.
Every single part of our best performance pick shouts quality, so you'll never regret shelling out a few more bucks.
Pros
Very accurate
Manageable recoil
Lightweight
Quick-detach sling mounts
Cons
Expensive
Only 20-round mag capacity
What Customers Say
Picked up mine two weeks ago. It's a beast and smooth as buttah.

Sowhat4274
To say I liked the Wilson Combat Protector AR Pistol in .300 Blackout is something of an understatement. Its high-quality construction combined with SBR-like handiness, power, standard AR compatibility and reliability are tough to match.

Guv Coursev
Ruger AR-556 Pistol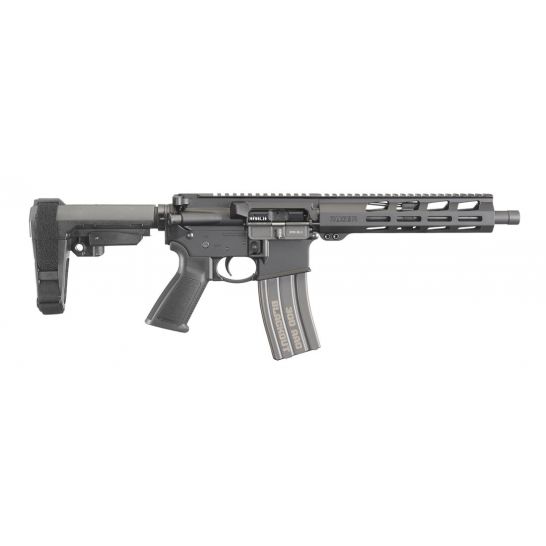 Specs:
Type: Semi-Automatic
Series/Collection: AR-556
Caliber/Gauge: 300 AAC Blackout
Capacity: 30
Sight: Optic Ready
Slide: Black
Safety: Selector Switch
Grip Type: SBA3 Brace
Barrel Material: 4140 Chrome Molybdenum Steel
Receiver Material: 7075 T6 Aluminum
Frame Material: Aluminum
Barrel Finish: Matte Black Oxide
Frame Finish: Type III Hard Coated Anodized
Barrel Length: 10-1/2″
Overall Length: 25″ to 27.6″
Weight: 5.8 lb
Overall Height: 7.2″
Twist Rate: 1:7″ RH
Number of Grooves: 5
Barrel Thread: 5/8-24
Stock Type: SB Tactical SBA3 Stabilizing Brace
Ruger's entry is an affordable AR pistol that's as reliable as our other contenders. The AR-556 pistol has a cold hammer-forged 4140 chrome-moly barrel that features an accurate and easy-to-clean 5R rifling. Its M4 feed ramps deliver consistent feeding and with its matte black oxide finish, you'll experience reduced glare and corrosion won't be a problem.
Pros
Affordable
Recoil isn't noticeable
Cons
Trigger could use an upgrade
What Customers Say
Great little AR with 5R rifling. Very tight and accurate. Nicely finished too.

Thebusey4514
Ruger AR 556 is amazing! Can't say better things. I was gonna changing out trigger, after a few hundred rounds, like butter. Still not the best, but shoots like its had a trigger job.

Intothevoid8152
Springfield Saint Victor Pistol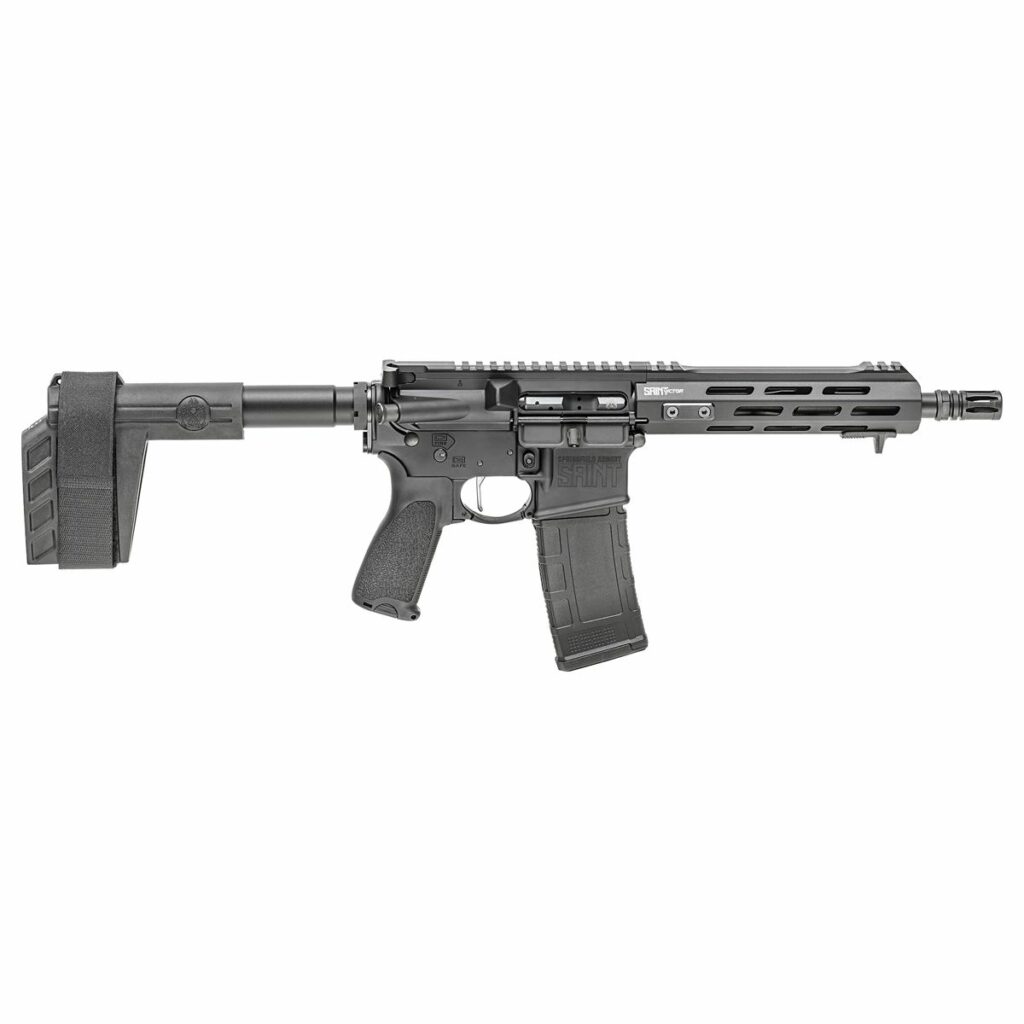 Specs:
Barrel Length: 9"
Barrel Twist: 1:7
Overall Length: 27.75"
Weight: 5 lb 9 oz.
Handguard: Aluminum MLOK Anodized Rail
Pistol Grip: Bravo Company Mod 3
Receiver: 7075 T6 Aluminum Hard Coat Anodized
Pistol Brace: SBX-K
Charging Handle: GI Style
Gas System: DI Pistol Length, Adjustable Gas Block
Trigger: Enhanced Nickel Boron
Completing our list is the Springfield Saint Victor 300 Blackout pistol. It's packed with features you can rarely find in this price range. It boasts a 9-inch barrel that's been treated with Melonite, an ultra-durable coating that reinforces any steel surface. This semiautomatic pistol is designed to excel in close quarter battle scenarios so expect top-notch performance in a compact package.
Pros
Compact and lightweight
Accurate
Affordable
Well-built
What Customers Say
I absolutely love this gun and it sits beside my nightstand every night protecting me and my family from whoever is unfortunate enough to do us harm.

Saint5203
Had mine for almost a year now. Rock on!

Marleymachinmusic
Conclusion
All of our picks above offer convenience and portability while achieving the .300 AAC BLK's full potential without the hassle of paying for an NFA tax stamp and submitting an ATF form. However, ATF is trying to roll out a new regulation that any AR pistol with an overall length under 26 inches and a barrel shorter than 16 inches will be considered as a short-barreled rifle.