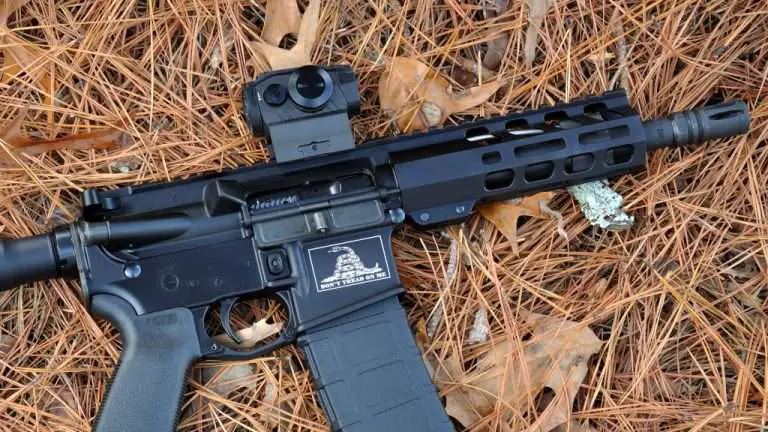 Our Top Picks
Best Overall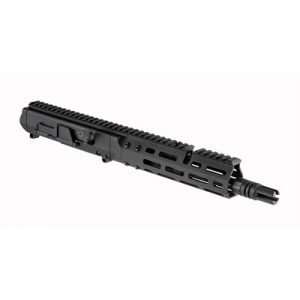 Radian Weapons Model 1 300 BLK Upper
This complete upper guarantees Sub-MOA accuracy.
Best Budget
PSA 8.5″ Pistol-length 300AAC Blackout 1/7 Nitride 7″ Lightweight M-Lok Upper
This upper gets the job done without breaking the bank.
Best Performance
Daniel Defense DDM4 Upper Receiver
This upper will bring the best out of your 300 AAC Blackout.
Upper receivers require a little more effort to assemble compared with lowers. So if you're looking for one that's pre-assembled, we've reviewed the best complete 300 Blackout SBR Uppers in this article. If you liked our review of the best 300 BLK Lowers, then this article is a must-read!
Comparison of the Best 300 Blackout Upper Receivers
| Model | MSRP | Barrel | Barrel Length, Gas System | Material |
| --- | --- | --- | --- | --- |
| Radian Weapons Model 1 300 BLK Upper | $1,435 | Match Grade 416R Stainless Steel Barrel | 9″ Pistol-length | Billet Machined 7075-T6 Aluminum |
| PSA 8.5″ Pistol-length 300AAC Blackout 1/7 Nitride 7″ Lightweight M-Lok Upper | $319.99 | Chrome Moly Steel | 8.5″ Pistol-length | Forged 7075-T6 |
| Daniel Defense DDM4 Upper | $1,237 | Chrome Moly Vanadium Steel | 10.3″ Pistol-length | CNC Machined of 7075-T6 Aluminum |
| M4E1 Enhanced 8″ .300 Blackout Quantum Handguard Complete Upper Receiver | $434.99 – $459.99 | 4150 Crome Moly Vanadium | 8″ Pistol-length | Forged from 7075 T6 aluminum |
| Bravo Company 300 BLK Upper Receiver | $984.50 | 11595E Spec Steel | 9″ Pistol-length | Aluminum |
5 Best 300 Blackout SBR Uppers
Best Overall: Radian Weapons Model 1 300 BLK Upper
The Radian Weapons Model 1 300 BLK is built with high-quality materials (7075-T6) with CNC machining equipment. That includes its barrel that's constructed from match-grade 416R stainless steel. It has a polished crown and feed ramps.
The Radian Weapons Model 1 300 BLK upper receiver is also designed for both right and left-handed shooters. Its extended aluminum handguard features a stainless steel anti-rotation pin and is extremely comfortable to use. The handguard uses a Magpul M-LOK® modular mounting system which is really easy to mate with accessories. 
Finally, this upper receiver guarantees sub-MOA accuracy and comes with a lifetime warranty.
Pros
Fully ambidextrous controls
Lightweight forward assist
Coated with Radian Cerakote
Cons
Expensive
Takes months to ship
What Customers Say
"I've owned many different AR platforms from various manufacturers, however, THIS is the REAL DEAL. By FAR the most meticulous build I've ever used. Their attention to detail, tolerances, quality of product, and value is spot on with their price point. The most comfortable handguard I've ever held as compared to the cheese graters out there. If you're looking, stop here. Radian has what you need and their team is truly the best. Thank you ALL for my builds, truly appreciative!"
"A total dream to build around this upper. Looks feels and works perfectly. Rugged and beautiful at the same time."
Best Budget: PSA 7.5″ Pistol-length 300AAC Blackout 1/7 Nitride 7″ Lightweight M-Lok Upper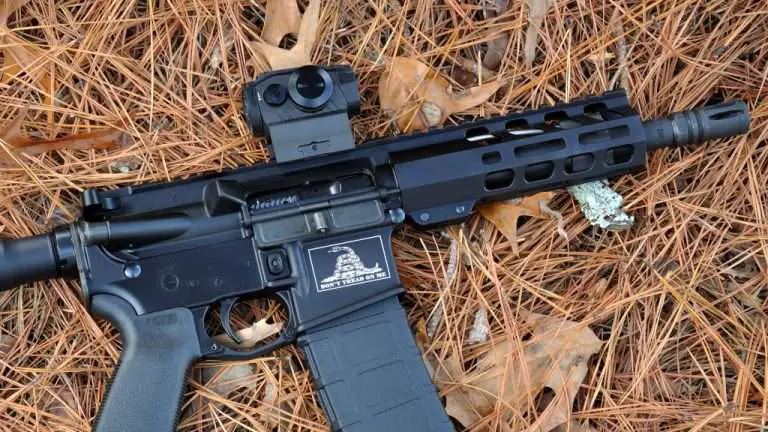 Our next pick doesn't compromise quality despite its affordable price.
Like every Palmetto State Armory product, this 300AAC upper receiver guarantees excellent durability with a lifetime warranty. While it's definitely a value option, these are machined right here in the US with quality materials.
This PSA 7.5″ Pistol-length 300AAC Blackout Lightweight M-Lok upper is very easy to install and fits into your lower without any wiggling or rattling. Its gas block comes in pistol length and is adjusted to function with both subsonic and supersonic ammunition.
Pros
Easy to install
Great finish
Affordable
Lightweight
Cons
No charging handle included (but you may want to upgrade anyway!)
What Customers Say
"Great fit and finish. Functions perfectly with no issues at all with several hundred rounds through it. Subtonics even cycle without a problem."
"Great upper for the money. Great shooter! Like the way I can get my whole hand around the handguard."
Best Performance: Daniel Defense DDM4 Upper Receiver
The Daniel Defense DDM4 300S upper may be expensive, but you're paying for the precision and performance that DD is known for.
The barrel is chrome moly vanadium, cold hammer-forged steel with HP/MPI testing. So, you know it is quality and will hold up.
It comes with a fully ambidextrous GRIP-N-RIP charging handle. Its pistol-length gas system is also low-profiled and is constructed from 4140 hardened steel and Mil-Spec durable phosphate coating.
Finally, the DDM4 300S upper comes with rails machined from Santoprene so they're heat-resistant up to 300 degrees Fahrenheit.
Pros
High-quality machining on all parts
Comes with a limited warranty
Cons
What Customers Say
"Simply love Daniel Defense products! I own the V9, Two MK18's, V7P, and Now the 300 S SBR. I hope to make a Black Creek visit soon. Could I get a tour? Hands down the best firearms on the market. Keep up the great work DD."
"I got a DD 10.3 Tactical Law 5.56 and was so impressed I just had to buy another DD rifle/pistol but in these days and times that's hard to do with as soon as DD puts available they get purchased and I get it. Ordered this barrel and also a DD lower kit and pared with Rainier Arm lower. It's a match made in heaven looking at my DD and then my DIY AR it's hard to tell apart."
M4E1 Enhanced 8″ .300 Blackout Quantum Handguard Complete Upper Receiver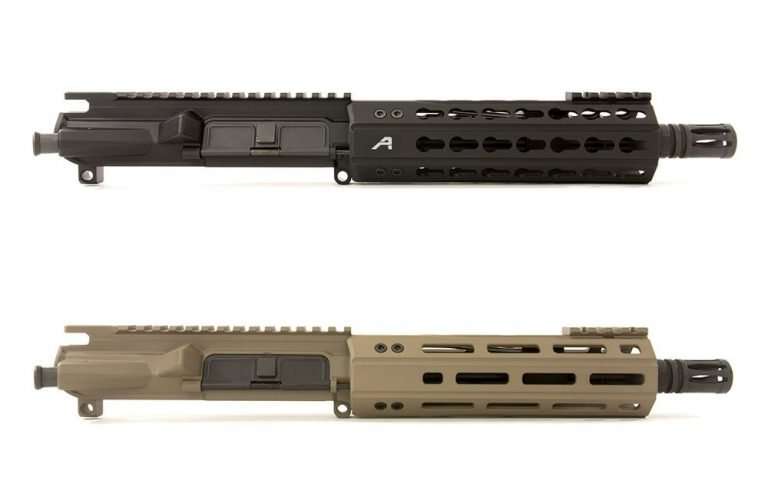 The M4E1 upper receiver features an enhanced rail that offers a more solid foundation for mounting accessories.
It also comes with a free-float Quantum Handguard that's compatible with low-profile gas blocks for a bit of improved accuracy. This quantum handguard has 7 mounting surfaces for accessories and a detachable 4-slot Picatinny rail section where you can mount your front sight.
The M4E1 upper is compatible with most BAR-system handguards and most Aero Precision handguards. Plus its handguard mounting platform and its receiver are forged together for a great fit.
The rail can be a little thick for some shooters but it's a minor drawback compared to the M4E1's overall reliability and functionality.
Pros
High-quality fit and finish
Lightweight
Cons
Thick rail
The handguard runs a little big compared to other brands
What Customers Say
"I expect quality from Aero, and this complete upper didn't disappoint."
"Overall great upper. I bought my upper to be a pistol build and the length is still a little long and the handguard is a little large as compared to my other builds. Completed the build with an ambidextrous CH and a Nickel Boron BCG and it cycles great."
Bravo Company 300 BLK Upper Receiver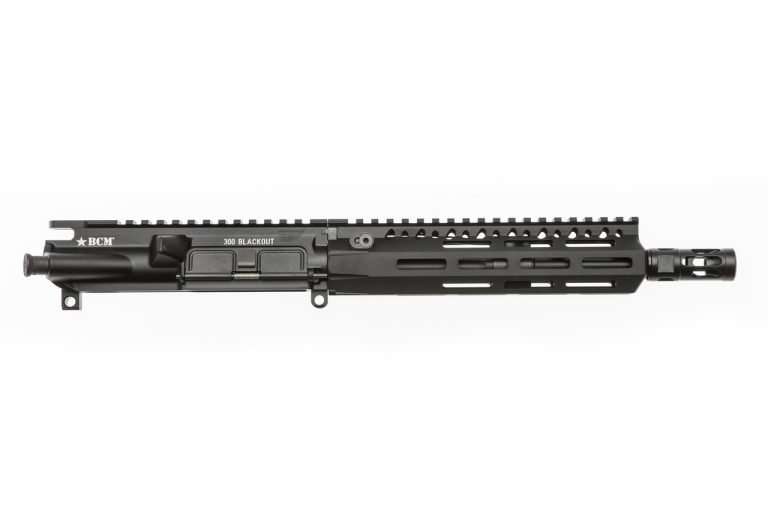 This 300 BLK upper from Bravo Company is great for regular shooters because it can survive daily use and abuse. One reason why is because its 11595E spec steel barrel is coated with a Manganese phosphate finish. Its barrel profile is also corrugated toward the rear for improved heat dissipation and increased stability.
Its continuous Picatinny rail has plenty of space for mounting accessories. And its M-LOK rail is slim and easy to grip, saving weight and space as you can only attach rail sections where they're needed.
Pros
Lightweight
Very accurate
Cons
Bolt carrier group and charging handle cost extra
What Customers Say
"Beautiful upper, Love the BCM logo everywhere and the 300 Blackout above the ejection port, after all when you've got a BCM, you want people to know! They also loaded the box up will all sorts of goodies, stickers, gunfighter calendar, gunfighter magazine (for reading, good articles too) will definitely be building more BCM's"
"Received my upper in a very timely fashion. Overall quality is impressive. Everything is rock solid and wouldn't hesitate to recommend to anyone as long as they are friendly."
Frequently Asked Questions
What is the best barrel length for 300 Blackout?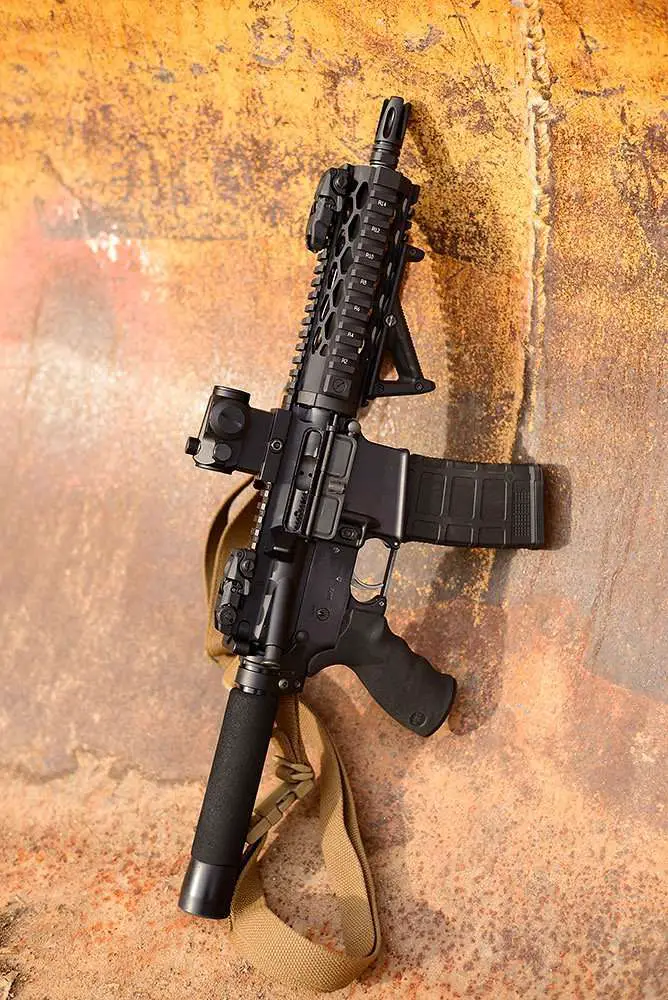 9" is the best barrel length for the 300 Blackout. Optimum velocity is achieved with this barrel length because every single bit of powder in the cartridge gets burned, and it's still maneuverable.
Check out this article to know our pick for the best 300 Blackout barrel.
What upper is needed for 300 Blackout?
A 300 Blackout Upper should have a free-floating handguard, a bolt carrier group, a charging handle, and a barrel that's between 7 and 12 inches long. Most of the products we listed above have these requirements, we think the Radian Weapons Model 1 300 BLK is the best overall option.
Is 300 Blackout better for short barrels?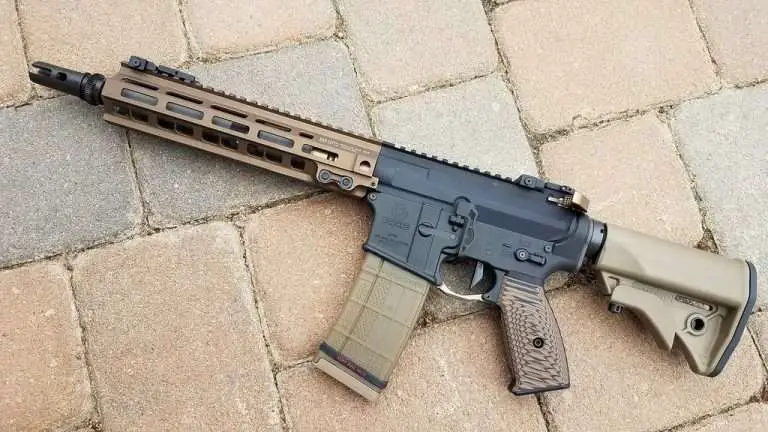 The 300 Blackout is most potent when fired through short barrels or when using subsonic ammo. It was designed for it after all! That's why most gun enthusiasts who want to convert their AR-15 into a short-barreled rifle use a 300 Blackout upper.
You can also experience this cartridge's full potential in the best 300 Blackout pistol without needing to pay for an NFA tax stamp and filling up an ATF form.
Do you need a special upper for 300 Blackout?
Any AR-15 upper is compatible with the 300 Blackout, but you have to change the barrel. If you don't want to take apart your existing upper, you can just choose from the options above as they're the best 300 BLK-compatible uppers on the market.
Conclusion
If you're done putting together your lower receiver, then you're one step away from completing your build! To avoid hiccups, choose an upper from our options above, follow the manuals strictly, and seek professional help if you're unsure of what to do. This way, you can practice shooting in no time!