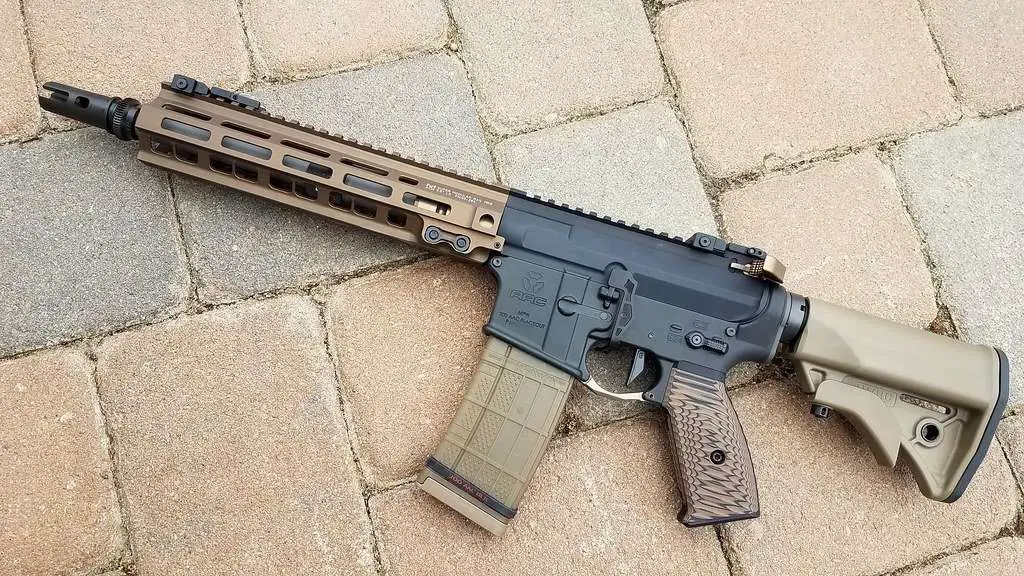 Our Top Picks
Best Overall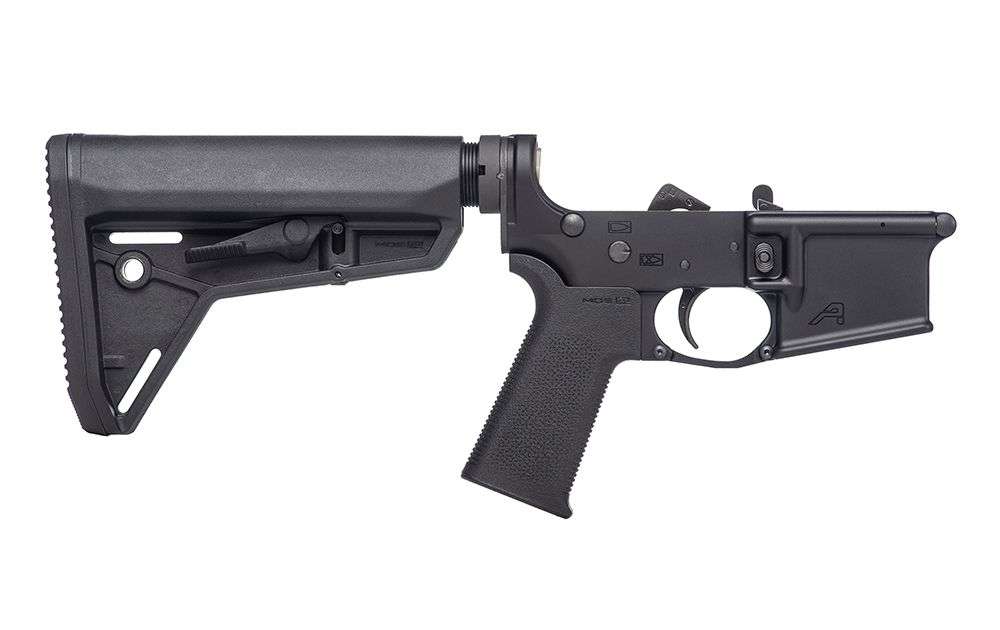 AR15 Complete Lower Receiver w/ MOE SL® Grip & SL Carbine Stock
---
This complete lower receiver provides superior quality among other brands.
Best Budget 300 Blackout Lower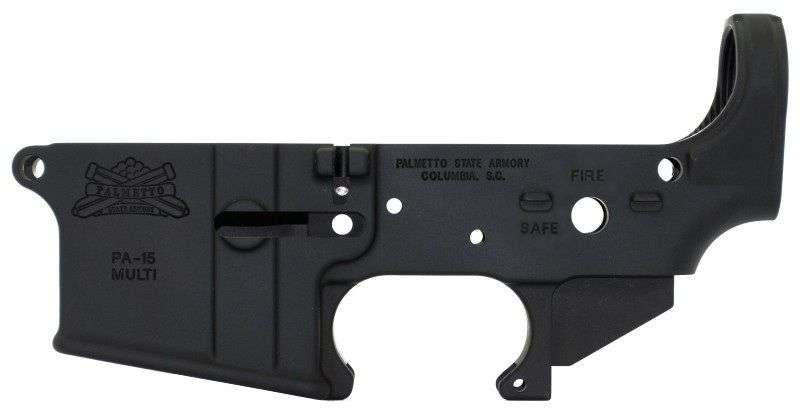 PSA AR-15 Lower Receiver Safe/Fire
---
This lower receiver guarantees value for your money.
Best for Precision Shooting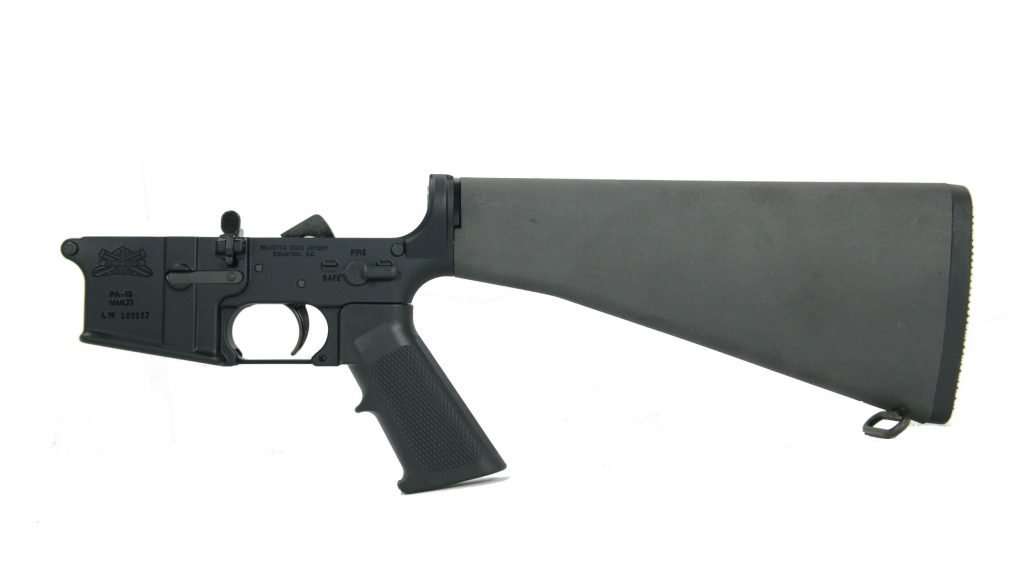 PSA AR-15 Complete Rifle Lower Receiver A2
---
This high-end lower receiver is recommended if you want a traditional rifle buttstock.
If you're looking for the perfect lower to complete your custom build, you came to the right place! We saved you hours of research and summarized everything you need to know about the best lower receivers on the market.
Comparison of the Best 300 Blackout Lowers
How We Choose + Our Must-Have Features
Not all lower receivers are the same, each brand has its pros and cons. So we've listed the must-have qualities of a reliable lower for you to choose wisely.
Upper Receiver Compatibility
If you've already purchased an upper receiver like the 223 Wylde from PSA we recently reviewed, you can't go wrong with a lower from the same manufacturer. This way you can be sure that they'll fit properly.
Looking for a 300 Blackout lower and upper and want to make sure you get a good fit between the two?
While you can't really go wrong with mil-spec AR-15 lowers and uppers, many manufacturers tweak and make improvements, so mismatched components are possible if not unlikely.
Included Components
Since the lower receiver is composed of the fire control group, you should take a closer look into each of these parts to make sure you're getting only what you want.
Want a particular style stock?
You can get a lower with only a buffer tube installed and add your own.
Looking for a precision weapon?
You probably don't want the mil-spec FCG and may prefer a partial lower so that you can drop in a Timney or Giessele trigger. More on that below . . . .
Trigger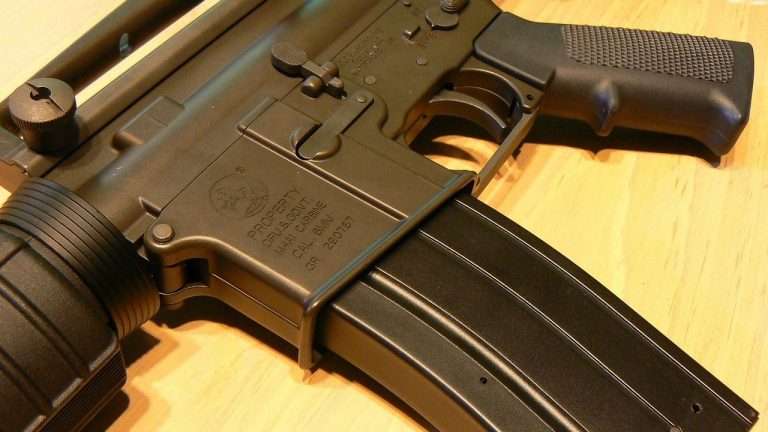 There are two primary types of triggers – single-stage and double-stage.  Within those, you can get drop-in triggers and versions that are closer to the mil-spec FCG with multiple parts.  There are even newer binary triggers that can also fire on the reset (truly odd).
Most AR-15 custom build owners upgrade to a better trigger. It's the best upgrade to really make a weapon fit your style.
The single-stage trigger is what usually comes with lower receiver kits. They have minimal creep and zero stacking issues.
The double-stage trigger has a little low-resistance pre-travel stage at the beginning of the pull followed by a crisp second-stage and is most common for precision shooting. Normally, they have a lighter final pull weight.
The controversial binary trigger is banned in some states, so check on yours before getting one. I think it's a bit gimmicky, but to each their own . . . .
Fit and Finish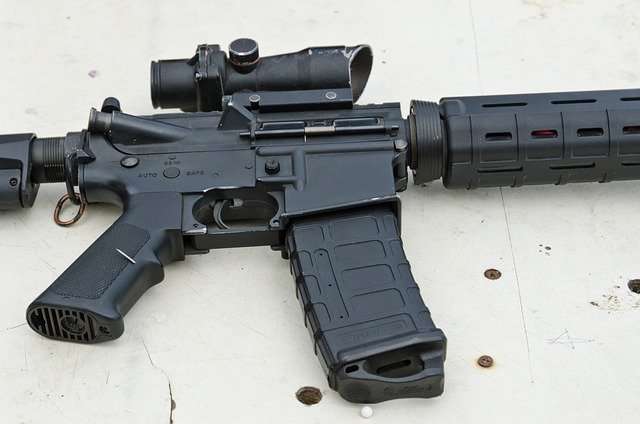 Best Overall: AR15 Complete Lower Receiver w/ MOE SL® Grip & SL Carbine Stock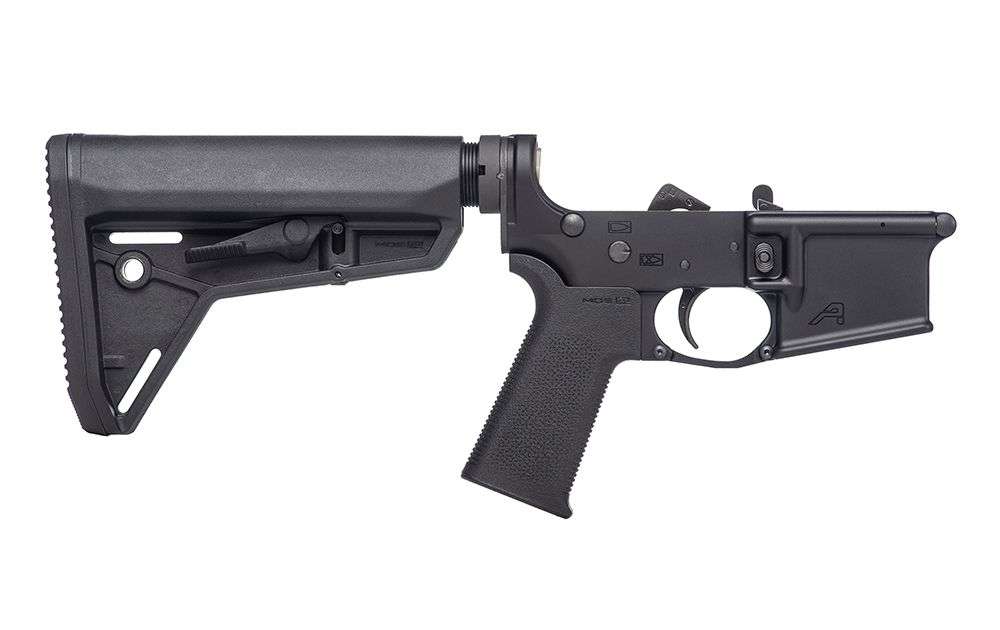 AR15 Complete Lower Receiver w/ MOE SL® Grip & SL Carbine Stock
Enthusiasts swear by the Aero Precision AR15 Complete Lower's great quality, as this lower receiver is extremely easy to install.
It's manufactured using Aluminum Forgings 7075-T6 and comes with the hard-coat anodizing finish, so you can be sure its durable.
This is the AR15 Gen 2 Lower and is upgraded to include a MOE SL® Grip and MOE SL® Carbine Stock.
The Gen 2 lower has an upper tension screw, threaded takedown pin detent recess, and increased magwell flare.
Aero is known for quality, affordable components.
Overall, we can say that the Aero Precision AR15 Complete Lower Receiver is a great investment.
Pros
Compatible with 9mm
Fully assembled
Easy to Install
Firm buttstock
Cons
Trigger has a slightly heavy pull
Basic M4 stock and grip
Bolt catch is a little sensitive
What Customers Say
"For the price of the complete lower cant beat the quality. Fit and finish are excellent."
"I've put about 2,000 rounds through my AR and so far every part has held up well. The price is kinda high but it's a good quality lower so it's a good value."
Best Budget: PSA AR-15 Lower Receiver Safe/Fire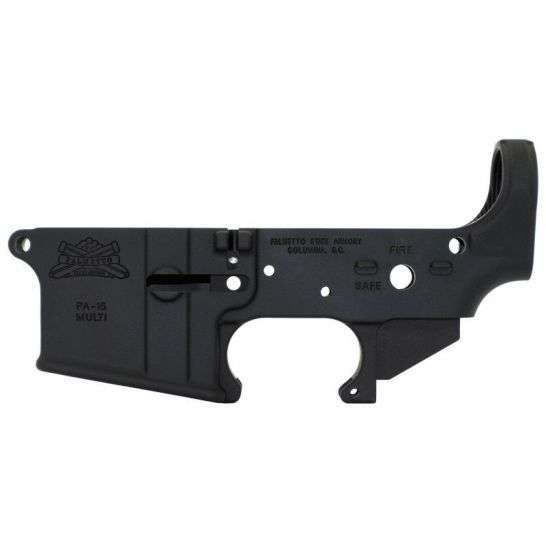 PSA AR-15 Lower Receiver Safe/Fire
The PSA AR-15 Lower Receiver Safe/Fire gets a lot of praise for being a quality framework at a great price. The forged Mil-Spec lower is constructed from high-quality 7075-T6 aluminum. It has its fire selector marked "Safe" and "Fire" and is coated with a black hard-coat anodized finish.
Palmetto State Armory's mission is to make affordable, quality guns and components to promote gun ownership and the Second Amendment. And, you can see that in the build of this lower.  It gets great reviews despite being budget-friendly.
Pros
Perceptive fire selector switch
Compatible with most builds
Affordable
Cons
While most reviews are positive, a few complain about random machining issues
What Customers Say
"Met all expectations! All parts fit like they should, perfect for the diy builder. Third psa lower I've owned. Wouldn't hesitate to get another."
"Lower is tuning like a top. Zero firing issues, zero issues with fitting components."
Best for Precision Shooting: PSA AR-15 Complete Rifle Lower Receiver A2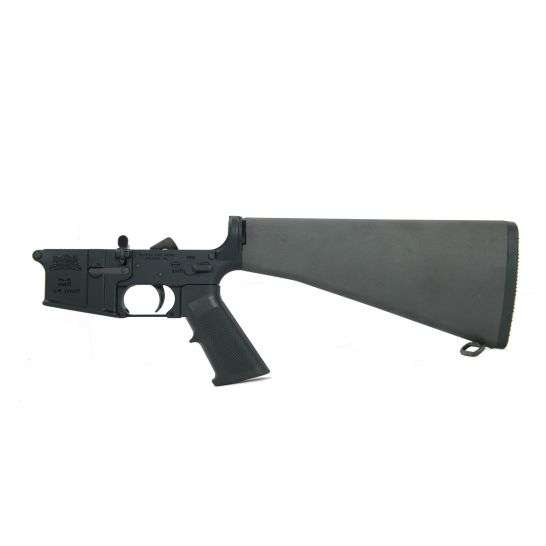 PSA AR-15 Complete Rifle Lower Receiver A2
Like most PSA AR-15 lowers, this Complete Rifle lower receiver A2 is machined to handle the AR rifle's toughness; thanks to its Type III Class 2 MIL-A-8625F hard-coat anodizing and 7075-T6 aluminum forging.
If you are going to hunt with your gun or do precision shooting, the A2 stock will be great for that.
It comes with a PSA classic fire control group that most review well
Pros
Compatible with multiple calibers
Firm buttstock and pistol grip
Easy to Install
Cons
Some report the stock is slightly loose
What Customers Say
"Good quality complete lower. Actually a pretty good trigger pull weight. Buttstock was black so no CLP needed. Good choice for a service rifle clone build."
"For the price it's a well done lower. The only thing is that the A2 stock is not the charcoal grey in the picture; mine is flat black. Trigger is good; better than some mil-spec triggers I've shot. I put this lower with a 20″ HBAR barreled upper and it is one sweet shooter."
Frequently Askes Questions
What are the components of a lower receiver?
At a high level, the lower receiver is composed of your rifle's fire control group, buffer tube assembly, stock, and grip. There are a few other parts such as the magazine release, selector switch, and various pins and springs for the bolt catch, buffer retention, takedown pin, and others.
How much does a 300 Blackout drop at 100 yards?
Your 100 yard drop for a 300 Blackout will depend on your cartridge loading, bullet weight, and your zero range.  If you zero at 50 yards, a 110 grain bullet may only drop a few inches while a 220 grain subsonic bullet will travel at half the speed and drop about 5x as much!
Can you use a 556 lower for 300 blk?
Any standard AR15 lower works with the 300 blackout. The 300 BLK round was designed to work in the AR-15 platform.
Can I Install My Own Lower Receiver?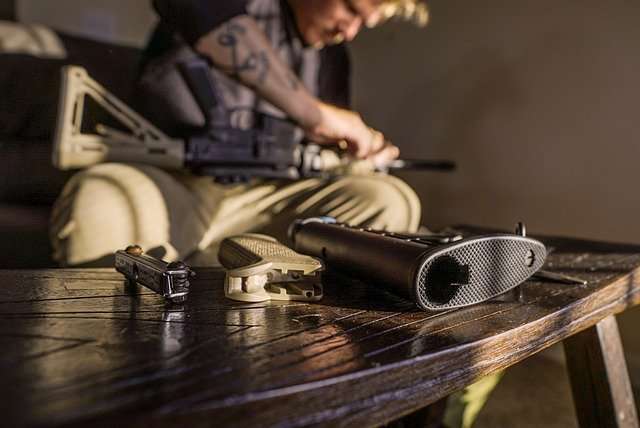 Yes, you can install your own lower, especially if you have previous experience in gun assembly. You'll need a few tools to get everything together though.
Conclusion
The 300 blackout is a great hunting round for relatively close ranges on anything up to whitetails. It's also great for self-defense. If this is your first build and you've chosen one of our recommendations above, then you're off to a great start.