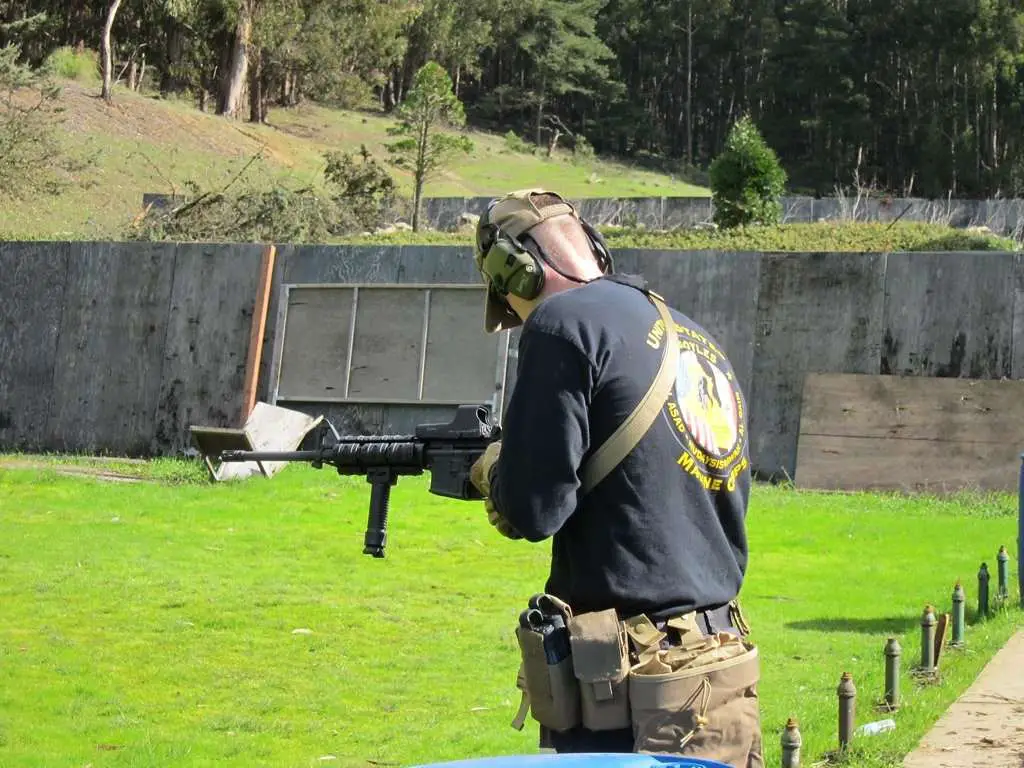 Our Top Picks
Best Overall Rifle Scope
Trijicon ACOG 4X32 Scope
This scope is a must-have for every shooting competition.
Check Price
Best 3 Gun Scope on a Budget
Sig Sauer Romeo5 Compact 2 Moa Red Dot Sight
This affordable scope is proven to last for years.
Check Price
Most Versatile 3-Gun Scope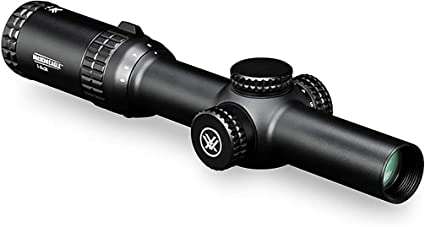 Vortex Optics Strike Eagle Second Focal Plane Riflescope
This scope will easily adapt to the 3-gun competition's fast pace.
Check Price
If you're joining a 3-gun competition for the first time, you'd need more than a regular scope. Not sure where to begin? We've got your back! Because this article has everything you need to know about 3 gun scopes, and we've got the best ones to help you nail that multi-gun competition!
Generally, you're going to want a scope with quick acquisition where it's easy to shoot with both eyes open.  That's true for your rifle, shotgun, and pistol.  We've focused on optics for your long guns and thrown in a reflex sight that will be great for your pistol in the Burris.
For other options for open reflex sights for your pistol (or potentially a shotgun), see our take on the best red dot sights.
Comparison Table of the Best 3 Gun Scopes
Here's a quick comparison of our top picks for the best 3 gun scopes if you're in a hurry.
Features to Consider
Magnification
In a 3-gun competition, you'll be shooting targets of different sizes at varying distances and at multiple locations. So it's best to get a scope with variable power with a minimum of 1x magnification.
You should also get a scope that allows you to shoot with both eyes open for faster target acquisition.
Scope Reticle
The best 3 gun scope's reticle should be versatile enough to draw your eye to the center for close-range shooting while having multiple aiming points for long-range targets.
Eye Relief
Choose a scope with generous eye relief so you can have sighting flexibility and a larger field of view. A long eye relief also protects your eyes from recoil, especially if you're using a powerful firearm.
Waterproof / Fogproof / Shockproof
3-gun competitions involve a lot of running and moving around. The best 3 gun scope is lightweight but durable enough to survive getting bumped around. Plus, it should be waterproof and fog-proof.
Best Overall: Trijicon ACOG 4X32 Scope
The Trijicon Advanced Combat Optical Gunsight Scope is our top pick because of its fiber optic dual-illuminated reticle.
This feature helps you aim and shoot with both eyes open while still quickly picking up your reticle, making it perfect for 3-Gun Competitions. It also provides extraordinary clarity on all brightness levels. The best thing about its illuminated reticle is that it gets power from tritium and fiber optics, so no battery is required!
However, it would have been better if the eye relief was longer. The Trijicon ACOG may cost a lot, but it sure is worth the price.
Pros
Aircraft-grade housing
Waterproof and fog proof
Battery-free dual-illuminated reticle
Horseshoe reticle
Cons
It's expensive
Short eye relief
What Customers Say
"This ACOG is a tac driver with enough practice you can literally put rounds through the same hole. Not to mention that it's built like a tank. You know the old saying buy once cry once, well I bought and I'm not crying it's worth every penny. Don't settle for cheap scopes, by the time you run through enough cheap ones, you probably spent enough to of bought an ACOG. I can't say enough about this AGOG other than just do it you won't regret it."
"Authentic product received. Incredible clarity. Eye relief is awful but if you shoot the way you are supposed to with the nose to the charging handle it'll be perfect. It is wonderful. Crisp reticle. Tritium is bright. I bought the green horseshoe model. The holdovers are spot on and the durability is just amazing. Worth $1100? I know it seems crazy but I'd say it really is."
Best 3 Gun Scope on a Budget: Sig Sauer SOR52001 Romeo5
The Romeo5's unlimited eye relief is what makes it perfect for 3-Gun Competitions. Its windage and elevation knobs are easily adjustable as well.
The Sig Sauer Romeo 5 is equipped with Motion Activated Illumination that helps in extending your scope's battery life. It also features 10 illumination settings for optimal performance in all lighting conditions.
If you're looking for the best 3 gun scope for less than $200, the Sig Sauer Romeo5 is for you!
Pros
Waterproof, fog proof, and shockproof
Affordable
Integrated M1913 Picatinny interface
Motion Activated Illumination
Cons
Finish gets scraped off easily
What Customers Say
"Absolutely love this thing! Mounted on my Marlin 1895gs chambered in 45-70 govt with an American Defense T1 quick release mount. Holds up to the recoil and honestly i couldn't have picked a better optic and mount. The setup was zeroed in 4 rounds and after that i felt like i couldn't miss! I keyholed rounds between 50 and 100 yards all day. This sight didn't miss a beat and i will be buying more. I love Sig optics and they have yet to let me down and this one is worth every penny!!!"
"Love this! I have an EOTech which I love and I have to say this has the quality of EOTech! I put it on my KSG 12 and it holds zero with no problems!"
Most Versatile 3-Gun Scope: Vortex Optics Strike Eagle Second Focal Plane Riflescope
What's great about the Vortex Strike Eagle is that you no longer have to come off the scope to see its magnification indicators.
It has a Bullet Drop Compensation (BDC) 3 reticle and a fast focus dial on the eyepiece that is perfect for rapid target acquisition. Its lenses also come with anti-reflective coatings for increased light transmission.
The Vortex Strike Eagle is also known for shrugging off the heaviest recoil, and it performs excellently for both close and long-range shooting.
For competitions built on speed, you may want to purchase an extended throw lever for the magnification controls so that you can quickly adjust the zoom.
Pros
Anti-reflective coatings
Waterproof, fog proof, and shockproof
Adjustable eye parallax
Cons
Turrets are difficult to control
What Customers Say
"This is my second Vortex Strike Eagle, the glass is crystal clear from 4 to 24 and the second focal plane 20 MOA reticle is perfect for long distance shooting, measuring and ranging targets. The adjustable eye parallax from 20 yards to infinite makes it easy to see a target at 24 magnification from 20 yards to looking at mountains several miles away."
"My range is only 500 TDs. Being a novice to bolt action rifles. This is bar none a great entry level scope. Awesome glass and smooth adjustment. Definate buy. Locked in and adjusted hit 500yd 8 inch round Ar500 plate all day long. You cannot beat the Vortex warrenty. Lifetime. There is your que to buy."
Aimpoint PRO Red Dot Reflex Sight
This sturdy, ready-to-mount scope has 6 daylight settings and 4-night vision-compatible settings. So your optic performs at its peak no matter how bright or dark it is.
The Aimpoint PRO also guarantees an increase in first shot hit probability because it uses the 2 MOA Red Dot. This will also allow you to acquire your targets quickly.
It's also great how the Aimpoint PRO lets you shoot with both eyes open. And thanks to its transparent lens cover, you can easily aim in direct sunlight while protecting your lens from external impacts.
Pros
3 years battery life
Parallax-free
10 illumination settings
Cons
What Customers Say
"Great like you'd expect. Not a lot to add besides picking up the rubber strap for the adjustment and battery covers. The latest version has a retention strap but not for all covers. The old style covers are still available for less than ten bucks and they have the pins to attach the 3 way rubber strap. If you need to swap a battery out or make an adjustment in the field losing a cover would suck.
Mounted on a Colt6920. Mounted level and was already zeroed. Perfect cowitness with my iron sights. Battery on low lasted about a year. Awesome red dot. Worth it."
"This optic is fantastic and worth every penny. I chose this over an EoTech because of the insane battery life and simply because I took a look through an EoTech at the local cabelas and I didn't like it one bit. Go to a store or find a friend that has one and take a look through prior to making any purchases. This optic is reliable, precise, user friendly, and worth the extra money if you're considering getting an entry level red dot. Learn from other people's mistakes and just get this optic from the get go, you won't regret it!"
Burris Fastfire III with Picatinny Mount 8 MOA Sight
Our last pick for the best 3 gun scope is from one of the leading optics manufacturers – the Burris FastFire III. It delivers images as bright, crisp, and clear as other brands for half the price!
It's parallax-free and its reticle makes target acquisition a breeze. Sighting in is also extremely easy because of its automatic brightness sensor that adjusts depending on the environmental condition.
The scope is also made from an aluminum chassis that is lightweight yet durable enough for daily use.
However, we have observed that the battery cover needs improvement, and mounting this scope is a bit difficult.
Pros
Parallax-free
Affordable
Waterproof, fog proof, and shockproof
Cons
Difficult to mount
No protective cover
What Customers Say
"The Burris FastFire III does not disappoint. The quality is just as good as most out there twice or three times the price. I picked up the Burris instead of the Vortex viper due to the fact that Ive heard Burris has top notch customer service. I'm SUPER impressed with the FastFire III and would recommend this to anyone in the market for a red dot optic."
"This product has made me 2x faster and more accurate, maybe more, no joke. It feels like cheating!
Took a second to adjust to acquiring the dot. Kinda blocks you from looking down the barrel. I've used red dots on ARs, very similar, but I think this is better. I mounted this on my ruger mark IV 22/45 on the factory supplied pic rail. Easy install, blue threadlock 15in/lb on clamp, 12in/lb on sight to base. Easy to sight in, was like 7in left and 4 in low to start. 10yds"
Frequently Asked Questions
What is a 3-Gun Competition?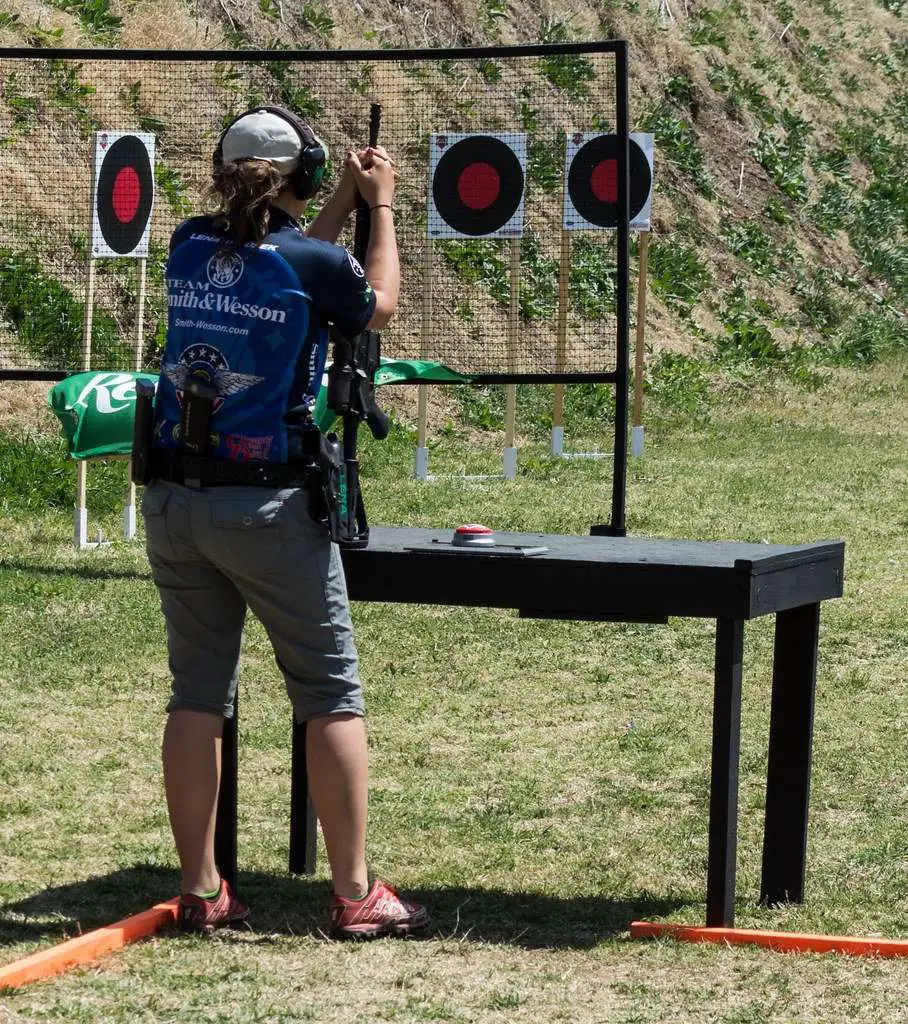 A 3-Gun Competition is a shooting sport that involves using three types of firearms – a rifle, a shotgun, and a handgun.
3-Guns (also known as Multi-guns) are usually presented as timed obstacle courses designed to enhance one's shooting and tactical skills.
What is a 3 gun scope?
A 3-gun scope is a scope that can be mounted on rifles, pistols, and shotguns; and is used in 3-gun competitions.
We've listed above all the things you need to consider when shopping for the best 3 gun scope, so be sure to check them out.
Bottomline
Whether you're participating for fun or to win, what matters is that you did your best. And even with the best 3 gun scope, you can't perform well in the competition without proper practice. So buy that scope and start shooting!
Last update on 2023-12-01 / Images from Amazon Product API