Palmetto State Armory has really made their name with value oriented builds on the AR-15 platform, and while they're now doing much more in the AK and pistol family, they still crank out the standard fare. If you're looking for a reliable upper to complete your home defense custom build, our PSA 7.5″ 300 Blackout Upper Review will help you decide why it's a great candidate.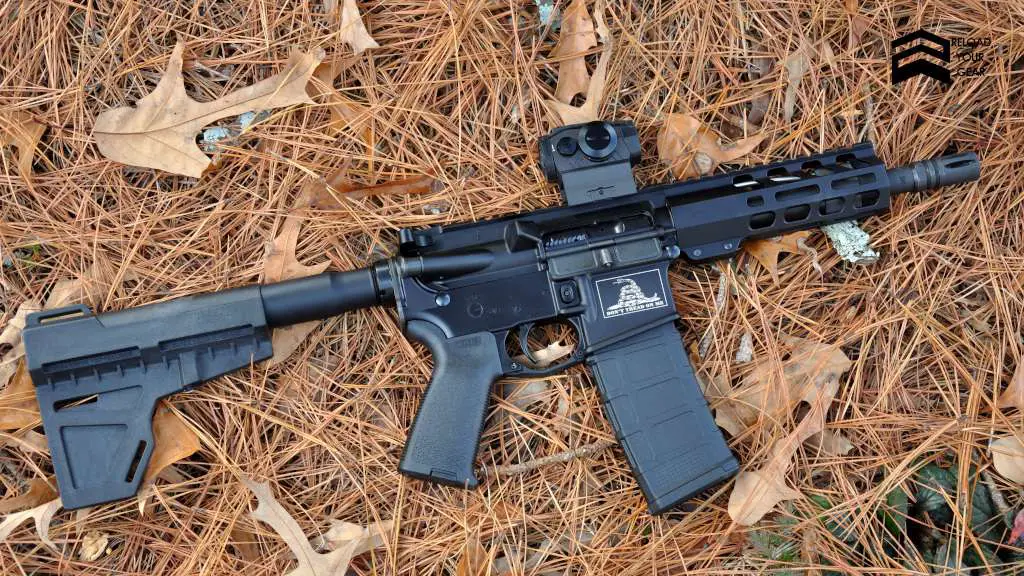 Bottom Line
This reliable PSA upper is a cost-efficient way to get a 300 Blackout pistol for home defense, hunting, or just plain fun!
Pros​
Affordable
Easy to install
Great finish
Lightweight
Cons
What Customers Say​
"Good quality. Very well made has never jammed"

Lonnie W.
"Awesome deal! Just bought a receiver from my local gun store and this kit had everything I needed for my first build. Shoots great!"

Jamie H.
Alternatives
Better Performance: Daniel Defense DDM4 Upper
With the DDM4 300S upper, you're paying for the quality, precision, and performance that Daniel Defense is famous for.
It comes with HP/MPI tested chrome moly vanadium barrel that's hammer-forged and a fully ambidextrous GRIP-N-RIP charging handle. Its pistol-length gas system is also low-profiled and is constructed from 4140 hardened steel and Mil-Spec durable phosphate coating. Plus, its rails are machined from Santoprene so they're heat-resistant up to 300 degrees Fahrenheit.
Pros
High-quality machining on all parts
Comes with a limited warranty
Cons
It's very expensive
What Customers Say
"Simply love Daniel Defense products! I own the V9, Two MK18's, V7P, and Now the 300 S SBR. I hope to make a Black Creek visit soon. Could I get a tour? Hands down the best firearms on the market. Keep up the great work DD."

John The Closer
"I got a DD 10.3 Tactical Law 5.56 and was so impressed I just had to buy another DD rifle/pistol but in these days and times that's hard to do with as soon as DD puts available they get purchased and I get it. Ordered this barrel and also a DD lower kit and pared with Rainier Arm lower. It's a match made in heaven looking at my DD and then my DIY AR it's hard to tell apart."

George
Better for Ambidextrous Shooters: Radian Weapons Model 1 300 BLK Upper
Even if you're not left-handed, this 300 BLK upper from Radian Weapons is worth every penny. Aside from parts that are constructed from match-grade 416R stainless steel and 7075-T6 aluminum, this upper receiver guarantees sub-MOA accuracy and comes with a lifetime warranty.
It also has a polished crown and feed ramps. Its extended aluminum handguard features a stainless steel anti-rotation pin and is extremely comfortable to use. The handguard uses a Magpul M-LOK® modular mounting system which is really easy to mate with accessories. 
Pros
Fully ambidextrous controls
Lightweight forward assist
Coated with Radian Cerakote
Cons
Expensive
Takes months to ship
What Customers Say
"I've owned many different AR platforms from various manufacturers, however, THIS is the REAL DEAL. By FAR the most meticulous build I've ever used. Their attention to detail, tolerances, quality of product, and value is spot on with their price point. The most comfortable handguard I've ever held as compared to the cheese graters out there. If you're looking, stop here. Radian has what you need and their team is truly the best. Thank you ALL for my builds, truly appreciative!"

Paul W.
"A total dream to build around this upper. Looks feel and work perfectly. Rugged and beautiful at the same time."

Michael M.
Specifications​
Barrel Length: 7.5″
Gas System: Pistol-length
Handguard Type: 6" M-LOK Free-float 
Twist Rate: 1:8
Barrel Steel: 4150V Chrome Moly Vanadium
Muzzle Device: A2 Flash Hider
Receiver Material: Forged 7075 T6 Aluminum
Barrel Finish: Phosphate 
Chamber: 300AAC Blackout
Gas Block Type: Low-profile
Receiver Type: M4
Bolt Carrier Group Included: Yes
Bolt Steel: Carpenter 158
Bolt Carrier Profile: Full-auto
Warranty: Lifetime, transferable + two-way shipping
First Impressions
The look and finish of the upper were excellent, comparable to other PSA gear and guns from manufacturers like Sig or Aero Precision. I paired this with a PSA lower for testing, and the lockup was great with no play whatsoever between the upper and the lower.
For the initial range time, we sighted in at 50 yards and shot several 5 round groups. These were done with a mil-spec trigger and a red dot sight with no magnification.
These groups were around 2-3 MOA.
I'm going to do a trigger job and re-shoot some groups, so I expect that number to come in to where it's limited by the upper and barrell, and I'll post those results here soon.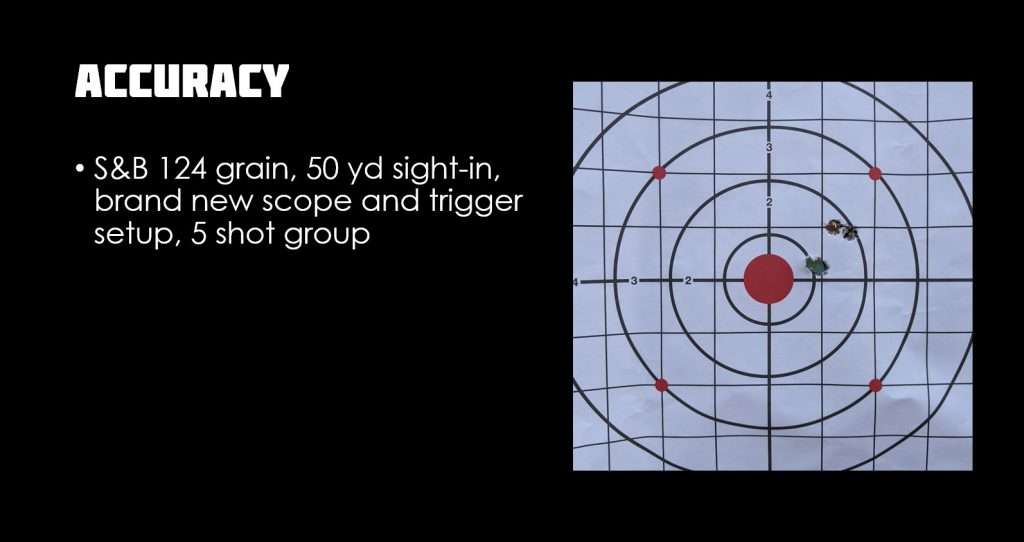 The recoil is definitely more significant than 5.56x45mm but still reasonable. In a rifle configuration with a full stock, you wouldn't even notice it.
Since this is a pistol build and came with a Shockwave brace, recoil management is a bit more challenging.
I put this together with a mil-spec lower build kit and if you want to get the best accuracy you can, a trigger upgrade would be a good idea. Here's a look at one of the groups.
Here's a video summary of my thoughts on it:
Features
Aside from its lifetime warranty, the PSA 7.5" 300 Blackout upper is comparable with its competitors when it comes to its construction and design.
Design
The PSA 7.5" 300 Blackout upper has the typical AR-15 design. It also has a great fit and finish. The lines are straight, handguard alignment is on point, and there are no machining and finishing marks that stand out.
The shockwave brace isn't an SBA3, but it's serviceable. The thin fin is definitely no substitute for a proper stock either.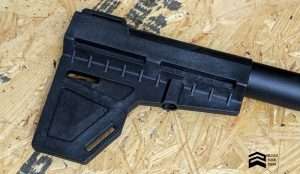 Construction and Materials
The PSA 7.5" 300 Blackout upper features a 4150V steel barrel with phosphate finish and a 1:8 twist rate. The muzzle thread is 5/8-24 if you want another device or a can for it. It comes with a 7″ M-Lok free-floating rail and a standard A2 flash hider. The upper itself is an anodized, forged 7075-T6 unit.
You can buy this upper without a BCG and charging handle if you plan to buy upgraded sets, or you can get those in the kit for another $30 as of the time of my writing this. In my opinion, it's worth it to get them, and you can always have a spare if you upgrade your components later. The PSA bolt is made of Carpenter 158 steel, and everything is built to mil-spec.
If you're looking to upgrade just your barrel, we also reviewed the best 300 Blackout barrel.
.300 Blackout Pistol Length Gas Tube
Since the .300 AAC BLK pistol is designed to completely burn 300 Blackout powder more quickly, the shorter barrel and pistol gas tube on this configuration is ideal. This upper is perfect for shooters looking for a pistol build without the extra flash and powder of 5.56. 
Conclusion​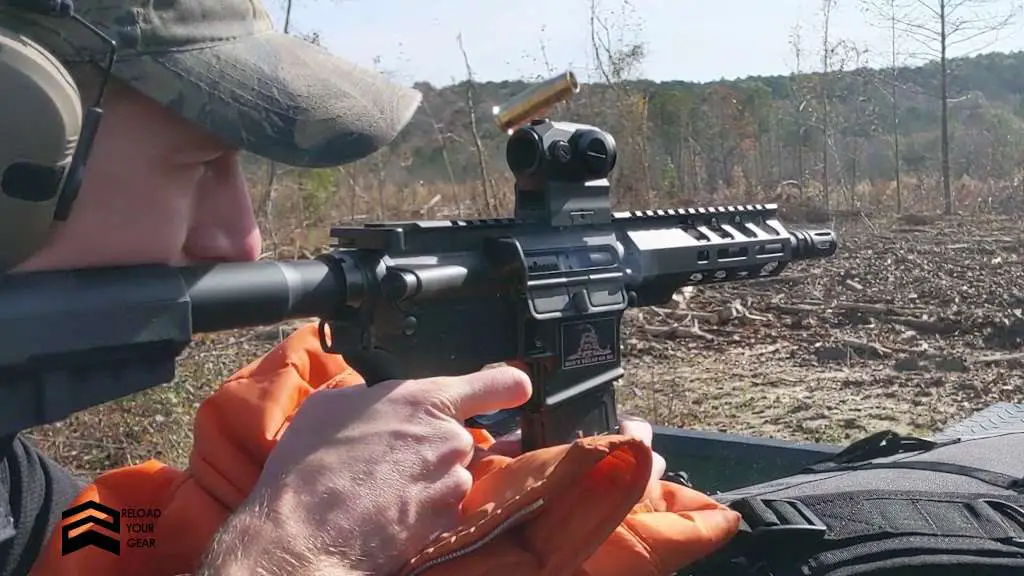 The PSA 7.5" 300 Blackout upper offers solid value and performance, especially when paired with the Sig Sauer Romeo5 red dot sight. If you want affordability and reliability, this upper is definitely one choice to consider.
If you're a professional and your life may depend on this gun every day, go ahead and drop $2000 on a DD build. But if you're just a regular dude, you may want to buy one of these for you and two for your friends that're helping to defend your home if TEOTWAKI comes.
Now you've got an upper for your custom build. Pair it with the best 300 Blackout lower for better performance!
Need a refresher? Check out our guide to guns and shooting!