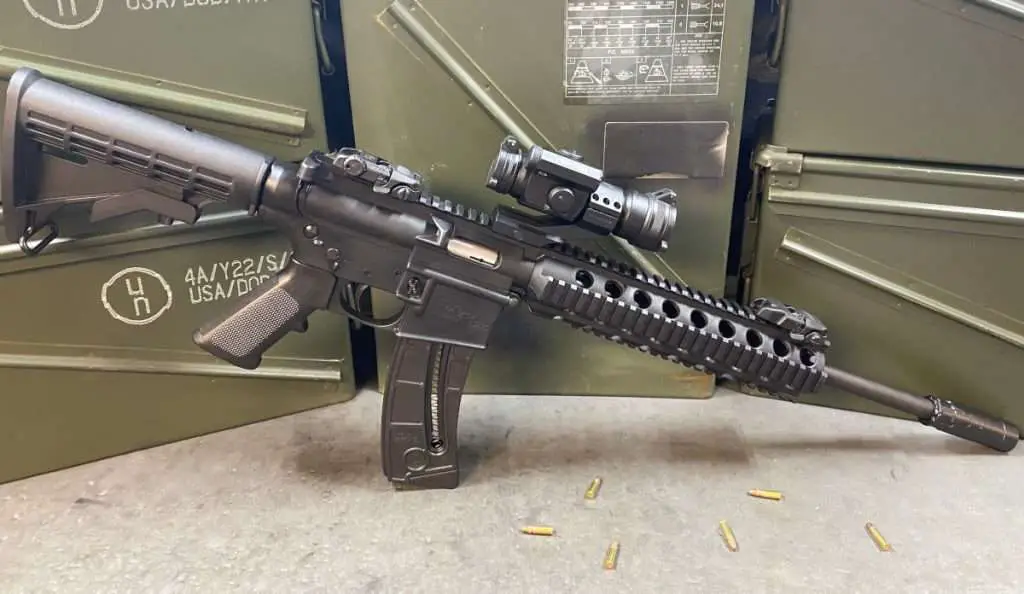 Rugged Suppressors enjoy a solid reputation for great-performing products that are backed by an unconditional lifetime warranty. And the Oculus 22 is one of their bests. Let's get into our Rugged Oculus 22 suppressor review to let you know how to get the most out of your .22 rimfire.
Bottom Line
The Rugged Oculus 22 is a great option for 22 caliber suppression and 5.7×28 mm. It's durable (handles belt-fed rate of fire), performs well, and will never give you headaches during cleaning time.
Pros​
Well made (excellent materials and design)
Full auto-rated and belt-fed
Comes with a lifetime unconditional warranty 
Very quiet
Easy to disassemble and clean (ultrasonic clean baffles and end cap, wipe down suppressor body. Cleaning time via ultrasonic cleaning takes about 20-30 minutes.
Thresh pitch is 1/2×28, which is the most common thread pitch for .22 caliber firearms.
Cons
Expensive compared to other models
Heavier than some other models 
What Customers Say​
"Easy to use well made"

Jacob W.
"I run this on my .22 target 1911 5″ target pistol with the Marvel conversion. With subsonic ammo, it's definitely louder than a pellet gun, but it's much quieter than without the suppressor attached. Now I need to get a rimfire rifle threaded. The suppressor is well made and easy to disassemble with the provided tool."

Mark B.
Alternatives
Better for your Money: SilencerCo Sparrow
If you want an equally reliable and serviceable suppressor but for less expense, go with the SilencerCo Sparrow. It's simple, durable, and efficient. It's equipped with Patented Multi-Part Containment (MPC™) technology that makes disassembly and reassembly easy.
Pros:
Easy to disassemble and clean
Full-auto rated
Multi-caliber
Affordable
Cons
It's not as quiet as the Oculus 22
Noticeable first round pop on pistols
What Customers Say
"Absolutely love it. The sparrow exceeds my expectations. Easy to clean. Would definitely recommend it."

Christopher H.
"Makes shooting rimfire pistol very fun. Noise is greatly reduced and not too heavy. Buying a second one for upcoming gopher season."

Joshua G.
Better Configuration: SilencerCo Switchback
The Switchback is SilencerCo's latest addition to its suppressor series and its quietest yet. The Switchback features a modular configuration that lets you choose between three lengths. It also allows you to modify the baffle orientation depending on your intended use – "when oriented in one direction the front section exhibits the most competitive sound reduction on the market for pistols, but when the orientation is flipped the result is an unprecedented sound reduction on rifles." https://silencerco.com/silencers/switchback-22/
Pros:
Very quiet
Multi-caliber
Versatile configuration
No first-round pop
Easy to disassemble and clean
Cons:
It's a little expensive
Its shortest modular configuration is not that useful
What Customers Say
"It exceeded my expectations! Really seems to be well made and I like the adaptability to different calibers. Extremely easy to disassemble and clean. Was actually quieter than I had anticipated, even with supersonic ammo. The subsonic sound reduction was amazing, no discernible difference between 1st and last round. (Lapua Midas +) and no real change in accuracy."

Derek H.
"I initially intended to purchase the sparrow suppressor but it was out of stock at the time. I decided to purchase the switchback instead and am very happy with the purchase… It works phenomenally well and breaks down easy for cleaning. Would do again."

Christopher H.
Specifications​
Diameter: 1.06"
Length: 5.25" standard configuration; 3.25" short configuration
Weight: 6.9oz standard configuration; 4.3oz short configuration
Thread pitch: 1/2×28
At ear dB rating: 113dB
Keyed baffles constructed of 17-4 stainless steel
Suppressor body finished with high-temperature Cerakote
Belt fed rated for .22LR. Aull auto rated for .22 WMR, .17HMR, .17 WMR, and 5.7x28mm.
No first-round "pop" in standard configuration. Very important for hunting (where legal) and pest control.
Purchasing Process
Purchasing a suppressor is not very difficult, but it can take a while. Most of your waiting time is for the ATF to process and approve your paperwork.
Here are the steps:
Locate a Class III Federal Firearms License (FFL) holder in your area and buy the suppressor if in stock. Place an order if it's not in stock and wait until it arrives to start the NFA process.
Complete the NFA Form 4, including fingerprints, passport photos, and check for $200, and submit it to the Bureau of Alcohol, Tobacco, Firearms, and Explosives (BATFE or ATF) for processing. Processing time can take up to 18 months but is usually 9-12 months depending on application volume. 
Wait for your approval
The ATF just approved Form 4 applications for e-file, which is supposed to take 90 days to process. Time will tell, but the process will likely be shorter than the paper one.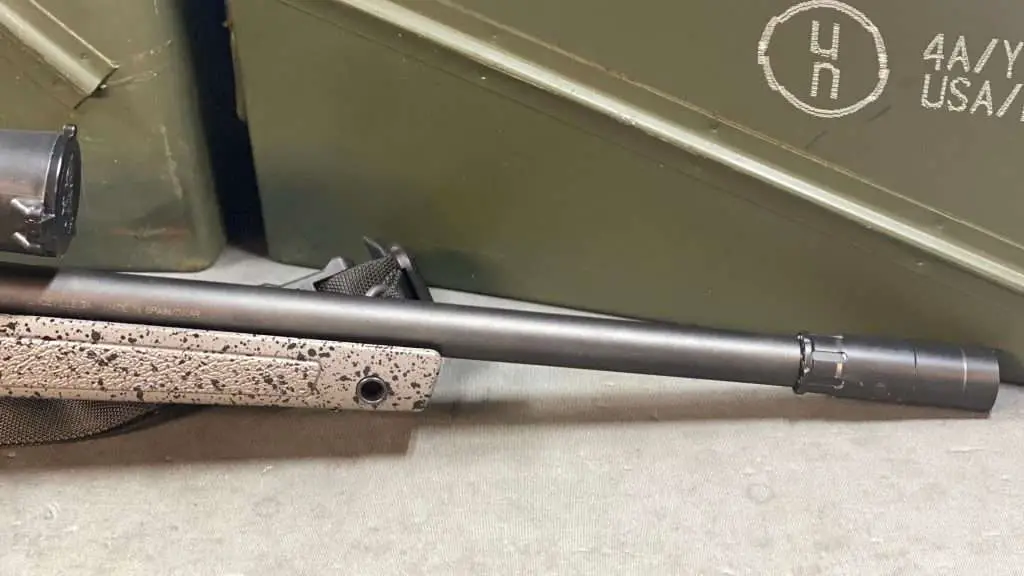 The best way to handle the entire process is to use Silencer Shop or another service. Silencer Shop utilizes an app and a network of affiliated class III FFLs. Find a local affiliated FFL and use the Silencer Shop kiosk to complete the Form 4, fingerprinting, and photo requirements. 
Silencer Shop will handle the rest, including sending the required $200 check to the ATF for a fee of $5. Silencer Shop can also establish a trust for a $25 fee. More details here.
The suppressor can be registered in an individual's name or as part of a trust. Check with the ATF's website for further details and information about a trust here.
Why use a trust?
A trust allows you to share the use of a suppressor. Without a trust, you can't legally let your wife, kids, or friend shoot your suppressed gun at the range unless you're present. With a trust, anyone named can use it.
First Impressions: Rugged Oculus 22 Suppressor Review
Shooting a suppressed gun with subsonic ammunition and without an ear pro on is an experience I'd recommend for everyone. There's not much cooler than something you know would normally be loud and hurt your ears being barely audible over the hammer dropping on your weapon.
Very quiet, especially with subsonic ammunition. 
Its durable baffles are made of 17-4 stainless steel and are a breeze to clean.
Its keyed baffles are interchangeable, except for the first baffle in the assembly marked "#1".
The Rugged Oculus 22 is no different and the first-round suppression is really appreciated for hunting. When the loudest sound is the action of the gun or the round hitting your target downrange, that's pretty fun!
Whether you're shooting squirrels or varmints, you'll find that level of silence makes you even more effective when going after multiple targets.
Rugged Oculus 22 Suppressor Maintenance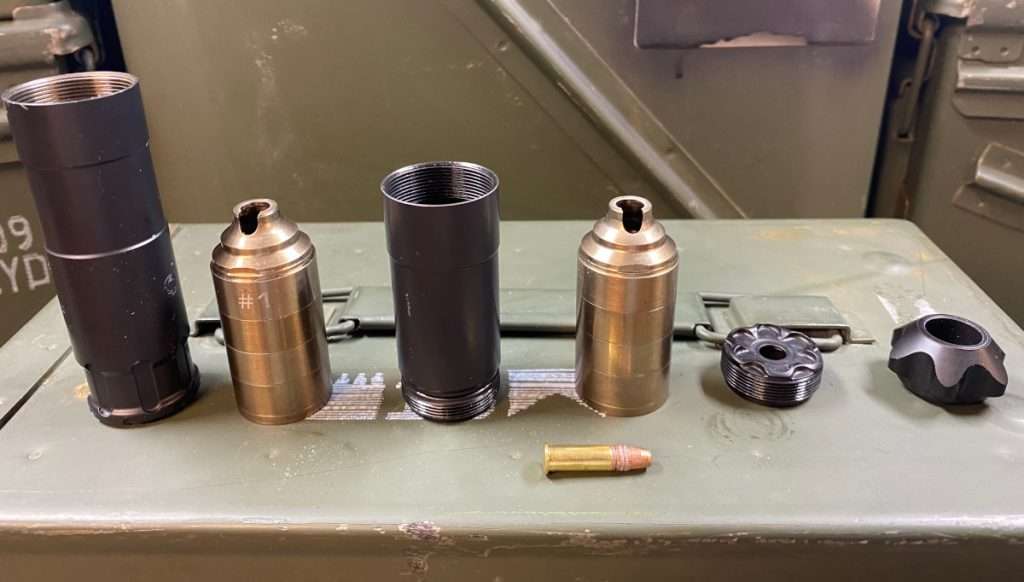 The Oculus 22 is easy to clean because it's made out of stainless steel. Remember to always wear safety gear when doing service and do it in a well-ventilated space. The process is pretty straightforward, and the keyed baffles will make sure you get everything back together correctly.
Here are the steps for how to clean the Oculus 22:
Remove the magazine and check your gun's chamber before performing maintenance on the suppressor. Make sure it's not loaded, then remove the suppressor from your gun. NEVER clean a suppressor while still attached to a gun.
When cleaning with an ultrasonic cleaner, Rugged Suppressors recommend the use of a 50/50 mixture of Purple Water and water.
Clean the baffles for about one hour, then remove the parts and dry them.
If there's any residue, remove them with a 12 gauge bore brush, a brass wire brush, and a cleaning solution.
Clean the suppressor tube's interior with a regular gun solvent and cleaning tools.
Rugged Oculus 22 Suppressor Features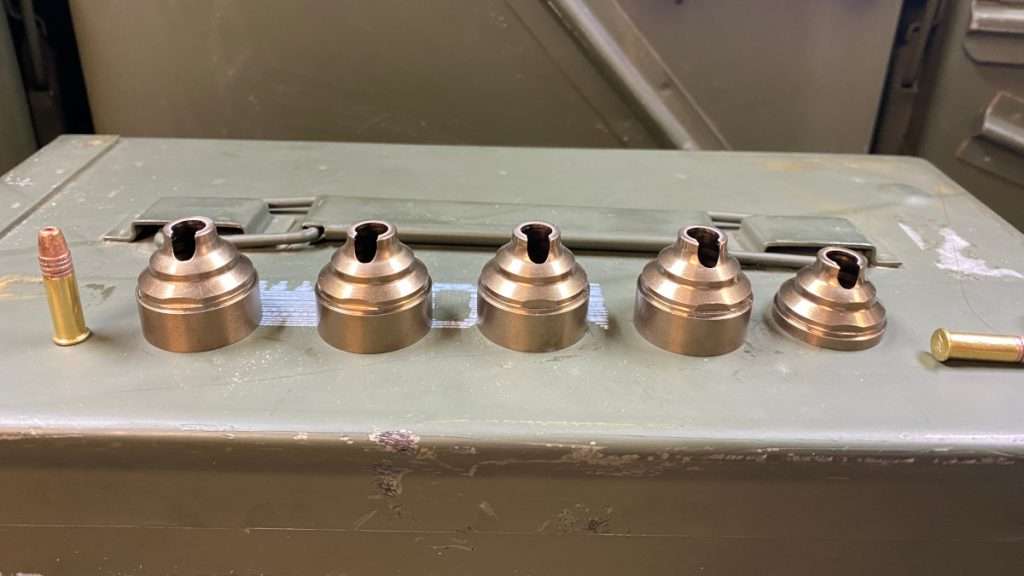 Material
The Oculus 22 features sturdy baffles made from 17-4 stainless steel. This guarantees long-lasting protection from rust.
Design
The Oculus 22 comes in a modular design and is capable of short "K" or "Kurz" and long configurations. And like we said earlier, it's very easy to disassemble, so cleaning it is a breeze.
Rugged includes manufacturer information and serial number are on the thickest part of the suppressor so it can be replaced if damaged. Or, you can replace or upgrade the components later without more ATF paperwork. Not to mention its average warranty turnaround time of only 16 hours. Talk about excellent customer service!
FAQs
Are Rugged suppressors any good?
Yes, Rugged Suppressors may cost more than other brands, but their durability and performance guarantee that they're worth every penny.
Where are Rugged Suppressors made?
Rugged Suppressors are made in the U.S.A. at 1 Tungsten Place, Travelers Rest, South Carolina, 29690.
Conclusion​
Now you know all the reasons why the Oculus 22 is worth every penny. All you need to do is buy one and get your NFA paperwork e-filed ASAP! It may take a while, but it is worth the wait!
Collecting guns? Our beginner's guide to collecting guns has everything you need to know!
Building a custom .300 BLK rifle? This is great place to start: