Our Top Picks:
Best For Advanced Shooters
Trijicon SRO
Superior lens quality!
---
Pros
Wide field of view
Impressive battery life
Wide field of view
Con
May require mounting adapter for some guns
Best for Beginners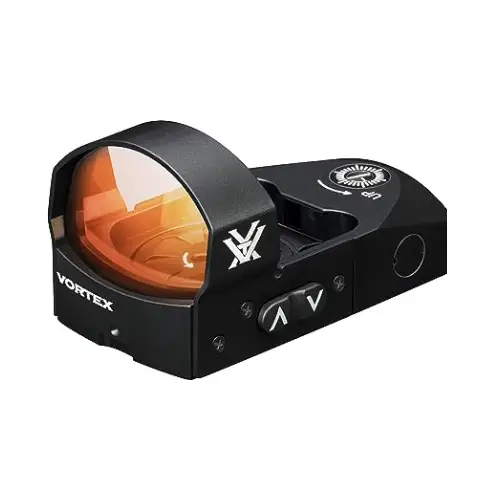 Vortex Venom
Ensures a no-fuss, smooth-sailing experience for beginners!
---
Pros
Multiple brightness settings
Affordable 
Con
Best Value for Money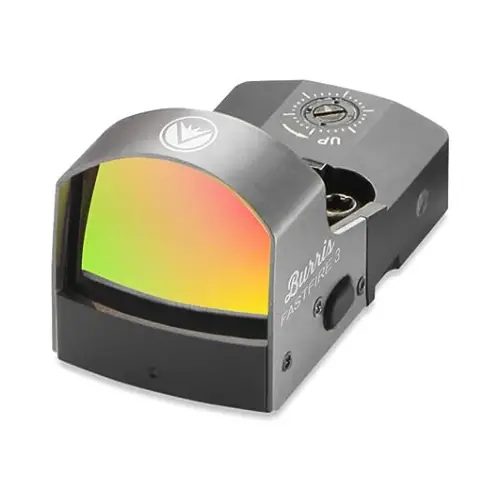 Burris FastFire 3
An ideal equilibrium between quality and price!
---
Pros
Auto brightness feature
Good battery life
Durable build, water-resistant 
Con
Ever felt lost in the maze of red dot sights for your Walther PPQ? 
It's a common plight, given the vast options and technical jargon. We know the struggle. That's why I've put together this concise review. I've dived into the red dot world, tested, and sifted through the noise. 
The result? 
A list of the top 5 red dot sights that cater to different needs and budgets. 
No more guesswork, no more wasting time. Just clear, helpful advice. Let's make your shooting experience better.
Best PPQ Red Dot – Comparison Table
Strengths
Wide field of view, superior lens quality, user-friendly controls, impressive battery life, durable build
Multi-reticle system, shake awake feature, long battery life, solid construction, IP67 waterproof rating
User-friendly, top-load battery compartment, multiple brightness settings, lightweight, affordable
Auto brightness feature, durable build, water-resistant, good battery life, value for money
Affordable, motion sensor technology, durable, waterproof and fogproof lens, compact design
Weaknesses
High price point, slightly large size, may require mounting adapter
Initial learning curve, smaller sight window, adjustment buttons could be more tactile
Shorter battery life, smaller sight window, durability not as high as others
Battery access on the bottom, lacks advanced features, mounting system could be improved
Brightness controls could be more intuitive, may require adapter for some models, smaller field of view
PPQ Red Dot Must-Have Features
Durability
Red dot sights must stand the test of time and harsh conditions. 
Durability means a sight that is well-built, can withstand heavy recoil, and won't lose its zero. The more rugged, the better. It guarantees you won't be left high and dry during a vital moment.
Lens
A high-quality lens isn't just a luxury – it's a necessity. The lens should offer excellent light transmission and minimal distortion. It should provide a clear, bright image that aids in faster and more accurate target acquisition.
Adjustable Brightness
Every shooting environment is different. From sunlit open fields to dark indoor ranges, an adjustable brightness feature allows you to modify the red dot's intensity. It ensures optimal visibility, no matter the light conditions.
Battery Life
Imagine your sight shutting down in the middle of a shooting session. Not a pleasant thought, is it? 
A sight with long battery life lets you shoot without constantly worrying about power. Remember, every moment you spend changing batteries is a moment not spent perfecting your aim.
Price
Prices of red dot sights can vary dramatically. It's important to find a sight that offers good value for your money. 
An expensive sight isn't always the best, and a budget sight doesn't always mean compromise. It's about finding a sight that fits your needs and your wallet.
Walther PPQ Red Dot – Our Top List
Best for Advanced Shooters: Trijicon SRO
Trijicon SRO Sight Adjustable LED 2.5 MOA Red Dot, Black
LARGE, UNOBSTRUCTIVE FIELD OF VIEW: Parallax-free and compatible with suppressor-height iron sights
CLEAR, CRISP DOT: Fine-tuned, illuminated reticle, coupled with exceptionally clear front lens, offers a clear sight picture with a crisp 2.5 MOA Red Dot
EASY, ADJUSTABLE WINDAGE & ELEVATION: Tool-less design makes zeroing hassle-free
The Trijicon Specialized Reflex Optic (SRO) stands out with its large and clear lens that offers a wide field of view, enhancing target acquisition speed and precision. This quality distinctly boosts the speed and precision of target acquisition. I found the lens to be of high quality, keeping distortion to a minimum and presenting a crisp, bright red dot.
I noticed the SRO came with user-friendly brightness settings, adjustable to fit personal preferences. It flaunts a notable battery life that won't let you down during those lengthy shooting sessions we all love. The robustness of its design assures both durability and reliability, something I believe every advanced shooter would appreciate.
Sure, the price point veers towards the higher end, but in my opinion, the top-tier features it brings to the table offers good value to those shooters who are well-versed in their craft.
Pros and Cons
Pros
Wide field of view
Superior lens quality
User-friendly controls
Impressive battery life
Durable build
Cons
High price point
Slightly large size
May require mounting adapter for some guns
Scores: 4.4/5
What Customers Say
"Larger view than most red dots I have tried. easy to Zero, simple to operate."

– Jake Kopp
Best for Home Defense: HOLOSUN HS507C X2
HOLOSUN HS507C X2 Red 2 MOA Dot & 32 MOA Circle Open Reflex Pistol...
HOLOSUN RED DOT SIGHT - The HS507C X2 is an open reflex sight designed for full-sized pistol applications; This handgun sight features Lock Mode that locks the buttons preventing inadvertent setting...
HIGH PERFORMANCE - The HS507C X2 pistol sight features Holosun's Red Super LED with up to 50k hour battery life, Solar Failsafe, Multi-Reticle System, and Shake Awake; The durable housing is made from...
SHAKE AWAKE TECHNOLOGY - Extends battery life by deactivating the optic's LED while not in use; Shake Awake offers settings from 10 minutes to 12 hours depending on the model and can be deactivated...
When it comes to home defense, I found the HOLOSUN HS507C X2 to be a force to reckon with. What caught my attention was its unique multi-reticle system. This feature allows for flexibility, letting you switch between a dot, circle, or even a combination of the two.
The sight also impressed me with its innovative shake awake feature. This smart function prolongs battery life by deactivating the reticle when not in use and reawakening it as soon as it senses movement. I admired its robust build, topped with an IP67 waterproof rating, which essentially means it's designed to last.
True, beginners might need a bit of time to familiarize themselves with its varied features. However, in my view, the versatility it brings to the table certainly justifies the initial effort.
Pros and Cons
Pros
Multi-reticle system 
Shake awake feature
Long battery life
Solid construction
IP67 waterproof rating
Cons
Initial learning curve
Smaller sight window 
Adjustment buttons could be more tactile
Scores: 4.7/ 5
What Customers Say
"The sight arrived well packaged, no damage. Installed easy, reticle came on very bright. In fact, it stayed on the highest intensity, and I couldn't diminish it. It was so bright that it washed out the target and I had a difficult time zeroing the sight. The next day I decided to remove it and send it back, but before I did, I decided to try one more time to see if the intensity could be reduced. Much to my surprise, everything worked. I went back out to my range and easily sighted in. I like the dot in the circle reticle as it gives me a fast, but precise aiming dot."

– Norm@Jackson
Best for Beginners: Vortex Venom
Vortex Optics Venom Red Dot Sight - 6 MOA Dot
The Venom Red Dot Sight 6 MOA promotes rapid transitions while providing a precise point of aim. The Venom's aluminum housing ensures this unit will stand up to whatever you throw at it.
High quality, fully multi-coated lens offers a clean, wide field of view. Power and dot intensity controls are conveniently located on the left side of the sight to choose between 10 brightness...
The Venom also has an auto-brightness mode that uses an ambient light sensor to control dot intensity if the user prefers.
If you're a newbie to the world of red dot sights, I'd suggest you start with the Vortex Venom. Its straightforward design appealed to me, as it ensures a no-fuss, smooth-sailing experience for beginners.
One feature I found particularly convenient was the top-load battery compartment. This design allows for swift and effortless battery changes, no need for any downtime. The sight is also designed with multiple brightness settings, accommodating varying light conditions quite well.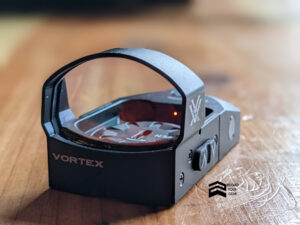 Now, I'll be honest, the battery life and sight window may not outshine its rivals. But I believe where it really earns its stripes is in its affordability and user-friendly nature. In my opinion, these traits make it a solid choice for those just getting their feet wet in this field.
Pros and Cons
Pros
User-friendly
Top-load battery compartment 
Multiple brightness settings
Lightweight
Affordable 
Cons
Shorter battery life 
Smaller sight window 
Durability not as high as others
Scores: 4.6/ 5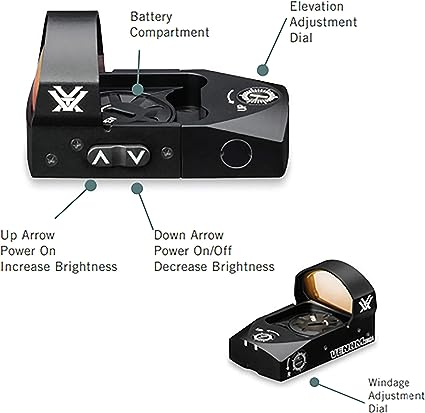 What Customers Say
"I go to the shooting range on a regular bases (monthly). I use the Vortex Venom Red Dot on my S&W metal M&P 9mm. Installing this red dot was effortless. Just place the sight on the provided mounting plate for your particular pistol and screw down. That's it.

It's easy on the eye and to sight in. One of the best features is battery access which is located on of red dot. Some other red dots you have to uninstall the red dot from the pistol because the battery compartment is located underneath of the sight. It's accurate and durable. I usually shoot a minimum of 15 yards (45 feet) down range and hit the "X" out of the target with little effort. I highly recommend Vortex Red Dots sights."

– Mark A. Pannell
Best Value for Money: Burris FastFire 3
When I came across the Burris FastFire 3, I felt it struck an ideal equilibrium between quality and price. The automatic brightness sensor is a notable feature, automatically adapting to your surroundings to deliver optimal dot visibility.
I appreciated the design's emphasis on resilience. This sight is built to withstand recoil and endure harsh conditions, which is always a plus. However, the battery compartment is positioned at the bottom, which makes battery changes a tad more troublesome. That being said, I believe it's a small trade-off, especially when you weigh it against the comprehensive value that this sight brings to the table.
Pros and Cons
Pros
Auto brightness feature
Durable build, water-resistant 
Good battery life 
Value for money 
Cons
Battery access on the bottom 
Lacks advanced features 
Mounting system could be improved
Scores: 4.5/ 5
What Customers Say
"Attached to my Kimber Gold Match II Red Dot sights do take a getting used to period if never used before. I do recommend extra training ammo to help you learn the RD capability. Support your 2A."

– Mr Jeff
Best Low-Cost Alternative: Leupold DeltaPoint Pro
Leupold DeltaPoint Pro Red Dot Sight, 2.5 MOA Dot - Matte finish
Model #119688 - DeltaPoint Pro Red Dot Sight, 2.5 MOA Dot and a Matte finish
Leupold's Professional-Grade Red Dot Optical System offers unmatched light transmission that's designed to outperform in the most challenging lighting conditions, industry-leading glare reduction...
This scopes comes with an illuminated reticle, which can help you get on target faster in low-light situations.
For those on a budget, I found the Leupold DeltaPoint Pro to be an excellent alternative. And it doesn't hold back on performance. One feature that stood out to me was the motion sensor technology. It automatically triggers the red dot when movement is detected, a smart way to conserve battery life.
Even with its lower cost, I observed that it didn't cut corners on quality. The sight proved to be durable, with a lens that held up against water and fog. Now, the brightness controls might need some getting used to, but from my experience, once you've got the hang of it, it's a dependable sight that delivers reliably.
Pros and Cons
Pros
Affordable
Motion sensor technology 
Durable
Waterproof and fogproof lens 
Compact design 
Cons
Brightness controls could be more intuitive 
May require adapter for some models
Smaller field of view
Scores: 4.7/ 5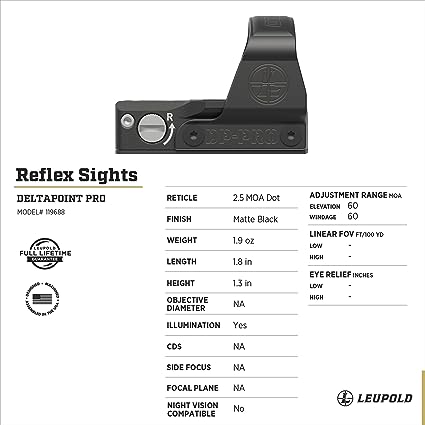 What Customers Say
"I bought the "AR ready" option, with the picatinny rail adapter, as it was on sale. For anyone who is wondering the optic is the exact same as other models, but it comes with an extra piece of hardware in order to mount to a picatinny rail you might find on an AR.

I put it on my target pistol and so far it has lived up to the reputation and the price point. Now I'll have the adapter if I ever mount one on a pic rail too. Definitely a great option if you don't mind spending the money!"

– Mike
Our Key Takeaways
In our review, we found that there's no one-size-fits-all. The right red dot depends on your needs and budget. 
Advanced shooters might prefer the feature-rich Trijicon SRO. Beginners may find the Vortex Venom more suitable. For the budget-conscious, Leupold DeltaPoint Pro offers great value. 
Remember, the goal is to improve your shooting experience, accuracy, and safety. 
Last update on 2023-09-25 / Images from Amazon Product API