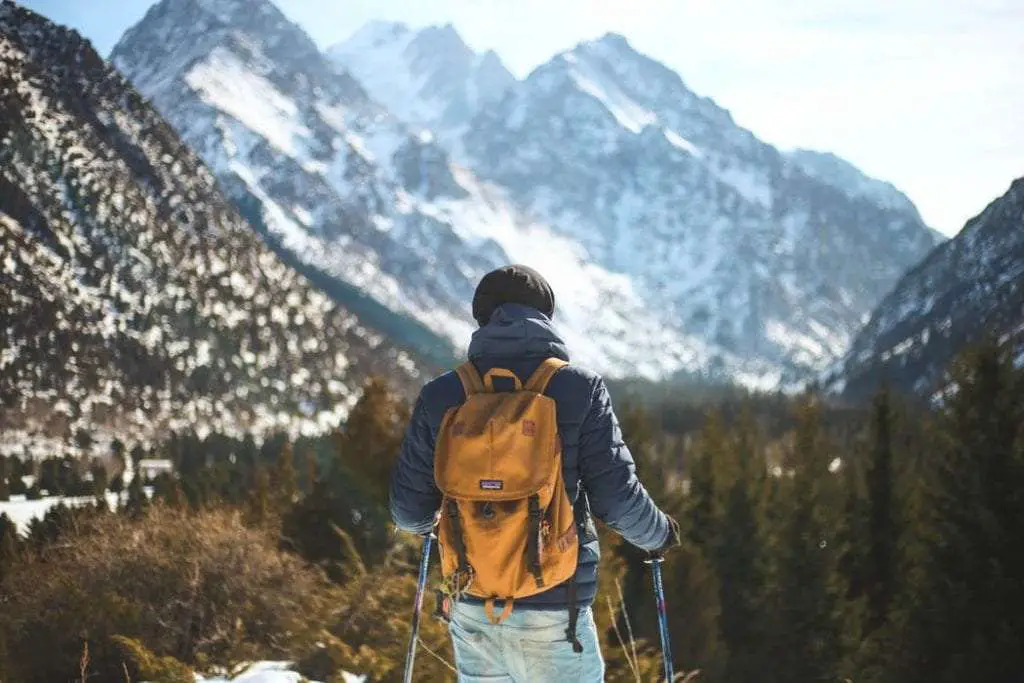 Hello, festive shoppers! Here's the season to surprise the trailblazers in your life with incredible Christmas hiking gifts. With a list of 20 handpicked items for all budgets, let's dive into a world where practicality meets joy!
20 Christmas Hiking Gifts
Best Under $25
1. Black Diamond Equipment Astro 300 Headlamp
An absolute necessity for early morning or late night treks, this lightweight, waterproof headlamp from Black Diamond boasts 300 lumens, ensuring that the path ahead is always well lit. Comfortable and durable, it's the perfect accessory for any night owl explorer.
2. Hydro Flask Standard Mouth Bottle with Flex Cap
With a double-wall, vacuum-insulated design, this Hydro Flask bottle promises to keep your beverages at the desired temperature throughout your hike. It's stylish, durable, and eco-friendly, a gift that any outdoor enthusiast will appreciate and use daily.
3. Survive Outdoors Longer Fire Lite Fuel Free Rechargeable Lighter
Aside from outdoor skills, fuel is essential for long hikes and unplanned camp-outs. This rechargeable lighter from Survive Outdoors provides endless use without needing fuel. Windproof and rainproof, it's an ideal companion for outdoor adventures, offering the promise of a warm campfire no matter the weather. And did we mention it's rechargeable?!!
4. Balega Socks
Our next pick are high-performance socks that marry style with function. Made from soft, durable material, these Balega socks provide excellent comfort and support, reducing the risk of blisters and ensuring that the adventurer in your life can hike all day without discomfort. Balega socks are the unsung heroes of the trail.
5. 360 Crampons for Hiking Boots
For hikers who don't let winter stop them, these 360 crampons offer excellent traction, reducing the risk of slips and falls on icy or snow-covered trails. Easy to attach to any hiking boots, they are a practical gift that prioritizes safety.
Best Under $50
6. Osprey Daylite Cinch Daypack
Lightweight yet durable, this Osprey Daypack is an ideal accessory for any hiker. It offers ample storage space without being bulky and features a cinch-top closure for easy access to items. Its comfortable design guarantees a pain-free hike, making it a gift that will get plenty of use.
7. Columbia Men's Standard Terminal Tackle Hoodie
This Columbia hoodie offers excellent comfort and protection from the sun or wind. Made from breathable, moisture-wicking fabric, it keeps the wearer cool in hot weather and warm in cold. Its stylish design and functionality make it ideal for rugged outdoor adventures. They offer plenty of storage with various pockets and are made from rip-stop fabric that can withstand the toughest terrains. An all-round fantastic gift for serious hikers.
8. CQR Men's Tactical Pants
Designed with comfort and durability in mind, these CQR tactical pants are ideal for rugged outdoor adventures. They offer plenty of storage with various pockets and are made from rip-stop fabric that can withstand the toughest terrains. An all-round fantastic gift for serious hikers
9. Carhartt Men's W.P. Waterproof Insulated Gloves
These waterproof and insulated gloves from Carhartt are a godsend for hiking in cold, wet conditions. They combine comfort, durability, and dexterity, making them a functional and thoughtful gift for anyone who loves winter hikes.
10. Walks of a Lifetime in America's National Parks Book
More than just a book, our final under $50 pick is a guide to some of the most awe-inspiring walks America has to offer. This beautifully illustrated book provides useful information and stunning photos, sparking a wanderlust that will surely inspire its reader to hit the trails often.
Best Under $100
11. SUUNTO MC-2 Compass
Every hiker needs a reliable navigation tool to serve as a lifeline in the wilderness. With an easy-to-read dial and a sturdy baseplate, the SUUNTO MC-2 compass is an excellent blend of function and design. It's a must-have tool for any serious hiker or camper.
12. Merrell Men's Moab 3 Hiking Shoe
The Merrell Moab 3 hiking shoes deliver comfort, durability, and stability, so we recommend them for any terrain. The high-quality material ensures long-term usage while the excellent arch support ensures comfort on long hikes. It's not just a shoe, it's a foot's best friend.
13. CONQUECO Portable Coffee Machine
Our next pick is a great treat for coffee-loving hikers like us! The Conqueco portable machine allows one to enjoy their favorite brew in the great outdoors. Compact, lightweight and easy to use, it brings a touch of home comfort to any camping trip or hike.
14. GCI Outdoor Kickback Rocker Outdoor Camping Chair
The GCI camping chair is the epitome of relaxation in the great outdoors. Lightweight and portable, it offers the comfort of a rocking chair anywhere. It's perfect for unwinding after a long hike or for lounging around a campfire.
15. TETON Sports Celsius XL 0F Sleeping Bag
Your hiker will find our next gift idea handy for overnight hikes. This Teton Sports sleeping bag promises warm, comfortable nights under the stars. With its soft lining, durable outer shell, and a temperature rating of 0 degrees Fahrenheit, it offers supreme comfort and protection from the elements.
Best Above $100
Now it's time for our premium picks!
16. Casio Men's Pro Trek
More than just a timepiece, this outdoor watch from Casio is an adventurer's toolkit. It includes a digital compass, barometer, altimeter, and thermometer. It's solar-powered, so there's no worry about battery life. This watch is a perfect blend of fashion and functionality.
17. Black Diamond Trail Ergo Cork Trek Walking Poles
The Black Diamond walking poles are ergonomically designed and offer comfort, stability, and support on any terrain. They are lightweight, durable, and feature an adjustable design, making them perfect for hikers of all heights.
 18. Jetboil Flash Camping and Backpacking Stove
Next up, one of our favorites in this list – the Jetboil backpacking stove! Why? Because it's a camp kitchen in compact form! This stove boils water in a flash, making it perfect for quick meals and hot drinks. Easy to use and highly efficient, it's a luxury that any camper will appreciate.
19. Garmin inReach Mini 2 Satellite Communicator
This satellite communicator from Garmin is small, lightweight, and enables two-way text messaging and tracking, providing peace of mind when off the grid. It's a device that offers safety and connectivity, a true essential for any adventurer.
20. Columbia Unisex Newton Ridge 24L Backpack
Last but not least – a 24L backpack from Columbia.
We know, it's almost impossible that your hiker doesn't already have a backpack, but hear us out. 
This is not just any backpack, it's a perfect combo of comfort, space, and durability. It has plenty of pockets for organization, a comfortable back panel and shoulder straps, and is made from water-resistant material. It's the perfect companion for a long hiking trip.
Conclusion
Wrapping up our list, remember it's not about the price tag but the thought that counts. The best gift is one that suits the recipient's personality and enhances their hiking experience. Happy shopping and Merry Christmas!
Last update on 2023-09-07 / Images from Amazon Product API