Our Top Picks
Best Red Dot Sight Under $200
Sig Sauer SOR52001 Romeo5 Red Dot Sight
Offers everything you're looking for in a red dot sight.
Value: 9.5/10
Performance: 9/10
Cost: 9/10
Best Red Dot Sight Under $100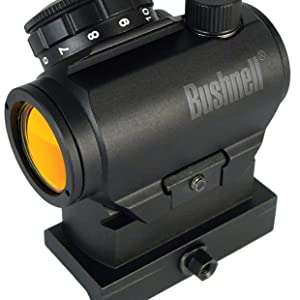 Bushnell Optics TRS-25
You won't believe it only costs a hundred bucks!
Value: 8.5/10
Performance: 8/10
Cost: 8/10
Best Red Dot Sight Under $50
Truglo 30mm Dual-Color Dot Sight
Perfect beginner red dot sight.
Value: 8/10
Performance: 7.5/10
Cost: 8.5/10
If you're looking for a cost-efficient optic that'll help improve your accuracy at close quarters, you're in the right place because this is the last "affordable red dots" article you'll ever need! Let's dive into our picks for the best red dot sights under $200 plus tips on choosing one! 
How We Choose the Best Red Dot Sight Under $200
Lens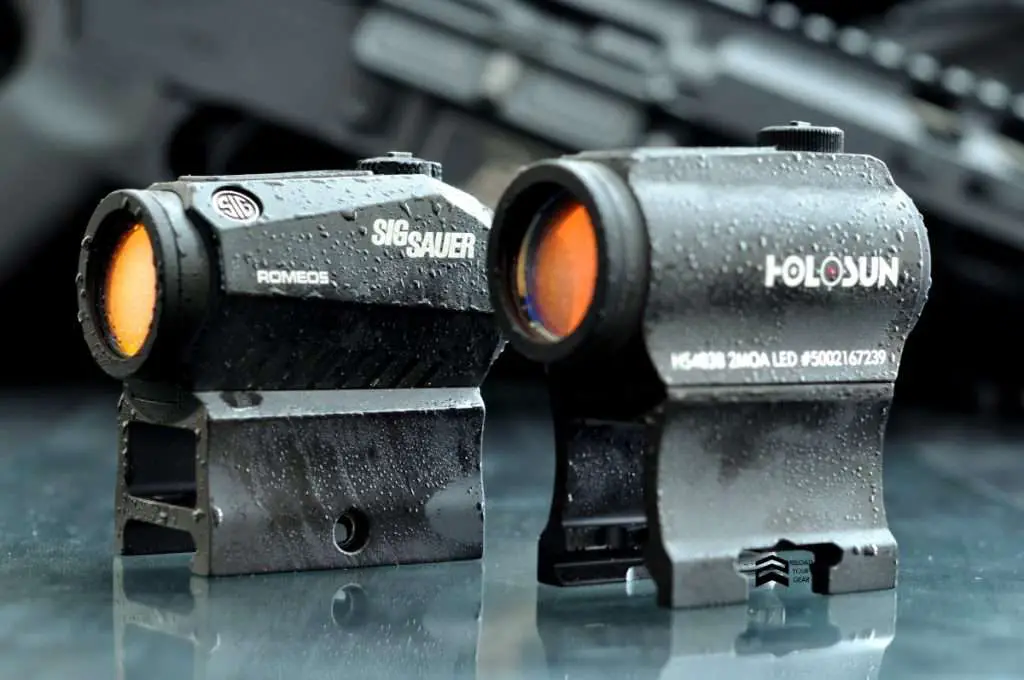 Just 'cause you're not splurging on your red dot, doesn't mean you have to settle for "meh" quality lenses. There are budget-friendly red dot sights out there that have good-quality lenses (just like our recommendations below).
A great lens is fog proof and should be protected with scratch and glare-resistant coatings, in addition to maximum light transmission. The more natural the sight picture, the easier it'll be to focus on the target when aiming your gun.
Dot Size
Choosing the dot size is critical as your accuracy and speed will depend on it. The best size for red dots on rifles is 3 to 6 MOA. 3 dot size is ideal for precision and competition shooting out to mid-range since you can normally crank up the brightness. But if you want fast target acquisition and care less about precision, a 6 MOA dot size will give you the advantage.
Battery
Get a red dot that has a long battery life so it can last a long time even when leaving it on all the time. A red dot sight that turns on when the gun is picked up is ideal for home defense use, so you're always ready for unexpected surprises.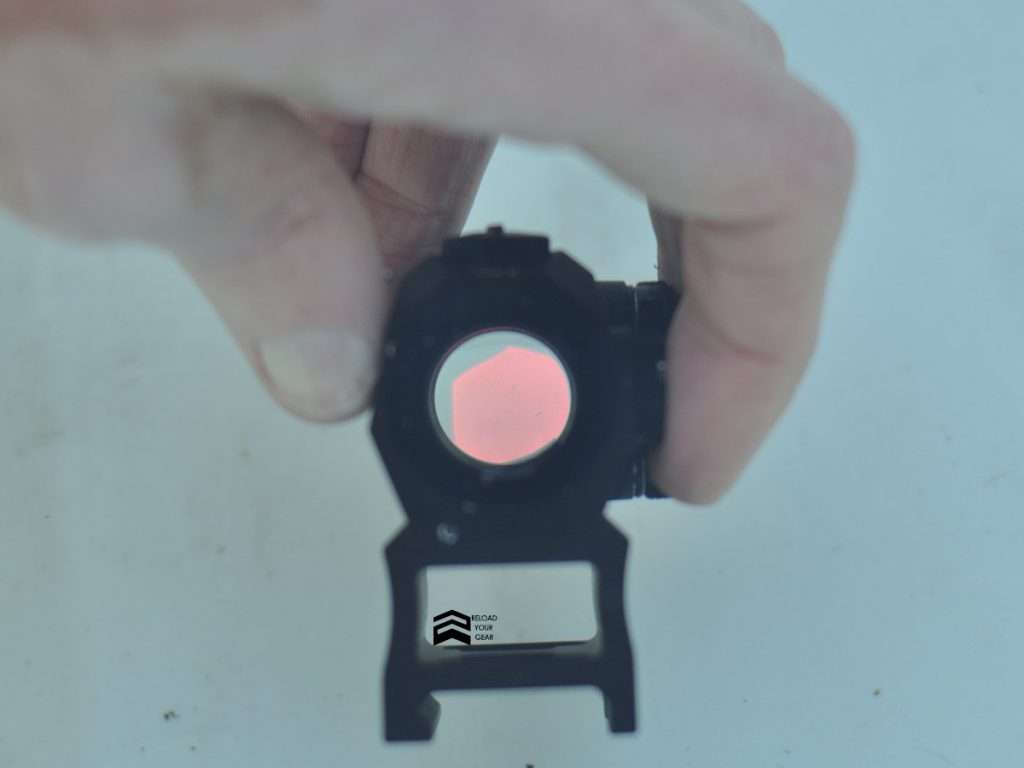 Material Quality, Size, and Weight
A light and well-made red dot sight handles recoil well and stays zeroed easily, staying tightly mounted on your gun even after a thousand rounds. On top of those, it should be able to withstand daily wear and tear.
5 Best Red Dot Sights Under $200
Best Overall: Sig Sauer SOR52001 Romeo5 Red Dot Sight
Sig Sauer Romeo5 1X20mm Tactical Hunting Shooting Durable Waterproof...
ROMEO5 GUN SIGHT - The ROMEO5 1X20mm Red Dot Sight mounts on any platform, and even though it's small, it's tough; The solid, lightweight aluminum design gives peak performance & years of service, so...
2 MOA RED-DOT - For those avid shooters who admire classic red dot reticles on their gun sights, the Romeo5 has 2-MOA Red-Dot, which is also adjustable; It provides 10 illumination settings (8...
MOTAC TECH - The versatile ROMEO5 red dot sight features our Motion Activated Illumination technology; It is developed to increase battery life by shutting down the system when not in use and...
The Sig Sauer Romeo5 is a solid entry-level red dot sight that comes at a very affordable price. 
The Romeo5 is perfect for your home defense rifle or for recreational shooting. However, for this price point, don't expect a perfect product and get ready to compromise on certain features.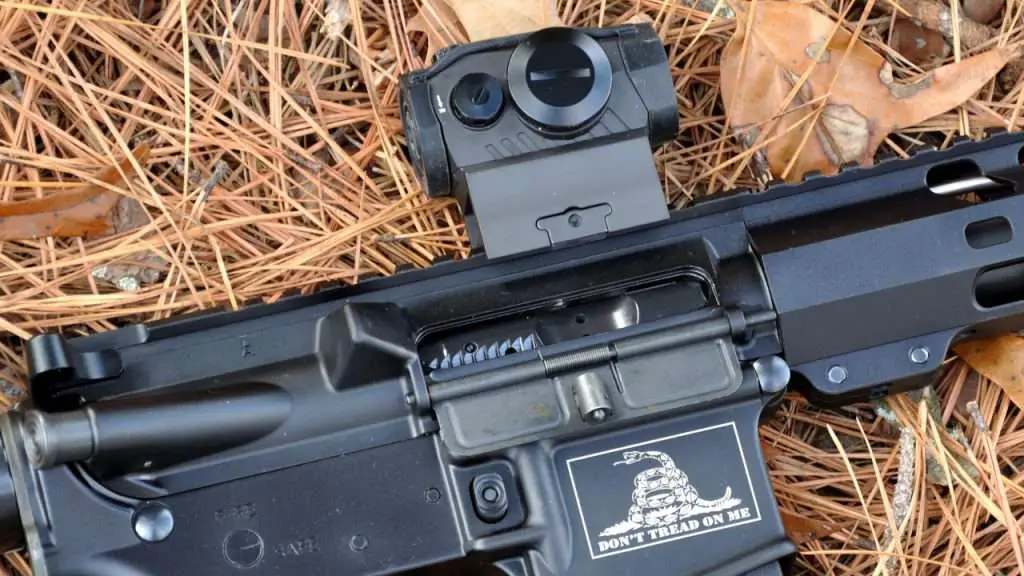 Pros
Night-vision compatible
Affordable
Long battery life
Comes with a motion-activated illumination
Comes with a transferable, lifetime warranty
Cons
There's a bit of distortion at the edge of the optic
Finish gets scraped off easily
Comes with a bulky mount
What Customers Say
Absolutely love this thing! Mounted on my Marlin 1895gs chambered in 45-70 govt with an American Defense T1 quick-release mount. Holds up to the recoil and honestly, I couldn't have picked a better optic and mount. The setup was zeroed in 4 rounds and after that, I felt like I couldn't miss! I keyholed rounds between 50 and 100 yards all day. This sight didn't miss a beat and I will be buying more. I love Sig optics and they have yet to let me down and this one is worth every penny!

Ryan
Love this! I have an EOTech which I love and I have to say this has the quality of EOTech! I put it on my KSG 12 and it holds zero with no problems!

Payne Hardwood
Holosun HS403B Compact Micro Red Dot Optic
HOLOSUN HS403B Red 2 MOA Dot Micro Sight for Rifles - Shake-Awake...
HOLOSUN RED DOT SIGHT - HS403B is a 20mm micro sight designed for rifle and carbine applications; It features Holosun's ultra efficient 650nm Red Super LED with up to 50k hour battery life and 12...
SHAKE AWAKE TECHNOLOGY - Extends battery life by deactivating the optic's LED while not in use; Shake Awake offers settings from 10 minutes to 12 hours depending on the model and can be deactivated...
MULTILAYER REFLECTIVE GLASS - This red dot sight for rifle is manufactured using optical-quality glass lenses with multilayer coatings applied to facilitate maximum light transmission and wear...
The Holosun 403B is a highly recommended red dot by new and experienced shooters alike. It's a cost-efficient red dot that's reliable and holds zero well.
The 403B's fit and finish are comparable with other quality optics of this type. The sight is pretty compact and the glass clarity is good for the price. At first glance, it seems like a great value.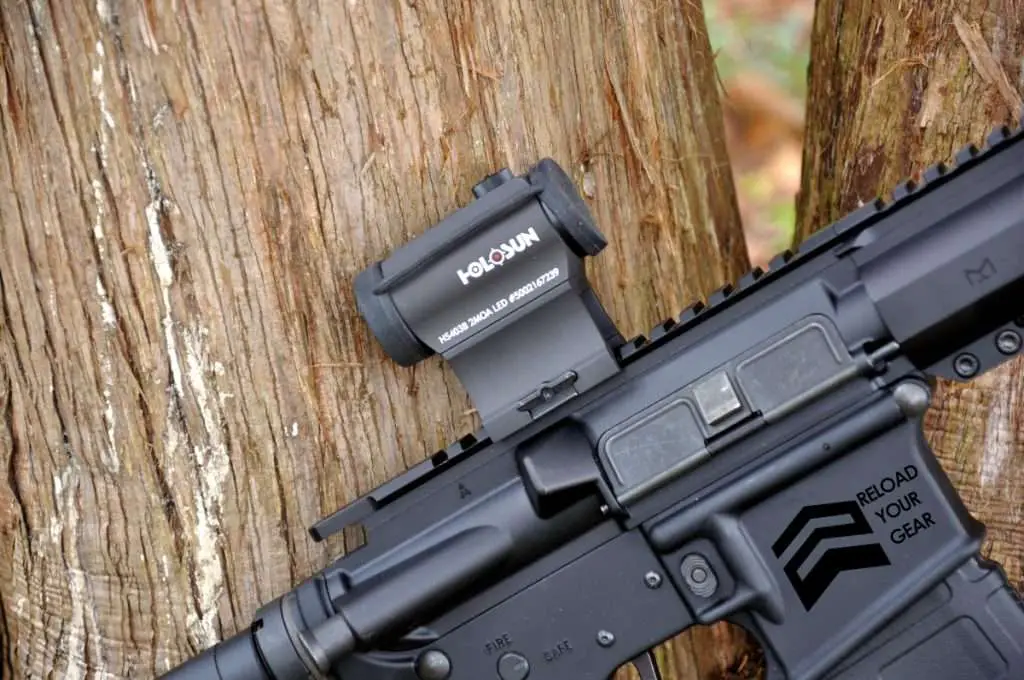 Pros
Comes with a Shake Awake feature
Comes with a limited lifetime warranty
Night-vision compatible
Long battery life (50,000 hours)
Lightweight
Affordable
Cons
Low-quality battery tray
Red reflection visible in some lighting conditions
What Customers Say
Finally got to put in some range time and I am impressed with the Holosun 403B. The height is perfect for my cheek and for the 1/3rd co-witness. For the price, you can't beat it…it functions well and looks good doing it.

Caleb Rowe
A quality, tube-type red dot, with shake awake functionality, at a very affordable price. This is not a heavy-duty, combat unit. But, so far, for my purposes, it's just right. I'll buy more of these.

Sidecar1115
Vortex Sparc AR Red Red Dot Sight
With the SPARC Gen II AR Red Dot, Vortex Optics managed to produce an affordable red dot without compromising quality. 
The SPARC's range is limited to close distances but its 2 MOA reticle definitely increased shooting efficiency and helped us acquire targets quickly. It's constructed from aircraft-grade aluminum so it's shockproof. It's also argon-purged so it's fog proof and waterproof. It holds zero even after getting bumped a few times and its controls are also user-friendly.
Pros
Fully multi-coated optics
Night vision compatible
Shockproof
Comes with a lifetime warranty
Compact and lightweight
Cons
1x magnification
Lens caps are a little distracting
What Customers Say
Great sight. Easy to control the brightness. Very easy to sight in. It survived being dropped several times and still worked. Still stayed in sight. Also love how it takes a regular battery and it's easy to access to change the battery. I highly recommend this sight to anyone with an ar.

Ryan Benjamin
For my first red dot I gotta say, Vortex really left a good first impression. It mounted super easily and stays on tight, holds a zero no problem. The dot is crisp and the auto shutoff feature is honestly really nice since I've forgotten to turn it off a few times. Instantly powers on and feels really sturdy, plus the lifetime no questions asked warranty can't be beat.

Thomas
Best Red Dot Sight Under $100
Bushnell Optics TRS-25
Sale
Bushnell TRS125 1x25mm Red Dot Reflex Sight, 3 MOA Dot with Spacer and...
[THE TRS-125] red dot sight builds on its predecessor with digital push-button control, user-selectable 12hr timer and over 15,000hrs of battery life. An IPX7 ingress rated monolithic main housing and...
[3 MOA POINT-SOURCE LED] The TRS-125 uses a point-source RCLED system for projecting the 3 MOA dot onto the glass. Older systems use a mask over an LED that acts like a small flood lamp. This wastes...
[PURPOSE BUILT] with long lasting battery life with over 15,000 hrs and IPX7 durable aluminum construction with removable high-rise spacer.
The Bushnell Optics TRS-25 offers excellent light transmission and glare reduction. Its adjustment knobs come with thick and durable water gaskets. These knobs are also tight enough and hold well even after doing a lot of heavy shooting.
Its 3 MOA red dot reticle features 10 adjustable brightness settings that let you acquire targets quickly and save your battery by setting the illumination to low.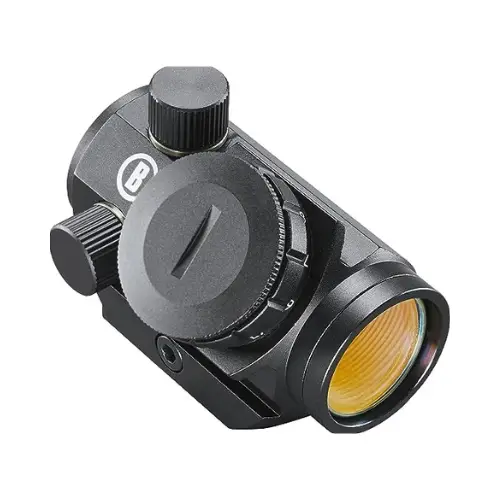 The TRS-25 is also ready-to-mount on most Picatinny rails and it comes in a precision-engineered housing that can survive daily abuse and harsh environments.
Pros
Waterproof, fog proof, shockproof
Lightweight
Affordable
What Customers Say
I've run these on several different rifles. Never had a single issue with one. They keep zero, hold up well to the recoil of even 30 cal rifles, aren't affected by rain, and stay solid on the gun. I like the variable red dot brightness and ease of adjustments. This is like a poor man's Aimpoint. I'd go so far as to say that if you're on a budget, I'd even be willing to put it on a combat or duty rifle. Mine have held up through thousands of rounds, several rifle courses, and many competitions. Well worth the money and weight. Highly recommended. I am comfortable staking my life on this product.

John Scout
This red dot seems to be very well made, and it was super easy to install. I went to the range this past weekend, and it was super easy to get zeroed in, and it stayed accurate after shooting a box of 20 rounds. I used a boresighter as well, so I did not put any more money downrange than I needed to. I used about 5 rounds after using the boresighter to get it zeroed, and the rest was just for fun. I do wish it had an auto-off feature though. Just make sure you turn it off after use, do not allow the battery to drain. I also recommend getting a riser mount for your sight. It raises the sight enough to make it comfortable to see through. It was hard to use without this riser. You can see the riser in the picture.

BuggedOut
Best Red Dot Sight Under $50
Truglo 30mm Dual-Color Dot Sight
The Truglo 30mm Dual-Color Dot sight features a 5 MOA reticle (with dual-color illumination) so you can acquire targets quickly. It also comes with an adjustable rheostat that's designed for easy brightness control.
This Truglo red dot sight is constructed with an anti-reflective interior so stray light is eliminated from the inside of the optic.
Pros
Affordable
Shock-resistant, waterproof, and fog proof
Multi-coated lenses
Comes with a lifetime limited warranty
What Customers Say
These are larger than a standard red dot. Twice the size. But it's High quality and will work with a shotgun through 7.62×39 without losing. Zero. It also has a huge site picture which is great for sighting where the round stopped.

Scope Man
Really impressed with the quality of the scope for the price you pay 👌 bright red and green dot and good quality glass.

Alex
Conclusion
That's all folks! Now you can experience unlimited eye relief, wider field of view, increased accuracy, and faster target acquisition without breaking the bank! 
Last update on 2023-11-17 / Images from Amazon Product API