Best Overall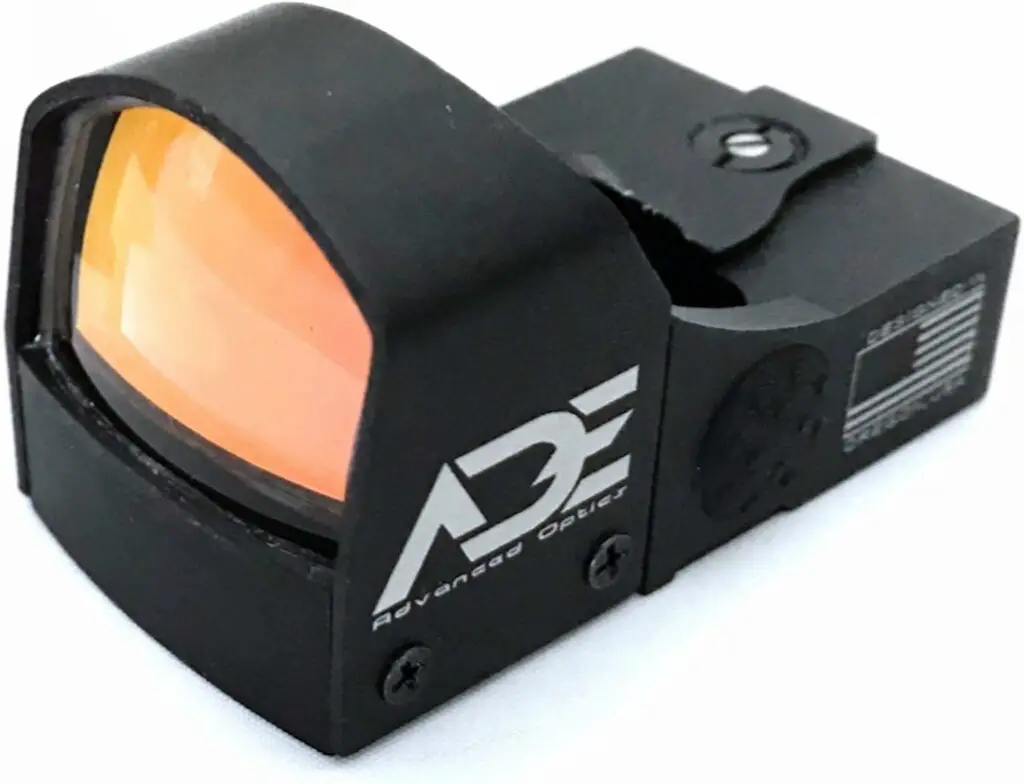 ADE Advanced Optics RD3-009-2
Built to handle any shooting challenge, thanks to its durable construction.
Reticle: 8/10
Battery Life: 8/10
Cost: 9/10
Check Price
Best on a Budget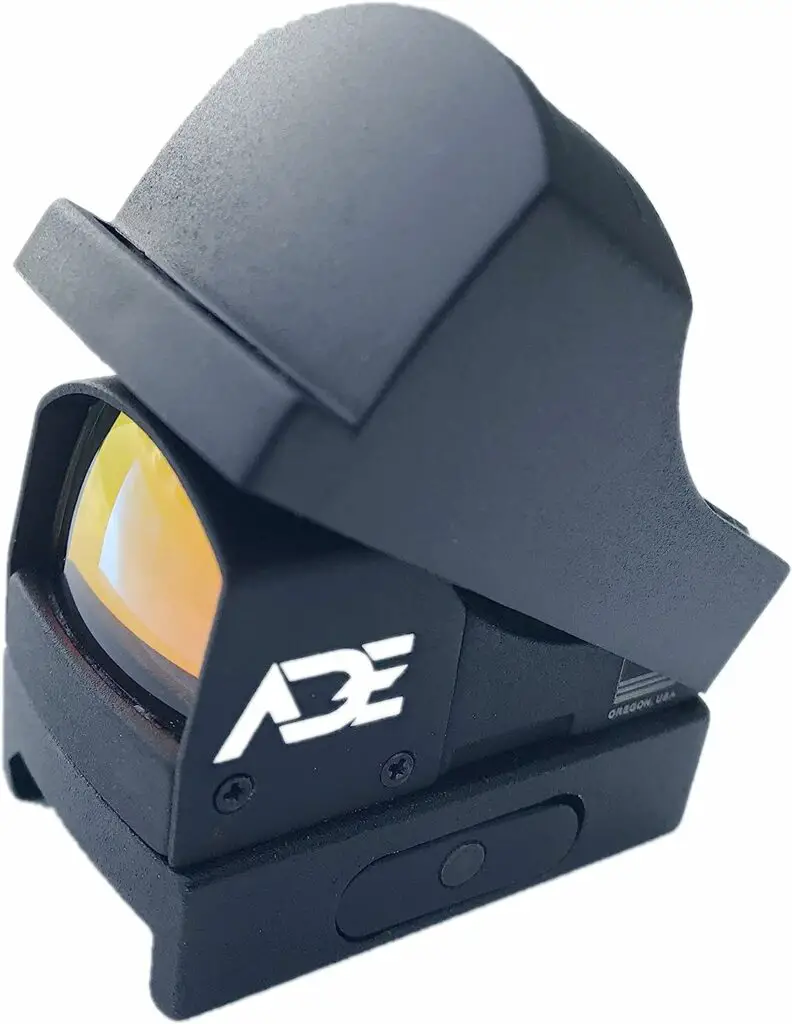 ADE Advanced Optics RD3-002
Enhances your aim without emptying your wallet.
Reticle: 7/10
Battery Life: 7/10
Cost: 10/10
Check Price
Best with Night Vision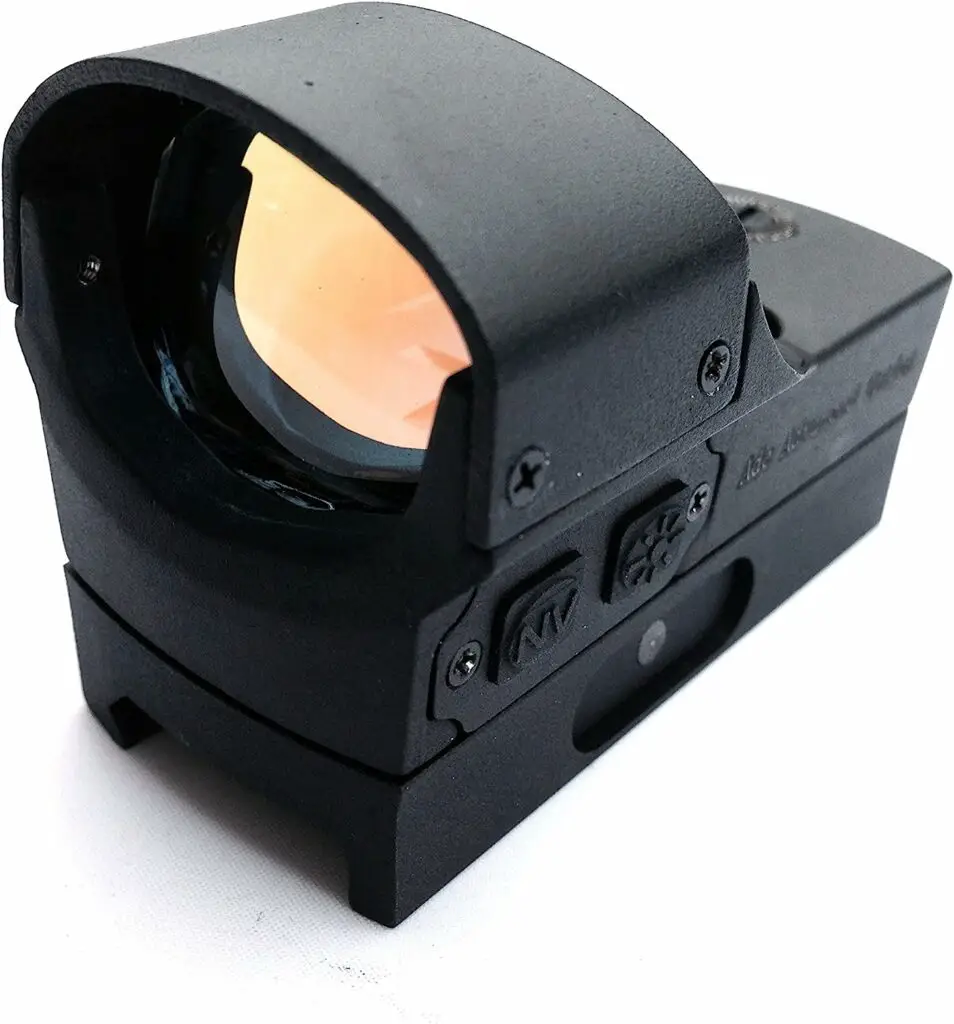 ADE Advanced Optics RD3-011-1
When the sun sets, this red dot shines.
Reticle: 7.5/10
Battery Life: 6/10
Cost: 8/10
Check Price
If you're on the fence about investing in an ADE red dot sight, you've landed in the perfect spot. In this article, we'll explore the world of ADE Advanced Optics and answer the burning question: Do they live up to the hype? We'll explore their durability, performance, and value for money to help you make an informed decision. Get ready to discover the truth behind ADE red dots and find out if they're worth the money. Let's get to it!
How We Chose the Best ADE Red Dots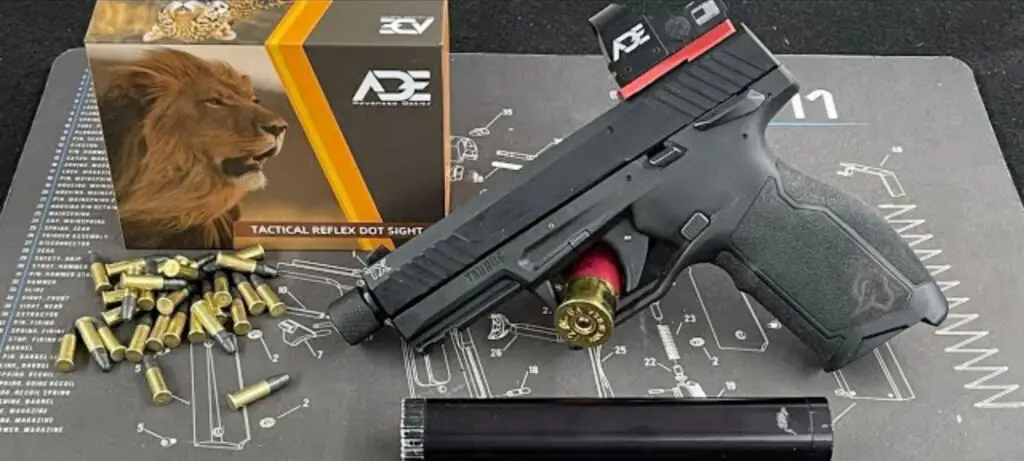 We didn't leave any stone unturned when selecting the best ADE red dots. Here are the key factors we considered:
Durability
The best red dot sight must withstand the harshest conditions. Consider the ruggedness of each ADE optic to ensure they can handle intense shooting sessions without skipping a beat.
You assume that at this price point, you give up some durability. But, is it acceptable?
Lens Clarity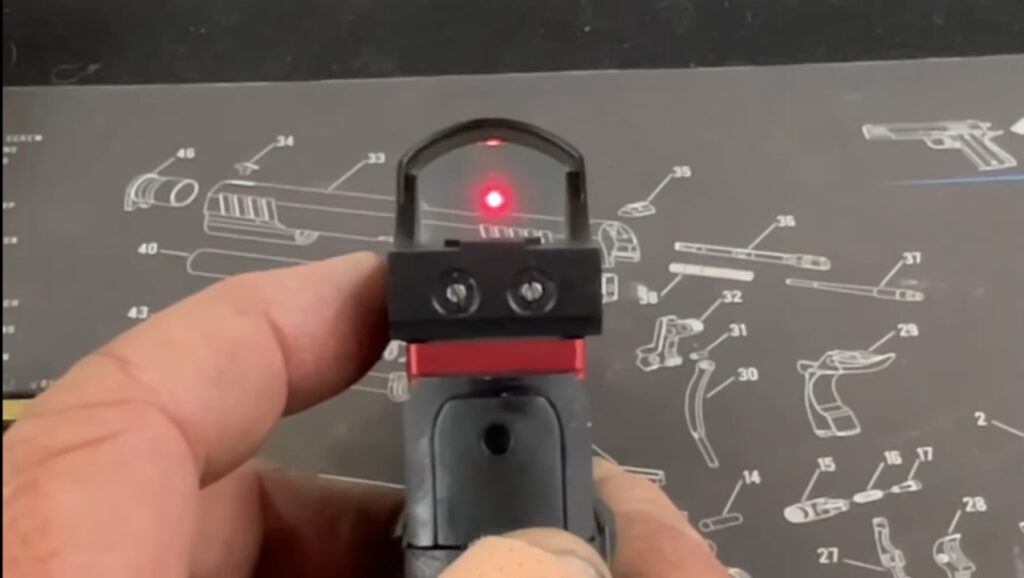 Crystal-clear vision is paramount when it comes to aiming. Get a red dot that offers sharp and distortion-free images, even in challenging environments.
Weight & Size
No one wants a clunky and heavy optic that hampers their maneuverability. We picked ADE red dots that strike the perfect balance between lightweight design and durability, ensuring ease of use without compromising performance.
And, you want a sight with a housing that's only as big as necessary to protect the electronics and optics. That way, you keep your field of view wide open for target acquisition.
Installation
We know the importance of hassle-free setup. We looked for ADE red dots that are user-friendly and easy to install, saving you time and frustration when mounting them onto your firearm.
It's even better if they mount without an adapter or cowitness with existing sights automatically.
Price
Value for money matters! We considered the affordability of each ADE red dot without compromising on quality. Rest assured, we've got options for every budget.
5 Best ADE Red Dots
Best Overall: ADE Advanced Optics RD3-009-2
The RD3-009-2 red dot takes the top spot for its performance, durability, and ease of use. This red dot sight is built to handle any shooting challenge, thanks to its durable construction. It can withstand rigorous shooting conditions without compromising performance.
With excellent lens clarity and multiple brightness settings, it adapts well to various environments, ensuring optimal visibility. Mounting this red dot is also a breeze, thanks to its user-friendly design and straightforward installation process. The RD3-009-2 is suitable for a wide range of firearms, from handguns to rifles, making it a versatile choice for shooters.
However, since it's a budget optic, the RD3-009-2 tends to fail after a few hundred rounds, based on customer experience.
Pros
Versatile
Easy to install
Sturdy build
Consistent and accurate
Clear lenses
Cons
Not night vision compatible
What Customers Say
The best $50 I ever spent on a sight.

G.J Smith
Really surprised at the quality and ease of install.

Amazon Customer
Best on a Budget: ADE Advanced Optics RD3-002
Don't let the affordable price tag fool you! It may not offer the bells and whistles of higher-end models, but it offers reliable accuracy, making it a perfect choice for shooters looking to enhance their aim without breaking the bank. This red dot sight is also compact and lightweight, enhancing maneuverability and ease of use.
However, the RD3-002 lacks some advanced features found in higher-end models, such as adjustable brightness settings or night vision compatibility. And while it performs well under normal shooting conditions, it may not withstand extremely rugged environments or intense recoil.
Pros
Affordable
Decent battery life
Compact and lightweight
Compatible with pistols, rifles, and shotgun
Cons
Difficult to install
Durability concerns
No adjustable brightness settings
No night vision compatibility
What Customers Say
This red dot is a good cheap alternative for an experienced shooter and only for softer calibers.

Damon W.
Great value for the money. I do not recommend for any larger calibers or shotguns.

Ryan
Best with Night Vision: ADE Advanced Optics RD3-011-1
When the sun sets, this red dot shines! Equipped with night vision compatibility, it ensures your aim remains spot-on even in the darkest of conditions. The RD3-011-1 features straightforward adjustments for windage and elevation, enabling shooters to quickly zero their sights. This red dot also offers precise aiming, allowing shooters to consistently hit their targets, even in challenging lighting situations. The RD3-011-1 is built to withstand demanding shooting environments, ensuring long-lasting durability.
I can't imagine someone paying thousands for night vision googles and then only having a $100 red dot budget, but hey, maybe that happens occasionally.
Unfortunately, this sight may require more frequent battery changes, especially when used extensively with night vision enabled.
Pros
Night vision compatible
Robust construction
Easy windage and elevation adjustments
Clear and crisp sight picture
Adjustable brightness
Versatile Mounting Options
Cons
Costs more than most ADE red dots
Short battery life
What Customers Say
I put this optic on my Marlin 35 Remington lever action. It is a perfect setup and just right what I wanted it for. Not too bulky but just right.

Kelley Whitehead
Really happy with the sight. Looks amazing on my Sig MCX. Easy to install and red dot is really clear.

JoelG
ADE RD3-009-MOS Red Dot Reflex Sight
Specifically designed for MOS pistols, RD3-009-MOS red dot brings enhanced precision and quick target acquisition to your favorite handgun. It boasts a durable build quality, ensuring reliable performance even in demanding shooting conditions. It's also straightforward to install, with a user-friendly design that saves time and hassle during the mounting process. While the sight's battery life is decent, extended use may require more frequent replacements.
Pros
Accurate
Compact and lightweight
Easy installation
Sturdy construction
Cons
Only compatible with handguns
Short battery life
Not night vision compatible
Lack of adjustable brightness settings
What Customers Say
This sight holds settings and works great with the DPP titanium mount. Best sight for the money.

Mike P. Indidna
I appreciate its small size on a compact conceal carry gun. Looks well made and rugged.

Jeffrey Pavacic
ADE Advanced Optics RD3-018-SC Spike Micro Red Dot Sight for Springfield Hellcat
Made for the popular Springfield Hellcat pistol, this micro red dot delivers exceptional accuracy in a compact package. Its sleek design and unmatched reliability make it an excellent choice for concealed carry and close-quarter shooting. This red dot's lens clarity provides a clear and crisp sight picture, ensuring optimal target acquisition. It also allows for easy windage and elevation adjustments, enabling shooters to zero their sights with precision.
The RD3-018-SC is designed for user-friendly installation and features a compact design that adds minimal weight and bulk to your gun. 
However, this red dot is only compatible with Sig P365XL/X, Springfield Hellcat OSP, and Canik TP9 Elite SC.
Pros
Easy windage and elevation adjustments
Compact and lightweight
Excellent lens clarity
Sturdy construction
Easy installation
Cons
Limited compatibility
Short battery life
What Customers Say
Very easy to install on a Hellcat. All said and done, it functions well so far and the price can't be beat.

Vegas
Perfect fit on the Hellcat. I used the screws that were included. Easy to zero and after 50 shots it stayed tight and zeroed. I hope it last a long time.

Knife collector
Our Key Takeaways
Choosing the perfect ADE red dot can be a game-changer for your shooting adventures. Consider your needs, preferences, and budget when making your selection. Whether you opt for the best overall performer, a budget-friendly option, or a red dot with specialized features like night vision compatibility, ADE has you covered. Remember, practice makes perfect, and with the right optic by your side, you'll be hitting bullseyes like never before.
Last update on 2023-09-03 / Images from Amazon Product API