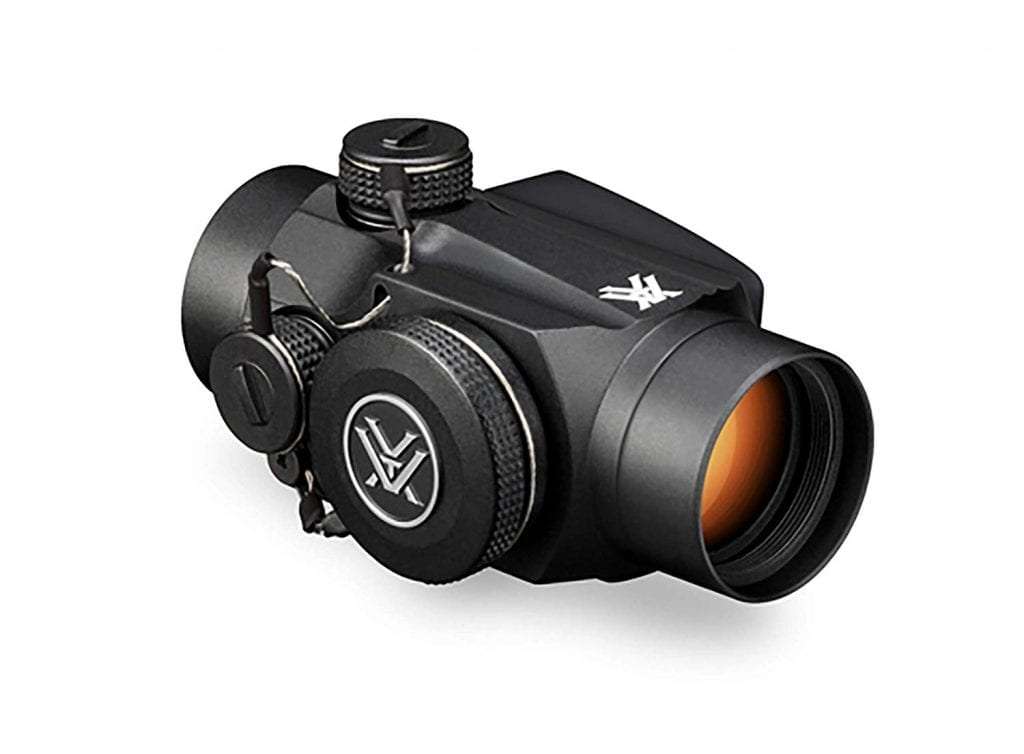 Vortex SPARC Gen II Red Dot Sight
The SPARC Gen II is perfect for engaging targets at close quarters.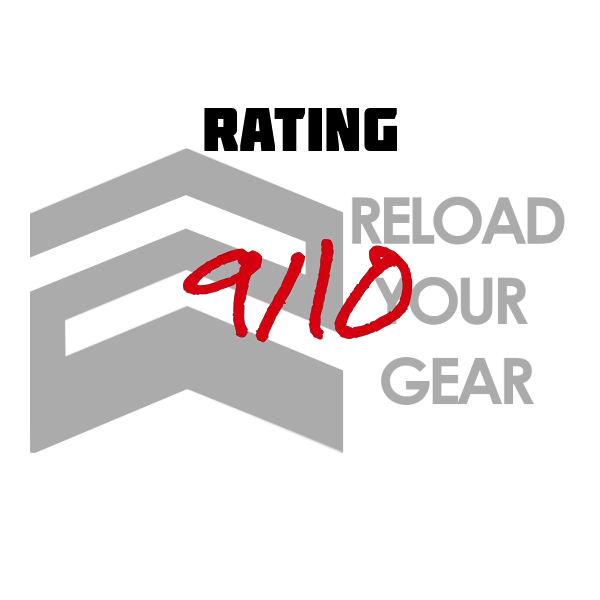 SPARC stands for Speed Point Aiming for Rapid Combat. But does this optic live up to its name? Find out in our Vortex SPARC AR Red Dot review below.
Bottomline
The SPARC Gen II is one of Vortex's most reasonably priced red dot sights that offer fast target acquisition at short distances, among its other features. This reliable optic is an all-purpose red dot for ARs and shotguns.
Pros​
Fully multi-coated optics
Night vision compatible
Shockproof
Comes with a lifetime warranty
Compact and lightweight
Cons
1x magnification
Lens caps are a little distracting
Here's a video of our hands-on review:
What Customers Say​
Great sight. Easy to control the brightness. Very easy to sight in. It survived being dropped several times and still worked. Still stayed in sight. Also love how it takes a regular battery and it's easy to access to change the battery. I highly recommend this sight to anyone with an ar.

Ryan Benjamin
For my first red dot I gotta say, Vortex really left a good first impression. It mounted super easily and stays on tight, holds a zero no problem. The dot is crisp and the auto shutoff feature is honestly really nice since I've forgotten to turn it off a few times. Instantly powers on and feels really sturdy, plus the lifetime no questions asked warranty can't be beat.

Thomas
Better for the Money: Holosun HS403B Compact Micro Red Dot
The Holosun 403b comes in an all-metal construction and can accommodate several mounting options. It's made from 6061 T6 Aluminum and comes with a protective rubber cover included in the box.
The fit and finish are comparable with other quality optics of this type. The sight is pretty compact and the glass clarity is good for the price. At first glance, it seems like a great value.
In our hands-on review of the Holosun 403b, it really impressed for a value optic.
Pros
Comes with a Shake Awake feature
Comes with a limited lifetime warranty
Night-vision compatible
Long battery life (50,000 hours)
Lightweight
Affordable
Cons
Low-quality battery tray
Red reflection visible in some lighting conditions
What Customers Say
Finally got to put in some range time and I am impressed with the Holosun 403B. The height is perfect for my cheek and for the 1/3rd co-witness. For the price, you can't beat it…it functions well and looks good doing it.

Caleb Rowe
A quality, tube-type red dot, with shake awake functionality, at a very affordable price. The small, 2 MOA dot doesn't completely cover the target at carbine distances and doesn't completely blow out with my astigmatism. Good range of illumination levels. The sight does not have to be removed from the weapon for battery changes, although there is a small tray that will require a screwdriver. This is not a heavy-duty, combat unit. But, so far, for my purposes, it's just right. I'll buy more of these.

Sidecar1115
Better Performance: Aimpoint PRO Red Dot Reflex Sight
The Aimpoint Patrol Rifle Optic (PRO) features an efficient circuit that lets you leave the power on for as long as three years.
Its premium housing provides increased protection against impact damage and scratches to the lenses. Its optical system also features reflex collimator technology with a LED dot for quicker acquisition.
Description
Pros
Long battery life
Night vision compatible
Easy battery replacement
Cons
Lack of a brightness adjustment feature
What Customers Say
One of the best red dots on the market for this price. The mount is high quality and was able to co-witness on my Vltor CASV handguard (the one that dog legs onto the upper receiver), by removing the spacer. The lowest settings can really be fine-tuned for use with NV, and the 4 upper settings should get you through most lighting situations. It's an awesome value.

Chad J. Sullivan
Great red dot optic. Took it to the range last weekend and got it sighted in. Performed extremely well and was able to get it on bulls-eye in no time with a laser bore sight. Very good clarity on the glass with a slight blue tint. Very precise shooter with the dot tuned down to very visible. But the test of time is the only true test on these optics. We'll see how well it holds up over the course of a year and a thousand rounds or so.

Angry Old Man
Specifications​
Magnification: 1x
Objective Lens Diameter: 22 mm
Reticle: 2 MOA Dot
Adjustment Graduation: 1 MOA
Parallax Setting: Parallax Free
Max Windage Adjustment: 90 MOA
Max Elevation Adjustment: 90 MOA
Dot Color: Bright Red
Dot Size: 2 MOA
Mount Type:Multi-Height
Eye Relief: Unlimited
Length: 2.9 inches
Weight: 7.5 oz
Material: Aluminum
Power Source: AAA batteries
First Impressions: Vortex SPARC AR Red Dot
We loved shooting the Vortex SPARC Gen II during the day because of its exceptional daytime visibility. But this reliable red dot has more to offer as it also has two settings for night vision.
Vortex Sparc AR Red Dot Features
Night Vision Compatibility
For its price point, having night vision-compatible settings is a great bargain. With the Vortex SPARC Gen II, you'll get the functions of a crystal-clear red dot during the day and a night vision device at night. This extends your shooting time from dusk to dawn! This feature also makes the SPARC Gen II perfect for your home defense firearm for those that like spending up for NV gear and the capability it brings.
Multi-Height Mount System
The SPARC Gen II comes with a multi-height mount system. This feature is what makes this red dot versatile because the mount's height can be adjusted to fit almost any platform – from ARs to shotguns.
Easy Access Battery Compartment
Changing batteries won't be a problem in the middle of a target practice or a hunting expedition because the SPARC's battery compartment offers quick and easy access, so your red dot sight will be up and running in no time! Not that you'd need to change batteries often though, because the SPARC Gen II has 50,000 hours of battery life (when at middle setting).
Very Important Promise (VIP) Warranty
One of the best things about Vortex optics is the lifetime "no questions asked" warranty. This means Vortex Optics will either repair or, if damaged beyond repair, replace your optic – no matter how it got broken, who broke it, or if you just received a defective unit. How sweet is that?! This just proves that Vortex believes in their products' durability. 
Vortex SPARC Gen II Score Card
| | | |
| --- | --- | --- |
| Features | This optic is packed with features that you can mostly find in pricier red dots out there. | 5 |
| Reliability | We didn't expect much from the SPARC's performance because of its price, but we were taken by surprise by this optic's reliability at the range. It holds zero even after getting bumped a few times and its controls are also user-friendly. | 4.5 |
| Build & Finish | The SPARC is constructed from aircraft-grade aluminum so it's shockproof. It's also argon-purged so it's fog proof and waterproof | 4 |
| Accuracy | The SPARC's range is limited to close distances but its 2 MOA reticle definitely increased shooting efficiency and helped us acquire targets quickly. | 4 |
| Value | With the SPARC, Vortex Optics managed to produce an affordable red dot without compromising quality.  | 5 |
| Overall | Despite its minor downsides, the SPARC Gen II is more than enough for your regular visit to the range or for your home defense firearm. | 4.5 |
Conclusion​
The SPARC is an affordable red dot sight that's as tough as nails and goes perfectly with any platform, even the powerful ones.
Last update on 2023-11-15 / Images from Amazon Product API