Best Overall .338 Lapua Rifle
Ruger Precision .338
Delivers increased performance without breaking the bank.
Value: 9/10
Performance: 9.5/10
Cost: 9/10
Best Budget .338 Lapua Rifle

Savage Arms 112 Magnum Target 338 Lapua
Perfect for beginners in the long-range game.
Value: 9.5/10
Performance: 8/10
Cost: 9/10
Best Premium .338 Lapua Rifle
Accuracy International AXMC 338 LM
Premium rifle that's worth every penny.
Value: 8/10
Performance: 9/10
Cost: 7/10
Planning to get into the long-range game with the .338 Lapua Magnum? Excellent choice! But we know choosing the best .338 Lapua rifle is a big decision, so we created this guide for you!
Features to Consider + How We Choose
Like what we do in most of our gun reviews, we list down the factors that matter most in the decision-making process. 
Customization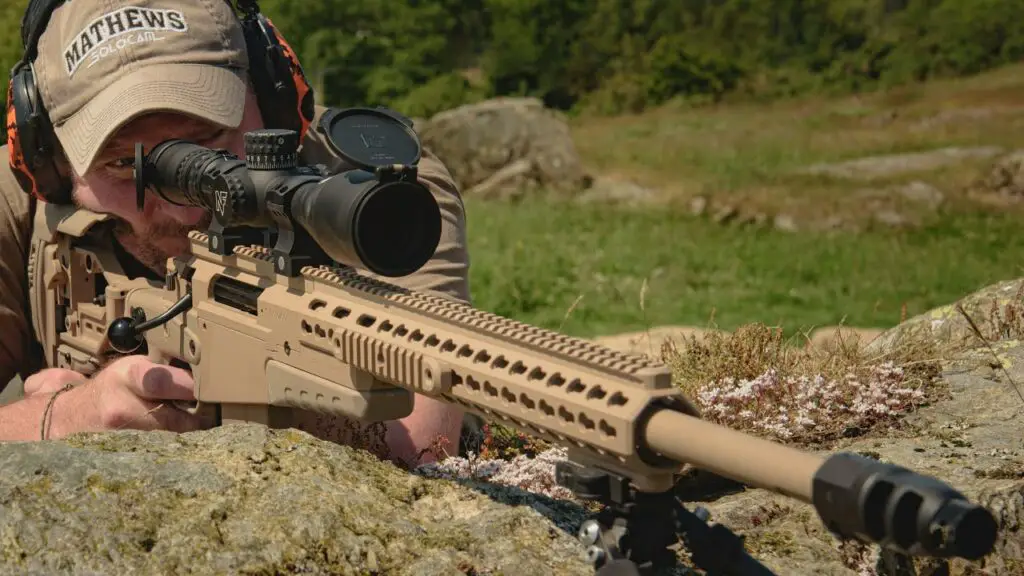 You want your .338 Lapua rifle ready for customizations. Like if you want to upgrade the stock or replace the trigger, or mount accessories. It would also be great if your gun has strong aftermarket support for when you want to purchase extra mags and other accessories.
Accuracy
A lot of features contribute to a long-range rifle's accuracy. One of which is the barrel, so choosing the right barrel length and a twist rate to fit your shooting is critical. 
Twist Rate
Your barrel's twist rate should be able to stabilize your bullets at all of the ranges you expect to engage targets. The twist rate indicates how much a bullet will spin for every full rifling rotation. 
Light bullets perform better with 1:8 twist rates, while heavier ones perform excellently with 1:10 twist rates. Since the .338 Lapua Magnum is a powerful cartridge and is mostly available in 200-gr to 300-gr bullets, a 1:9 and 1:10 twists are more effective.
Barrel Length
Another big contributor to your rifle's performance is the barrel length. Longer barrels are more accurate and have greater bullet velocity. But a longer barrel means you'd have difficulty maneuvering your rifle due to extra length and weight, especially if you have short arms or while hunting under tight conditions.
Trigger
Trigger control also plays a big role in getting the most accuracy out of your .338 Lapua rifle. A reliable trigger should break cleanly and not have any creep before it releases. After the release, your trigger should not have excessive backward movement or "overtravel." Too much overtravel will have a negative effect on follow-up shots for automatic actions. Adjustability is also a great pro on a trigger as it allows you to set your preferred pull weight.
Reliability
Will you know from first glance if a rifle is reliable? You won't until you're shooting it! But getting a rifle from a well-known and trusted manufacturer won't disappoint. If it's your first time, you can ask for suggestions from friends who have shooting experience. You can also check our recommendations below, because we picked only the most reliable .338 Lapua rifles.
Weight
The rifle's weight helps in recoil mitigation. But it can also become a disadvantage during transport or if you need to run around while carrying your rifle.
5 Best 338 Lapua Rifles
Best Overall .338 Lapua Rifle: Ruger Precision .338
The Ruger Precision .338 rifle is a pleasure to shoot because of its manageable recoil (thanks to its soft rubber buttpad). It also comes at a reasonable price so you won't have to spend a fortune to get a reliable bolt-action rifle for large magnums. Its barrel features a 5R rifling and is made from chrome-moly steel that's been cold hammer-forged so you can expect top-shelf performance. Another feature that contributes greatly to this rifle's accuracy is the in-line recoil path that manages recoil from the receiver's rear to the buttstock.
Pros
Accurate
Adjustable trigger
Three-lug bolt setup
Ambidextrous safety selector
Magpul MLOK compatible
Free-floating handguard
What Customers Say
Great accuracy, looks good, not too heavy but enough weight to absorb considerable amount of the recoil of this beast caliber.

Turbo
Great for the price, would buy again.

Vaughn R.
Best Budget .338 Lapua Rifle: Savage Arms 112 Magnum Target 338 Lapua

The Savage Arms 112 Magnum Target .338 Lapua rifle features a user-adjustable AccuTrigger, a barrel that's constructed from button-rifled carbon steel with a matte black finish, and a gray laminated wood stock. Its magazine only has a one-round capacity but that's what makes this rifle so lightweight! 
Pros
Affordable (MSRP: $1300)
Lightweight (12.05 lbs)
Oversized bolt handle
Adjustable trigger
What Customers Say
Very solid gun. Great grouping out to 600yards. Smooth bolt functioning. Will take a box or two to break in properly.

Tripp
Best Premium .338 Lapua Rifle: Accuracy International AXMC 338 LM
This .338 rifle from Accuracy International (AI) lives up to the manufacturer's name. Its five-digit price tag is totally worth it once you experience its superior accuracy. 
The AI AXMC 338 LM rifle features a 6-lug, 60-degree bolt that comes with a combat-proven leaf spring extractor. It also takes pride in its 27″ stainless steel Quicklock match-grade barrel. It also features the two-stage trigger that AI is really famous for. 
The best thing about this rifle is its .338 Lapua Mag magazine that can be converted to .300 Win Mag or .308 Win in by simply changing the barrel, bolt and magazine/insert. This side cut away magazine also ensures swift mag changes.
Pros
Very accurate
Compact multi-caliber magazine
Configurable pistol grip
Full-length top rail
Cons
Very expensive
Difficult to maneuver in small spaces
What Customers Say
I have been shooting ASR since the deployment kit came out. It's awesome.

CoreQ
Savage Arms 110BA Stealth 338 Lapua

The 110BA Stealth's FAB Defense 6-position shock absorbing stock comes in an aluminum modular design. It has an adjustable length of pull and cheek weld height for superior comfort and stability while firing.
This rifle offers durability and weight reduction because of its monolithic billet aluminum chassis. Repeatable accuracy is also guaranteed as its free-floating button-rifled carbon steel barrel is constructed with tight tolerances.
Pros
Lightweight (11.1 lbs)
Reasonable price (MSRP: $1622)
Adjustable trigger
Cons
Groups are not that tight
What Customers Say
Impressive Performance. 1/2″ Groups Consistent!

Chevymac
A great gun for long range shooting I love it worth the money.

Alicia N.
Barrett MRAD Rifle .338
The Barett MRAD .338 is one of the most accurate you will ever shoot (should you pick it). It's a little pricey, but if it's good enough for SOCOM, it should suit your needs too. Unfortunately, it's really heavy at 14.5 lbs.
That's not all! The Barett MRAD is also compatible with multiple calibers, from 6.5 Creedmoor up to 338 Lapua, and its design makes switching between calibers a breeze! You can also easily adjust the folding buttstock to your preferred length and height.
Pros
Very accurate
Full-length rail
Multi-caliber
Integrated 20 MOA base
What Customers Say
The .338 performed beautifully in the MRAD.

Mylocalgunshop
Sweet rifle. Very accurate.

Mcbrand06
FAQs
What 338 Lapua rifle does the military use?
One of the 338 Lapua rifles used by the military, the Navy SEALs, in particular, is the McMillan TAC-338. One of our picks below, the Barett MRAD, also has the features of a military-grade sniper rifle.
What is the max effective range of a 338 Lapua?
The .338 Lapua has a max effective range of 1910 yards.
Conclusion
There you have it! Once you break in your .338 Lapua rifle, we know you'll have as much fun as we do when shooting this beast caliber. Enjoy!