Best Overall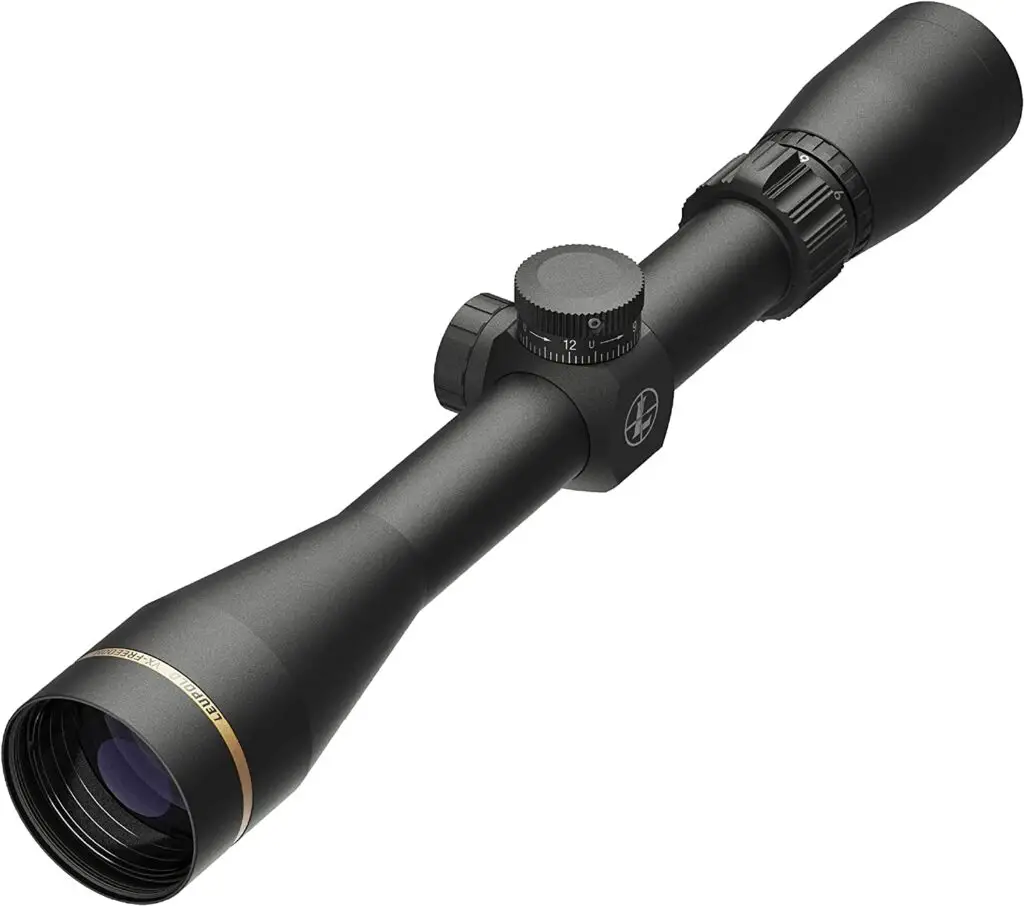 Leupold VX-Freedom 3-9x40mm
High-quality and versatile optic.
Value: 9.5/10
Performance: 9/10
Cost: 9/10
Check Price
Best Red Dot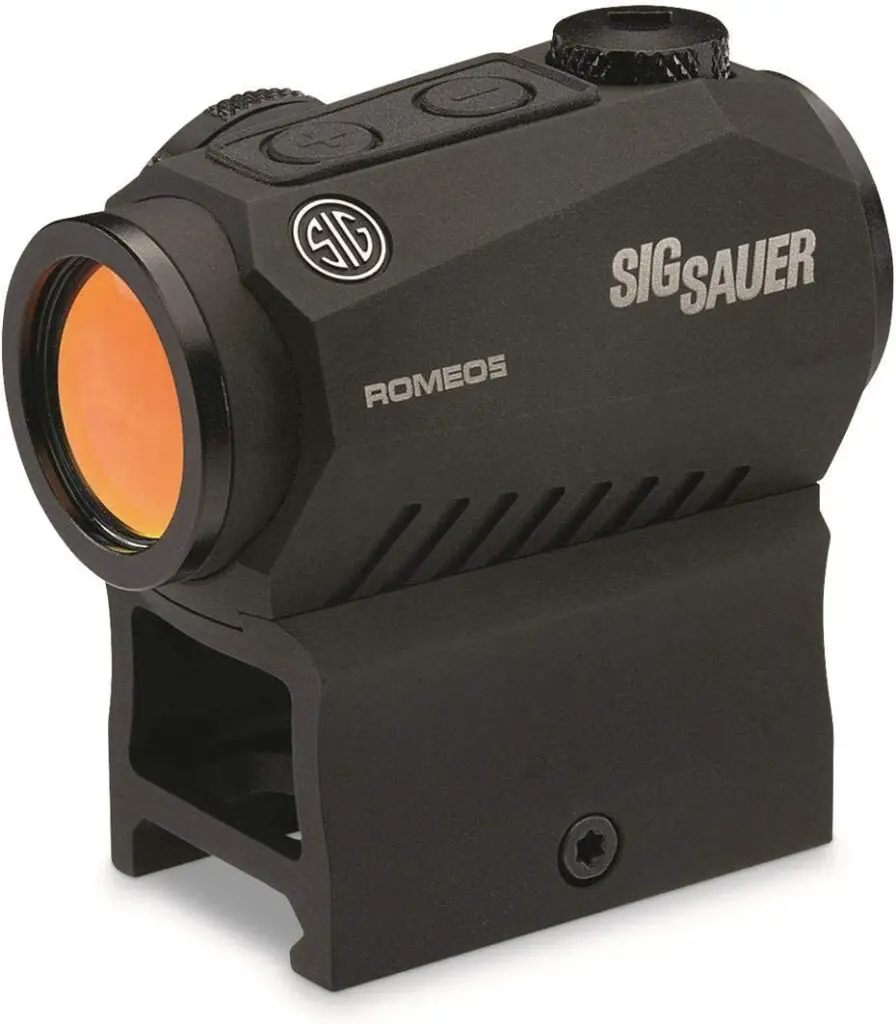 Sig Sauer Romeo5 Red Dot
Offers rapid target acquisition, long battery life, and durable construction.
Value: 8/10
Performance: 8/10
Cost: 9/10
Check Price
Best Value
Bushnell Banner 3-9x40mm Riflescope
Budget-friendly yet feature-rich optic.
Value: 9/10
Performance: 7.5/10
Cost: 9/10
Check Price
The M&P 15 Sport 2 is an excellent AR-15 choice for beginners and experienced shooters alike. But the iron sight that comes with it, not so much. So we've embarked on the search for the best scope for this cost-efficient and easily upgradeable rifle.
How to Choose the Best Scope for M&P 15 Sport 2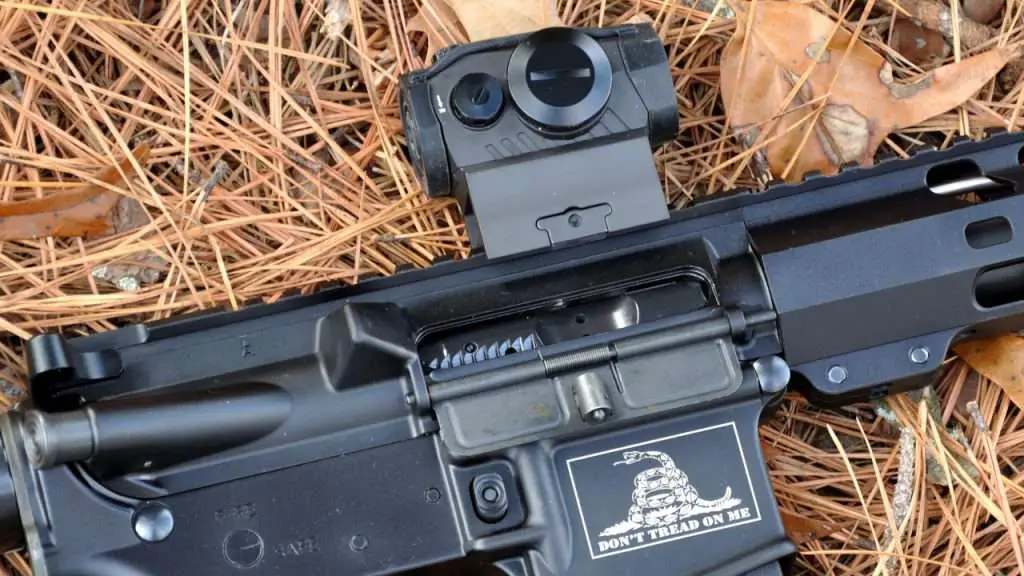 There's no such thing as overkill when it comes to choosing a scope for our babies. We can't afford to be careless especially if it's for our home defense gun. So here are the things you should pay close attention to 
Magnification or No Magnification?
Do you want to perfect your close-range shooting skills or do you want to take the M&P 15 Sport 2 (and the 5.56 NATO) to its full potential? 
Decide on your scope's magnification first because it will do more to limit your shooting accuracy than anything else.
If you'll be regularly engaging targets at a wide variety of ranges, you'll want a scope with variable magnification so you can use your scope for close-range and long-range shooting. A scope with adjustable parallax is also a big plus for shooting long distances.
If you like doing CQB drills or shooting steel at common self-defense ranges, a 1x optic is faster than any magnified scope since it's a natural sight picture for your eye. You can easily keep both eyes open and maximize your situational awareness.
Objective Lens
The objective lens is in charge of the light transmission – the larger the lens, the brighter the image. But a larger objective lens also means a heavier scope. A 40mm objective lens will provide enough light transmission but won't add much to your Sport II's weight.
Reticle Type, BDC, and Glass Clarity
Red dots are unbeatable in close quarter battle situations because of the situational awareness offered by their unlimited eye relief and wide field of view. But for medium to long range applications, a reticle that compensates for bullet drop will give you more advantage.
A great lens is fog proof and can withstand daily wear and tear. It should also be protected with scratch-resistant coatings. It's also important to check if it allows maximum light transmission. The more natural the sight picture, the easier it'll be to focus on the target when aiming.
Weight and Material Quality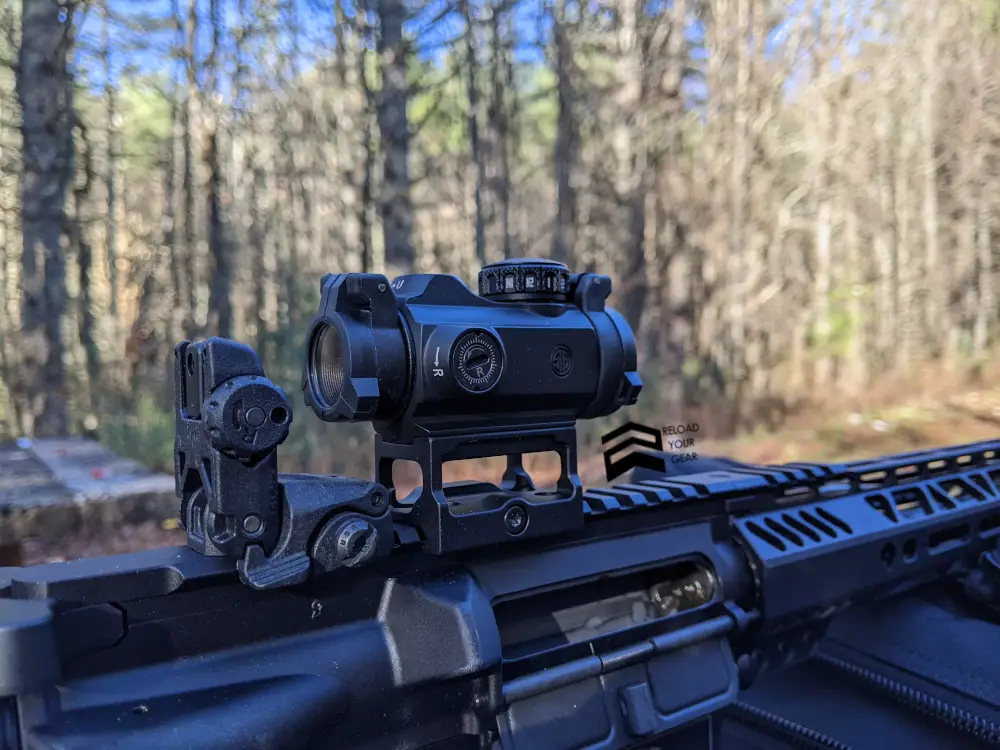 A well-built scope for the M&P 15 Sport 2 holds zero even after a thousand rounds. Whether you'll be hunting or joining a PRS match, get a riflescope with just the right weight (not too light and not too heavy). You'll want an optic that can handle recoil well but won't slow you down especially when chasing game.
Best Scopes for M&P 15 Sport 2
Best Overall: Leupold VX-Freedom 3-9x40mm
The VX-Freedom is equipped with the Twilight Light Management System, just like every Leupold scope. This feature allows maximum light transmission and reduced glare because of several layers of proprietary lens coatings. This feat will let you hunt in the evening and still get crystal clear images.
It's also impressive how this scope is tested to perform in the most extreme climate and pressure changes. Not only is the VX-Freedom made from 6061-T6 aircraft quality aluminum, but it's also impact tested using Leupold's recoil simulation machine. 
Pros
Affordable (MSRP: $349)
Impact-tested
High-quality glass
Cons
Elevation and windage turret clicks are a little spongy
What Customers Say
Great scope, going Bear hunting and this scope is perfect!

Amazon Customer
Only complaint is the adjustment knobs feel cheap. Feel like my Burris FFII is a little better quality, however, I like that this Leopold is made in the USA for a good price. Glass seems the same as the FFII.

M.M
Best Value: Bushnell Banner 3-9x40mm Riflescope
Who said affordability and high quality can't go together?
Well, the Bushnell Banner 3-9×40 Scope proves them wrong.
Aside from 9x magnification and a powerful 40-mm objective lens, Bushnell Banner scopes are made of Dusk & Dawn Brightness (DDB) multi-coated lenses. These impressive lenses are customized to function even in the lowest light. So hunting during dusk & dawn is a breeze with this reliable technology. 
The Bushnell Banner Scope gives room for 3.3-inches of eye relief, although you don't have to worry about strong recoils with the 22-250. Target acquisition won't be a problem with the Bushnell Banner's Multi-X reticle and its 1/4 M.O.A. fingertip windage and elevation adjustment.
The only feature missing is parallax adjustment, which is a minor setback for the long-lasting durability and reliability that this scope can offer.
Pros
Very affordable (MSRP: $69.99)
Waterproof, shockproof, and fog proof
Generous eye relief
What Customers Say
Brought this scope for my .22 lr rifle. Glass is nice. Easy adjustment. Pretty good scope for the price.

Shoua Xiong
Mounted on 30-06 . Seems to handle recoil fine so far.

Super Dress Man
Vortex Optics Crossfire II 2-7×32 Scout Riflescope
The Crossfire II is a favorite among hunters because it can be used for multiple hunting applications, from a reputable company, and has a solid warranty to back it..
It's made with aircraft-grade aluminum, like any other Vortex optics on the market. To add to its durability, the Crossfire II has an O-ring seal and is purged with nitrogen, so you don't have to worry about wet weather. Getting a clear view of your target is also a breeze with the Vortex Crossfire's anti-reflective, fully multi-coated lenses.
What's best about the Crossfire II is that it has a Second Focal Plane. So you can zoom all you want and your reticle's size will still be the same.
This versatile optic is worth every penny as it offers three types of reticles. So you can use it whatever your shooting style is. 
You can use the Dead-Hold BDC (Bullet Drop Compensation) reticle which provides reference marks to compensate for bullet drift, especially at long ranges.
You can also use the more traditional V-Plex reticle for short-range day hunting. Or you can use the V-Brite reticle which allows you to adjust illumination depending on the weather or environment.
Pros
Long eye relief
Shockproof and waterproof
Affordable
Cons
It's heavier and bulkier than most scopes
What Customers Say
I needed a good long eye relief scope for my Mosin-Nagant, because I decided to put a picatinny rail where the iron sights is instead of near the bolt. Anyways the precision at 100 yards after sighting it in was very good, and I don't think it can be achieved with any other long eye relief scope at this price range. Would recommend.

Petar Grigorov
Great scope. I tried mounting it on a Henry Big Boy Lever action .41 Magnum. With the tiny Picatinny rail Henry makes and a 3″ forward offset QD mount it is still too close for a full eye view and way too high. Not the scope's fault but just be warned you'll need to mount it way forward to see out of it.

sotxshooter
Best Red Dots for M&P 15 Sport 2
Best Overall: Sig Sauer Romeo5 Red Dot
The Sig Sauer Romeo5 is a compact red dot sight that features a 2-MOA reticle with 10 illumination settings, giving you flexibility while shooting in any lighting condition. It's also equipped with a Motion Activated Illumination that shuts down when the sight is not in use. This extends your optic's battery life up to 40,000 hours!
What we love most about the Romeo5 is that it's compatible not only with rifles but also with shotguns and full-sized handguns.
Pros
Motion-activated, great for home defense
Quick battery replacement
Affordable
Comes with an M1913 Picatinny low mount riser
Cons
It has a slight parallax
The outer lens is reflective when viewed from a certain angle
What Customers Say
Absolutely love this thing! Mounted on my Marlin 1895gs chambered in 45-70 govt with an American Defense T1 quick-release mount. Holds up to the recoil and honestly, I couldn't have picked a better optic and mount. The setup was zeroed in 4 rounds and after that, I felt like I couldn't miss! I keyholed rounds between 50 and 100 yards all day. This sight didn't miss a beat and I will be buying more.

Ryan
Being right-handed with a dominant left eye, it is now possible to shoot with both eyes open and no problems as far as sighting or shooting! This is the best thing for me personally that I've come across.

61 Blacklowrider
Best Value: Vortex Optics Venom Red Dot Sight
If you're into tactical shooting, our next pick is a perfect choice. The Venom has a better and clearer edge-to-edge resolution than its brother, the Vortex Viper, but lower battery life. 
The Venom red dot comes in various designs, giving you plenty of options. It's suitable for long guns in extreme weather conditions, perfect for "rainy days," or climates where it may be exposed to fair amounts of shock. You can easily improve your precision shooting with the Venom because you can choose from more than one reticle. Plus, adjusting the windage and elevation knobs is more convenient with this reliable optic.
Pros
Comes with a lifetime warranty
Comes with a Picatinny mount
Lightweight and compact
Cons
Low-quality battery cover
What Customers Say
Mounted the red dot to my Mark IV. It was really easy to zero. I put probably 400 rounds through the gun on the first day using it. I'm really happy I went with the smaller dot. I'll definitely be picking up more vortex optics in the future.

A. Skreen
Almost perfect. The GOOD: This is the best combination between price and accuracy. An all-around great red dot. I mounted it on my Glock 40 GEN4 MOS and it's sublime! The BAD: I just don't understand why Vortex would put such an inferior battery cover on this sight? It is hard to open and harder to close when the battery is in. You really can't close it without scratching the cover since the slot where to put the screwdriver in is super shallow.

Farm Force
Vortex Optics Spitfire 1x Prism Scope
The Spitfire is a decent and reliable pick that doesn't break the bank.
It sports the Dual Ring Tactical reticle where the larger outer ring is in charge of rapid target acquisition while the smaller center dot does not cover too much of the target. The reticle is etched on the prism, allowing you to have a consistent point-of-aim while firing rapidly whenever, wherever.
You can also choose between green or red illumination that comes with 5 intensity levels. But if you'll be shooting during the day, the reticle doesn't need illumination to get the job done, so that saves the battery for night use. The reticle can also be easily brought to sharp focus using the fast-focus eyepiece. Aside from being fully multi-coated, the lenses have anti-reflective coatings for better lighting in every shooting condition.
Pros
Shockproof, fog proof, and waterproof
Compact
Fully multi-coated lenses
Low power consumption
What Customers Say
IMO one of the best vortex optics out there. I've run these on numerous weapons from SMGs up to 50 cal ARs. They are rugged, durable and easy to use. I've won several competitions running the spitfire 1x.

Patrick Bevans
Overall, I highly recommend the Spitfire to anybody considering an illuminated non-magnified scope. I much prefer this prism setup to the standard red dot.

Amazon Customer
Our Key Takeaways
The Smith & Wesson M&P 15 Sport 2 may be an ordinary Mil-Spec AR-15. But that doesn't mean your shooting experience can't become extraordinary. Once you've mounted one of our picks above (may it be a scope or a red dot), you're all set to ring steel non-stop at the range or at the field.
Last update on 2023-09-08 / Images from Amazon Product API