Best Overall

Vortex Optics Crossfire II Second Focal Plane Riflescope
The ultimate scope for hunting.
Reticle: 9/10
Performance: 9/10
Cost: 9/10
Check Price
Best Performance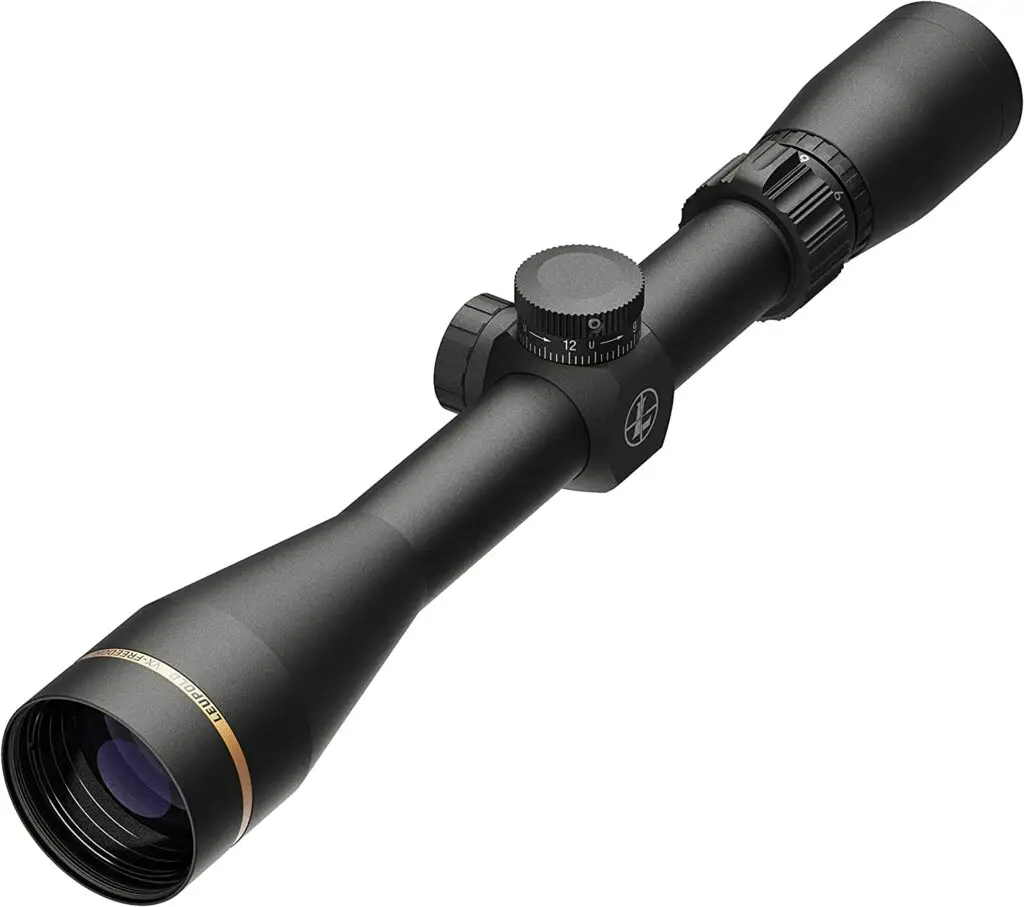 Leupold VX-Freedom 3-9x40mm
Perfect for low-light use.
Reticle: 8/10
Performance: 9/10
Cost: 8/10
Check Price
Best AR-15 Scope Under $100

Bushnell Banner 3-9x40mm Riflescope
Less battery life but great usability
Reticle: 7/10
Performance : 7/10
Cost: 10/10
Check Price
Are you an AR-15 aficionado looking to elevate your shooting game without emptying your bank account? Look no further! We've scoured the market to find the best AR-15 scopes under $200, so you can achieve clear shots without breaking your budget. Get ready to hit your targets with precision and style!
How To Choose the Best Scope for AR-15 Under $200
Before diving into our top picks, let's discuss the key factors to consider when selecting the perfect scope for your AR-15 on a budget.
Magnification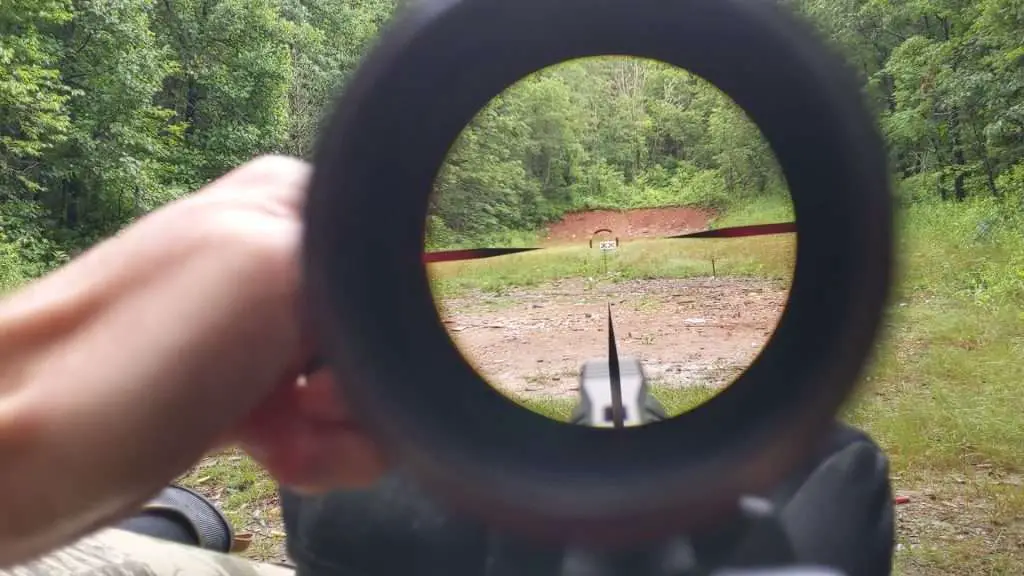 The right magnification is crucial for hitting targets at different distances. Whether you prefer close-quarters combat or long-range precision, finding a scope that offers versatile magnification options is essential.
Durability
AR-15s are built for rugged use, and your scope should be no exception. Look for scopes that can withstand harsh conditions, including shock, recoil, and adverse weather.
Glass Quality
A clear, high-quality lens can make a world of difference in your shooting experience. Ensure your chosen scope offers excellent light transmission, minimal distortion, and optimal clarity, giving you an edge when it matters most.
Adjustments
The ability to make precise adjustments to windage, elevation, and focus is crucial for achieving pinpoint accuracy. Look for scopes that offer easy-to-use and reliable adjustment mechanisms.
6 Best AR-15 Scopes Under $200
Best Overall: Vortex Optics Crossfire II Second Focal Plane Riflescope
Our top pick features an adjustable objective for removing parallax and quick image focus. This model also comes in three reticle types; Dead-Hold BDC, V-Plex, and V-Brite.
The Dead-Hold BDC reticle resolves holdover estimation and windage correction issues for quick-paced shooting at different ranges. The V-Plex reticle is equivalent to a standard duplex reticle. It's an all-around reticle that's great for most hunting applications. While the V-Brite reticle is just an illuminated V-Plex.
The Crossfire II comes with resettable turrets that are capped for extra protection against external impact. Plus, this model allows you to change batteries without unmounting the scope. 
It could've been better, however, if the windage and elevation clicks were a bit more audible.
Pros
Capped resettable turrets
Adjustable objective
Comes with Vortex warranty
Waterproof, shockproof, and fog proof
Cons
Windage and elevation clicks are a little light
Image distortion at high magnification setting
What Customers Say
The scope has nice glass for the price you're paying. Turrets are fairly crisp, with no skipping of the clicks to date. Front parallax adjustment, rear focus, and magnification all move easily with just the right amount of resistance. The turrets are resettable. I haven't seen anything whatsoever that would keep me from buying another Crossfire II. Vortex also stands by their product 100%!

Jesse R.
I'm not a scope expert but this scope works very well on my 308. The glass is very clear and sharp through all magnification ranges. The eye relief gets a bit finicky the more you magnify. Adjusts and returns to zero very easily. Includes the bikini covers too.

Bobby
Best Performance: Leupold VX-Freedom 3-9x40mm
The VX-Freedom is equipped with the Twilight Light Management System, just like every Leupold scope. This feature allows maximum light transmission and reduced glare because of several layers of proprietary lens coatings. This feat will let you hunt in the evening and still get crystal clear images.
It's also impressive how this scope is tested to perform in the most extreme climate and pressure changes. Not only is the VX-Freedom made from 6061-T6 aircraft-quality aluminum, but it's also impact-tested using Leupold's recoil simulation machine. 
Pros
Impact-tested and shockproof
High-quality glass
Excellent light transmission
Cons
Elevation and windage turret clicks are a little spongy
What Customers Say
Great scope, going Bear hunting and this scope is perfect!

Amazon Customer
Only complaint is the adjustment knobs feel cheap. Feel like my Burris FFII is a little better quality, however, I like that this Leopold is made in the USA for a good price. Glass seems the same as the FFII.

M.M
Best AR-15 Scope Under $100: Bushnell Banner 3-9x40mm Riflescope
Budget-conscious shooters rejoice! The Bushnell Banner offers impressive quality at an affordable price. With its Dusk & Dawn Brightness (DDB) multi-coated lenses and durable build, our best scope under $100 pick provides crisp images and reliable performance without burning a hole in your wallet.à
Quick target acquisition is also guaranteed with the Bushnell Banner's Multi-X reticle and features 1/4 M.O.A. fingertip windage and elevation adjustment. That's not all, it's also waterproof, shockproof, and fog proof, as it's nitrogen-purged. 
The only missing feature is parallax adjustment, which is a small compromise for the long-lasting durability and reliability that this scope can offer.
Pros
Long eye relief
Performs well in low light
Comes with parallax adjustment
Waterproof, shockproof, and fog proof
What Customers Say
Over the years I've owned several Bushnell banner scopes. I purchased this scope to sit atop an ar15 I'm planning to carry while accompanying my wife on her first deer hunt. With this said I wanted a cost-effective scope that could deliver enough magnification for the ranges we plan to hunt "150yrd at max". The glass in the scope seems to be of good quality & transfers light well.

Eastfork
It's a nice enough scope. Unfortunately, the only reason I bought it was due to the claimed consistent 6-inch eye relief. The relief changes as magnification changes. So I'll use this one for a different rifle and continue my search for a consistent scope.

Nick Morgan
Best AR-15 Scope Under $50: Simmons 560520 Truplex Riflescope
Yes, you read that right—a reliable scope under $50! The Simmons Truplex riflescope guarantees quick and easy adjustments, thanks to its audible-click elevation and windage turrets. These sturdy and reliable knobs also hold zero perfectly and consistently no matter how heavy the recoil your rifle makes. You can shoot a hundred rounds with this scope and its zero won't drift.
However, it's worth noting that the adjustment knobs require a little bit of effort to twist and turn at the beginning. The Simmons Truplex Riflescope also features glass that's surprisingly clear for its price! There's a slight blur around the lenses' edges like with the Bushnell Dusk to Dawn series; but for a price this low, the compromise is pretty worth it.
Pros
Truplex reticle
Long eye relief
Waterproof, fog proof & shockproof
Cons
Does not perform well in low light
What Customers Say
Skeptic at first based on mix reviews. I give a 5 star rating based on personal use, price and performance. Excellent, highly recommended and currently awaiting the 2nd scope. Eye relief is 3-4inches depending on zoom and easy to focus on target. Turrets are spongy, clicks are soft audible however holds via 17 hmr and 223/5.56. Clarity at 300yards at is crisp during overcast in California.

Abraham B.
Sufficient for small rifles and 100 yard hunting or targets. The eye relief is good. The edges of the scope picture are a little warped or blurry. Overall I like it for the price. I put it on my AR and love it.

Daniel Carr
Sig Sauer Whiskey3 Riflescope
The Sig Sauer Whiskey3 boasts exceptional image clarity and brightness, thanks to its high-quality glass and anti-reflective coatings. Its illuminated reticle offers selectable brightness settings for quick target acquisition and enhanced visibility in low-light environments. 
Built to withstand harsh conditions, this scope features a durable aircraft-grade aluminum body that can endure recoil and tough handling. With its variable magnification range, the Whiskey3 adapts to a wide range of shooting scenarios, from close-quarters engagements to mid-range precision shooting.
However, the Whiskey3 is slightly heavier compared to some of its competitors, which might affect the overall balance of your firearm.
Pros
Audible and tactile turrets
Comes with a warranty
Waterproof and fog proof
Low dispersion glass
Cons
Narrow field of view
Heavy
What Customers Say
This scope is clear and the crosshairs are clean! Put this on a .22 mag. Very well pleased with looks and function!

Bruce A. Davis
It's decent glass and clarity for the price. You can see out to 100 yards plus without issue. I do like that it is fog proof, shock proof , and does come with a lifetime unconditional warranty. With that said if you have $50-$60 more to spend you could definitely find something better. It is a decent scope for sure.

Athena Price
Truglo TRU-Brite 30 Series 1-6x24mm Dual Color Riflescope
The TRU-Brite 30 Series offers a dual-color illuminated reticle with red and green options, enabling quick target acquisition and enhanced visibility in various lighting conditions. With a 1-6x magnification range, this scope caters to both close-quarters shooting and mid-range precision engagements, providing flexibility on the field.
The inclusion of a quick zoom lever also allows for rapid magnification adjustments, ensuring seamless transitions between different shooting scenarios. The scope's multi-coated lenses deliver bright and clear sight pictures, reducing glare and improving overall image quality.
However, some users may find the eye relief to be slightly less forgiving compared to other scopes in its category, requiring precise positioning for optimal viewing. And while functional, the turrets on this scope may lack the same tactile feedback and precision as higher-end models.
Pros
Dual-color illuminated reticle
Wide magnification range
Multi-coated lenses
Quick-zoom lever
What Customers Say
Clear sight picture…love the illumination. Not bad for a cheap lpvo.

J.
Great scope for the price. I placed them on 4 different hunting rifles and they perform flawlessly. Would not hesitate to buy again. Just remember, these are not for precision shooting, however I can hold 1/2″ groups at 100 yards in a 350 Legend all day.

jcbfam
Our Key Takeaways
Choosing the best AR-15 scope under $200 doesn't mean compromising on quality. By considering factors like magnification, durability, glass quality, and adjustments, you can find a scope that suits your shooting needs without breaking your budget. Explore our top picks and get ready to experience clear shots and unbeatable value on your next shooting adventure!
Last update on 2023-09-14 / Images from Amazon Product API