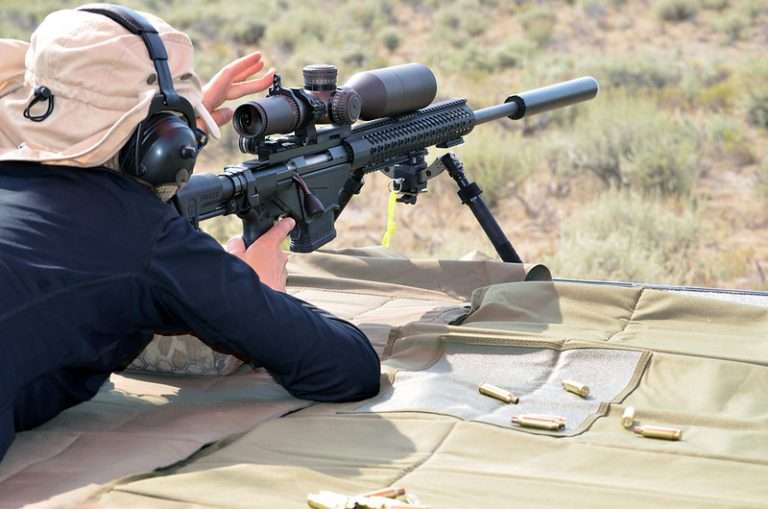 Our Top Picks
Best Overall Riflescope Under $500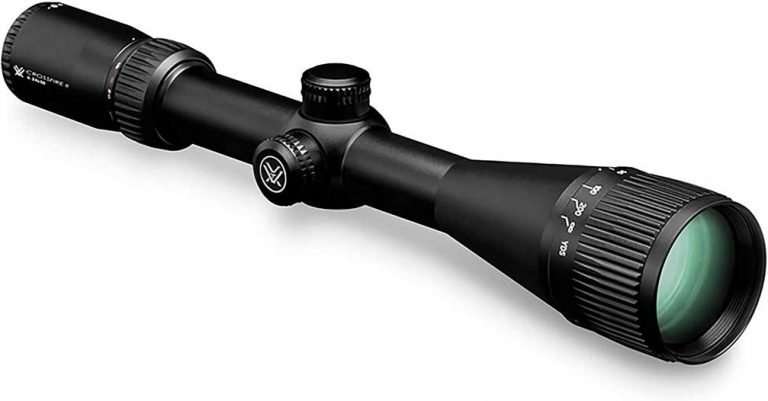 Vortex Crossfire II 6-24×50 Riflescope
This riflescope offers great performance without breaking the bank!
Check Price
Best Under $300
Burris Fullfield II Hunting Rifle Scope
This riflescope is an affordable option for hunters!
Check Price
Best Long Range Scope Under $500
Athlon Optics Argos BTR Riflescope
This riflescope guarantees shockproof performance.
Check Price
Just when you thought you can no longer buy anything grand and long-lasting with 500 bucks, this article comes along! Join us as we feature the most reliable and the best rifle scopes under $500 this year!
Comparison of the Best Rifle Scopes Under $500
How We Choose + Our Must-Have Features
Magnification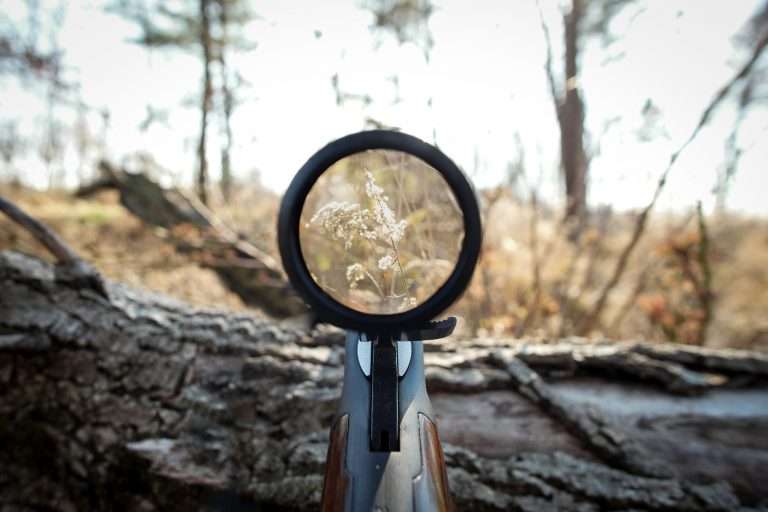 If you'll be using your scope for short and long-range shooting, you should choose one with variable power with at least 1x magnification.
Material
A scope's construction is one of the factors that define its quality. It would be great if you can get a scope that's been impact-tested so it's sure to survive daily use and abuse for a long time. We suggest choosing a scope made of aircraft-grade aluminum for durability. Our picks below have all that and more, so be sure to choose from them.
Optical Quality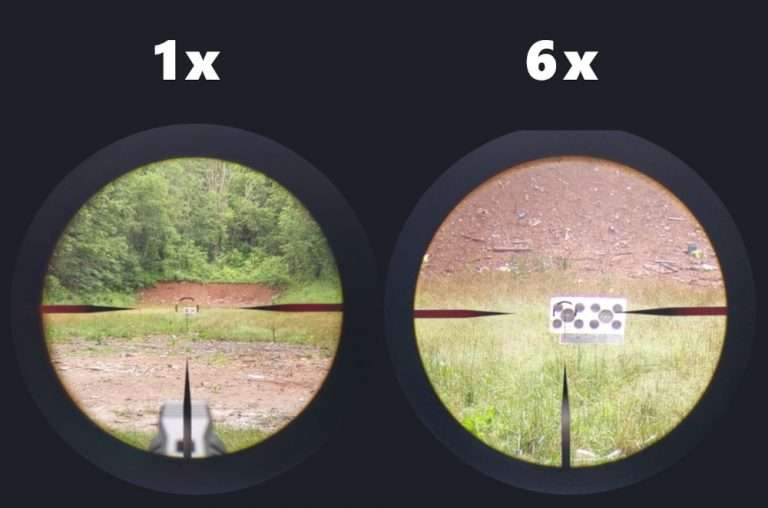 A scope's optical quality is critical. Even if you're buying a low-priced scope, be sure not to trade off its glass quality. Or at least get one that's clear enough for short distance use. All experts agree this is right up there with holding zero for critical functionality.
All our options below have fully multi-coated lenses so light transmission won't be a problem whichever you decide to buy.
Adjustment Knobs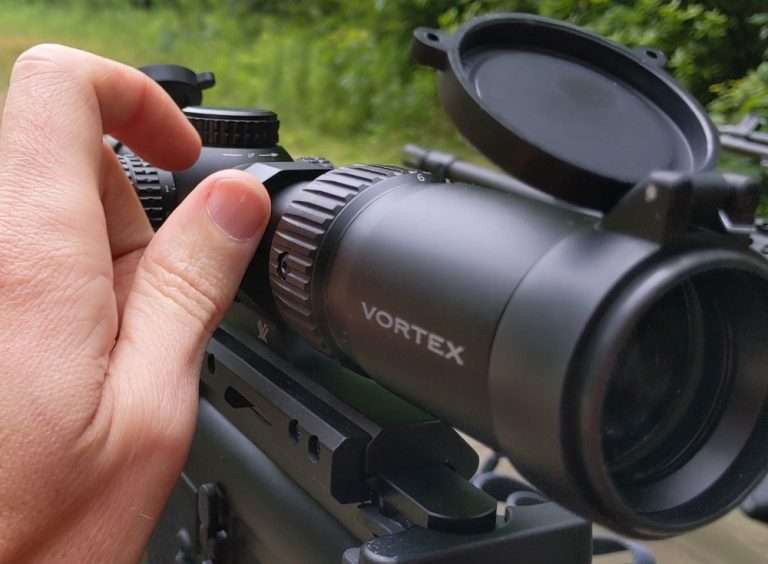 The thing to look into is windage and elevation adjustment knobs. A scope's knobs should have crisp affirmative clicks for you to calibrate your optic better.
Reticle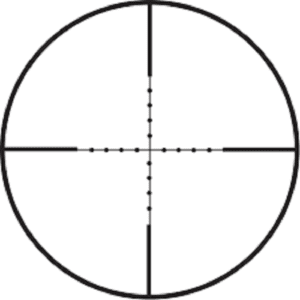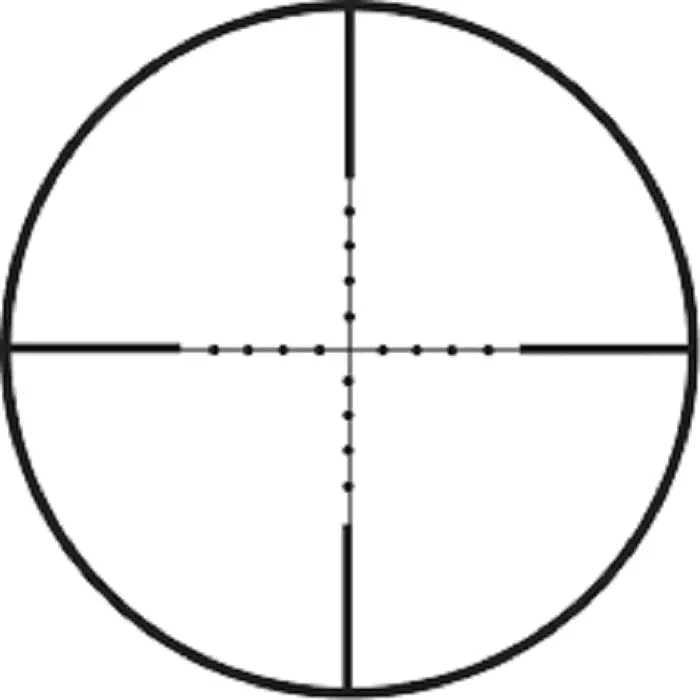 When shooting at long distances, you'll need to compensate for bullet drop with your reticle or with elevation adjustments. Using a scope reticle that helps with that and wind drift will help you extend your effective shooting range.
5 Best Rifle Scopes Under $500
Best Overall Riflescope Under $500: Vortex Crossfire II 6-24×50 BDC Reticle
Vortex riflescopes are made from aircraft-grade aluminum, ensuring shockproof performance. The Crossfire II is secured with an O-ring seal and is purged with nitrogen for moisture protection.
The Vortex Crossfire II 6-24×50 Riflescope is capped with a 50mm objective lens and anti-reflective, fully multi-coated lenses, so you can smoothly blast off targets at past 300 yards.
It also uses the Dead-Hold BDC (Bullet Drop Compensation) reticle which features reference marks to compensate for bullet drift at long distances.
However, images tend to get blurry at 24x magnification and the scope is a bit heavier than other brands. Other than these minor setbacks, we love this versatile optic.
Pros
Affordable
Long eye relief
Cons
It's a little heavy
Images get a bit blurry at maximum magnification
What Customers Say
"I have two of these. One on my Ar-10 and one on my Ar-15. Both are set up as long-range varmint guns. After having used both, I am convinced that this is THE best scope for the money period. It's 100% on par with the $1000 Vortex Viper 6-24x scope (which I also own) until you get to the 24x setting, then the Viper is a bit more clear, but not by much at all. Definitely get one!"
"You can't beat Vortex Optics for the price point and quality of glass. I mounted this on my new Remington 700 Tactical AAC-SD .308 WIN. It's an amazing setup. Very happy with this scope and would buy again. Super tight groups and super accurate. Can't wait for deer season!"
Best Under $300: Burris Fullfield II Hunting Rifle Scope
The Burris FullField scope has been a popular hunting scope brand for generations. Here's why.
The Burris FullField scope takes pride in its no-glare lenses that are covered in Hi-Lume multicoating aids for optimum light transmission. It also has fewer rotating parts than other brands, so dirt and moisture can barely get inside the scope.
This scope also features steel-on-steel click adjustment with repeatable settings for easy and accurate adjustments on the go. It's also proven to hold zero well and withstand shock and vibrations when used on calibers with heavy recoils.
Not to mention that this high-quality scope comes at a very affordable price.
Pros
Shockproof, waterproof, fog proof
No-slip grip
Knurled knobs
Lifetime warranty
Cons
Finish gets scratched off easily
The eyepiece bell and power ring rotates together
What Customers Say
"I chose this scope because I have had some Burris optics in the past that held up well, and because of the very reasonable price. After 6 months or so of bumping around in the truck on the farm, I can still take out a groundhog at 200yds no problem. As with any scope, the marked objective ranges aren't exactly dead-on, but the glass is crystal clear and has held zero perfectly."
"Amazing scope for the price. I bought this Burris because the old family 30/30 has a Burris from the 1970s still on it, and it was/is a solid scope. I was not disappointed. Mounted the scope, and it was almost dead perfect out of the box. Made small adjustments and took it out with my new rifle. I would trust this scope 200 yards in no problem. I'm in sloping woods so I don't have a shot farther than that. Dropped a nice buck double lung with my only shot of the season. The reticle is not too thick, but easy to see. Great Product. May not be as hyped up as other brands are now, but the guarantee and the quality for the price, still make Burris a go-to brand for me and my family."
Best Long Range Scope Under $500: Athlon Optics Argos BTR Riflescope
We recommend the Athlon Optics Argos Riflescope if you want a scope that will let you hit targets consistently up to past 1,000 yards.
This scope will let you estimate target ranges easily at any magnification, most especially if you know your target's size. It's also very easy to zero and holds zero well. Plus it provides accurate elevation and windage adjustments.
With the Athlon Argos riflescope, images at high magnification don't get blurry at high magnification settings, unlike other low-priced scopes.
Pros
Compact design
Affordable
Shockproof and fog proof
Lifetime warranty
Cons
It's heavy
Illumination is not bright enough for daylight use
What Customers Say
"First off the box it came in is really nice and sturdy. Not just cheap cardboard that I've seen on my other scopes. Really nice clarity. FFP is a nice touch at this price point especially. Turrets don't lock, but they are resettable. One turret has really nice definitive clicks. The other is not quite as nice but I've seen a lot worse. They seem to track up and down left and right and not lose zero. Illumination is nice but not bright enough for daytime use even on max. Doesn't bother me. Reticle is very crisp. Tons of focus adjustment if needed. Flip caps work nice and they fit really snug on the scope tube. I ordered a sunshade separately for mine and the cap fit that perfectly as well. I'm using UTG 6-screw rings. I'm running this on a 338winmag 700 Remington. No issues so far. Athlon customer service assured me if i manage to break the scope due to recoil, it would still be covered under warranty. Great product. Awesome price. And lifetime warranty. I'm happy with it"
"Purchased this scope for the FFP feature at a very competitive price. I have this on a PCP air rifle for pest control, and the combination is deadly. The parallax is dead on as far as range goes. The glass is very good. For those complaining about the glass, I guess you're used to $2K super optics. Frankly, I can't tell the difference in most instances. Eye relief is not too shallow, which I really appreciate. My only complaint is the weight, but I knew that when I purchased it. I'm generally bench or sticks rested when using this rifle, so it is not much of an issue. All in all, a great scope for hunting/pesting if you are using different magnifications as various ranges."
Leupold VX-Freedom 3-9X40mm Riflescope
Optics mogul Leupold & Steven guarantees high-quality images with the Leupold VX-Freedom.
Like all Leupold scopes, the VX-Freedom is equipped with the Twilight Light Management System. This technology allows maximum light transmission and reduced glare because of several layers of proprietary lens coatings. This feat will let you hunt in the evening and still get crystal clear images.
We also love how this scope is tested to perform in the most extreme climate and pressure changes. Not only is the VX-Freedom made from 6061-T6 aircraft quality aluminum, but it's also impact tested using Leupold's recoil simulation machine.
Pros
Affordable
Impact-tested
High-quality glass
Cons
Elevation and windage turret clicks are a little spongy
What Customers Say
"Very nice entry-level hunting scope…what it lacks in features in comparison to competing optics, it makes up for in optical quality, and it allowed me to take my first deer(7pt buck) about 15minutes before sunset with ease…don't buy this if you want a target scope with zero stops, locking/drop turrets, and fancy reticles…I've tried quite a few scopes since buying this, and the only one I've used in the low/mid-tier price range that has better glass is my vortex viper pst scope, which is more then 2x the price, but has much nicer glass and a better eye box, along with more features, and an illuminated optic. If you want a target scope buy a target scope and you get what you pay for in that regard. But for something capable of reliable getting on target with deer-sized game, the VX-freedom is a very good value, and probably my recommended scope in its price range for its intended purpose."
"Only complaint is the adjustment knobs feel cheap. Feel like my Burris FFII is a little better quality, however, I like that this Leopold is made in the USA for a good price. Glass seems the same as the FFII."
Vortex Optics Viper Second Focal Plane Riflescope
Our last pick is as reliable as its competitors but costs less!
The Vortex Viper Second Focal Plane Riflescope is engineered for hunting and target shooting. You have the option to use a Dead-hold BDC reticle along with its 20x magnification for effortless shooting at different ranges.
The Vortex Viper is constructed from hard-anodized aluminum and its lenses are covered with Armortek coatings for guaranteed durability. It features capped windage turrets for protection from accidents. The elevation turrets are exposed for easier adjustments.
Lastly, this Vortex Viper scope is equipped with a Mag-bar for speedy magnification changes and a fast-focus eyepiece for smooth and quick reticle focusing.
Pros
Lifetime warranty
Affordable
Crisp turret clicks
Parallax adjustment
Cons
What Customers Say
"You can't get a better deal than this viper. Already stretched out to 1000 yards with my 270 with ease. This is the best scope I own."
"I have this on a 300win mag. Savage:110. This scope with viper rings makes shooting easy. 100y or 200y, 600y to 900y this scope is very good. I would recommend this scope for all 300winmags for both hunting and target shooting. Works well in the cold so far. 4-month update: still working great!"
FAQs
What is the best rifle scope under $300?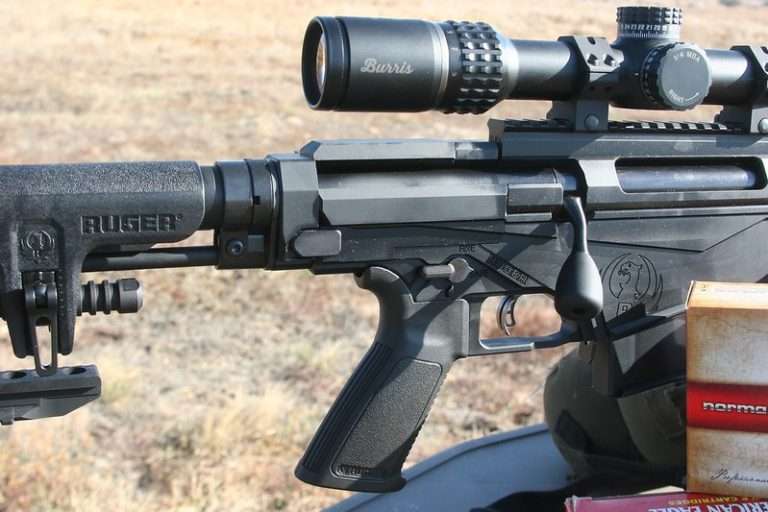 If you can only shell out 300 bucks, that's perfectly fine. Because you can get the Burris Fullfield II Hunting Rifle Scope for less than that! This reliable hunting scope is made by a trusted optics manufacturer and is perfect for flat-shooting cartridges.
What is the best deer hunting rifle scope?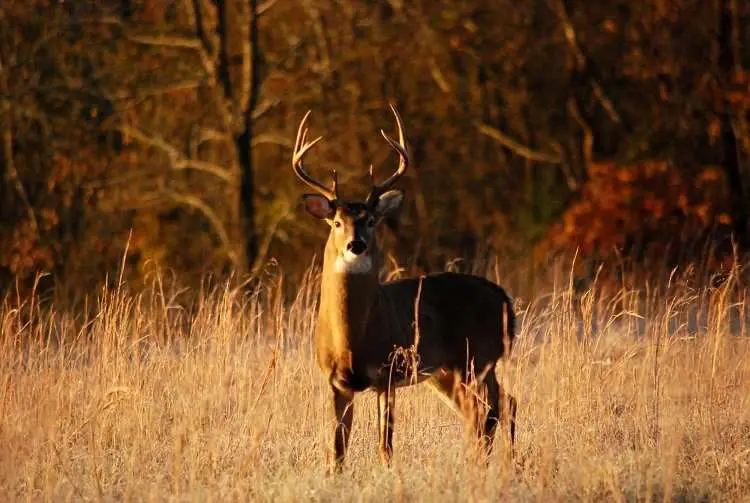 We recommend our best overall pick, the Vortex Crossfire II 6-24×50 BDC Reticle, as the best deer hunting rifle scope. This scope will help you drop a deer at 300 yards. However, it's a little heavy to carry around so we suggest that you mount it on a bench.
Conclusion
We hope this article helped you pick a scope and made you realize that you don't have to break the bank to get a quality scope these days. Your $500 goes a long way, especially if you won't be using your scope for competition shooting.
If you're willing to spend on military scopes instead, this article should help you.
Last update on 2023-08-30 / Images from Amazon Product API