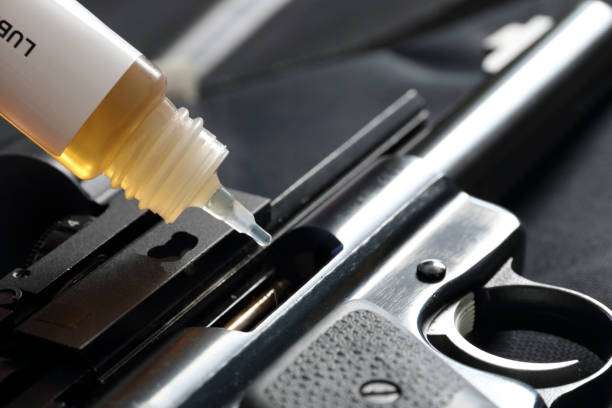 Our Top Picks
Best Overall

Break-Free CLP-4 Cleaner Lubricant
This gun cleaning oil is trusted by the military.
Check Price
Best Gun Cleaning Oil on a Budget

Hornady One Shot Gun Cleaner and Case Lube
This gun cleaning oil offers great value.
Check Price
Best Aerosol

Ballistol Multi-Purpose Oil
This gun cleaning oil is eco-friendly.
Check Price
Best All-in-One Gun Cleaning Oil

CLP by Sage & Braker
This cleaning oil guarantees long-lasting protection for your gun.
Check Price
Using the best gun cleaning oil is key to a more accurate, efficient, and long-lasting gun. If you haven't found one yet, your dilemma ends here! We guarantee that by the end of this article, you'll be making a choice you won't regret.
Comparison of the Best Gun Cleaning Oils
How We Choose + Our Must-Have Features
Now we'll walk you through the process of choosing the right CLP for you to get the appropriate brand for your gun.
Grease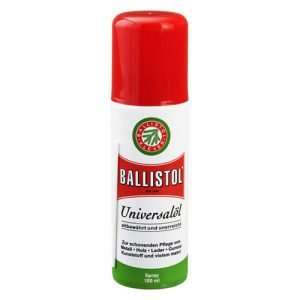 First is your choice of grease. Make sure that your CLP's grease content is what's best for your firearm. You'd want thick grease if your gun produces high friction temperatures and is intended for high-volume discharges.
Anti-wear/ Extreme Pressure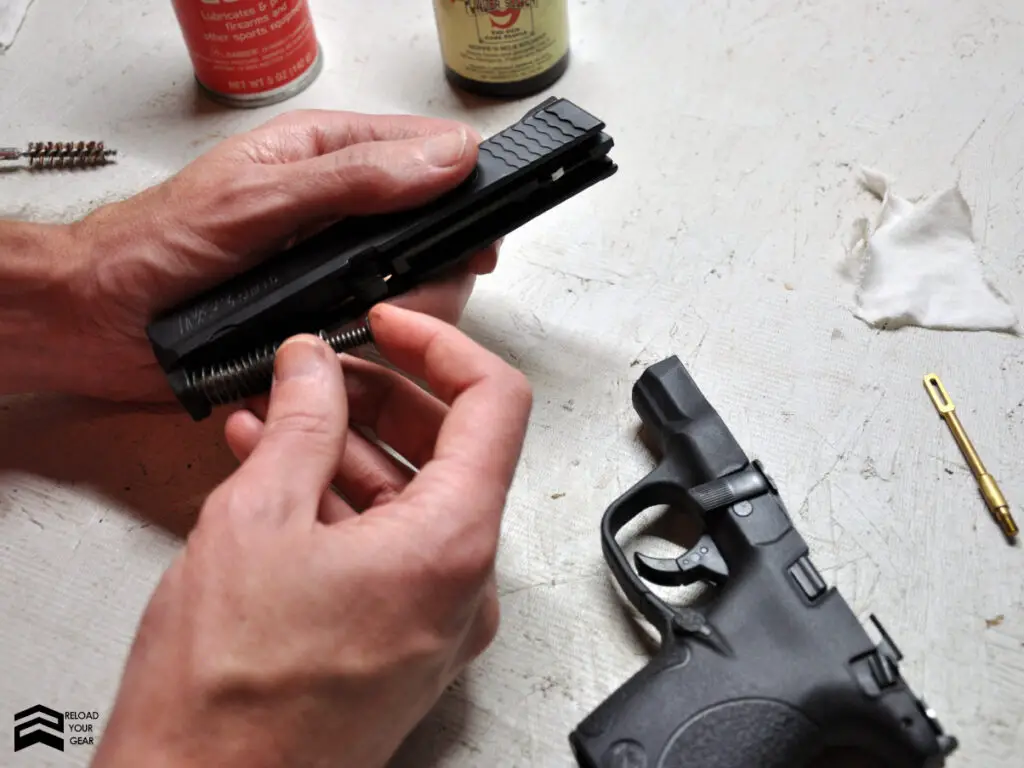 The next feature to look into is the Anti-wear (AP) and Extreme Pressure (EP) additives present in the gun cleaning oil. AW and EP additives form a protective layer on the firearm's surface to prevent metal-to-metal contact between gun parts, ensuring smooth operation.
AW additives are mainly used on minor but high-velocity loads to reduce the friction caused by continuous wear. While EP additives are used mostly on heavy, high-temperature, but low-speed loads to prevent failure from extreme pressure.
Viscosity Index
Viscosity index is the rate at which viscosity changes with respect to temperature. This is a critical factor to consider especially if you're shooting high-powered guns regularly. A gun cleaning oil with high viscosity index will protect your gun parts from the heat and friction caused by continuous and regular firing.
Thickness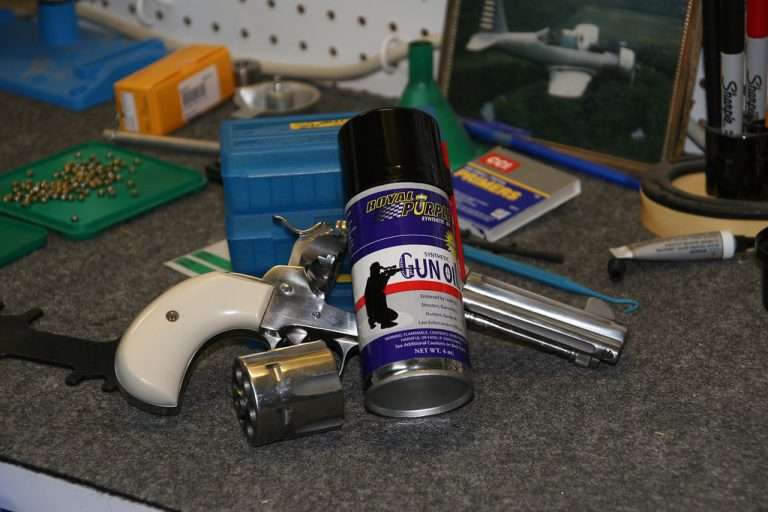 A gun cleaning oil's thickness corresponds to how long it can protect your gun's surfaces. Thicker oils are perfect for humid climates because they don't evaporate easily. But for low-temperature use, we recommend using thinner oils because they spread faster on the gun's surfaces so they're more effective in curbing friction.
5 Best Gun Cleaning Oils
Best Overall: Break-Free CLP-4 Cleaner Lubricant
Our best overall pick is safe to use for all types of finishes, so you won't have to worry about losing your gun's finish.
The Break-Free CLP-4 is good at reaching your gun's tiniest pits and curves. It's made to perform in the most extreme temperatures (-65F to +475F). So you can be sure that it won't dry out or lose viscosity.
Its state-of-the-art boundary film also provides long-lasting lubrication and prevents moisture and other contaminants from reaching your gun's surfaces. This specially formulated oil contains corrosion inhibitors that prevent rust formation.
Pros
No foul smell
With anti-wear additives
Performs even after exposure to saltwater
Cons
Low viscosity
Drip cap tends to leak a little
What Customers Say
"Break free is the best!! I was an armorer in the military for over 4 years and (was) responsible for the maintenance and cleaning of numerous assorted weapons. We used Break Free to get rid of all of the grit and grime that each of the weapons had picked up after being in the field for weeks. It also did an excellent job removing powder residue after having sent a lot of rounds down range while keeping the weapons well lubricated. Even though I am no longer in the military and currently in Law Enforcement, I still use this today to keep all of my firearms clean."
"I've tried many products on weapons and nothing compares to Break-Free. CLP is a cleaner, lubricant, and protectant. I bought this to keep my AR-15 in the best working order. I used Break-Free in the Army during training and during my deployment to Iraq. This has cleaned, lubed, and protected my M9 Beretta, M4 carbine, M240 machine gun, the Ma Deuce .50 cal machine gun, and I've used it on the M256 main gun on my Abrams main battle tank. If it works on those, it'll handle any weapon you own."
Best Gun Cleaning Oil on a Budget: Hornady One Shot Gun Cleaner and Case Lube
Our cost-effective pick can remove gunk and dirt from your guns in one shot.
The "Hornady One Shot Gun Cleaner and Case Lube" is one of the most effective brands on the market. It quickly breaks down stubborn carbon build-up for easy removal and leaves a long-lasting coating to protect your gun from pollutants that cause corrosion and rust. It can also deeply clean areas that even a Q-tip can't reach.
What's great about the Hornady One Shot Cleaner is that it uses a dry film, reducing residue build-up that's usually caused by wet lubricants.
Pros
Easy to use
Very effective
Dry lubricant
Cons
What Customers Say
"I read a lot of reviews on different gun cleaning agents that claim to lubricate as well as protect. This fared well. The smell is barely noticeable, and it has a dry lubricant property to it which I'm not sure is good or bad. It cleans well enough, but I'm not sure if it'll end up fouling things with unseen buildup. From the backyard scientist reviews, it does well at rust prevention, and exhibits friction-reduction properties on par with some of my favorite gun oils, so I'll continue to use it until it something breaks."
"Excellent product, probably the best gun cleaner and dry protectant on the market. It is very expensive so I use it sparingly and only on blued guns, stainless guns get less expensive products due to not needing as much protection."
Best Aerosol: Ballistol Multi-Purpose Oil
If you're an environmental advocate, then you'll surely love this biodegradable multi-purpose cleaner.
The Ballistol Multi-purpose aerosol can be used in cleaning other stuff aside from guns. It can be used to clean wheels, belts, knives, and other household items as long as they're made from metal, leather, plastic, or wood.
It also has a non-toxic smell, no carcinogens, and is safe on the skin so you can clean your guns even with your family around (we don't recommend it, though). Even though the smell is non-toxic, it takes a while to get used to. So we recommend using Ballistol in a well-ventilated area especially if it's your first time using it.
Pros
Non-toxic smell
Biodegradeable
Cons
The smell can be overpowering in enclosed spaces
What Customers Say
"This stuff does the job, and by all accounts, there are lots of folks who use Ballistol for their gun maintenance. And if I accidentally get some spray or dripping where I really don't want it to go (including my dining room table), it's no big deal. My only gripe is that sometimes these spray cans come without the plastic "straw" that you need for pinpointing where the spray goes. That's why I gave it only 4 stars. (Advice: if you already have a straw that fits the spray top don't toss it before your order another can of this because the straw for the new one might not arrive.) My only other minor negative: The smell of this isn't too bad, but I do wish it smelled exactly like good old Hoppe's #9."
"I was very Old School in how I used to clean my firearms — one product for removing debris/powder residue, one product to clean, one product to protect/preserve. This converted me. I clean out the barrels and all the innards with this, and then I wipe down the metal and furniture (wood on guns) with it as well. It does it all, and in my experience, it does each step as well as, if not better than, other dedicated products, especially if you let it sit for a few minutes. Not sure why people make such a fuss about the smell — it's a natural scent, strong hints of like anise/black licorice in it, nothing offensive at all. A lot better than the oil-refinery smells of other products. Bottom line, as I said, it's all I use now."
Best All-in-One Gun Cleaning Oil: CLP by Sage & Braker
This CLP by Sage & Braker guarantees an aggressive and non-hazardous cleaning. It deeply penetrates your gun's crevices, eliminating the tiniest amount of lead, carbon, and copper.
Aside from protection from rust and corrosion, Sage & Braker also takes care of every moving part of your gun. Its special coating offers enhanced heat dissipation for improved accuracy. And it doesn't leave any greasy coating, unlike other CLPs.
Sage & Braker ensures efficacy in every drop so you don't need much to clean a short-barreled gun. In fact, one spray goes a long way!
This CLP also creates a cleaner burn upon firing, so fewer carbon contaminants are generated. That's another environment-friendly product for you to consider!
Pros
Non-hazardous
Effortless cleaning
No oily residue
Cons
What Customers Say
"The product works well for cleaning. It's too early to tell whether the dry film it leaves behind is enough to preserve. Or lubricate but It's not greasy which is good and works quickly. The smell is not my favorite but I guess you can't have everything. The product is very (so far) cost-effective because you do not need that much. One spray for a short barrel two for a long. One spray for a slide is plenty."
"First off, I don't think my handgun has been this clean since I bought it. I used this cleaner when I got it, so I ended up cleaning a clean firearm, or so I thought. This stuff did an awesome job of cleaning my barrel and slide. Other than the smell I really like this cleaner, but I gotta admit, the smell is pretty bad."
Hoppes No. 9 Elite Gun Cleaning Kit
If you want quick and deep cleaning, we recommend the Hoppes No.9 Elite Gun Cleaning Kit.
This kit contains an ultra-effective bore cleaner and lubricant that have been trusted worldwide since 1903. Hoppes has also been used by serious shooters for generations.
Hoppes No.9 Bore Cleaner is compatible with all kinds of firearms. Its extra-potent formula helps in preventing copper, lead, and carbon build-up in barrels, keeping your firearms in top shape.
We also love the thickness of Hoppes No. 9 Lubricating Oil that doesn't get moldy or harden after a while. This cleaning kit also includes cleaning patches and a needle applicator.
Pros
Easy to use
Lifetime warranty
Complete kit
Cons
What Customers Say
"I needed some smaller bottles to take to the range, so I picked this up. I'm loving the lube bottle with the needle applicator – makes lube placement pretty darn exact. Hoppes #9 is the industry standard for bore cleaner and all I have used for over 30 years. I have a 32oz bottle I refill this small one with – but even if you clean your guns every weekend you will not run out for a long, long time. I gave it 5 stars for "scent" also because maybe I am crazy, but I like how this stuff smells. LOL."
"It's Hoppes. What more needs to be said? I learned from my dad at a young age how to keep guns cleaned and maintained with Hoppes. I never saw dad use any other brand, and there is a reason for that. Quality at a price any gun lover can afford. I also really like the extra dropper bottle of lubricant they included. Now I want one for cleaning solution too."
FAQs
What is the best oil to clean a gun with?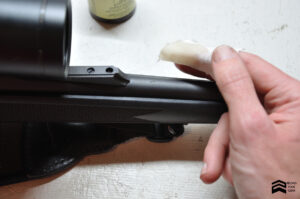 We recommend the Break-Free CLP-4 Cleaner Lubricant as the best gun cleaning oil because it's the most economical and efficient among our choices. Despite its low viscosity, many gun owners trust it because it offers value for money.
If it's your first time using a gun cleaning oil, this short how-to video should help you.
What is the best solvent for cleaning guns?
If you prefer using a solvent to clean your guns before coating them with a lubricant, the Hoppes No. 9 cleaning solution will get the job done. Its potency has been proven effective over the years and it's also budget-friendly. It's also loved by most gun owners because it doesn't leave a foul smell all over your shop.
If you're looking for an entire gun cleaning kit, check out this article.
Is it OK to use WD40 on a gun?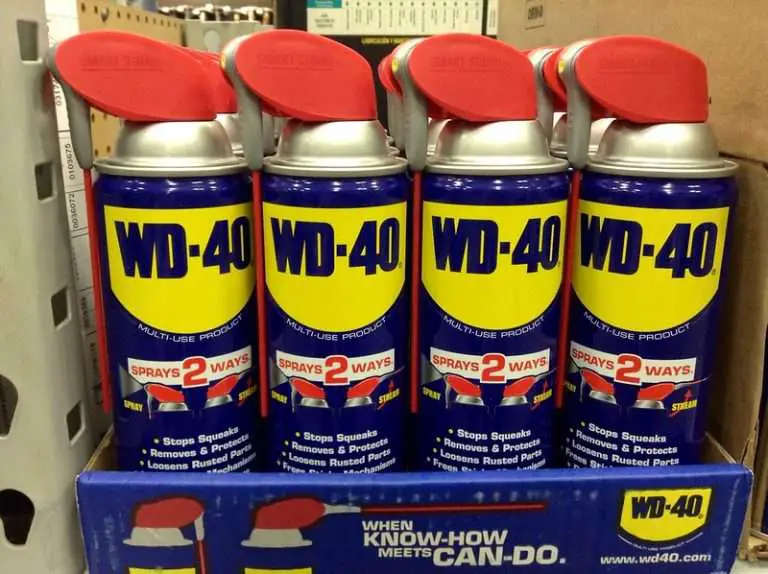 No, definitely not. It's true that the WD40 can remove rust, but it has no lubricating properties so it won't leave any protection against rust or corrosion if used on guns.
What gun cleaner does the military use?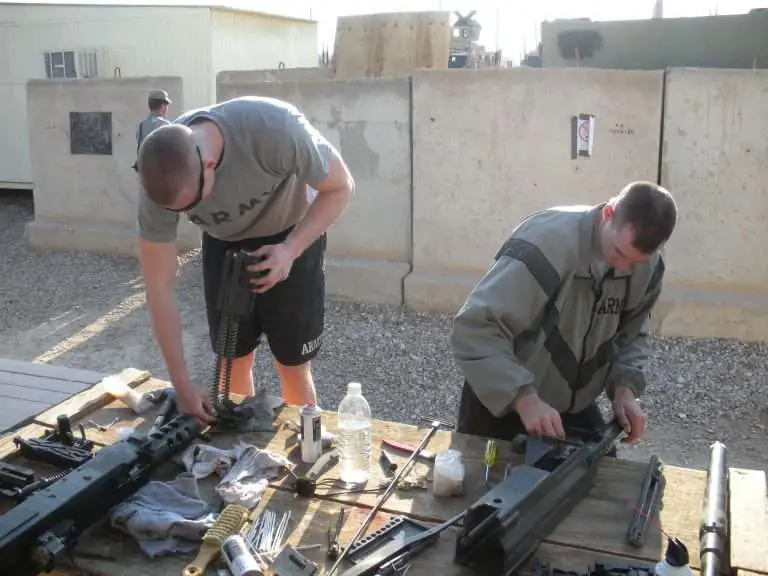 While every soldier has their own preference when it comes to gun cleaning brands, Radcolube CLP from Radco Industries supplies the military with gun cleaning products and serves as their official gun cleaning brand.
Bottomline
Cleaning your gun regularly is not just to extend its lifespan or improve its reliability. Regular and proper gun cleaning is also for you and your loved ones' safety to prevent misfires caused by built-up residue or corrosion. Be sure to pair one of the products above with a gun cleaning mat to avoid spreading oil all over your bench. And since you're into cleaning your guns, you may also want to check our article on gun cleaning supplies.
Last update on 2023-09-01 / Images from Amazon Product API