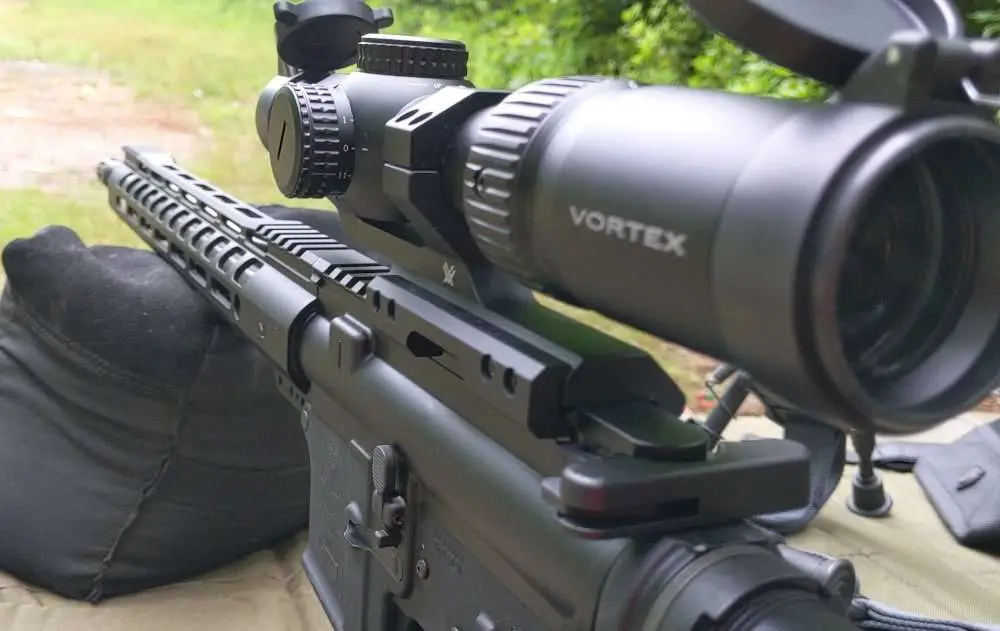 The Vortex Strike Eagle is a cost-effective option to increase your target acquisition speed while maintaining precision. If you're not sure if you should get one, we're here to help! Take advantage of our range time with the Vortex Strike Eagle to make your decision.
Bottom Line – Vortex Strike Eagle Gen 2 Review
The Gen 2 Vortex Strike Eagle is a great value-tier scope for plinking or competitions. Although there are better options out there for better performance at higher prices that we'll mention later, it's a solid budget-friendly choice for shooting in the 0-200-yard range with that famous Vortex lifetime warranty. 
Our testing unit was part of a kit from PSA with an 18″ 223 Wylde upper the Strike Eagle 1-6×24 Gen 2 and Vortex mount and is the best deal we've seen on the scope anywhere.  If you already have a gun to mount it on, here's just the scope.
Pros
Anti-reflective coatings
Affordable
Adjustable diopter
Top-tier, lifetime warranty
Cons
Eye box can be a bit unforgiving
Glass clarity isn't great at high magnification
What Customers Say
"My range is only 500 TDs. Being a novice to bolt action rifles. This is bar none a great entry-level scope. Awesome glass and smooth adjustment. Definite buy. Locked in and adjusted hit 500 yds 8 inches round Ar500 plate all day long. You cannot beat the Vortex warranty. Lifetime. There is your cue to buy."
"I'm not an expert on optics. Much of what I know is based on product research and less on practical application. Nevertheless, based on my research and my experience with the scope so far, this is the best value available. You won't find another scope of this quality, with these capabilities and features, from a manufacturer with a reputation like Vortex anywhere close to this price range."
Better for 3-Gun Competitions: Trijicon ACOG 4 X 32 Scope
Trijicon ACOG 4 X 32 Scope Dual Illuminated Horseshoe Dot .223...
BATTERY-FREE ILLUMINATION: Features a tritium/fiber optic illuminated reticle that automatically adjusts the brightness based on available light
RUGGED ALUMINUM-ALLOY HOUSING: Forged 7075-T6 aircraft-aluminum-alloy housing provides for a nearly indestructible sighting system
COMBAT PROVEN: No other magnifed optic has been used more in combat than the ACOG
We recommend the Trijicon ACOG 4×32 Scope if you want to take 3-Gun Competitions seriously.
The Trijicon Advanced Combat Optical Gunsight Scope features a fiber optic dual-illuminated reticle that allows you to aim and shoot with both eyes open. It also provides extraordinary clarity on all brightness levels. The best thing about its illuminated reticle is that it gets power from tritium and fiber optics, so no battery is required!
The flaw of the ACOG that the Strike Eagle LPVO excels at is being able to engage close targets and then crank up the magnification for precision at longer distances.
Better for 300+ yards: Vortex Optics Strike Eagle 5-25×56 First Focal Plane Riflescope
Vortex Optics Strike Eagle 5-25x56 First Focal Plane Riflescope -...
The Strike Eagle 5-25x56 First Focal Plane (MOA) scope provides the features needed to improve your long distance performance.
XD Optical System delivers impressive resolution, edge-to-edge sharpness and greatly reduces chromatic abberation. Anti-reflective coatings on all air-to-glass surfaces provide superior light...
The RevStop Zero System offers an easy to set, rock-solid return to zero after turret adjustments. Locking turrets prevent accidental adjustments and provides fast, accurate adjustments.
Unlike the Strike Eagle 1-6×24 Scope, this 5-25×56 Riflescope features a first focal plane (FFP) illuminated reticle. This reticle dominates at any lighting condition and magnification so long-distance shooting is much easier.
Another upgrade from the 1-6×24 is the sunshade and its 34mm body that leaves plenty of room for elevation and windage travel.
If none of those work for you, here are some other best sellers.
Specifications
Objective Diameter: 24mm
Magnification: 1-6x
Reticle: AR-BDC3
Tube Diameter: 30mm
Reticle Focal Place: Second Focal Plane
Battery type: CR2032, Lithium
Battery quantity: 1
Field of View, Linear: 19.2 – 116.5 ft at 100 yds
Eye Relief: 3.5 inches
Color: Black
Weight: 18.5 oz
Length: 10.5 in
Width: 3.38 in
Height: 3.75 in
Illumination Type: LED
Illumination color: Red
Shockproof: Yes
Fog proof: Yes
Finish: Matte
Included Accessories: Standard
Magnification Type: Variable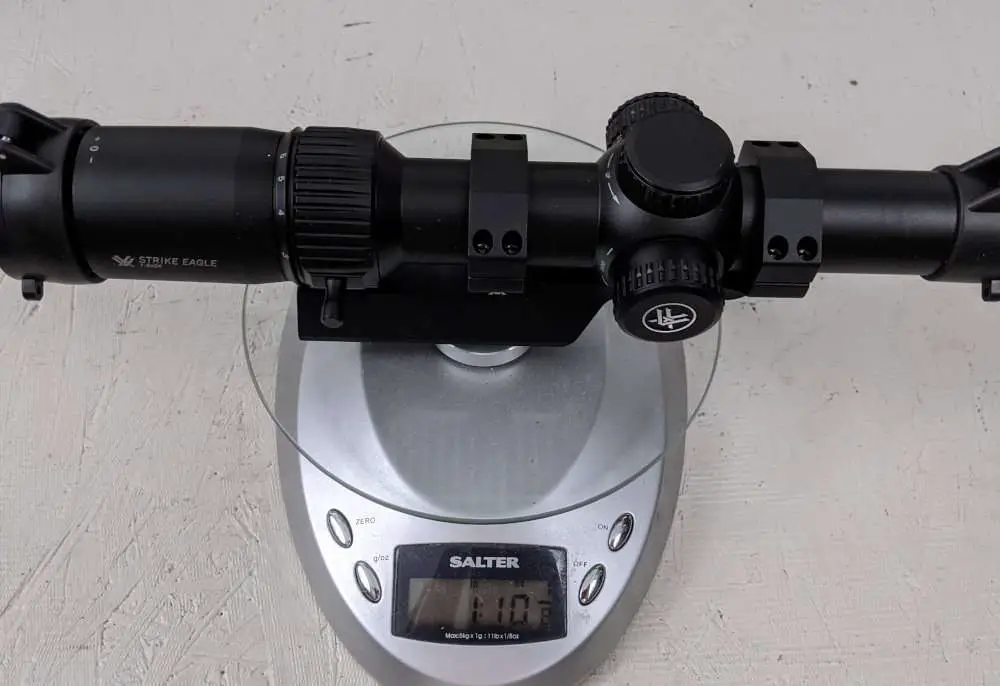 First Impressions
The scope's reticle only has an open circle and dot at the center without any clear center crosshair. Some people will be OK with that, and others won't.
The extended post on the magnification ring of the Gen 2 version is easy to use and a significant improvement to earlier versions of the scope.
The eye box is a little restrictive, and you'll really sense it if you're coming from a red dot.
If you're comparing to high-end scopes, you'll notice distortion around the edge of the glass at higher magnification and less-than-stellar low-light performance.
The included dust caps are a nice extra bonus.
Vortex Strike Eagle BDC3 Reticle
The Strike Eagle's BDC3 reticle has a large ring to aid in quick acquisition with a 1 MOA center dot. It also has 5.56 holdovers out to 650 yards, built-in ranging, and 5, 10, and 15 MPH windage markings.
Some complain that the reticle looks a little busy, but we personally like it. The ranging feature is nice for confirming a sighted distance and the holdovers are great for quick shooting at varying ranges. We find the dot with a ring quick to acquire using the etched black reticle or when illuminated. The only complaint isn't really with the reticle itself, but the illumination in bright daylight sometimes looks washed out depending on what you're aiming at.
Other Features
Sighting In and Adjustments
Given the reticle, the capped adjustment turrets make sense and are easy to remove when making adjustments to the point of aim. The adjustments are ½ MOA and are both tactile and audible. And, you can adjust them easily by hand without a tool.
Vortex Strike Eagle Problems
We want to be completely honest and point out what we perceive as tradeoffs that come with the price point of this Strike Eagle, so here they are:
Illumination
One significant issue of the Vortex Strike Eagle is that its illumination is underwhelming in bright daylight, even when set at maximum and even with a new set of batteries. On cloudy days or when looking at darker targets, you'll be fine. But, the red does wash out a bit on brightly lit objects.
Thankfully, you can always use the black, etched reticle in those conditions. It will contrast much better than the red will anyway.  BUT, a duplex would be easier to use in those circumstances than a single black dot, which can be tough to pick up depending on the color of your target.
Distortion
Using the Strike Eagle at 6X magnification causes some distortion, especially around the edges of the glass. Normally, that won't be too much of a problem, but it does hinder your situational awareness when using the optic.
Take a look at the comparison of the clarity at 1x and 6x below: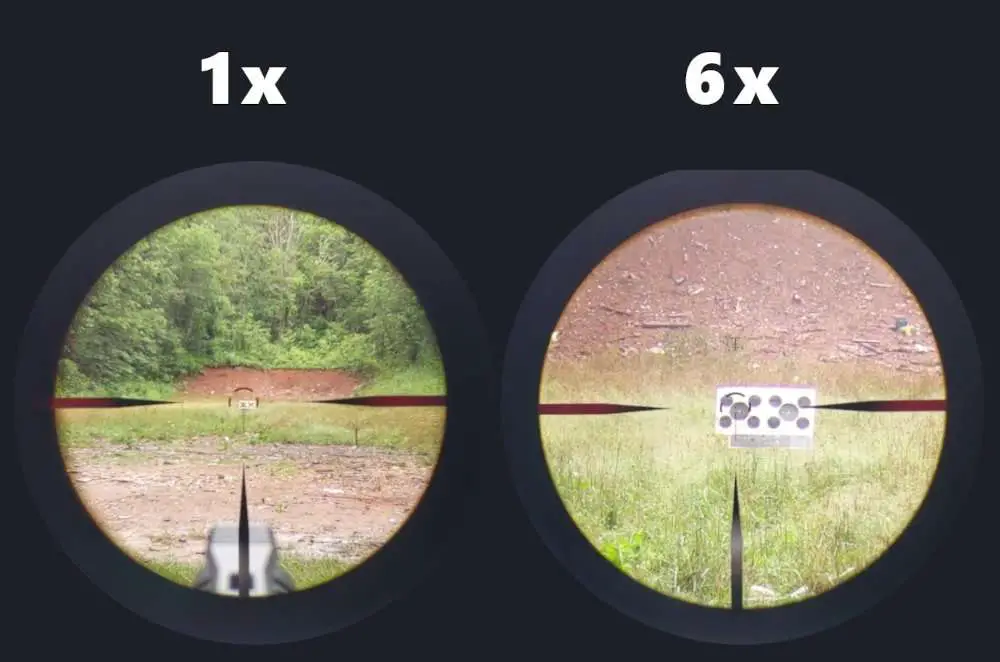 Low-light Performance
This isn't just a problem with the Strike Eagle, but a 24 mm objective lens is going to have a hard time gathering a lot of light. For that reason, I wouldn't use the Strike Eagle 1-6×24 for hunting.
To quantify the clarity of the glass, I set up a light source and measured the incident light on the front of the scope and then compared that to the transmitted light at the back of the scope at a distance where I knew the entire sight picture was available.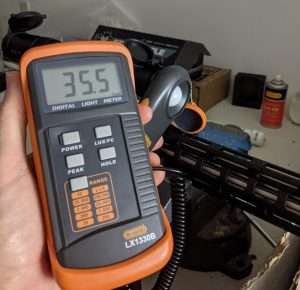 The result . . . 
On 1x, the scope measured 17% of the lux that it did at the front of the scope.  And at 6x, it transmitted 16%.  So, while it's pretty consistent at the min and max ranges, it's significantly less light (lux) than an unobstructed view of the target.
Eye Box
My first impression of the scope is that the eye box is a bit tight.  So, I took some time to really characterize how much movement you could have without obscuring your sight picture.  After all, even a shooter that practices all the time will mount a rifle slightly differently each time, and having tight requirements makes it even more difficult to shoot in odd positions or around obstacles.
To do that, I marked the point that the view through the scope began to shrink on the tube in the picture.  Then, I moved by eye away until it did the same thing and marked that point too.  Then, I measured the difference in the two marks.
As you can see, you really only have an inch of eye relief range before the sight picture starts to close in.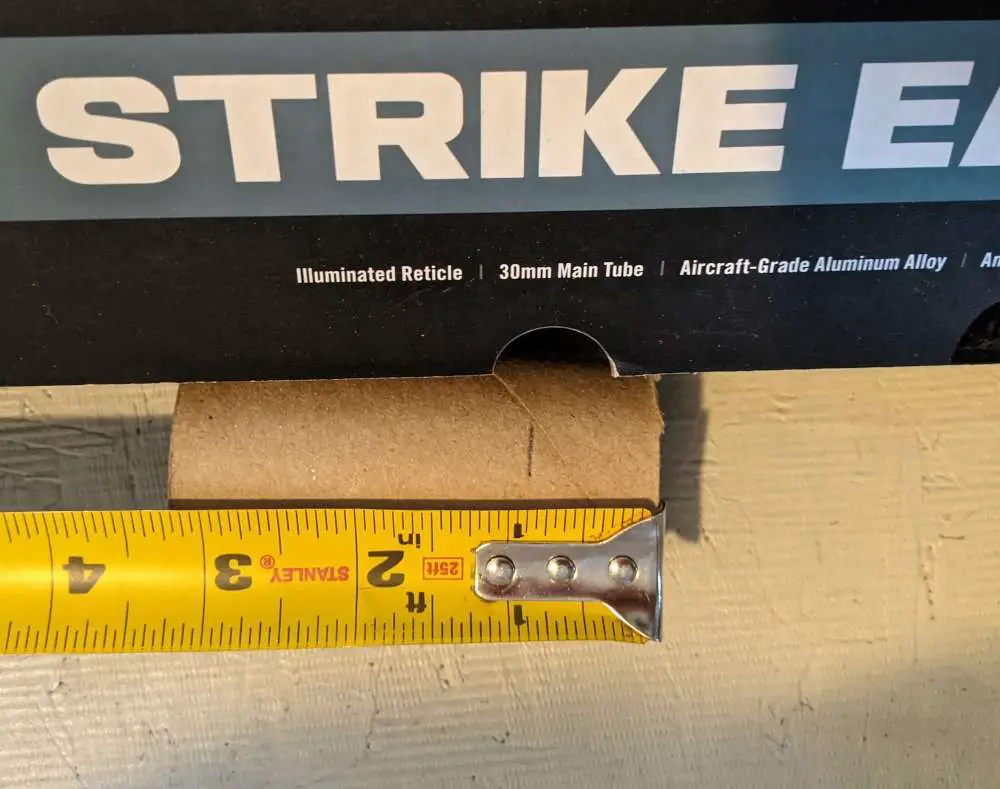 Recommended Mounts
A wobbly scope won't get you anywhere, so we listed a few compatible mounts for the Vortex Strike Eagle.
Vortex Cantilever Mount
This Vortex cantilever provides an offset that's designed for AR platforms and is made for 30 mm tubes like the one on the Strike Eagle.
Aero Ultralight 30mm Mount
The Aero Ultralight Mount is a compact, lightweight, and affordable choice for your Strike Eagle's mount. It's equipped with a cross-slot keyway that serves as protection from recoil.
Burris Optics P.E.P.R. Riflescope Mount
The Burris Optics Proper Eye Position Ready (PEPR) Riflescope Mount is another excellent choice. It's easy to mount and unmount because of its quick detach lever. And since it's a PEPR mount, it guarantees 2″ of forward-scope positioning room so won't have to worry about eye relief.
Verdict
So how would we score the Vortex Strike Eagle 1-6×24? Here's our opinion and reasoning of the scope overall.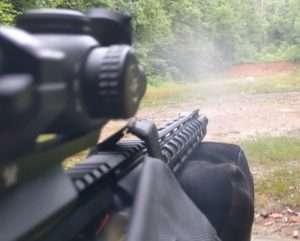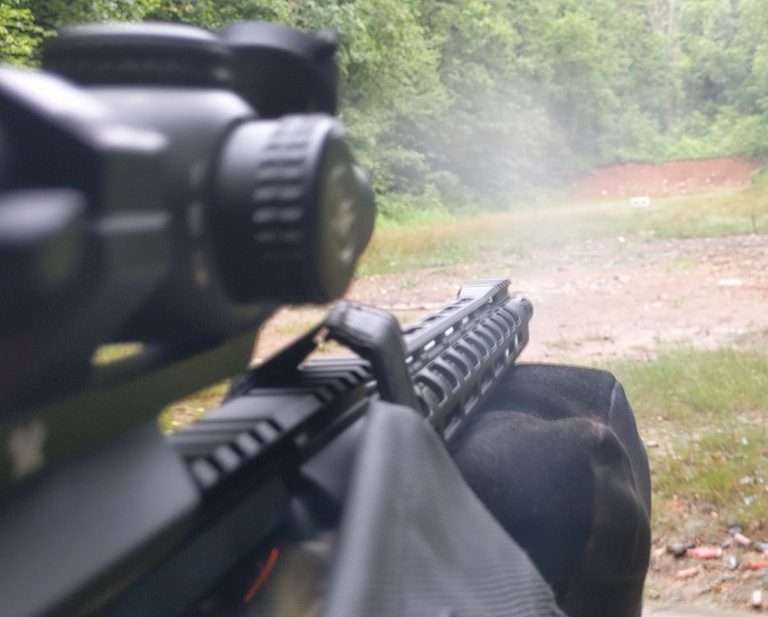 Durability – 5/5
Any company that offers a lifetime VIP warranty is going to take care to make their products stand the test of time. We like that philosophy, and it looks like this scope will be able to do just that.
We didn't give this scope any special treatment, throwing it in and out of vehicles for range trips, and we haven't had any problems with its durability.
Usability – 4/5
For a scope, usability for us comes down to ease of magnification selection, illumination controls, windage and elevation adjustments, parallax or diopter adjustment, eye box (how well the scope tolerates moving the eye back and forth and side to side without blacking out), and reticle. We really like the reticle, magnification, and point of aim adjustments in this scope. We're not crazy about the eye box for a scope designed for speed and the illumination controls could be improved with more off positions and a brighter reticle.
Performance – 4/5
For performance, we consider sight picture along with optical performance (image clarity, sharpness, and reflections), light transmission, moisture and fogging, and the ability to hold zero through normal use.
The scope scores well in all of these categories with deductions for its light transmission and image distortion at higher magnification. Keep in mind, this is an MSRP $400 scope at the time of writing, so there are tradeoffs to be expected. This is good glass for the money you're spending.
Value – 4/5
Retailing at $400, this is a very good performer. It isn't inline with the more expensive Razor HD in terms of performance, but after all, you expect to make tradeoffs when you get this sort of discount. And when you get the scope bundled with a mount in a package like the complete AR-15 upper or rifle build kit deals that are offered by Palmetto State Armory, the price is hard to beat.
Check out our Guns and Ammo Deals page for the latest deals that we've seen.
Overall Rating – 4/5
The Vortex Strike Eagle is a solid entry-level LPVO from a company with a great reputation for delivering value in optics. You trade some performance to get an optic in this price range, but it does offer a natural sight picture at close quarters with the flexibility of 6x of magnification to reach out 250+ yards.
If you want increased accuracy at range with a LPVO over a red dot sight, you don't have to break the bank. If you're shooting on the range or in a competition, then the Vortex Strike Eagle offers a great deal for its reliability and durability. Be sure to pair it with our recommended mount, and you're good to go!
Check the latest deal from PSA. Their pricing is always solid.
If you're a professional shooter, then you'll likely be spending up for a Nightforce or even a Vortex Razor HD as a solid mid-tier compromise optic.
Vortex Strike Eagle Riflescope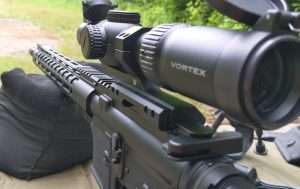 Want to buy a low-power variable optic that balances performance and value? Check out our Vortex Strike Eagle review and learn why this scope is an excellent LPVO for plinking and 3-gun competitions.
Product Brand: Vortex Optics
Product In-Stock: InStock
Last update on 2023-09-23 / Images from Amazon Product API