Summary:
The manufacturer's description and specs, the average user rating, and pricing info for the Ed Brown Kobra Carry pistols.
Manufacturer's Description
The Kobra Carry is essentially the Kobra modified for carry. It's the solution for those who prefer a smaller model 1911 but insist on complete reliability. The slide has been reduced to the minimum possible (4.25″) without significantly impairing the legendary reliability of the 5″ slide. The frame has been modified with the innovative Ed Brown Bobtail housing, which reduces the projecting butt of the mainspring housing without sacrificing the full size frame and magazine capacity. The Bobtail minimizes the print under your jacket when carrying and reduces weight. Officer's frames reduce magazine capacity and limit grip, while keeping the projecting, sharp butt. Slides shorter than 4.25″ are notorious for reduced reliability. These problems are eliminated with the Ed Brown Commander Bobtail configuration, which reflects the genius of John Browning with an innovative modern flair.
These Kobra series pistols also feature the innovative snakeskin treatment. It's a directional pattern, meaning it's smooth to slide your hand up, but bites in for a snug grip the other way where you need it. It's easier on the hands than checkering.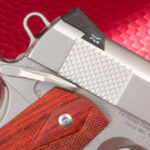 The Kobra Carry features the following:
A 4.25″ Commander model slide, and a single stack commander Bobtail frame. The John Browning traditional design innovatively modified for concealed carry, without significantly detracting from reliability or accuracy.
Weight: approximately 35 ounces with an unloaded magazine inserted.
Exclusive snakeskin treatment on forestrap and Bobtail housing. A beautiful, unique, and snag free gripping surface.
A matte-finished slide for low glare, with snakeskin on rear of slide only.
Fixed dovetail three-dot night sights with high visibility white outlines.
You can get this pistol with a wide variety of options, including a stainless frame/stainless slide finish, a stainless frame/blue slide finish or a blue frame/blue slide finish. You can also get a black Gen III coating on the stainless/stainless versions, and an ambidextrous safety.
MSRP: $2,445–$2,520
The Specs
| | | | | |
| --- | --- | --- | --- | --- |
| Caliber | Capacity | BBL | OAL | Weight |
| .45 ACP | 7+1 | 4.25″ | 7.75″ | 35 oz., empty |