FN High Power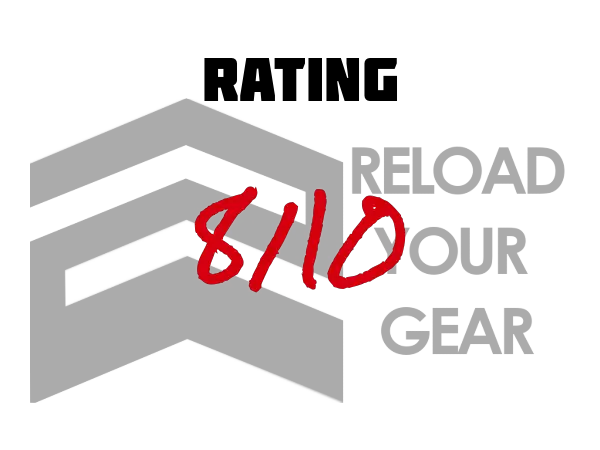 Hi-Power comes back from the dead with better and upgraded features (and a new name). But are they really improvements or is the previous version still better? We clear up these arguments and more in this hands-on FN High Power review.
Bottom Line
The 2022 FN High Power has excellent accuracy and shootability, and has improved fire control. Our range time with it was pure pleasure.
Pros​
Comes in durable PVD coating
Reversible magazine release
Knurled and textured thumb safety
Huge magazine capacity
Simple takedown method
Fully ambidextrous slide lock
Cons
The grip is too big for small hands
It's pretty expensive
What Customers Say​
"Extremely happy and excited with the makeover. It's like going from a 1911 to a 2011. Or any of the new enhancements that have gone along with the traditional 1911 this is progress."

David F.
"This is actually a really accurate gun. I would like a little contrast in the front sight but these blackout sights are really nice."

James Reeves 
Hi-Power History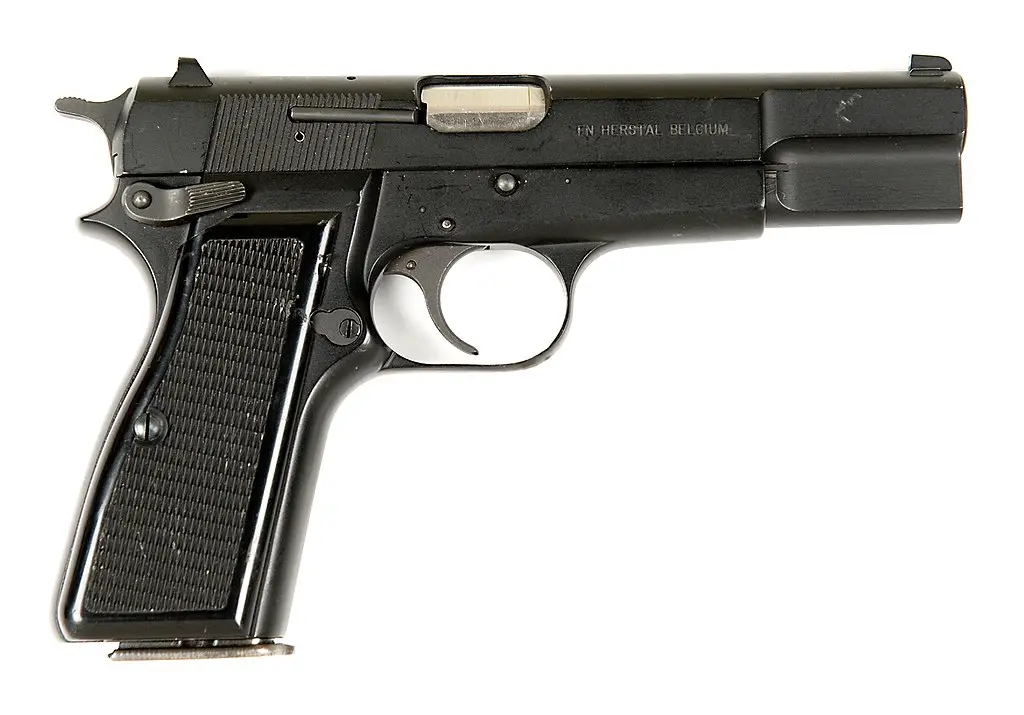 The Browning Hi-Power was created when the French military wanted a 9mm pistol that weighed not more than 2.2 lbs, was compact, had a 10-round capacity, was easy to assemble and disassemble, had a magazine disconnect device, has an external hammer, had a positive safety, and able to kill a man at 50 meters. The French military also required a 123.5-grain bullet with a muzzle velocity of 1148 feet per second. This pistol was named the Grand Rendement or "high yield."
John Browning made two different prototypes for this project, one had a locked-breech recoil system, and the other was a simple blowback design. The locked-breech design was chosen among the two. It came with a double-column mag with a 16-round capacity and was striker-fired.
When Browning was commissioned for the Grand Rendement project, he had just sold his M1911 to Colt's Patent Firearms. These patents expired in 1928, but since Browning died in 1926, it was Dieudonné Saive from Fabrique Nationale (FN) who completed the design. He incorporated some of Colt 1911's previously patented features into the new military sidearm. Some of these features are the 1911's take-down sequence and its removable barrel bushing.
The final design was completed in 1934, with a curved rear grip strap, a shortened 13-round mag, and a barrel bushing. Despite these efforts, the French military didn't use the pistol and chose the Modele 1935 pistol instead.
It was the Belgium military service that first adopted the pistol in 1935 with the name Browning P-35.
FN Purchase of Browning
Browning has been designing firearms for Fabrique Nationale since 1900 and had a good business relationship since then. In 1977, Browning changed ownership and was acquired by Fabrique Nationale.
FN manufactured the Hi-Power for 82 years as the gun became one of the most widely used military pistols all over the world. 
Improvements over the Original Browning Hi-Power
In 2018, FN Herstal discontinued the production of the Hi-Power. But in 2022, because of the increase in interest and demand for the Hi-Power, FN decided to restart production with the new and improved version and named it FN High Power.
Beavertail and updated hammer position to prevent hammer bite
If you've got meaty hands and were a constant victim of hammer or slide bites from the previous version, you'll love these upgrades.
Compared to the FN Hi-Power, the High Power now comes with an extended beavertail. It's now more drawn out so you can get a higher grip. The ring hammer is also adjusted into a higher position so you don't have to worry about getting bit by the slide.
Excellent G10 grips with color options
The new FN High Power comes with two sets of G10 polymer grips from the factory. These grips are easily swappable with five other grip colors that you can purchase separately.
From first-hand experience with these, the look is excellent with several options to customize between and the feel is great too. There's no worrying about the gun moving around unintentionally.
Increased capacity 13 → 17 rounds
The High Power now has 25% more mag capacity than the legacy version. FN expanded the Hi-Power's capacity from 13 to 17 (+1) rounds. Take note that the new magazine can't be used on the older version.
509-style dovetail for aftermarket sights
The new High Power also comes with improved sights with the same profile as the original ones. These sights are compatible with standard aftermarket sights and all FN 509-style dovetail mounts, including those made with tritium and fiber optics. The rear sights are also wide and nicely serrated.
Improved trigger and removed magazine disconnect safety
The last upgrade that we'd like to commend is the removed magazine disconnect safety which resulted in a crisper and cleaner single-action trigger. The FN version's trigger really is great.
Alternatives
When the Hi-Power was discontinued, a lot of gun manufacturers created their own version. Here are two of the best Hi-Power replicas you can consider as alternatives.
Better For Your Budget: SA-35
The SA-35 9mm handgun is Springfield Armory's version of Browning's P-35. This handgun features a forged carbon-steel frame with a matte blue finish that goes nicely with its checkered walnut grips. It also comes with a white dot front and low-profile, serrated Tactical Rack rear sights, a cold hammer-forged barrel, and an increased 15-round capacity. 
All these features are for the price of $699. 
While this is a good build, it doesn't have the same fitment and precision as the FN, but the value is there with a considerably lower price.
Pros
Affordable
Comes with a limited warranty
No magazine disconnect
What Customers Say
"The gun was everything I hoped it would be. The fit and finish is excellent, the first time shooting the weapon was flawless. I used cheap russian ammo, factory loads and my reloads with no jams at all. I was pleased with my grouping, I wished I could of had a vise to see how small of a group this gun can do. I never owned a High-Power and I can see why it was so popular. SA did an excellent job, call me old fashion but you cannot beat the feel of iron and wood."

Zaive
"The raw accuracy of this pistol is very good. Balance, handling and ergonomics are excellent for my hands as I expected from a High Power clone. Machining quality is very good, something I am coming to expect more with CNC equipment commonplace. The matte finish is not fancy, but very practical and well done. I, too, found a lot of (very light) rust on and around the recoil spring and guide rod. Cleaned it off with Kroil and no problems so far. The trigger is not as good as I was hoping for. A lot of creep before a solid and clean break, almost like a two stage trigger. This is not a target gun for me, so I can live with the trigger for now. Overall I would say the pistol is well done especially at this price point. It is like shooting a slightly smaller 1911 with less recoil and 15 rounds. What's not to like?"

1911 Guy
Check out our Springfield Armory SA-35 review for a more extensive review of this reliable pistol!
Better for Competition Shooting: Girsan MC P35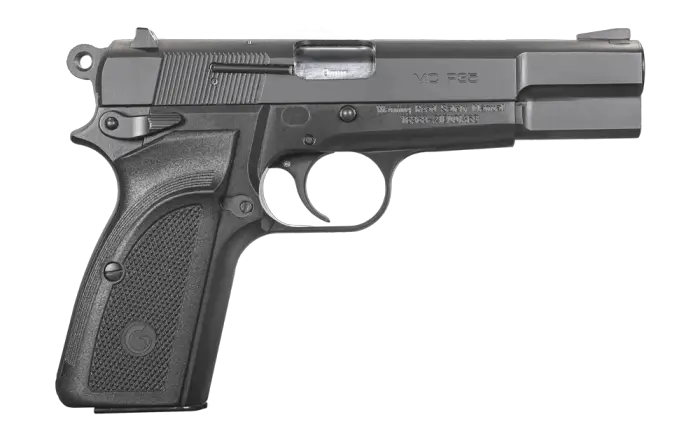 The MC P35 is Girsan's take on the Browning Hi-Power. It has better accuracy than the SA-35. It features a staggered column magazine with a 15+1 capacity. It also comes with a steel frame and slide.
The Girsan MC P35 is designed to employ quicker second-shot resets than other P35 clones so you can acquire targets faster. Another noteworthy feature is its traditional slim trigger that's easily accessible even while the shooter is wearing gloves.
Pros
Slim trigger
Ambidextrous safety
Large capacity
Adjustable rear sight
Checkered grips
What Customers Say
"Upon receiving my Girsan MC P35, the weapon is well made and finished nicely (black finish) and packaged in a gun case which is also well constructed and good enough to protect the weapon in a gun safe. So far, since I haven't had the chance to shoot it yet, the weapon is sturdy, and no manufacturing curbs were made by Girsan."

Alberto Marin
"Just Got this wonderful pistol today and it is a gr8 shooter I run 90 rounds out of it and it performed flawlessly. It took me a few shots to see how it was sighted but it grouped very well After I got used to it. The trigger is crisp with very little creep before the break and the reset is awesome. And I tell you this I have a Glock 17 very good gun but this to me is better just saying. Got a very low production number too, number 36."

Richard Chambers
Specifications​
Caliber: 9mm
Operation: Single-Action, Hammer Fired
Mag Capacity: 10 or 17 Rd
Weight: 40 Oz.
Barrel Length: 4.7″
Overall Length: 8″
Twist Rate: 1:10″ RH
Height: 5.62
Width: 1.35
Trigger Pull: ≈5-lb.
Sight Radius: 6.37
First Impressions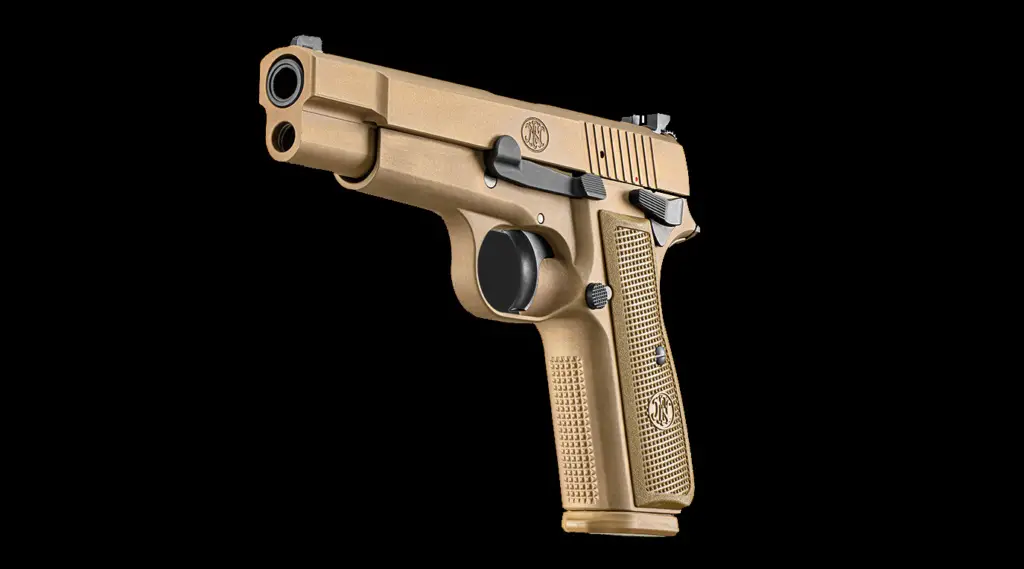 This gun is truly an improved version of a classic. It's an easy shooter, and the trigger is excellent for precision fire from a handgun. I really loved both the look and feel of the grips in our range time with it too. The increased capacity is expected with a modern handgun, and we finally get that with the new High Power. Overall, this modern take on a classic is really well-done, and we're glad the competition from Springfield and the others spurred FN back into the market with the new High Power.
FN High Power Features
Metal Frame
The Hi-Power reboot comes with a steel frame for a sleeker look and increased durability.
Single Action Trigger
The new High Power now comes with a single-action trigger since the magazine disconnect was removed. The smooth single-action trigger offers improved accuracy than the legacy version.
Capacity
The original Hi-Power has a 13-round capacity, and even though other manufacturers produced clones with higher mag capacity, the High Power's 17-round capacity beats them all.
FN High Power Score Card
| | | |
| --- | --- | --- |
| Features | The trigger, controls, and capacity are excellent in this platform. | 5 |
| Reliability | Time will tell on reliability, but the quality and maturity of the design indicates good things. | 4 |
| Build & Finish | FN's take on the Hi-Power is definitely put together well. | 5 |
| Accuracy | The single action trigger is really excellent, with a crisp break and clear reset for follow up shots. | 5 |
| Value | At $1100, the High Power is definitely well over the Springfield and Girsan versions. | 3 |
| Overall | This is a fine piece of design, machinery, and function. The price is the only major detractor. | 4.4 |
FAQs
Does FN still make the Hi-Power?
The Hi-Power has been discontinued since 2018. But FN brought a new version (FN High Power) back with new improvements in 2022. Learn about these upgrades above.
Is the Hi-Power Good?
Yes, it's been one of the most widely used military pistols worldwide for decades.
Is the Browning Hi-Power a good carry gun?
The Browning Hi-Power is no subcompact gun. But, it's still pretty thin and easy to conceal for many body types. 
How much does the new FN Hi-Power Cost?
The FN Hi-Power was discontinued last 2018 and revived in 2022 with new and upgraded features and is now called FN High Power. The new High Power price ranges from $1,200 to $1400, depending on the dealer.