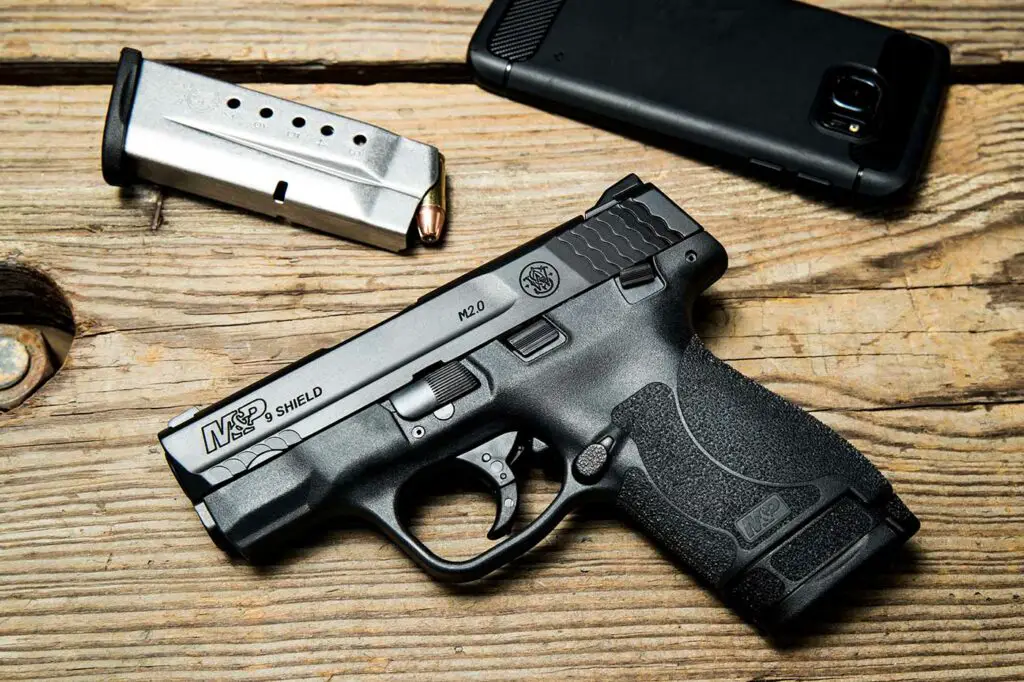 S&W M&P Shield 2.0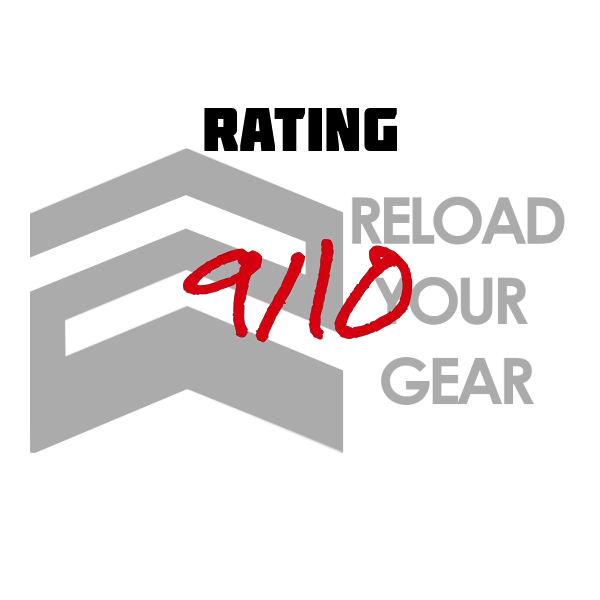 The Smith & Wesson Shield 2.0 comes with the same features as the Gen 1 Shield but with bits of improvement. We spent some time shooting the Shield 2.0 at PSA's Gathering and formed some first impressions. Let's take a look at our S&W Shield 2.0 review and analyze those upgrades.
Bottom Line
Smith & Wesson did an excellent job upgrading the grip texture, refining the trigger, and pairing it with Gen 1 Shield's thin and compact profile. Together, these features make the Shield 2.0 an excellent concealed carry and self-defense weapon.
Pros
Armornite® durable corrosion-resistant finish
Lighter trigger
Expanded grip texture
More distinct trigger reset
Cons
Same capacity (7 or 8 round mags)
What Customers Say
"Very good shooting gun. The grip texture is much better compared to the 1.0. The gun has a little bit better of a trigger from the 1.0 shield as well. Overall I'm very pleased with the quality of the gun and its finish."

Seth
Improvements: S&W M&P Shield vs S&W M&P Shield 2.0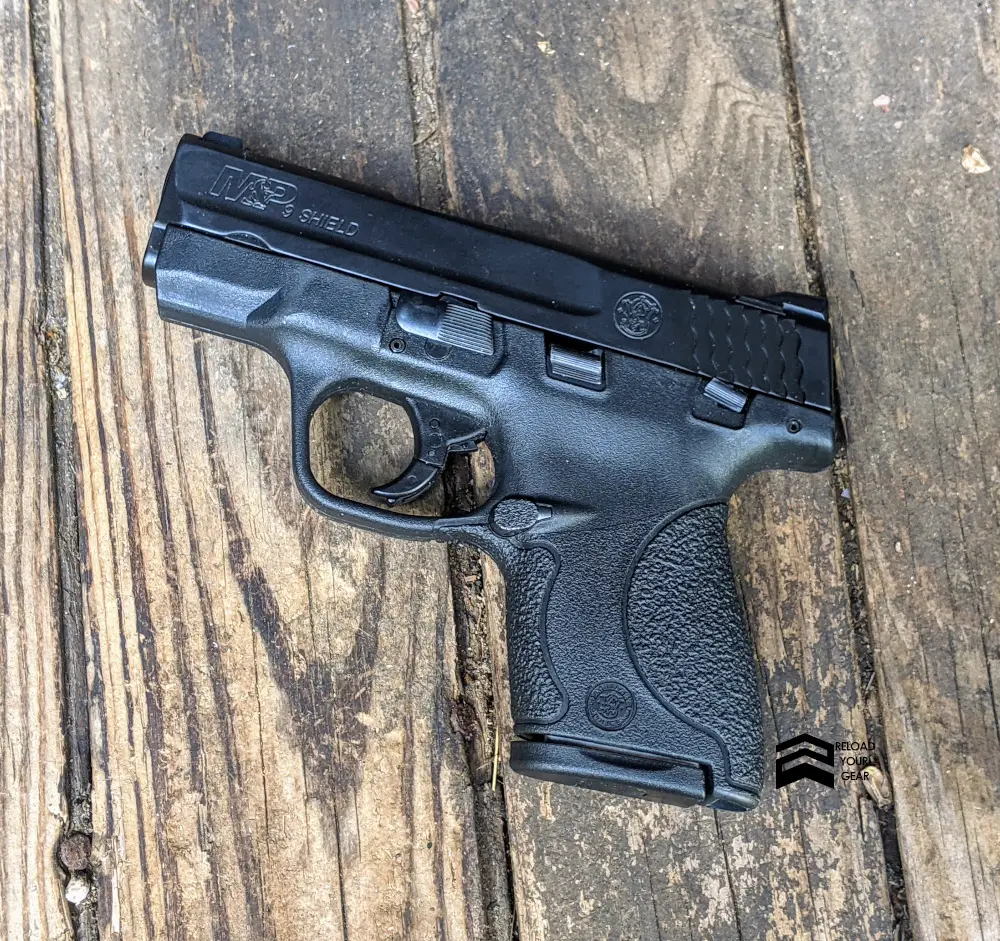 Improved Trigger with Lighter Pull and Pronounced Reset
The S&W Gen 1 Shield had a long-ish, sort of mushy trigger that ran a little over 5 lbs of pull weight. So, one of the biggest improvements for this version is the lighter trigger pull with a cleaner and crisper break. 
Having owned the original Shield and spent a lot of time with it, the upgrades are a noticeable and appreciated improvement for the Shield 2.0. The 16% lighter trigger pull is nice, but the cleaner pull and more tactile reset are just as important.
More Aggressive Grip Texture
Unlike the original version, the Shield 2.0 features a more aggressive grip texture that also covers more of the grip, providing better recoil control even with sweaty hands. For those that have experienced a really aggressive texture that feels like it removes 2 layers of skin after running through two magazines through a gun, don't worry. The stippling is effective, but not overly harsh.
Other Changes
There are a couple of other slight changes to note. One, the trigger stop has been moved higher within the trigger guard to move it to a more shielded position, presumably so it's harder to catch and snag on things. I never found this to be a problem, but I could see how it may have rarely been for someone out there.
Second, there are several new serrations on the front of the slide. For me, these won't change how I handle the gun, but if you like doing press checks maybe you'll appreciate them.
Alternatives to the M&P Shield 2.0
Better for Capacity: S&W M&P Shield Plus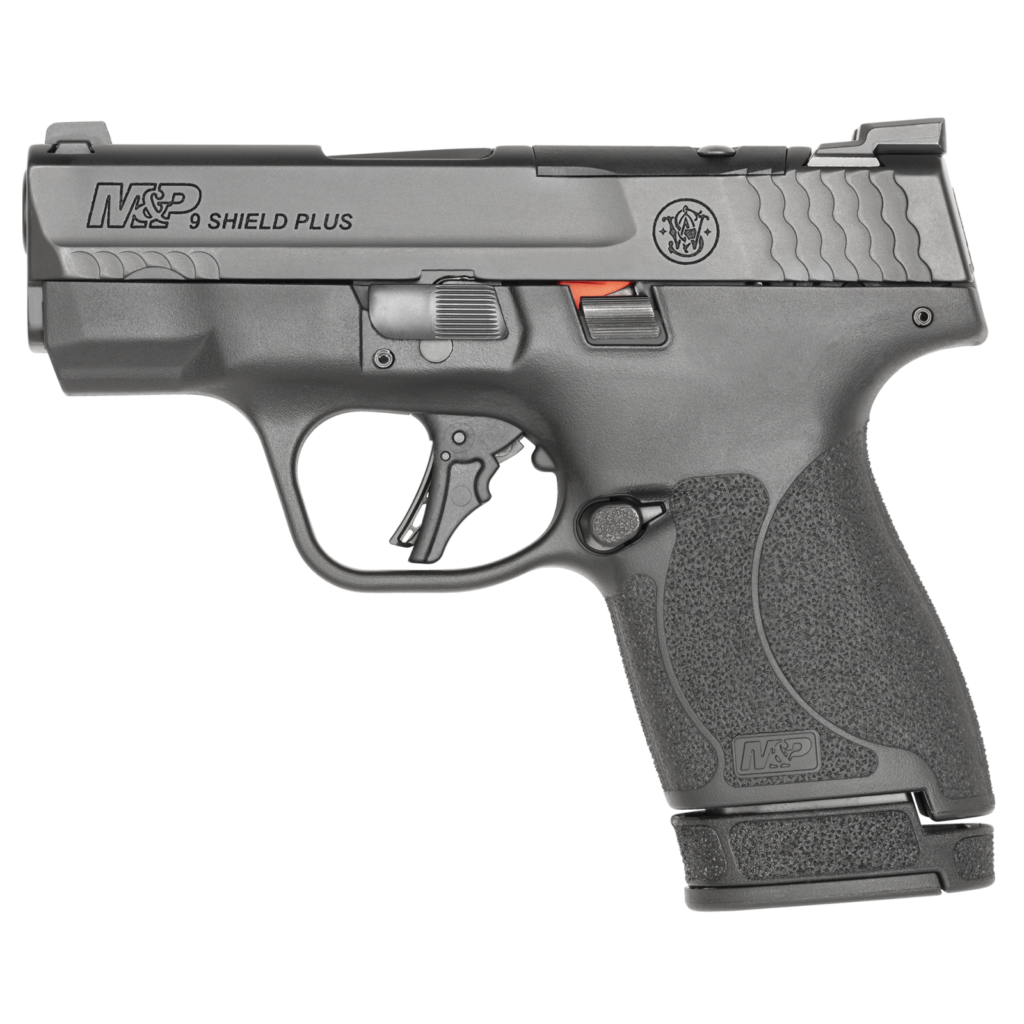 The S&W M&P Shield Plus is a double-stacked, higher-capacity version of the M&P Shield Plus. It's also compact, making it good for concealed carry but not as thin. Like the Shield 2.0, it also comes with a great grip texture plus an extended magazine. Despite its increased capacity, this version is slightly lighter than the M&P 9 Plus. Its beaver tail is also deep enough to prevent any slide bite while shooting.
Pros
Good grip texture
13+1 capacity
Accurate
Cons
Field strip is a little challenging
Chunkier for concealed carry
What Customers Say
"It is a great fire arm. When i went to the range and test it i really shoot it even better than my glock 19. Im from Puerto Rico and the service from Brownells was great it took less than a week to arrive to PR."

Miguel
"Loved my original shield, so I had to pounce on this with the extra capacity and improved trigger/grip texture. Fits my existing kydex holster, and feels great in my hands. Loses the dimple near where my thumb sat on my original, but other than that feel similar and is a fantastic upgrade!"

J4nsik
Better for Range Shooting: S&W Performance Center Ported M&P Shield 2.0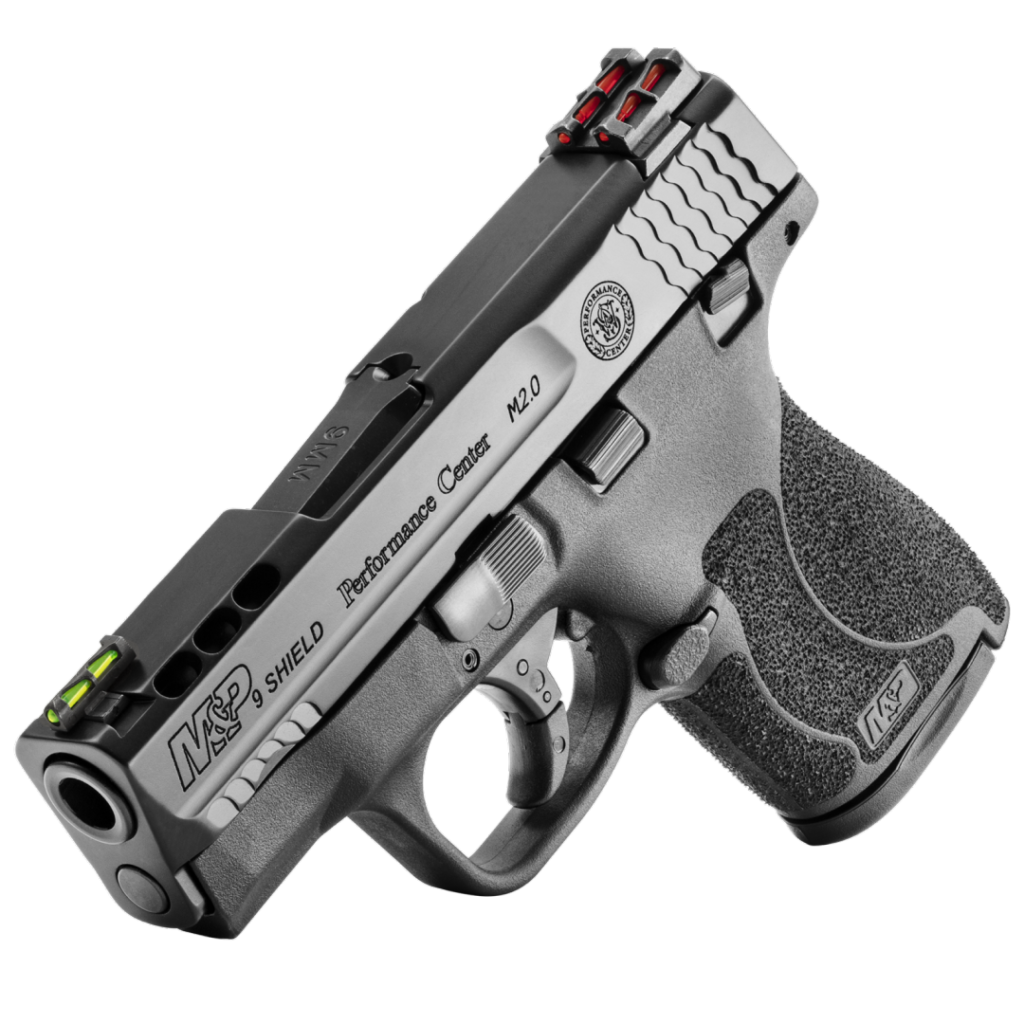 The Performance Center M&P Shield 2.0 comes with most of Smith and Wesson's full-sized pistols' features, except that it's slimmer and more lightweight. Plus, its factory-ported barrel and slide make it more manageable and reduce muzzle flips.
The fiber optic sights that come with the pistol are red in the rear and green in the front and are incredibly bright and helpful.
Pros
Affordable
Ported barrel
Embedded steel chassis
Has an external thumb safety
Cons
The magazine is difficult to load
What Customers Say
"The Shield Plus is a very good EDC pistol. The best thing is the trigger which lends to superb accuracy. The worst is the magazines. The mags are hard to load the last round, especially the 13-round mag. You will need a loader. Also with full mags, it's very hard to load with a closed slide. The 10-round mag is easier but the 13-round mag is impossible. Hopefully, they will break in. Overall, the Shield Plus is a winner."

Gryphon1
"Got this gun in a 9mm. Awesome trigger. Perfect for concealed carry. Dead on right out of the case. Love the ported barrel less recoil."

JOYPAT6979 
Specifications 
Action Type: Striker Fired
Barrel Length: 3.1″
Capacity: 7+1-Round
Cartridge: 9 mm Luger
Finish: Black
Front Sight: Fixed
Length: 6.1″
Magazine Included: 1 x 7-Round
Magazine Type: Removable
Muzzle: Plain
Rear Sight: Fixed
Stock Material: Polymer
Weight: 1.19 lbs
First Impressions: S&W Shield 2.0 Review
Similar to its predecessor, the Shield 2.0 is affordable, lightweight, and reliable. It has a 3-inch barrel and comes with steel 3-dot sights for quick target acquisition. It also comes with two sets of mags (7 rounds and 8 rounds).
The changes to the grip and trigger were immediately noticeable on the line. Smith and Wesson have clearly made an excellent carry pistol even better with the Shield 2.0.
S&W M&P Shield 2.0 Features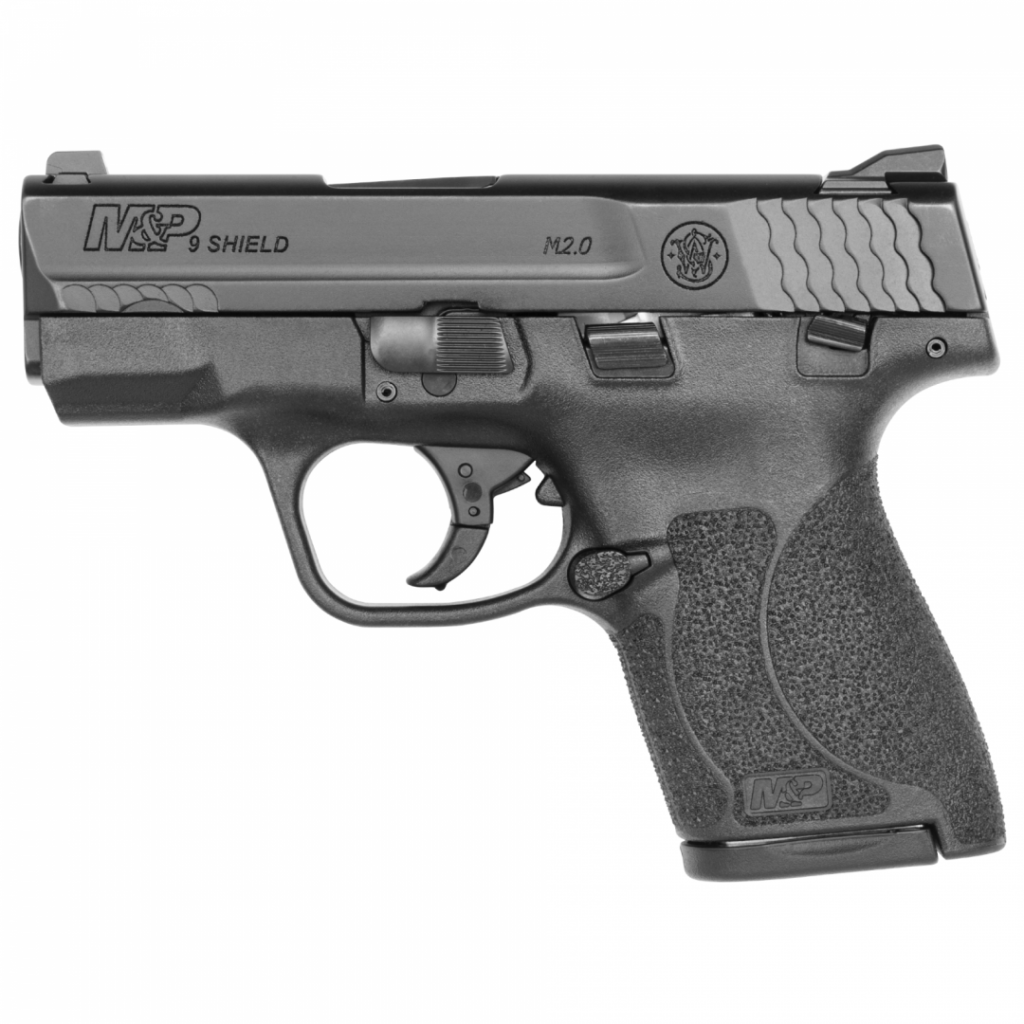 Compact Size
The Shield 2.0's size and weight are perfect for concealed carry. Plus its improved grip makes it easier to hold and keep the gun in your hand during continuous shots and under heavy recoil.
Excellent Reliability
The Shield 2.0 is one of the most reliable pistols on the market today, especially if you'll be using it for concealed carry. It goes head-to-head with Glock or Sig in terms of accuracy and follow-up shots, plus it comes at a reasonable price.
Easy Takedown
The M&P Shield 2.0's new takedown lever design allows disassembly without having to depress the trigger. Using the trigger wasn't that big of a deal to me, but this is a neat addition.
Good Trigger Pull and Reset
The trigger improvements on the 2.0 are the primary reason I would replace my existing Shield. The improvements are noticeable. I love the lighter trigger and it's more tactile and audible reset.
Some shooters won't like the hinged trigger of the Shield, but that's no different than before and doesn't bother me. Like most things, you get better with it after training. One good thing about this new trigger design is a slight change to make it less prone to damage that could make it susceptible to firing even when dropped. Apparently, there were some cases of that. 
S&W Shield 2.0 Score Card
| | | |
| --- | --- | --- |
| Features | The upgraded features (especially the new trigger design) improve an excellent carry gun. | 5 |
| Reliability | The Shield 2.0 is proven to withstand daily use and abuse. | 5 |
| Build & Finish | Overall build and finish are good but nothing special when compared with similar models from other manufacturers. | 4 |
| Accuracy | The Shield 2.0's accuracy is comparable to Glock or Sig Sauer pistols. | 4 |
| Value | With this pistol, affordability and performance go hand in hand. | 5 |
| Overall | It's not every day that you can find an incredibly reliable and accurate pistol for a steal price. | 4.6 |