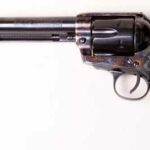 Users' Rating (Click a star to rate this gun.)
Summary:
The description, specs, pricing, photos and user ratings for Heritage Mfg.'s Rough Rider Big Bore revolvers.
Manufacturer's Description
The Heritage Mfg. Rough Rider Big Bore is a six-shot, Colt Single Action Army (SAA) -style revolver chambered in .357 Magnum or .45 LC. Features include: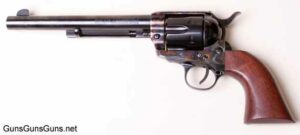 A one-piece cocobolo grip (Old West and birds head grips are available, too);
a frame mounted inertia firing pin; and
a transfer-bar safety.
Available finishes include blue, case hardened and nickel. Available barrel lengths include 4.75″, 5.5″ and 7.5″. Heritage says gun maker Pietta starts certain parts for these revolvers, and then Heritage finishes them and assembles the guns.
On camera: Check out Hickok45's video review of the Heritage Rough Rider Big Bore.
The Specs
| | | | | | | |
| --- | --- | --- | --- | --- | --- | --- |
| Caliber | Capacity | BBL | OAL | Width | Height | Weight |
| .45 LC, .357 Magnum | 6 | 4.75″ | n/a | n/a | n/a | n/a |
| .45 LC, .357 Magnum | 6 | 5.5″ | n/a | n/a | n/a | 2.3 lbs. |
| .45 LC, .357 Magnum | 6 | 7.5″ | n/a | n/a | n/a | 2.3 lbs. |
MSRP: $479.99 (blue)
MSRP: $499.99 (case hardened)
MSRP: $549.99 (nickel)