Editor's Rating: 6.5/10
Users' Rating (Click a star to rate this gun.)
Summary: Dave Spaulding's review of and rating for the Heckler & Koch HK45 Compact pistol, including a photo, range report, pros and cons, and user ratings. (Click here to see all Spaulding's handgun reviews.)
Editor's Review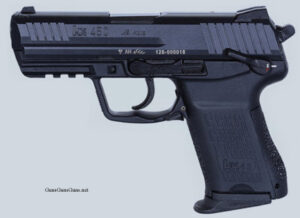 Designed to be a compact defensive handgun, Heckler & Koch's HK45 Compact fits the requirements of a concealed-carry handgun or police service pistol. With an overall length of 7.2", height of 5.59" and a width of 1.42", this gun is truly compact but large enough to ride in a uniformed duty holster.
Like the the company's USP pistols, the HK45 Compact can be purchased with any one of 10 trigger systems. The one I reviewed came with the Law Enforcement Modification (LEM) trigger that offers a short length, hammer fired, double action-only mechanism that's easy to train with and shoot. The LEM is my preferred action because it's simple and easy to use. Other triggers offer decocks and safety levers for both right and left hand shooters, but I fail to see the attraction. The HK45 Compact comes standard with an enlarged and contoured ambidextrous magazine release as well as slide-lock levers on both sides of the gun, so the LEM makes this a true ambidextrous pistol.
To offer the power of the .45 cartridge in a compact and controllable package, H&K integrated an effective recoil reduction system into the pistol's design. This system can potentially cut as much as 30 percent of the gun's recoil, an important feature for rapid follow-up shots.
Both the HK45 Compact and its big brother, the HK45, are rated for +P ammo and offer a service life of at least 20,000 rounds. Both pistols also have polygonal rifling in the barrel and a rubber O ring at the muzzle for increased slide-to-barrel lock, which increases accuracy, velocity and service life.
The pistol is equipped with a set of swept back, three-dot sights, which are filled with Luminova. Luminova is a chemical compound that glows in the dark once it's introduced to a light source for a few seconds. The initial glow is four times as bright as tritium, which makes them very easy to see in all light levels. Many view these sights as a cheap way to offer a gun without the more expensive tritium sights, but this isn't true. H&K's guns are sold all around the world, and in many countries, tritium sights are illegal, so H&K offers the Luminova sights as standard.
Slide & Grip
The grip has multiple backstraps built into a thin grip frame, which has fine stippling on both the front and back straps. This rough texture does a great job of holding your hand, especially in rain or when your hands are sweaty or (heaven forbid) bloody. The frame is manufactured from a high-strength polymer originally created by H&K engineers for the VP70Z and the P9S pistols. While designing their pistol for the Mark 23 SOCOM pistol project, they labored to make the formula even stronger and now offer the strongest polymer frame in the industry.
Pros
Simple, effective design
Exceptional accuracy
Interchangeable back straps to fit operator hand-shooting preferences
Polymer buffer helps reduce felt recoil
Cons
Double-action trigger is heavy
Prefer an LEM trigger over the standard safety decock lever system
The frame has a picatinny rail incorporated into the dust cover to receive white lights and laser sights, a feature popular among those who face threats in reduced or inconsistent light environments. Anyone who has ever operated a handgun while holding a flashlight in their support hand quickly realizes they are shooting with one hand. A gun-mounted light frees the shooter to wrap both hands around the pistol grip, reload or clear malfunctions, which certainly enhances both accuracy and efficiency.
The Compact's slide is certainly sleeker and more concealable than the blocky USP Compact slide. Rear and forward cocking serrations are cut into the slide so a shooter can get a solid grip anytime they grip the slide. Some people claim the forward serrations are unnecessary and the forward press-check is unsafe. Pay attention to what you're doing whenever you have a gun in your hand and unfortunate situations can be avoided. Safe firearms handling is a function of the brain and nothing else.
Testing & Evaluation
I started my evaluation by testing the gun's accuracy with various ammo styles. This is a defensive firearm, so I chose ammo I knew would be a good choice based on testing and street results. I also measured the velocity of each load from the short, compact barrel, because I thought this would interest readers.
Accuracy was tested by resting the HK45 Compact on a Hornady Delta Rest and shooting five rounds at 25 yards. The group was measured from the center of the two widest hits. Muzzle velocity was measured by shooting five rounds across the screens of a Shooting Chrony chronograph placed eight feet from the muzzle. I've listed an average of the five rounds:
Extreme Shok 185-gr. hollow point (HP): 3.25″ group, 1,029 fps
Speer 230-gr. Gold Dot HP: 2.5″ group, 801 fps
Hornady 230-gr. TAP CQ: 2.5″ group, 827 fps
Winchester 230-gr. bonded HP: 3.25″ group, 853 fps
Corbon 230-gr. +P HP: 2.75″ group, 937 fps
Federal 230-gr. +P EFMJ: 2.25″ group, 940 fps
Conclusion
I had no malfunctions at all with the test gun. It fed everything I put through it and was a real pleasure to shoot. It's a well made pistol that is both durable and easy to maintain.

Dave Spaulding is a 28-year law-enforcement veteran, retiring at the rank of lieutenant. He's worked in all facets of law enforcement—corrections, communications, patrol, evidence collection, investigations, undercover operations, training and SWAT. He currently operates Handgun Combatives, a handgun-combat training program, and he's authored more than 800 articles for various firearm and law enforcement periodicals. In 2010 Spaulding received the Law Officer Trainer of the Year award, and he's also the author of the best-selling books Defensive Living and Handgun Combatives.
The Specs
| | | | | | | |
| --- | --- | --- | --- | --- | --- | --- |
| Caliber | Capacity | BBL | OAL | Width | Height | Weight |
| .45 ACP | 10+1 | 3.94″ | 7.20″ | 1.42″ | 5.59″ | 1.58 lbs., unloaded |
Pricing
MSRP: $1,187