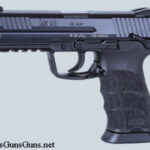 Editor's Rating: 7.5/10
Users' Rating (Click a star to rate this gun.)
Summary: Dave Spaulding's review and rating of the Heckler & Koch (H&K) HK45, including, photos, pricing, a range report, pros and cons, user ratings and user comments. (Click here to see all Spaulding's handgun reviews.)
Editor's Review
With an obvious kinship to H&K's successful Universal Self-Loading Pistol (USP), the simply named HK45 is a marriage of the USP and the firm's more streamlined P-2000 pistol. In a nutshell, the HK45 is a polymer-framed, semi-automatic pistol that operates from a Browning link-less recoil-operated system in which the slide is locked in place on the forward edge of the barrel hood. As the recoil spring compresses, the barrel is cammed down, permitting the slide to cycle to the rear. Simple and effective—the way a pistol designed for police service should be.
Aside from the Browning link-less recoil system, the rest of the HK45 features updated technology. The nicely rounded slide has both forward and rear cocking serrations and is snugly fitted to a polymer frame with a completely different grip from the USP. It's quite trim, considering it holds a double-stack 10-round magazine. The grip includes slight finger grooves in the front strap and pebble-grain stippling molded all around to offer a solid hold on the gun. Further enhancing the grip, interchangeable back straps allow you to adjust the grip size to fit your hand. I predict this feature will quickly become a requirement on any handgun intended for military or police service and purchased through competitive bid. Companies that don't offer interchangeable back straps on at least a few of their pistol models will find themselves in a bad position when an agency issues a bid for a new service handgun.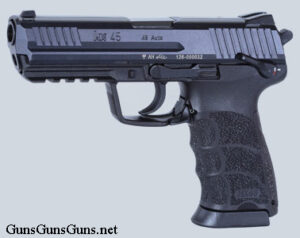 A rubber O-ring added to the 4.5″ polygonal barrel enhances accuracy. Yes, the ring will wear out with time and rounds down range, but not after many thousands of rounds. Also, to reduce felt recoil and lengthen service life, H&K added a polymer buffer to the recoil guide rod and spring. This buffer rides along the length of the spring and keeps the slide from beating the frame as it cycles back and forth. This feature also helps reduce felt recoil forces by as much as 30 percent, according to H&K.
My test gun came with a safety decock lever mounted on the left side of the frame above the grip tang, similar to the 1911. When pushed all of the way down, it safely decocks the pistol, placing the hammer at rest. This system allows you to carry the gun either cocked and locked for a short, consistent trigger action, or hammer-down for a first double-action trigger stroke. While I can work with either action, in my experience a system with both is not optimum. During the five years I was assigned to narcotics enforcement, I carried the USP Compact with this safety decock system. I found my shooting-hand thumb would put the gun on safe or decock it at inopportune times. I was very grateful for the creation of the Law Enforcement Mode (LEM) trigger action, which offered a smooth and reasonably short first trigger followed by a short reset, hammer-cocked trigger action. In my opinion, the safety decock lever was made obsolete by the LEM. If I were to carry the HK45, I would install an LEM trigger module that would make a simple gun even easier to use.
Night Sights
For the mounting of white lights and laser sights, a MIL STD 1913 rail is molded into the gun's dust cover. While many still debate the utility of laser sights, few ignore the advantages a weapon-mounted light offers. We all know shooting a handgun is much easier and more accurate with two hands, so the ability to keep both hands on the gun while engaging an attacker in an inconsistent light environment should not be underrated.
Pros
Simple, effective design
Exceptional accuracy
Interchangeable back straps to fit operator hand-shooting preferences
Polymer buffer helps reduce felt recoil
Cons
Double-action trigger is heavy
Prefer an LEM trigger over the standard safety decock lever system
The sights on my test gun were the new generation of Super-Luminova night sights. These sights are not loaded with tritium, but with a material that will trap light from any light source. This is not the glow paint you purchase at local gun shows, but a substance that will hold light anywhere from 30 minutes to eight hours depending on its mixture. Charging the sights takes only a few seconds, and they provide an excellent alternative for those countries where tritium sights are banned, even for law enforcement and the military. The Super-Luminova sights provide the ability to charge just the front sight, which certainly makes finding it quickly easier than with tritium sights because Super-Luminova will glow four to five times as brightly as tritium for a short time.
Yes, you do have to keep the sights charged, but you can do this easily with a flashlight of any brightness even when it's in the holster. Make sure you understand these sights' advantages and limitations like any other piece of equipment. Don't take the silly attitude of one officer I encountered who said, "I guess if I need my gun in a fight, I have to draw it and then flash my light on it before I can shoot."
Accuracy
To test the HK45's accuracy, I used a Hornady Delta Rest to bench-rest the gun at 25 yards. The triangular rest offers a number of elevations based on the surface you shoot from. While it doesn't take all of the human error out of shooting groups, it does help give a good indication of just how accurate the gun is. Here are the results:
Winchester 185-grain silvertip hollowpoint: 2.5″ (nicely rounded group);
Hornady 200-grain TAP hollowpoint: 2.5″ (1.75″ with a single flier);
Federal 200 grain +P expanding full metal jacket: 3″ (see explanation below);
Speer 230-grain Gold Dot hollowpoint: 2″ (1.25″ with a flier); and
Hornady 230-grain TAP hollowpoint: 3.25″ (rounded group).
The Federal group deserves a bit of explanation. When I shoot these groups, I make it a practice to never look at the target, but to stay fixed on the front sight and return the gun to the same point of aim on the target. After I fired my first four rounds, my shooting partner yelled out, "Man, you've shot one jagged hole!" Of course I lifted my head and looked. When I attempted to return to the same point of aim/point of impact, I fired the shot low at six o'clock. This just goes to show the importance of consistency when trying to shoot accurately.
The HK45 proved to have excellent distance accuracy, but this is not the point of a fighting pistol. You need a gun you can hold inside say an 8″ circle while shooting quickly inside room-sized distances. After all, what stops a determined adversary are fast, accurate, multiple shots delivered to the high-chest region of the torso.
Final Thoughts
I'm not going to kid you—the double-action trigger is not the best I've felt. While certainly manageable, it's a heavy 10.5 lbs. The single-action trigger is a reasonable 5.5 lbs. with a bit of over-travel once the hammer falls. If I were to carry this gun with this trigger system, it would be in the cocked and locked mode, but again, the LEM trigger is the way to go.
In the end, the HK .45 is an exceptionally accurate, totally reliable service-grade handgun that will please those officers who want big-bore power on their hip.

Dave Spaulding is a 28-year law-enforcement veteran, retiring at the rank of lieutenant. He's worked in all facets of law enforcement—corrections, communications, patrol, evidence collection, investigations, undercover operations, training and SWAT. He currently operates Handgun Combatives, a handgun-combat training program, and he's authored more than 800 articles for various firearm and law enforcement periodicals. In 2010 Spaulding received the Law Officer Trainer of the Year award, and he's also the author of the best-selling books Defensive Living and Handgun Combatives.
The Specs
| | | | | | | |
| --- | --- | --- | --- | --- | --- | --- |
| Caliber | Capacity | BBL | OAL | Height | Width | Weight |
| .45 ACP | 10+1 | 4.53″ | 7.52″ | 5.83″ | 1.42″ | 27.68 oz. |
Pricing & Shopping
MSRP: $1,187
Retail: $1,079 @ Brownells—