Summary:
The manufacturer's description, the specs, pricing and user ratings for the Hi Standard Supermatic Trophy pistols.
Manufacturer's Description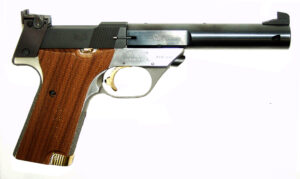 The High Standard Supermatic Trophy series pistols feature attractive gold-plated components, including the trigger, safety, slide stop and magazine catch. The adjustable trigger pull is set to approximately 2.25 lbs. at the factory. The fully adjustable sight is securely mounted to a bracket on the frame. Barrel weights are available to help you customize it to your own shooting style. Mount your favorite optics using the High Standard Universal Mount on the drilled and tapped barrel. Checkered deluxe grips and bright blue finish complete the pistol.
The Specs
| | | | | |
| --- | --- | --- | --- | --- |
| Caliber | Capacity | BBL | OAL | Weight |
| .22 LR | 10+1 | 5.5″ | 9.5″ | 44 oz. |
| .22 LR | 10+1 | 7.25″ | 11.25″ | 46 oz. |
| .22 Short | 5+1 | 5.5″ | – | – |
MSRP: $785 (5.5″ barrel and universal scope base)
MSRP: $845 (5.5″ barrel and adjustable sights)
MSRP: $895 (7.25″ barrel and adjustable sights)
MSRP: $439.75 (.22 Short conversion kit)