Summary:
The manufacturer's description and specs, the average user rating, and pricing info for the Hi Standard Victor pistols.
Manufacturer's Description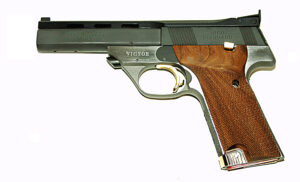 The High Standard Victor is a .22 LR target pistol (a conversion model can fire .22 Short) with a barrel-mounted sighting system. It comes with a 2.25 lb. trigger pull and a blue or parkerized finish (parts finish options include blue or gold plated). The aluminum rib may be removed for mounting your favorite optics using the High Standard Universal Mount on the Victor's drilled and tapped barrel.
The trigger is adjustable for both weight of pull and travel. The rear sight is fully click-adjustable for both windage and elevation. Various custom options allow you to tailor the pistol to your needs.
The Specs
| | | | | |
| --- | --- | --- | --- | --- |
| Caliber | Capacity | BBL | OAL | Weight |
| .22 LR | 10+1 | 4.5″ | 8.5″ | 45 oz. |
| .22 LR | 10+1 | 5.5″ | 9.5″ | 46 oz. |
| .22 Short | 5+1 | 5.5″ | – | – |
MSRP: $785 (universal scope base)
MSRP: $845 (vent rib w/adjustable sights)
MSRP: $1,195 (custom w/vent rib and adjustable sights)
MSRP: $1,395 (custom w/vent rib, adjustable sights and universal scope base)
MSRP: $439.75 (.22 Short conversion kit)