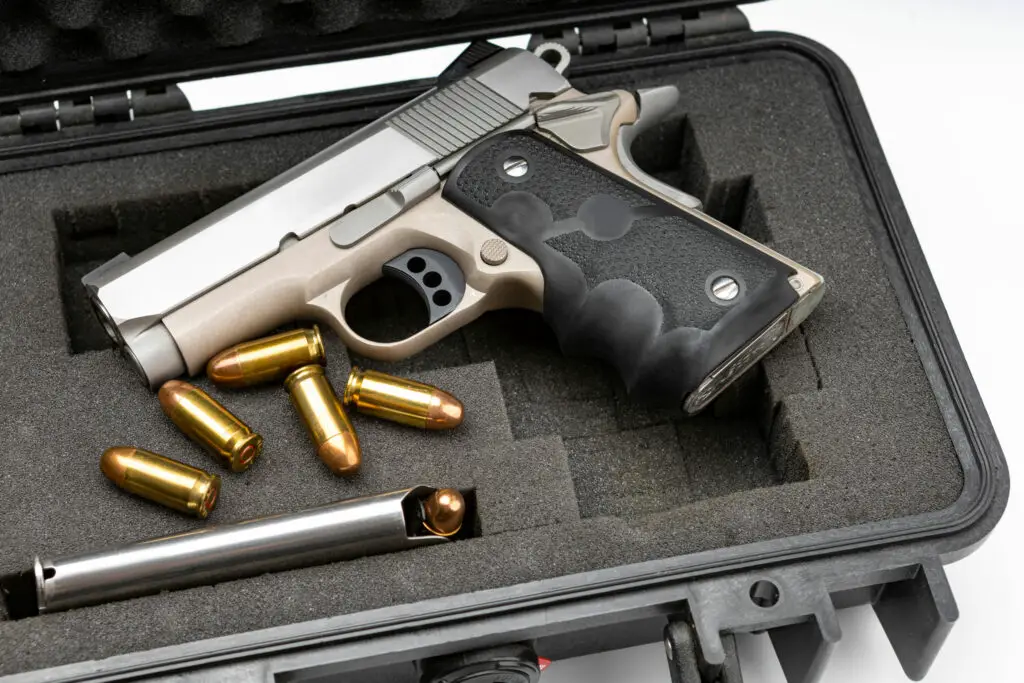 Keeping your gun in top shape not only means cleaning it regularly, but also storing it in a durable gun case. Aside from a durable exterior, your gun case should have a foam that fits your weapon snugly without compressing so it doesn't absorb shock. In this article, we'll teach you how to cut foam for a gun case quickly and cleanly. Let's go!
How to Cut Foam for a Gun Case
You'll need
Bestseller No. 1
Plano All Weather 36" Tactical Gun Case, Black with Pluck-to-Fit...
PLANO ALL-WEATHER TACTICAL GUN CASE: Protect your firearms from damage with the Plano All Weather 36-inch Tactical Gun Case. Continuous Dri-Loc seal creates watertight, dust-proof shield, protecting...
RUGGED, INDUSTRIAL STRENGTH CONSTRUCTION is elevated with heavy-duty, dual-stage lockable latches for additional security.
Bestseller No. 2
Plano Protector Series Single Scoped or Double Non-Scoped Gun Case,...
PLANO PROTECTOR DOUBLE GUN CASE: Defend your firearms from damage with this hard-shell gun case. Designed to accommodate a single scoped or two non-scoped rifles or shotguns up to 50-inches long.
CARRY WITH CONFIDENCE: Thick walled construction with interior interlocking foam provides durable reliability and protection of your firearms during travel or standalone storage.
Tracing tool – We used a marker for actual photos for the purpose of this article. But we suggest using chalk if you have it handy because it's easier to erase.
Cutting tool – We used a hot pen knife for styrofoam cutting and sculpting.
Hercules Handheld Electric Styrofoam Hot Knife and Accessories SC-190...
💪 The Hercules SC-190 is a versatile 190 watt hot knife used for smooth, mess-free cutting of all types of expanded and extruded polystyrene and styrofoam.
💪 Powerful 190 watt output is designed to make fast work of production cutting of all thicknesses of styrofoam up to 12"
💪 Lightweight and ergonomic, with a variable power control that allows the cutter to heat up in seconds.
1. Prepare your Firearm
Check if your gun is loaded, and unload it if it is.
Maximize space inside the case — remove every accessory that can be removed such as harnesses, and fold any gun part or accessories that can be folded, such as sights and collapsible stock.
2. Position your Firearm
Place your firearm on the foam. 
If your case has wheels, position your weapon with the weight centered into the wheels' direction so it's easier to transport. 
If you have a multi-gun case, ensure equal space distribution within the foam's available surface area.
3. Trace your Firearm's Outline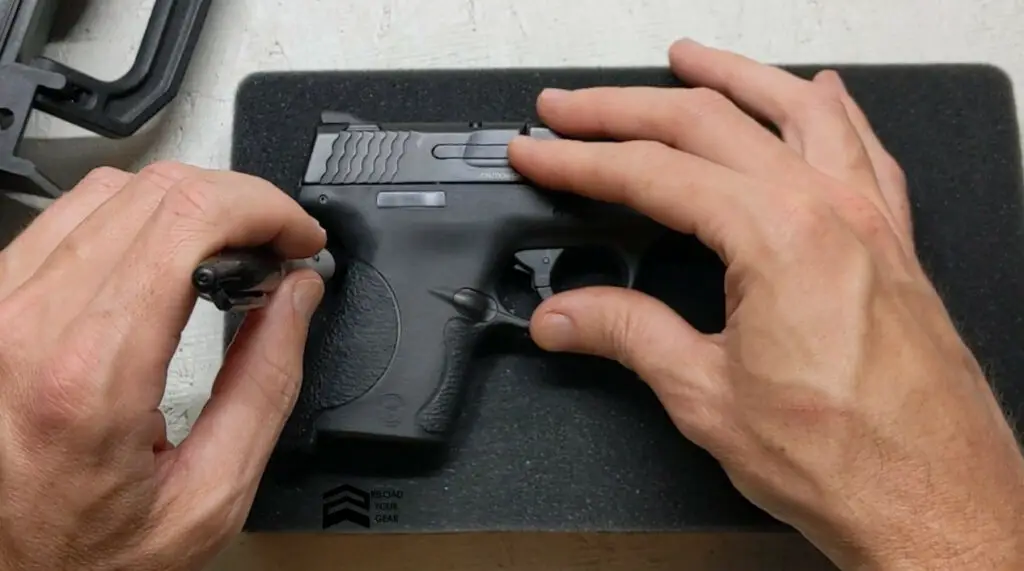 If you're using a marker or pen, you can flip the foam if you don't want to see any markings once you're done.
4. Cut the Foam
Remove your gun then proceed with carving.
Position your cutting tool 90 degrees perpendicular to the foam for a clean and smooth cut with a hot knife. If you're using a utility knife, about 60 degrees will make it easier to slide it across the foam to follow the lines.
Remember to cut the inside of the outlines (or up to a quarter of the line) so they can give your gun a snug fit.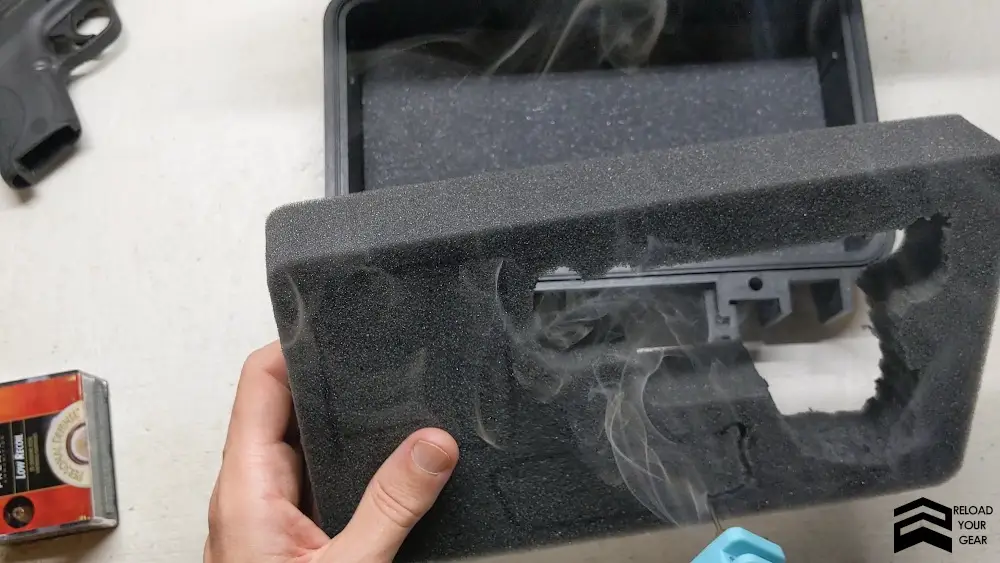 5. Place your Firearm in the Case
Voila! Your gun is now secured and you can now transport it anywhere without worrying!
FAQs
What kind of foam do you use for a gun case?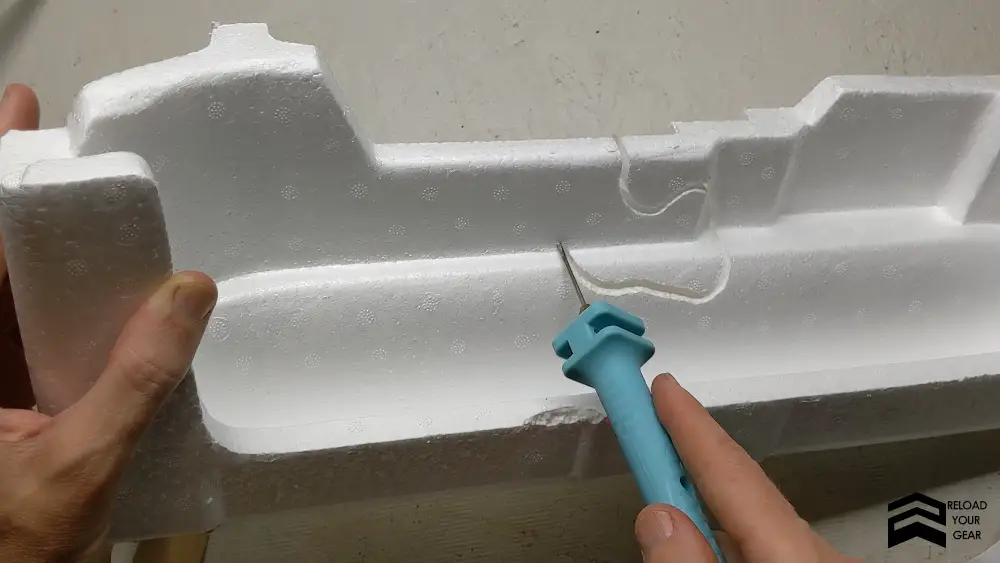 Most gun case manufacturers use two types of foams – polyethylene and polyurethane (mostly ester-based). Polyurethane is great for shipping purposes because of its excellent shock absorption and cushioning. While polyethylene is ideal for long-term storage because of its rigidity and ability to resist moisture.
Do you have to cut the foam in a pelican case?
Yes you do. Even Pelican's special Pick 'n Pluck foam needs to be outlined with something sharp (like a toothpick or knife) before you can completely pull it out.
How do you cut soft foam inserts?
Follow the same procedure we listed above but you have to handle it with extra care and press lighter than when cutting regular foam.
Conclusion
Easy peasy, right?! Now you can transport your firearm(s) over humps and rough roads without worrying. Plus, you've got a bonus foam carving lesson, lol. Enjoy your new case!
Wondering if you're cleaning your firearm too much? Let's talk about that in our article on "how often should you clean your gun?"
Last update on 2023-11-08 / Images from Amazon Product API